ROTC in Winona, MN
A page within Military Science, ROTC
Winona State University is one of the three Universities that make up the Eagle Battalion ROTC program. What makes Winona State University special is that it is located in Winona, MN. In the past, cadets who participated in ROTC at these universities traveled to the University of Wisconsin-La Crosse to take their Military Science Classes, Physical Readiness Training, and Leadership Labs.
As of 2017, ROTC teaches MSI and II Military Science classes and Physical Readiness training in Winona. Cadets can enroll for Military Science classes using the UWL WINGS system after enrolling as a special student.
If you are interested or have any questions please contact us or visit our office in Winona located at Maxwell Hall, Room 262.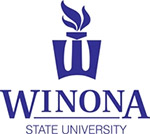 Winona State University logo