Following the completion of Advanced Camp at the end of their junior year cadets are eligible to apply for selected Army training. This training is perfect for cadets who wish to experience the Army firsthand.
Advanced Camp
All ROTC cadets must complete this course prior to receiving their commission as officers in the Army. This is a 29 day course that takes place at Fort Knox, KY. Cadets will be tested and evaluated on many individual and leadership skills that they have learned through the ROTC course. Individual skills include land and night navigation and physical fitness. Cadets will also be placed in positions of leadership and will be evaluated on how well they lead others and make decisions. Cadets who perform above the standard in leadership positions are awarded an overall Excellent rating. Cadets who perform individual skills above the standard are awarded Recondo.
Air Assault Training
Air Assault training is available at different Army posts across the country. It is a 10 day course that consists of physical training, sling load training, rappelling and a 12 mile road march. This is a tough course that will exhaust you both physically and mentally, but in the long run it will be worth every ounce of energy you put into it!
CULP (Cultural Understanding and Language Proficiency)
Every year hundreds of Cadets travel the globe, spending up to three weeks immersed in foreign cultures, learning more about how others around the world view the U.S. and, in the process, learning more about themselves. The Army recognizes the need for young leaders to develop more cultural awareness and foreign language proficiency skills. Now more than ever, cultural awareness training is a vital component to the ROTC curriculum. Overseas immersions help educate future leaders in ways the classroom cannot. Cadets can receive an opportunity to compete for immersion in one of more than 40 countries. This opportunity exposes them to everyday life in different cultures and intensifies language study, which helps produce commissioned officers who possess the right blend of language and cultural skills required to support global operations in the 21st Century.
Airborne Training
The US Army Airborne School, located at Ft. Benning, Georgia, is available to cadets that are enrolled in the program. The course is three weeks long, consisting of a ground week, tower week and jump week. With each week comes different types of training designed to teach you to parachute from airplanes and helicopters. It is an exciting non-stop course that will push you to the limit. By graduation all students will make five airplane jumps!
Mountain Warfare Training
Mountain Warfare School is a two-week course taught by the Vermont National Guard at Ethan Allen Firing Range in Jericho, Vermont. Both a summer and a winter phase are offered. The training is designed to make you an expert in mountain operations. Mountain Warfare School is both physically and mentally demanding. Training is non-stop, 15 hours per day, for 14 days. If you can carry a 65-pound rucksack up to five miles per day in mountainous terrain and are competent with both day and night land navigation you may have what it takes to complete this intense training.
Cadet Troop Leader Training (CTLT)
CTLT increases each cadet's leadership experience. Cadets are assigned to a platoon leader position in a regular active duty Army unit and given an opportunity to lead soldiers. It provides cadets with first hand experience with the command, training, administration, and logistical functions of active duty units. It also exposes cadets to the on-duty and off-duty environment of the junior officer.
Nurse Summer Training Program (NSTP)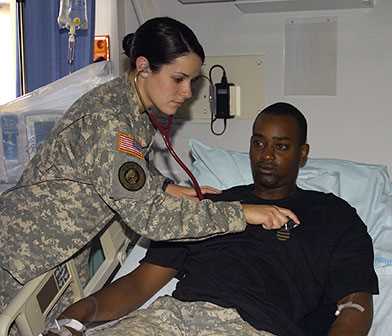 NSTP is a clinical elective offered at Army hospitals in the United States and Germany. NSTP is a paid elective attended during the summer between your junior and senior years of college. It gives you the opportunity to develop both your leadership and nursing skills. It will introduce you to the Army Medical Department and the roles and responsibilities of an Army Nurse Corps officer.
Army Medical Department Internship Program (AMEDDIP)
The Office of the Army Surgeon General sponsors the program. Cadets are assigned to Medical Department Activities (MEDDAC) and Medical Centers (MEDCEN). The purpose of the AMEDDIP is to offer a cadet insight into the Army Medical Facilities and exposure to leadership in the medical arena. Cadets are assigned to a preceptor and work under their direct supervision and direction of an AMEDD officer.
Olmsted Cultural Immersion Program (OCIP)
The program is to be considered as much a broadening and leadership development opportunity as an academic or scholastic opportunity. Travel must be to and in a non-English speaking country with exposure to foreign language, diverse cultural perspectives and a consideration of the role of US policy in that country or region.
For additional information:
http://www.olmstedfoundation.org/
Basic Camp
The main focus of Basic Camp is to develop your leadership skills through exposure to interactive personal and group experiences. You will also be introduced to the soldierization experience, as you will learn many of the basic soldier skills that set us apart from our civilian colleagues. Army Drill Sergeants and cadre from universities across the nation play key roles in your experience as they lead you through your daily training routine. Your cadre team will provide you daily feedback and counseling on your successes and areas still needing improvement. Through this experience, you will learn how and when to lead others and the importance of teamwork in accomplishing a common goal. More importantly you will be taught the values and ethos of an Army officer and what is required to achieve this distinction.