Thinking about college and wondering where to start?
Take the first step with the Self Sufficiency Program (SSP)!
SSP is a free, pre-college program that provides participants an opportunity to explore academic and career interests in a supportive setting.
Offered each fall and spring semester, the 10-week class meets Tuesday evenings on the UWL campus. Free childcare is available on-site.
Stay Tuned for Spring 2021 Updates!
The start date for Spring 2021 is pending due to COVID-19. Applications are accepted at any time.
The Program
The purpose of SSP is to improve access to higher education for single-parents and other adults and help them prepare for college success.
SSP has the following course goals:
Familiarize students with college programs and options, applications and admissions procedures, and financial aid and scholarship opportunities at UWL, Viterbo University and Western Technical College.
Engage and support students in building skills in critical thinking, close-reading, reflective and academic writing, and math.
Assist students in developing an individualized educational plan to reach their education and career goals.
Upon completing SSP, students may be eligible for SSP's Locally Grown Scholarships to support their first semesters at UWL, Viterbo University, Western Technical College or other area colleges.
SSP is an community engagement program of the Women's, Gender and Sexuality Studies Department at the University of Wisconsin-La Crosse.
What's New at SSP?
From the director's desk...
Fall 2020
For the first time since 2004, the Locally Grown Scholarship Breakfast isn't part of the fall semester or on the calendars of SSP's friends and supporters. We won't gather to recognize the generosity of our community and award scholarships to SSP students who are now attending UW-L, Western, Viterbo and other colleges. In a year with so many disappointments, challenges and losses, this friendly gathering is especially missed. The Breakfast has never failed to encourage and inspire all who attend.
In the absence of the Breakfast, we are happy to announce the awarding of six scholarships this fall. SSP students, most who are student-parents, navigate difficult terrain on their way to a degree. In a pandemic, the risks of discontinuing or delaying education multiply. Donations to the Fund ease fears and frustration, offers reassurance and renews hope. Thank you to all of our past and present donors and friends who make the Locally Grown Scholarships possible.
Quotes from student parents:
"It's challenging to find childcare in the evenings so that I can complete schoolwork. Most of the natural supports I was counting on are people that are immunocompromised or high risk."
"The pandemic has been extremely stressful for our family with a roller coaster of financial and mental health crises. My classes helped provide structure. The workload is enough to make anyone forget the pandemic! Somehow, I persevered."
"Like everyone, paying for my tuition is becoming difficult. As an immigrant, it's been a little different for me, but I don't let this be an obstacle. I never thought online classes could be this fun and convenient. Surprisingly, I am really enjoying it."
"Challenges? Finding ways to keep myself busy while staying safe. Maintaining social distancing when there is no place to go. Having to schedule time to meet with tutors and instructors versus getting help right away during classes."
"As a non-traditional student, I have many unexpected expenses. Homeschooling my children and providing visual, hands-on and other materials to support my children as English Language Learners are challenges. A challenge that I face as a student is having the necessary tools. My laptop is starting to break down. I may need to get a new one."
"During the pandemic one of the challenges that I'm facing is not being able to see my friends and family like I used to. My depression has gotten slightly worse but school has really helped me stay positive. I work as much as I can, but it is still very tough to make ends meet. I find resources through my computer."
-Andrea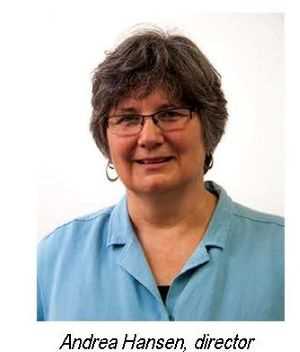 Andrea Hansen, Director of SSP
The Self-Sufficiency Program administrators and the SSP Locally Grown Scholarship Fund committee are committed to a policy of providing equal opportunity to all qualified persons regardless of race, religion, creed, color, national origin, ancestry, age, sex, marital status, pregnancy, sexual orientation, gender identity or expression, political affiliation, physical disability, mental disability, veterans status, or membership in the national guard, state defense force or any other reserve component of the military forces of the United States or this state.