Self Sufficiency Program
A page within Self Sufficiency Program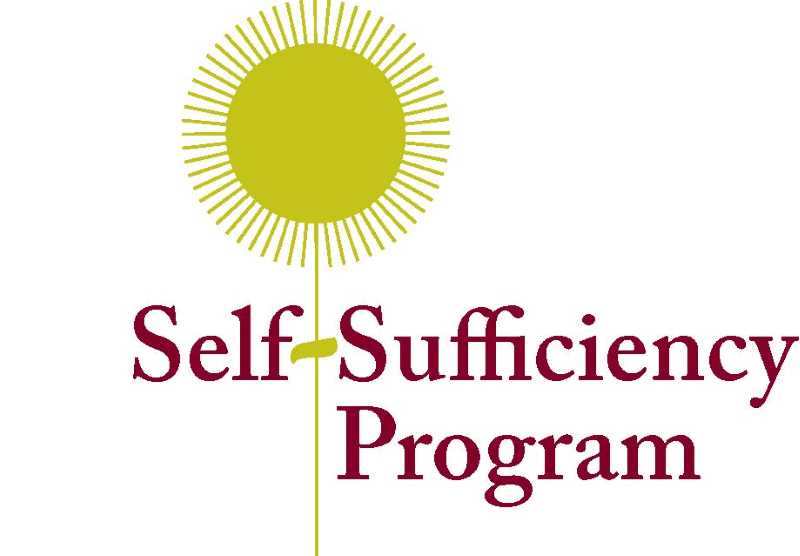 Thinking about college and wondering where to start?
Take the first step with the Self Sufficiency Program (SSP)!
SSP is a free, pre-college program that provides participants an opportunity to explore academic and career interests in a supportive setting.
Offered each fall and spring semester, the 10-week class meets Tuesday evenings on the UWL campus. Free childcare is available on-site.
Spring 2023 Updates!
The start date for Spring 2023 is planned for Tuesday, February 7, 6-8 p.m. Applications are accepted at any time.
The Program
The purpose of SSP is to improve access to higher education for single-parents and other adults and help them prepare for college success.
SSP has the following course goals:
Familiarize students with college programs and options, applications and admissions procedures, and financial aid and scholarship opportunities at UWL, Viterbo University and Western Technical College.
Engage and support students in building skills in critical thinking, close-reading, reflective and academic writing, and math.
Assist students in developing an individualized educational plan to reach their education and career goals.
Upon completing SSP, students may be eligible for SSP's Locally Grown Scholarships to support their first semesters at UWL, Viterbo University, Western Technical College or other area colleges.
SSP is an community engagement program of the Race, Gender and Sexuality Studies Department at the University of Wisconsin-La Crosse.
What's New at SSP?
From the director's desk...
Spring 2023
Each summer, I attend local Back to School events at elementary schools, Boys and Girls Clubs, the Civic Center, and most years, at the Three Rivers House of the Ho-Chunk Nation. It is a joy to see families visiting new classrooms, gathering supplies and information. For new kindergartners and first graders, it is a momentous occasion undertaken with a great deal of seriousness. The little ones stay close to their parents as they decide which backpack and what color of pencils. The returning students catch my attention, too. Their swagger delights me. With an eager confidence, they lead their adults to meet teachers and explore their new classrooms. For them, it is both a homecoming and new territory to discover and claim for their own. Do you remember how you felt heading into a new school year as a child?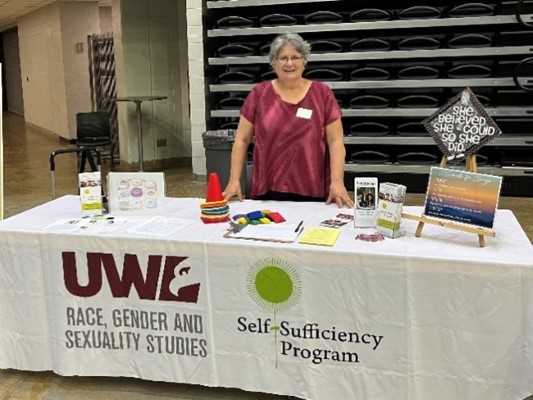 Back to school is for grown-ups too! Andrea Hansen, standing behind her table displaying educational materials at the La Crosse Center school supply drive
Going to school is a serious and momentous endeavor for grown-ups, too. Every semester, SSP students wrestle with Big Questions: Should I go to college or keep working? Will my children's well-being suffer because I am attending college? How do I justify the time and the resources to pursue a degree?
Beginning SSP and attending college is part homecoming for adults as well. Much feels familiar: classrooms, desks, and the excitement of beginning something new. It is the "backpacks" adults carry with them that can overwhelm. Crammed with memories of our younger selves at school, this backpack carries powerful stories about ourselves as learners, providers, parents and people. There's always some unpacking and sorting to be done in SSP. Keeping what might be useful and discarding the rest leaves room for new skills and perspectives. I believe students leave SSP feeling lighter and better equipped to take the next steps and persevere in their educational journey.
The pandemic continues to impact our lives in less obvious ways. Perhaps we are starting to recognize what has been disrupted, and in the process, we are also re-assessing our lives, our communities, and our futures. For many, the desire for more education is part of this recalculation. A recent study reported that adults possessed a "cautious interest" in college as a result of the pandemic. There was a higher interest in college and, at the same time, more questions about the benefits of college than ever before. SSP is uniquely suited for this moment. https://www.insidehighered.com/news/2020/09/17
SSP is fortunate to have the faithful support of our community of donors and friends. Their generous gifts to SSP's Locally Grown Scholarship Fund and our program make a world of difference to SSP students and families. These gifts address material needs, lightens the load, and lifts spirits. Thank you many times over!
It is so good to welcome the newest SSP class to campus this semester!
-Andrea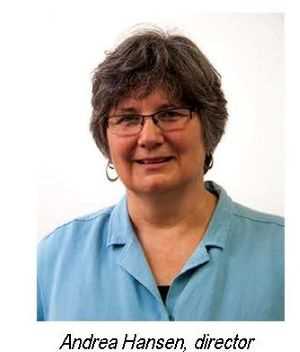 Andrea Hansen, Director of SSP

Thank you wordle
The Self-Sufficiency Program administrators and the SSP Locally Grown Scholarship Fund committee are committed to a policy of providing equal opportunity to all qualified persons regardless of race, religion, creed, color, national origin, ancestry, age, sex, marital status, pregnancy, sexual orientation, gender identity or expression, political affiliation, physical disability, mental disability, veterans status, or membership in the national guard, state defense force or any other reserve component of the military forces of the United States or this state.