Thinking about college and wondering where to start?
Take the first step with the Self Sufficiency Program (SSP)!
SSP is a free, pre-college program that provides participants an opportunity to explore academic and career interests in a supportive setting.
Offered each fall and spring semester, the 10-week class meets Tuesday evenings on the UWL campus. Free childcare is available on-site.
Fall 2021 Updates!
The start date for Fall 2021 is planned for Tuesday, October 5th, from 6-8 p.m. Applications are accepted at any time.
The Program
The purpose of SSP is to improve access to higher education for single-parents and other adults and help them prepare for college success.
SSP has the following course goals:
Familiarize students with college programs and options, applications and admissions procedures, and financial aid and scholarship opportunities at UWL, Viterbo University and Western Technical College.
Engage and support students in building skills in critical thinking, close-reading, reflective and academic writing, and math.
Assist students in developing an individualized educational plan to reach their education and career goals.
Upon completing SSP, students may be eligible for SSP's Locally Grown Scholarships to support their first semesters at UWL, Viterbo University, Western Technical College or other area colleges.
SSP is an community engagement program of the Race, Gender and Sexuality Studies Department at the University of Wisconsin-La Crosse.
What's New at SSP?
From the director's desk...
Summer 2021
Kitty peeking through semi-closed door
Do you feel it? The pull of back-to-normal. The push to get-going-again. The rush of can't wait-to-be-together. The anxiety of is-it-safe?
I feel all of this and more as I begin to plan for a more normal fall SSP semester, in-person and on-campus. I can't wait to welcome the newest SSP class, those single parents and other adults who are eager and anxious to continue their education. With declining rates of infections and up-to-date protocols in place, the risks should be minimal.
Our tentative start date is Tuesday, October 5, from 6 – 8 p.m.
Of course, I am wondering how the pandemic has affected the education goals of adults and single-parents, in particular. Even in ordinary times, deciding to go to college requires both careful calculations and a courageous leap of faith. For parenting students, staying the course is challenging to say the least. Every completed semester by a student parent is a huge success and every degree is a triumph. A big shout-out to Xia Yang, Melissa Touche and Lisa Ehlers as recent UWL graduates! Congratulations to all parenting students, those completing semesters and others who stopped out.
The pandemic's impact on families and especially single-parents has been significant. It has exposed our underdeveloped care infrastructure and the realities of work that is low-wage and at the same time, deemed essential. What dreams are deferred and plans interrupted in this punishing context? For many, it is a chance to complete a college degree or gain a credential. Since the pandemic began, families experiencing financial insecurity were three times more likely to delay college plans as higher income families (The Student Parent Equity Imperative, April 2021, Institute for Women's Policy Research, www.wpr.org).
Strong arguments exist that reforming our higher education systems to improve access for all adults is a way to help our country recover and rebuild from the pandemic. Including parenting students who are 25 percent of all college students result in multigenerational benefits for individual families, communities, and society as a whole.
I also must note evidence that suggests the pandemic has adults thinking about "degree-ing up." In a national Public Viewpoint poll , 42% of adult respondents without a college degree said COVID-19 increased their interest in enrolling in college, compared to 21% who said it made them less likely to go. Pandemic-induced financial uncertainty, job prospects uncertainty, and demands of caregiving may explain why respondents also question the benefits of college at higher levels than before the pandemic. (Paul Fain, 9/17/20, Cautious Interest in College Among Working Adults, Inside Higher Ed, https://www.insidehighered.com/news/2020/09/17)
As we emerge from the pandemic, SSP seems uniquely suited for this moment. This could be the right time to assess, explore and re-set your career and family's future. SSP helps you explore career paths and educational options, discern the risks and the gains, practice college skills, and re-cover your sense of confidence and love of learning. Offered as a free 12-week pre-college program for single parents and other adults, SSP provides support, information and instruction. I hope to see your application soon!
-Andrea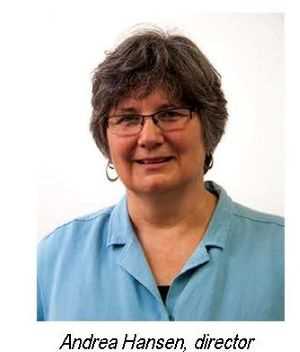 Andrea Hansen, Director of SSP
The Self-Sufficiency Program administrators and the SSP Locally Grown Scholarship Fund committee are committed to a policy of providing equal opportunity to all qualified persons regardless of race, religion, creed, color, national origin, ancestry, age, sex, marital status, pregnancy, sexual orientation, gender identity or expression, political affiliation, physical disability, mental disability, veterans status, or membership in the national guard, state defense force or any other reserve component of the military forces of the United States or this state.