Packing list
A page within Screaming Eagles Marching Band
"Official" Band Camp Recommended Packing List
* Comfortable Outdoor Clothing
* Clothing for the Spirit/Dress-Up Days
Monday: Stoplight Day - wear red if you're taken, green if you're available, and yellow if it's complicated

Tuesday: Holiday Day - Dress up as your favorite holiday!

Wednesday: Barbie Day - Dress up as any character from Barbie or if you're more of an Oppenheimer fan that works too

Thursday: Maroon and Grey - Show your school spirt and wear maroon and grey!

Friday: Section Day - your section picks a theme!
* Pair of Athletic Shoes (No Flip-Flops or Sandals!)
* Black Marching Shoes
All Band and Color guard members are responsible for their marching shoes!!! If you had black shoes in high school you may continue to use them. If you need shoes, we recommend:
* 2-3 Pairs of Long Black Socks
* Water Bottle(s)
* Sunscreen
* Hat and/or Sunglasses
* Instruments: Sousaphones, baritones, mellophones, tenor saxes, and piccolos are provided at no cost to the student. Other instruments are available on a limited basis. Contact the director ASAP to make arrangements. Regular instrument accessories (reeds, valve oil, slide grease, etc.) are not provided.
* Completed Health Form
* If renting a locker...Cash or Check (separate one from apparel) for the $10 semester locker rental
If you have any questions, contact your section leader.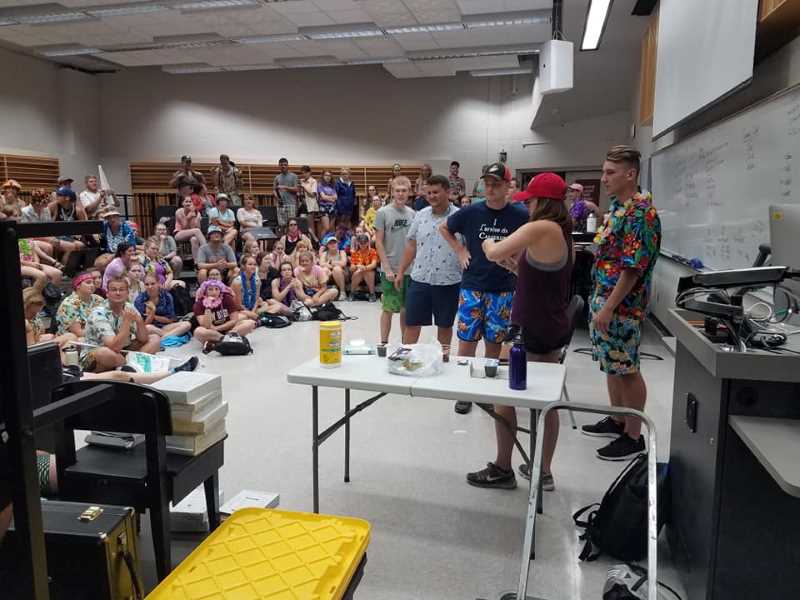 The band dressed up for beach day in the choir room