What to expect during Camp
A page within Screaming Eagles Marching Band
Band Camp starts the week before the start of fall classes. If you are in the color guard or percussion/drumline section, you will start a little earlier than the rest of the band (usually a few days earlier). Expect an email from your section leader by early August with some more details about camp. As always, if you have questions, feel free to contact your section leader, as they are happy to answer any questions you have.
Your First Day - Color guard & Drumline/Percussion (and Leadership)
Welcome! If you are living on-campus, your first day will begin with move-in. More information about the early move-in process can be found under Start Dates & Schedule.
After moving in, your section will meet together in room 56 in the Center for the Arts (CFA) building. At this meeting you'll get to visit with your section leaders and learn more about how the rest of your time will go before the whole band arrives on Sunday.
Exact move-in & meeting times for your first day can be found on either the Schedule page or the band camp Start Dates & Schedule page.
See the below section for how the Sunday when the entire band arrives will go.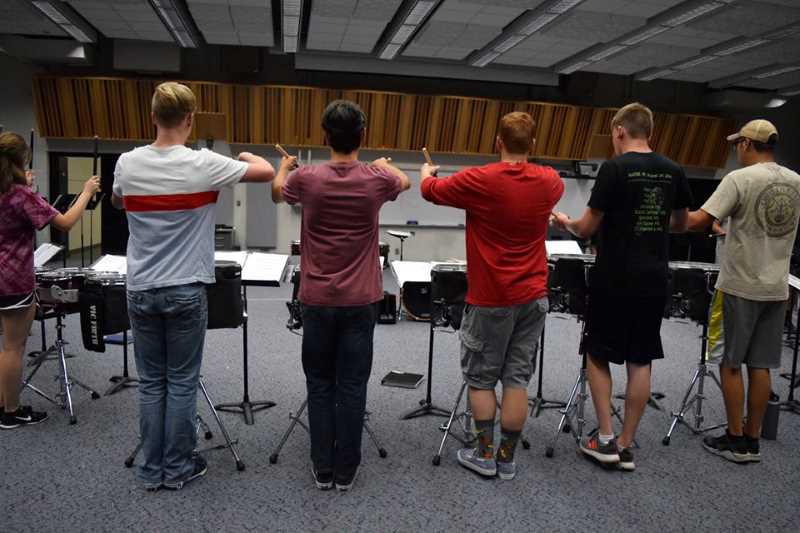 Drumline rehearsal
Your First Day - All Other Sections
Welcome! If you are living on-campus, the first part of your day will begin with move-in. Students will be able to move-in early to their assigned dorms. All of the residence halls will be staffed, so if you have any questions while you are moving in, you can direct them to any staff member in your hall. Follow all move-in directions sent to you by Residence Life (ignoring the move-in date and time they give you, since you'll be moving in early for band), and if you have any move-in related questions before you get here, contact Residence Life at housing@uwlax.edu or 608.785.8075.
In the afternoon, you'll need to make your way over to the Center for the Arts (CFA) building bottom floor (around room 56) to go through SEMB Check-In (look for the chalk signs on the sidewalk to guide you). Basically, you'll work your way through a line to different stations where you will do things like get your music, turn in your health form, get your band uniform, et cetera. This process will take about 15-30 minutes to complete. You can check the Schedule or the band camp Start Dates & Schedule page for the exact check-in time window. After everyone is checked in, the entire band will meet together for a few minutes in CFA room 56, and then after that there will be some time to split into sections so you can meet your fellow section members and your section leader!
Finally, in the evening, the entire band will get together again for our first group rehearsal in Center for the Arts (CFA) room 56. We will play through some of our music, as well as discuss how the rest of the week is going to go. Make sure to bring your music and your instrument with you to practice! This rehearsal will last approximately two hours, at which point you'll be done for the day.
What You'll Do The Rest Of The Week
For the rest of Band Camp (aka Hell Week), expect to be working most of each day. We will alternate between working outside in the football stadium and rehearsing indoors in the CFA, so it is important to wear comfortable outdoor clothing and stay healthy by drinking water and applying sunscreen (and don't worry, we do take breaks for lunch & dinner)! In addition to practicing fundamental marching techniques, the sets for our show, and our music, we'll also be doing a few fun team building activities as part of our "Band Olympics", which is a competition between sections that goes throughout the week. We even put together a talent show one of the evenings where each section puts on a skit for the rest of the band. Expect to work hard during the week, but also expect to have some fun and make a lot of new friends! At the end of Band Camp, you'll have some time to relax before fall classes start the following week.
Marching band rehearsal on the football field
Do you like Food?
University Dining offers a supplementary meal plan for the marching band that starts the day you begin band camp and goes through the Friday of full band camp week when your regular meal plan starts. You can sign up for this meal plan at Whitney Center when you go for your first meal. The meal plan will be billed to your student account, and the meals will be automatically loaded onto your Student ID card. All three meals will be served in the Whitney Center dining room at specific times during the day, and you can buy into all three meals per day, or only certain meals a day. Check with your section leader if you have questions, as some sections like to go out to eat for many meals during the week, so your section leader will be best able to recommend whether or not you should get the meal plan. Regardless, you do not need to decide if you want the meal plan until you get your first meal on-campus. You are also able to eat meals at Whitney during band camp on an a la carte basis by paying with cash or a credit card per meal.
A link to a PDF file with more information about the optional band camp meal plan will be posted on the Start Dates & Schedule page when it becomes available from University Dining.