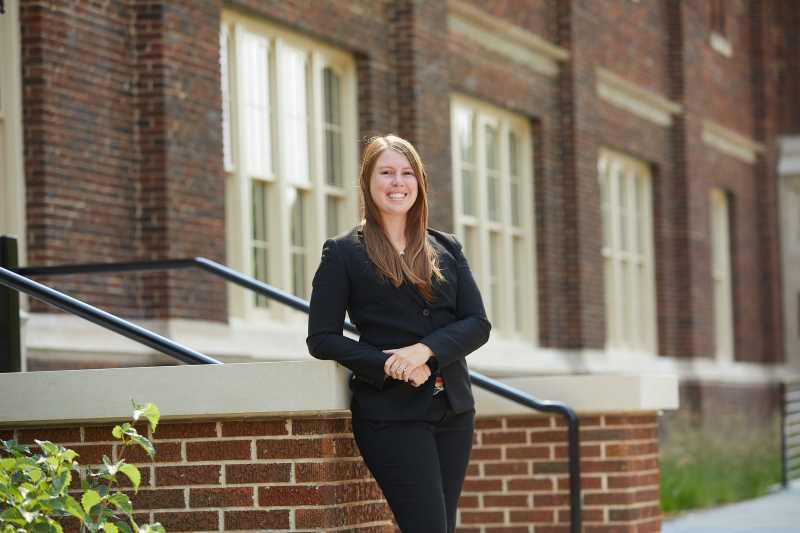 Image of Marissa Eckrote, 2016 Economics graduate.Marissa Eckrote, '16, is back on campus this fall as an associate lecturer in the Economics Department. "As soon as the opportunity presented itself," she says, "I knew it was what I wanted to do this year."
UWL economist earns $400,000 grant to hold workshops, public lectures and more in the field of economics
October 24, 2016
The Search for Economic Justice
Please join us for the opening reception of a new exhibition featuring the photographs and writings of UWL faculty involved in the new multidisciplinary/interdisciplinary, general education course, Search for Economic Justice. The exhibit brings together Archaeology/Anthropology, Economics, English, Modern Languages, Philosophy, Political Science, and Women's Gender and Sexuality Studies. Through the lens of photography, viewers will encounter depictions of various aspects of economic justice in photos, while simultaneously posed different questions pertaining to these depictions, prompting reflection and dialogue about economics and the human side of economic inequality.
The exhibit runs from October 1, 2016 to November 11, 2016.
Betsy Knowles, Economics
Betsy Knowles, Economics, one of six UWL faculty members selected for the 2016 Eagle Teaching Excellence Award.
"Positive partnering: UW-La Crosse students analyze labor market for area businesses" (November 12, 2015)
Study: Affordable Care Act increasing colonoscopy numbers (December 9. 2015)
UWL partnerships benefit community (April, 16, 2015)
Hear local stories of international women (March 5, 2015)
How will right-to-work impact Wisconsin's economy? (February 24, 2015)
Michael Haupert: College grads boost economy (February 15, 2015)
ECO Seminar Series
Research Discussions are informal presentations of work in progress or overviews of a body of work with interactive discussion. Research Seminars are formal talks.
Past Seminars
Economics Seminar Series
When: 2:30 p.m. Friday, March 26, 2021
Dr. Kristen Broady will be discussing her career working in both academia and policy. She also will be taking questions from students about navigating a career in the policy sphere.
Economics Seminar Series
When: 2 p.m. Friday, April 9, 2021
Moriah Macklin (The Hamilton Project), Sebastian Puerta (Opportunity Insights), and Keanan Gleason (Texas A&M)
They will be talking about what it is like to be a pre-doctoral research assistant in various settings and how their positions are setting them up for pursuing a graduate degree.
Economics Seminar Series
When: 2:30 p.m. Friday, April 23, 2021
UWL economics department alum Haley Klundt will be talking about her experience working at the Bureau of Labor Statistics.
Research Seminar
Wednesday March 13, 2019
3:45pm – 5:00pm - Student Union 3310
Dr. Fidia Farah, UWL, will present: "Wage Polarization and College Attendance"
Research Discussion
Wednesday March 27, 2019
3:45pm – 5:00pm – Wimberly 124
Dr. TJ Brooks, UWL, will present: "Amateur Sports Participation: The Case of Wisconsin Cycling"
Research Discussion
Wednesday April 17,2019
12:00pm – 1:15pm - Wimberly 124
Dr. Abdul Kidwai, University of Massachusetts, will present: "Property Rights and Poaching in Common-Pool Resources: An Experimental Study"
Research Seminar
Wednesday May 1, 2019
3:45pm – 5:00pm – Student Union 3310
Dr. Gregory Givens, University of Alabama, will present: "Unemployment, Partial Insurance, and the Multiplier Effects of Government Spending"
Check out the Economics of Sport Series

Nathan Hansen nhansen@lacrossetribune.com - Oct 21, 2017
Economics of Education - October 19-20, 2017
The Department of Economics at the University of Wisconsin—La Crosse is sponsoring a conference on the economics of education. Participants include leading researchers in the economics-of-education field, including Susan Dynarski (University of Michigan), David Jaeger (City University of New York), Christopher Walters (University of California—Berkeley), and Matthew Wiswall (University of Wisconsin—Madison).
The conference is free and open to the public. Conference participants may attend either or both events. Please register in advance to ensure space (includes free parking).
October 19, 2017
Panel Discussion: Transforming Education: The Importance of Cognitive & Non-Cognitive Skill Acquisition to the Workplace
6:30-8:00pm.
1309 Centennial Hall

The panel discussion will focus on the latest research into the effects of education on the development of children's cognitive and non-cognitive skills.
October 20, 2017
Economics of Education Sessions
8:00am-noon
Hall of Nations, Centennial Hall
The sessions will focus on higher education. In particular, the participants will present their research on the following topics:
Student loans - Susan Dynarski
The economics of internships - David Jaeger
The impact of tuition freezes and state funding on enrollment and graduation rates at public universities - Christopher Walters
The labor-market returns associated with different college majors - Matthew Wiswall
Past Conferences
Second Annual Financial and Sports Economic Symposium (April 28, 2017)
Symposium on Operations and Economics of Competitive Sports Teams (April 11, 2016)
New Institutional Economics and Economic History Conference (September 25 ,2015)
2021 Scholarship Awards
David M. Cole Award in Economics ( $2,000 each)
Devyn Korish
Riley Reed
Hannah Riegle
Nolan Gaffney
Laura and Joe Bowers Memorial Scholarship ( $575 )
James Prudhome Scholarship in Economics ( $2500 each)

Erika Vanvelde
Taylor Carden
Maurice and Elizabeth Graff Scholarships -- Economics ( $2,000 )
Economics kudos
James Murray and Peter Haried
James Murray, Economics and Peter Haried, Information Systems, presented "Exploring Non-Fungible Token (NFT) Purchase Motivations" at Americas Conference on Information Systems on Aug. 13 in Minneapolis, MN. The paper was recognized as a top 25% paper at the conference.
Submitted on: Aug. 15, 2022
Nabamita Dutta, Miranda Panzer, Taviare Hawkins and Diana Moran Thundercloud
and Miranda Panzer, International Education & Engagement; received the award for ALANA Phenomenal Womyn's Award at ALANA's Phenomenal Womyn's Dinner on April 19, 2018 in La Crosse, WI. Asian, Latina, African, Native American (ALANA) Womyn's Student Organization recognizes womyn of color and allies for their significant contributions in the community and for their support of the student organization's members.
Submitted on: May 14, 2018
Nabamita Dutta, Taviare Hawkins and Diana Moran Thundercloud
Award recipients at at the ALANA Phenomenal Womyn dinner on April 19, 2018 in La Crosse, WI were:
Nabamita Dutta, Economics, and Taviare Hawkins, Physics, — Phenomenal Woyman
Diana Moran Thundercloud, Women's, Gender, Sexuality Studies — Phenomenal Woyman
ALANA (Asian, Latina, African, Native American Womyn Organization) Phenomenal Womyn's dinner is an empowering event held to honor, recognize, and celebrate womyn of color on campus. The theme this year is "SuperWomyn", a matter and category that we believe this year's award recipients belong to and embody. This year's event will honor three very unique professionals for their high caliber internal and external teaching skills, ability to inspire, and other contributions shared with students, UWL, La Crosse community and beyond.
Submitted on: April 26, 2018