Read more to find out where TESOL can take you!
TESOL Minor Graduate Amy Voet Teaches ESL in Oshkosh
Amy Voet recently graduated with a major in MC-EA (Middle Childhood to Early Adolescence Education) and a minor in TESOL. She happily accepted a K-5 ESL position in Oshkosh this past fall and has been teaching there doing primarily push-in ESL teaching, supporting her students with ESL in their regular classroom. Because there are some newcomers, she is also teaching some pull-out classes. Many of the students are from the Middle East and from South East Asia. Furthermore, there is a large number of refugee families in this area. The native languages of the students include Hmong, Arabic, Karen, Russian, and some African languages. About this opportunity, Amy said, "I am so excited to be introduced to my students' cultures and languages. I have so much to learn!"
Amy also noted that her TESOL minor really prepared her for this next professional step. She noted that she learned the history and laws of ESL within the schools over time, and also how languages, cultures, and religions all tie together in learning a language. Her favorite class for the TESOL minor was linguistics (Editor's note: TESOL minors take MLG 340: The Study of Language or ENG 331: Introduction to Linguistics to fulfill the linguistics requirement). She stated, "This class helped me find my love for language. I learned how to break apart the syntax of languages in order to support my students who have an L1 that I am unfamiliar with. This allows me support them where help is needed."
Amy strongly suggests TESOL as a minor, whether you are going teach abroad, teach in the states, or even work for a business. This minor will change your outlook on life, and hopefully, as it did for Amy, help you find your passion. Congratulations, Amy, for your success in teaching ESL!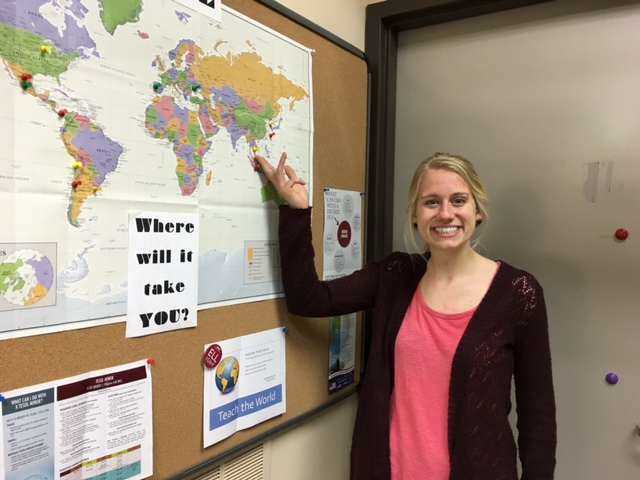 S16student
Kimmy Gaul has received the opportunity of a lifetime, to go and teach in Cambodia at the New Hope for Cambodian Children International School (NHCCIS:http://www.newhopeforcambodianchildren.com/). This school is also a home for children who have been orphaned due to HIV/AIDS. It is a new school, started only two years ago, but it already has a student body of over 200 students in grades Kindergarten through high school.

Kimmy will volunteer at NHCCIS during the 2016-2017 school year. She will travel to Cambodia in September to teach 2nd graders English, science and math. The children also learn their native language, Khmer, from local teachers. Because students can enter the school at any grade level, Kimmy knows she can expect a lot of diversity in terms of the students' English language levels. She is very excited about the opportunity, but also knows she will have a lot to learn.
The internship and practicum experiences Kimmy had during the TESOL Minor helped her develop strong cross-cultural communication skills, but this will be Kimmy's first time in Cambodia, and even in Southeast Asia! She already has plans to do research on Cambodian culture before leaving the U.S. and she has had the opportunity to connect with other teachers at NHCCIS about what to expect when she arrives. Kimmy will live on-site at the school, but hopes to have time to also travel and get to know Cambodia and the region. Good luck, Kimmy!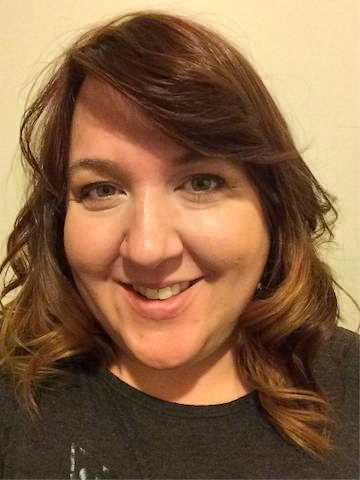 TESOL student
Sarah Crossman (TESOL graduate May 2015) joins U.S. State Department
What does a minor in TESOL hold in store for you?
Since Sarah Crossman graduated with an English major and TESOL minor in 2015, she has been pursuing her Master's degree at the School for International Training (http://www.sit.edu/). Because this is a one-year TESOL program (http://graduate.sit.edu/sit-graduate-institute/tesol-programs/), Sarah started her search for post-graduation employment early. With her TESOL studies and her previous international experience, Sarah was well-qualified for an internship at the U.S. State Department!

Sarah will be a passport specialist intern as part of the Pathways Internship Program (http://careers.state.gov/intern/pathways) through the State Department. She will stay in Vermont, working near the Canadian border in St. Albans, because she loves the area. Sarah's internship will involve examining applications and supporting documents for those who apply for official and diplomatic passports. While this is an entry-level position, to get her "foot in the door," she is guaranteed a position with the State Department after the program is over as well. Sarah's short-term goal is to have a teaching position with the State Department (such as the English Language Fellow Program,http://exchanges.state.gov/us/program/english-language-fellow-program), but her long-term goal is to achieve a diplomatic position with the State Department as a RELO (Regional English Language Officer). RELOs work in different regions of the world and run the State Department-sponsored English language-teaching activities in that region.

Sarah has high goals for herself as a professional, and we are excited to see where else TESOL will take her!
StudentTESOLS2016
Brooke Jenderny (MCEA Education Major and TESOL Minor)
Advice from Brooke Jenderny, recent TESOL minor graduate
Some education majors choose to add on the TESOL minor and ESL certification in order to increase their job prospects when they graduate. For others, the desire to work with linguistically diverse students, such as English language learners (or "ELLs"), is the driving force behind pursuing the TESOL minor. Whatever the motivation, few teacher candidates have been as successful as Brooke Jenderny at combining an education major and the TESOL minor.

Brooke just finished her MCEA education major and TESOL minor at UWL in Fall 2015. She recommends the TESOL minor to all education majors because it makes a teacher candidate well-rounded. The minor deals with language, culture, and working with people in general, and it has helped tremendously in Brooke's teacher preparation because she is able to work with ELLs in any classroom. For those in the TESOL minor, or interested in it, Brooke suggests getting experience working with students of different cultural backgrounds. This helps when taking TESOL minor classes, and in the field or student teaching classroom.

Brooke also offers some insights into what made her a successful student teacher. First, she got involved with her school and students beyond the school day. She attended the Hmong New Year celebration in the community, went to her students' volleyball games, and involved herself in their before- and after-school activities. This helped her get to know the students better, even their learning styles, which helped her as she worked with them in the classroom.

Brooke also was very successful in completing the edTPA. Her interaction with students in and beyond the classroom helped as she completed the edTPA because she knew the students so well. She also suggests starting work on edTPA early in student teaching. In this way, teacher candidates can concentrate on just one question at a time. This approach allowed Brooke to maintain her focus and not lose motivation as she worked through the long edTPA process. And it must have worked as she received one of the highest scores at UWL!

Now that Brooke has graduated, she will be working as a substitute teacher during the Spring semester in the school districts surrounding her hometown of New Richmond, Wisconsin. She will use this time to try out different age groups and types of classrooms, and she will also be seeking MCEA and ESL certification in Minnesota to expand her options. She will apply for jobs starting in March to see where it takes her. Good luck, Brooke!
Summer Internship in Mexico!
Maggie Field pointing at map
Maggie Field (MCEA Education major, TESOL minor)
Maggie Field spent her summer completing two TESOL minor internship credits in Mexico. She lived and taught English in Puebla province, first in the very small town of Xiloxochico (close to Cuetzalán) and then in the large province capital. Maggie had only taken Spanish 103 at UWL before going abroad, so it was challenging to communicate when she first arrived. She remembers thinking, "If I just focus on what I know how to communicate rather than what I don't know how to communicate I will gradually learn more and more." By the end, she had learned enough to carry on a decent conversation in Spanish!
City in Puebla Province, Mexico
map
Old street view in a city in the Puebla Province
Maggie had three teaching experiences while in Mexico. First, she taught at a middle school in Xiloxochico where the students' first language isn't even Spanish, but Nahuatl, an indigenous language of the region. Maggie found that being honest with the students about her own language learning was helpful. "A lot of the students saw that we are all learning, even if we're the teacher. Just as I helped them with their English, they helped me with my Spanish." Maggie's second experience was working with and learning from an experienced EFL teacher who conducted adult English and teacher education classes. Maggie didn't have much experience teaching English before going abroad, but she "learned to teach in a more 'give and take' manner than just standing in front of the class lecturing."
Maggie's teaching experience
Maggie with a group of students
Maggie's third teaching experience was in Puebla, the capital of the province, at the "Niños de la Calle" ("Children of the Streets") middle school. Designed specifically for homeless children, Maggie taught English to classes of approximately 10 students. While she found the teaching experience was more challenging, living in Puebla overall was easier because many more people speak English and see the benefits of learning the language.
Maggie in Puebla
If you are thinking of interning abroad, Maggie offers this advice:

1. Keep an open mind and problem solve situations instead of just giving up. For example, if you don't speak the native language of the country you're visiting very well, think of ways to get better.
2. Never miss a chance to get to know the people from the country you're visiting. Living abroad is tiring, but remember you might not get to visit that country again.
3. Go to the "touristy" places but also spend time doing what the locals would do on any given day. As Maggie says, "Even the smallest things can be the most memorable."

Overall, Maggie had a great experience interning in Mexico. Way to go, Maggie!


What are Spring 2015 TESOL Minor Graduates Up To?
Johanna Schneider TESOL Graduate
2015 Graduate Joanna Schneider (Elementary Education major, TESOL Minor)
Joanna Schneider has led an international life and continues to do so! She grew up in Ethiopia and went to high school in Kenya at one of the best international boarding schools. Joanna minored in TESOL at UWL and has already landed a job for next fall. She will teach 2nd grade at Woodland Elementary School in Barron, WI, working mainly with Somali students. Like many districts, the Barron Area School District (http://www.barron.k12.wi.us/schools/) is actively seeking teachers who have ESL certification along with their teaching degree to more effectively serve their growing ELL population. Reflecting on her time at UWL, Joanna recommends TESOL minors get exposure to ESL classrooms early in their studies to be able to picture what ESL actually looks like. Joanna is excited about the challenge that this new job will bring!
Sarah Crossman TESOL Graduate
2015 Graduate Sarah Crossman (English major, TESOL minor)
Sarah started as a TESOL minor with the idea of getting a good teaching job abroad so she could afford to travel and follow her passion: photography. However, the TESOL minor revealed a new passion for Sarah and her life's calling. Sarah eloquently shares, "Working with international students has brought such joy to my life and to be able to communicate with them, learn about their culture, and be able to share my culture with them has made me richer than any paycheck ever will." After graduating, Sarah will attend the prestigious TESOL graduate program at the School for International Training in Brattleboro, Vermont. She is most interested in combining her TESOL studies with the CONTACT peace-building program (http://graduate.sit.edu/sit-graduate-institute/sn/degree-and-certificate-programs/certificate-programs/contact-summer-peacebuilding-program/). After completing her Master's degree in TESOL, Sarah hopes to teach abroad, possibly as an English Language Fellow (http://exchanges.state.gov/us/program/english-language-fellow-program) or through the Japan Exchange and Teaching program (http://www.jetprogramme.org/). She hopes to someday work as a Regional English Language Officer for the U.S. State Department and pursue a PhD. Congratulations, Sarah, on all your accomplishments thus far!
Molly Vertz TESOL Graduate
2015 Graduate Molly Vertz (Elementary Education major, TESOL and Spanish minor)
Molly has had her eye on an international teaching job for a long time. She taught English in Ecuador last summer for two months through Projects Abroad (
http://www.projects-abroad.org/
) and has worked tirelessly since then to obtain a job overseas after graduation (she estimates she sent out between 100 and 200 resumes and cover letters!). Thankfully, her hard work has paid off. Molly will be taking her TESOL knowledge as well as her elementary education degree to teach English at the Academia de Idiomas del Norte (Northern Language Academy) in Iquique, Chile. She will work with adolescent and adult students to help them achieve English speaking, reading, and writing skills. Good luck in your next teaching adventure, Molly!
For more information, please contact Dr. Heather Linville, UWL TESOL Director at hlinville@uwlax.edu