TESOL stories
A page within Educational Studies
Click below to learn more about digital storytelling in the TESOL program and how recent graduates are using their TESOL degrees.
TESOL Stories Buttons
During the 2021-2022 academic year, TESOL Program Director Dr. Heather Linville began incorporating digital storytelling into her work at UWL and in the La Crosse community. You can learn more about Dr. Linville's past work with digital stories here.
You can watch her most recent digital story here.
We Live in La Crosse: Stories of Belonging
Digital overview of the project:
With grant funding from Wisconsin Humanities (https://wisconsinhumanities.org/) and the La Crosse Community Foundation (https://www.laxcommfoundation.com/), multilingual youth and adults created digital stories in the summer school class "My Life in La Crosse," hosted by the School District of La Crosse. As part of the larger grant-funded project, "We Live in La Crosse: Stories of Belonging," this project seeks to raise awareness of the linguistic diversity of La Crosse, increase the sense of belonging of multilingual individuals, and create opportunities for connection and community building across linguistic divides. View some of those stories here:
How I Become an Armyblink Girl in My Life
Digital Storytelling with TESOL Teacher Candidates
In the TESOL program course TSL 345: Intercultural Interactions, students create digital stories to explore their own cultural identities and how cultural diversity has played a role in their lives up to this point. You can view these stories here:
My Christmas Cultural Fusion
Digital Storytelling with UWL International Students
At the ESL Institute, international students studying English created digital stories as a part of their class ESL 110: Oral English Skills: Telling your Story. You can view those stories here:
Events that Gave me Confidence
Expanding boxes

Keeping it Local
TESOL Graduate Chai Xiong to Teach at Local Elementary School
Chai Xiong, a Fall 2021 graduate, has accepted her first job teaching 1st and 2nd grade English learners (ELs) at Eagle Bluff Elementary in Onalaska, Wisconsin. Chai will have the opportunity to put into practice much of what she learned as a TESOL and MC-EA (middle childhood-early adolescence) Education major at UWL. She will be co-teaching with mainstream teachers as well as teaching ELs in small group, pull-out sessions.
Chai is excited for this opportunity but also a little nervous because she will be the only EL teacher in the building. Chai is well-prepared for this opportunity from her classes in the TESOL program at UWL where she learned about the history of ESL teaching, different laws and policies that support ELs, how to plan language lessons, and "how language is tied to everything." Chai especially remembers learning about translanguaging, a theory which sees bilingual students' languages working in conjunction with each other rather than as separate. Chai understands well the importance of bilingual students keeping their native languages and knowing their language is also important as they are learning a new language. "Growing up as an EL, I know that I would have been excited if I was given the opportunity to talk in my native language for a part of my schoolwork or just teach other students how to say my name correctly."
Chai appreciated the hands-on, experiential opportunities she had to learn in the TESOL program. She remembers watching a video during which a teacher was giving instructions to students in another language, Portuguese. Being put in the position of a student just learning English helped her become more aware of what I she can do to help her students. "Sometimes we forget about tiny details that can be of great help to our students because we are so used to just having them understand what we are saying." Chai recommends others take TESOL classes because there is so much that can be learned. "Even if they don't end up teaching ESL, all the skills and knowledge learned can be used in a regular classroom."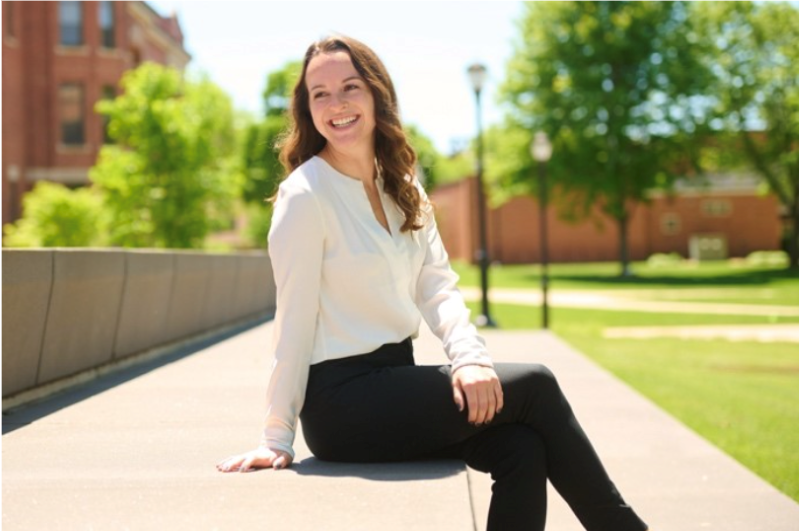 Ally Hetto
Adventures Abroad
TESOL Graduate Ally Hetto Goes to South Africa as a Fulbright English Teaching Assistant
After graduating from UWL with a Spanish Education major and TESOL minor in 2021, Ally Hetto started her adventures abroad by traveling through Latin America. While there, she was also teaching English to students all over the world, virtually, in countries like Brazil, France, and Poland. "It has been an excellent opportunity to learn about my students' cultures, as well as those in Mexico, Guatemala, and Colombia."
For her next adventure, Ally has been awarded a Fulbright English Teaching Assistantship (ETA) grant to teach English in South Africa in 2023. Ally will assist a local English teacher and encourage a cultural exchange between U.S. culture and values and South African culture and values. "I cannot wait to immerse myself in the South African culture and to learn from my students and the local English teachers there!" Ally has even been learning the Zulu language since applying for the grant in hopes that she can create more connections through one of the official languages.
Ally was inspired to apply for the ETA grant after hearing about UWL TESOL Professor Dr. Linville's own experiences teaching abroad. And she credits the TESOL program with preparing her to do more than teach English. "It offers multicultural experiences and opportunities to immerse yourself in your students' culture." Ally is excited to put into practice strategies she learned in the TESOL program at UWL. As she states, "Dr. Linville incorporates strategies and methods for intercultural communication and opportunities to expand both students' and instructors' global mindsets. The excellent courses at UWL fully prepare students to implement effective teaching methods in their classrooms."
Ally is happy to share her experiences in the TESOL program at UWL and offer to support to others thinking about applying for an ETA grant. "I really enjoyed the TESOL program at UWL, especially because it was a tight-knit group that was extremely interested in making a difference in our students lives, learning about other cultures, and experiencing diverse cultures through travel."
Email tesol@uwlax.edu to get connected to Ally!
(You can also see the story UWL did on Ally at https://www.uwlax.edu/news/posts/educational-expedition/?utm_source=Campus%20Connection%202022-06-06&utm_medium=Email&utm_campaign=Campus%20Connection&ConnectionDate=2022-06-06)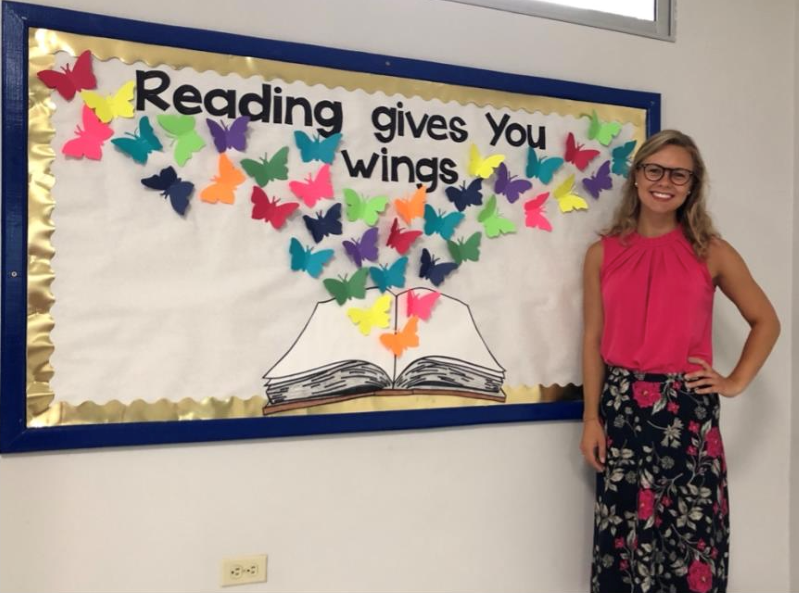 Danielle Lee
Teaching and Learning
TESOL Graduate Danielle Lee Teaches Internationally and Locally, and Now Continues Her Own Education
Danielle Lee has had multiple teaching experiences, both locally and abroad. Even before graduating in 2018 with a major in MC-EA (Middle Childhood to Early Adolescence Education) and certifiable minors in Special Education and TESOL, she completed a portion of her student teaching in Thailand through UWL's Educators Abroad. "I chose the minor in TESOL because I loved the doors it opened for teaching internationally and the diversity it brought to my career." With the student teaching experience abroad, Danielle fell in love with international teaching and immersing herself in a new culture!
After graduation, Danielle sought out more international teaching experiences. Her first stop was the UNI Overseas Teaching Fair (now offered online! https://teachoverseas.uni.edu/uni-overseas-teaching-fair) where she accepted her first teaching position. She taught for two years at a bilingual school in Honduras, teaching 5th – 8th grade English. From her experience in Honduras, Danielle said, "I grew so much as an educator and a person. I had over 100 English language learners. It challenged me, but my TESOL minor really prepared me. I was very grateful to be able to apply the knowledge I gained from my internship experiences and student teaching."
Danielle is back stateside and is currently teaching 7th grade English in Middleton, WI. Never one to rest on her laurels, Danielle is also working on completing her Master's of Science in Education in Teaching and Learning with an English as a Second Language Emphasis at UW-Oshkosh. After completing her Master's degree, she hopes to venture back to international teaching and to focus more on teaching English as a second or foreign language!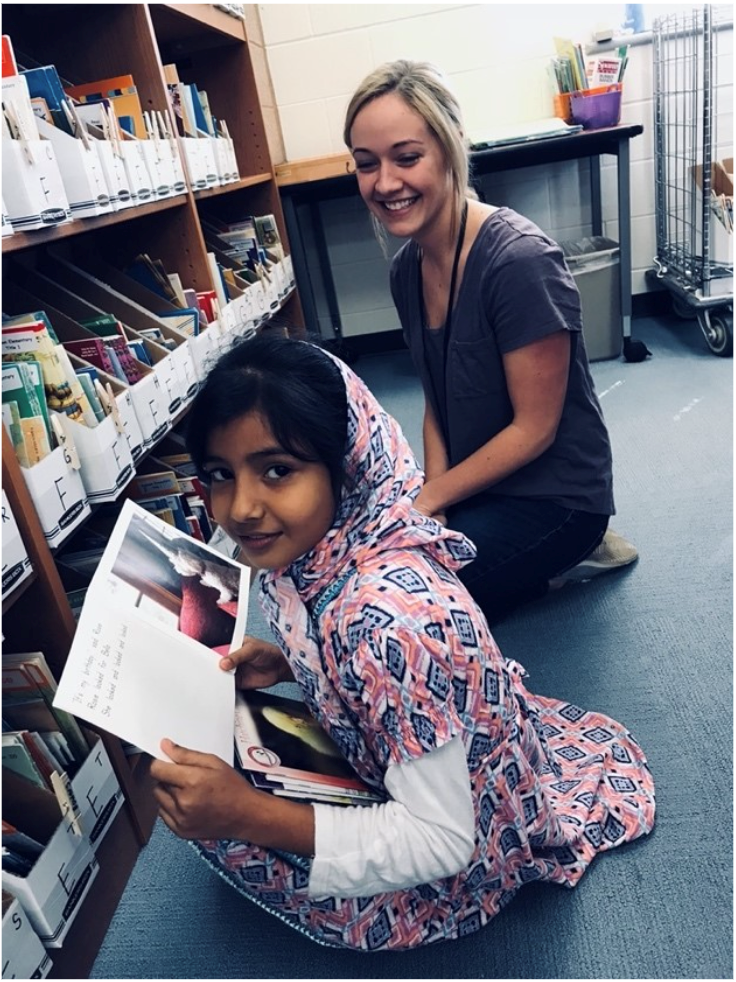 Amy Demuth (Voet)
Teaching Variety
TESOL Graduate Amy Demuth (Voet) Moves from Elementary to Middle School EL Teaching and Has her Own Tutoring Company!
Amy Demuth (Voet) graduated from UWL with an MCEA (middle childhood-early adolescence) Education degree and TESOL minor in 2016. After teaching English learners (ELs) at the elementary level for two years, she moved on to teaching middle school ELs. She is currently teaching ESL at a middle school in Kenosha, Wisconsin. She supports the 6th, 7th, and 8th grade math classes and teaches an English Language Development class for students with WIDA proficiency levels of 2-4 (high-beginner to high-intermediate ELs). As she states, "I absolutely love the variety of teaching I get to experience each day."
Amy is also now a small business owner! She has taken her education know-how and started a company focused on supporting K-12 students through tutoring: YOUnique Minds Tutoring. Amy spends her days working with tutors around Wisconsin who support students in need of academic support. Amy credits her experience in the TESOL program at UWL with helping her learn the foundations of language development and how to support students at all levels; knowledge and skills she uses in her teaching position and in her business. "I could not have done all of this without the experiences I was honored to have at UW La Crosse."
Email tesol@uwlax.edu to find out how you can create and follow a path similar to Amy's!
Enjoying Being a Teacher
TESOL Graduate Saeng Yang Teaches MLs at At-Risk Youth at Onalaska High School
Since graduating from UWL as a Broadfield Social Studies Education major with a TESOL minor in 2016, Saeng Yang has had multiple opportunities to enjoy the "many awesome things about being a teacher." Saeng first taught in the Saint Paul Public School system for two years, working with multlingual learners (MLs). After getting that experience, he taught MLs at Hudson School District for one year and then returned to this area as a substitute and Education Assistant supporting MLs. Now Saeng has found a permanent position teaching MLs and at-risk youth at Onalaska High School.
Saeng loves seeing his students grow and learn throughout each year as he teaches them. "The TESOL program at UW-La Crosse helped me tremendously in my ML teacher journey." He appreciates having learned the different teaching strategies that are effective in teaching language to students, strategies that are common practices to other ML teachers and trainers. In addition to learning how to teach the language component, Saeng also is grateful for learning the cultural aspect as it is woven within learning a new language for ML students.
Saeng reminds us all that, "Some of my toughest kids I have worked with are the most rewarding." He has also had the chance to work with newcomers and enjoyed sharing Thanksgiving dinner with them, especially as they ate pumpkin pie for the first time!
Teaching in Cambodia!

Teaching in Cambodia!
TESOL Graduate Kimmy Gaul Spent Two Years Following her Passion
Kimmy Gaul received the opportunity of a lifetime after graduating from UWL in 2016 with a double major in Psychology and Spanish and a TESOL minor: to teach in Cambodia at the New Hope for Cambodian Children International School (NHCC: https://newhopeforcambodianchildren.org/). The school is a home for children who have been orphaned due to HIV/AIDS and serves over 200 students in grades Kindergarten through high school. The children learn all subjects, English, and their native language, Khmer, at the school.

Kimmy volunteered at NHCCIS from 2016 to 2018. To prepare for her first time in Cambodia, and Southeast Asia, Kimmy researched Cambodian culture and connected with other teachers at NHCC to learn more about what to expect when she arrived. The TESOL minor helped Kimmy develop teaching and strong cross-cultural communication skills. However, she knew going in she would have a lot to learn, especially about teaching students whose English language levels were very diverse. Kimmy taught 2nd grade English, science, and math, and was so successful she even took on some administrative duties as well in her second year. Kimmy credits her internship and practicum experiences as a TESOL minor especially in preparing her for this experience. Kimmy lived on-site at the school but was grateful to also find time to travel and get to know Cambodia and the region. What an amazing experience for this TESOL graduate following her passion!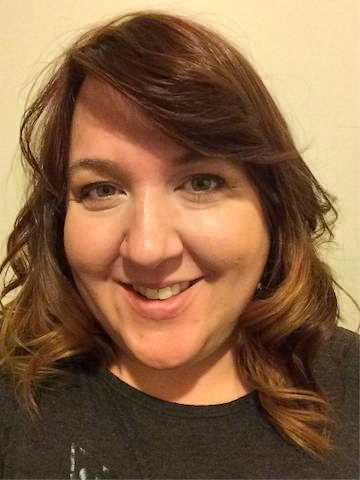 Sarah Crossman
Serving our Country
TESOL Graduate Sara Crossman Joins U.S. State Department
Sarah Crossman graduated with an English major and TESOL minor from UWL in 2015, and her Master's degree at the School for International Training (http://www.sit.edu/) one year later. After graduating, Sarah used her TESOL studies, Master's degree, and previous international experience to get an internship at the U.S. State Department. As a passport specialist intern in the Pathways Internship Program (http://careers.state.gov/intern/pathways), Sarah worked near the Canadian border in St. Albans examining applications and supporting documents for those who apply for official and diplomatic passports. This entry-level position was a chance for Sarah to get her "foot in the door" as she was guaranteed a position with the State Department after the program was over. Sarah's long-term goal is to achieve a diplomatic position with the State Department as a Regional English Language Officer (RELO: https://careers.state.gov/career-paths/worldwide-foreign-service/specialist/educational-and-cultural-affairs/english-language-officer/). RELOs work in different regions of the world and run the State Department-sponsored English language-teaching activities in that region. Another option TESOL graduates can pursue is a teaching position with the State Department through the English Language Fellow Program (https://elprograms.org/fellow-program/). Sarah, like most TESOL graduates, had high professional goals for herself and has reached them!
For more information, please contact Dr. Heather Linville, UWL TESOL Director at
hlinville@uwlax.edu