Congratulations, graduates! We encourage all graduate students to attend the University Commencement ceremony and a hooding ceremony - either the multi-program Graduate Studies Hooding Ceremony, or a hooding ceremony hosted by your own graduate program. Click the boxes below for more information. You should also keep an eye out for campus emails regarding graduation details.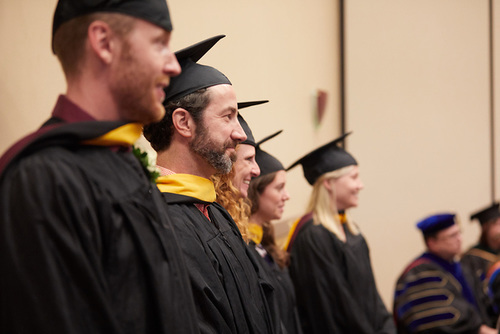 University commencement

expanding section
Online commencement information is available including helpful tips and answers to frequently asked questions. You will receive emails regarding commencement details if you have filed your intent to graduate in WINGS.
Graduate Studies hooding ceremony

expanding section
Graduate students are encouraged to attend a special hooding ceremony prior to commencement. Please note that some graduate programs hold their own hooding ceremonies. If you have any questions about your program's participation please contact your program director.
Programs Participating - December 2018
Biology
Clinical Microbiology
Community Health Education
Data Science
Human Performance
Medical Dosimetry
Microbiology
Professional Studies in Education
Public Health
Recreation Management
Software Engineering
Therapeutic Recreation