December 2020 Commencement
Dear Graduating Students,
Though we'd rather be together in December, we are excited to be putting together our second "couch commencement" for you—and we need your help!
Please take a moment to "sign the yearbook"—it is open now for students who are graduating!
Go to

https://share.uwlax.edu/celebration

and log in using your UWL NetID. Once in, some of the information for your bio will be populated for you.
Profile pic – upload an image. We'd love to see you in your UWL gear or wearing your graduation cap if you have one. Also, we are creating a number of UWL frames, filters and stickers for Facebook, Instagram and Snapchat for you to share your UWL graduation pride. Ideally, choose a photo of yourself rather than a group photo.
Words of encouragement or thanks – 600 characters. Say thank you to your family or professors. Tell your friends they're amazing.
Submit by Thursday, Dec. 17 –

Couch commencement goes live Sunday, Dec. 20. We will review and contact you if we have any questions. Please remember, this will be a public site that will be viewable by family and friends (and, in theory, future employers).
Diplomas
As stated, diplomas will be mailed to students approximately six weeks after grades have been submitted; diplomas will be mailed to your address listed in WINGS.
Diploma covers & programs
Commencement programs and diploma covers will be available for pick-up from 10 a.m.–1 p.m., Tuesday, December 15 at the Cleary Alumni & Friends Center.
Commencement regalia (caps & gowns)
If you would like to order commencement regalia for photos and/or other events:
All graduation regalia is available to purchase online through Herff Jones. Online orders are limited to full sets (cap, gown, and tassel).

Regalia is also available for purchase and pick up at the University Bookstore. If you only require pieces (rather than the full set), you will have to purchase this at the University Bookstore.
Please note: no refunds are available for regalia purchases.
UWL Alumni Association
Check out the New Graduates page for alumni programming, an exclusive life membership offer, and other resources!
Career Services
Need help with your job/graduate school search? Contact Career Services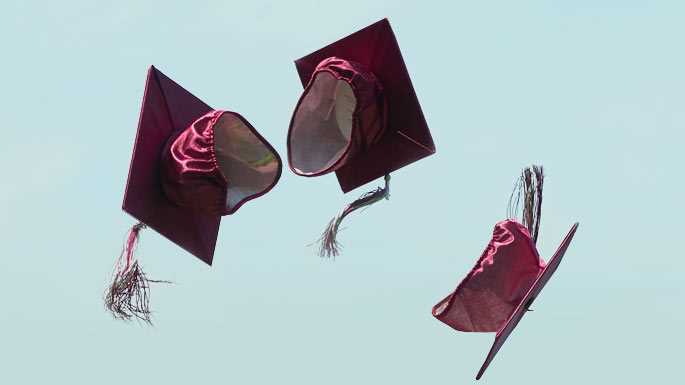 First Destination Survey
Take the survey!
Please tell us about your post-graduate career plans. Takes less than 5 minutes and is completely confidential.
Still looking?
Still in need of any job search/grad school assistance?
Career services is available to help you as you navigate the process of job searching or applying to graduate school.