UW-La Crosse's online celebration of graduates begins May 16, 2020!
The University of Wisconsin-La Crosse's online celebration for Spring 2020 graduates has been dubbed "Couch Commencement" by student leaders. Join us as we celebrate UWL students' achievements, virtually, beginning on May 16, 2020.
August 22, 2020 Commencement Ceremony
Spring Commencement has been tentatively rescheduled to Saturday, August 22, 2020. Two ceremonies are planned:
Location: Mitchell Hall, UW-La Crosse
10 a.m. Ceremony
College of Business Administration

College of Arts, Social Sciences, and Humanities

School of Education including:

EC-MC

MC-EA

STEP (English, History, Social Studies)

World Language Education

Art Education

Music Education
2 p.m. Ceremony
College of Science and Health

School of Education including:

STEP (Math, Biology, Chemistry, Physics)

PETE

School Health Education
Order regalia, announcement, invitations, apparel:
Diplomas and diploma holders:
Commencement is a celebration of academic accomplishments. Regardless of your participation in the commencement celebration, if you have completed the requirements, you will earn your degree and a diploma will be mailed to you.
Diplomas will be mailed to students about six weeks after spring grades have been submitted.
Diploma holders are handed to students when they walk the stage during the commencement ceremony. If a student is unable to receive their diploma holder in August, they may request a diploma holder and it will be mailed to them. No diploma holders will be mailed before commencement; requests can be submitted after August 22.
UWL services:
UWL Email Address – due to COVID-19, your UWL email will stay valid through December 2020 so that we can continue to communicate with you all about commencement options.
Textbook Rental Services returns – all undergraduates will get full information in a week or so about the options for returning textbooks (including a pre-paid label from FedEx). Make sure to verify both your current mailing address and home address in WINGS.
Career services has created a resource for job searches during COVID https://www.uwlax.edu/aaccs/studentsalumni/covid-19-job-search/
Have post commencement career and/or graduate school plans? We'd love to hear about them – please complete the 5 minute "first destination" survey - https://www.uwlax.edu/hired/

- we use the information to best help future students.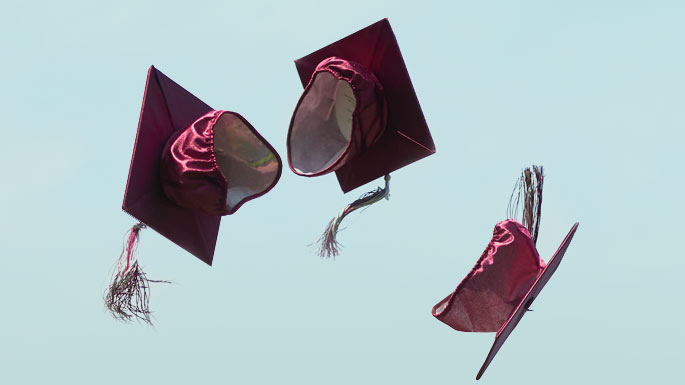 First Destination Survey
Take the survey!
Please tell us about your post-graduate career plans. Takes less than 5 minutes and is completely confidential.
Still looking?
Still in need of any job search/grad school?
Career services is available to help you as you navigate the process of job searching or applying to graduate school.