December 2020 Commencement
Dear Graduating Students,
For the 2020 Winter Commencement, UWL will be celebrating our second "Couch Commencement—a virtual celebration to honor our graduates. Students will be asked to join the wall of graduates by submitting an image and words of thanks and encouragement; students with honors will be indicated; videos of congratulations from your departments will be posted, as will speeches and pomp and circumstance! It will "open" on December 20th at 10 a.m.—this is not a live-streaming event; you and your supporters can engage with it at your convenience. More information about how to participate will be forthcoming. You may also receive program-specific information as the date approaches.
Though we will not be holding an in-person commencement ceremony, this does not affect whether students graduate. Official diplomas will be sent to those meeting degree requirements about six weeks after grades have been submitted, just as they have in previous years.
Diplomas
As stated, diplomas will be mailed to students about six weeks after grades have been submitted; diplomas will be mailed to your address listed in WINGS.
Diploma covers & programs
A diploma cover is the diploma 'holder' that is handed to students at an in-person commencement ceremony. Instead, diploma covers and printed copies of the program will be available for pick up on campus in December. Specific dates and times will be forthcoming.
Commencement regalia (caps & gowns)
If you would like to order commencement regalia for photos and/or other events:
All graduation regalia is available to purchase online through Herff Jones. Online orders are limited to full sets (cap, gown, and tassel).

Regalia is also available for purchase and pick up at the University Bookstore. If you only require pieces (rather than the full set), you will have to purchase this at the University Bookstore.
Please note: no refunds are available for regalia purchases.
UWL Alumni Association
Check out the New Graduates page for alumni programming, an exclusive life membership offer, and other resources!
Career Services
Need help with your job/graduate school search? Contact Career Services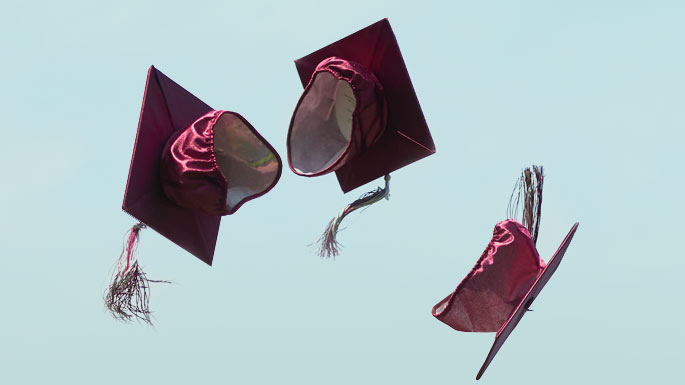 First Destination Survey
Take the survey!
Please tell us about your post-graduate career plans. Takes less than 5 minutes and is completely confidential.
Still looking?
Still in need of any job search/grad school assistance?
Career services is available to help you as you navigate the process of job searching or applying to graduate school.