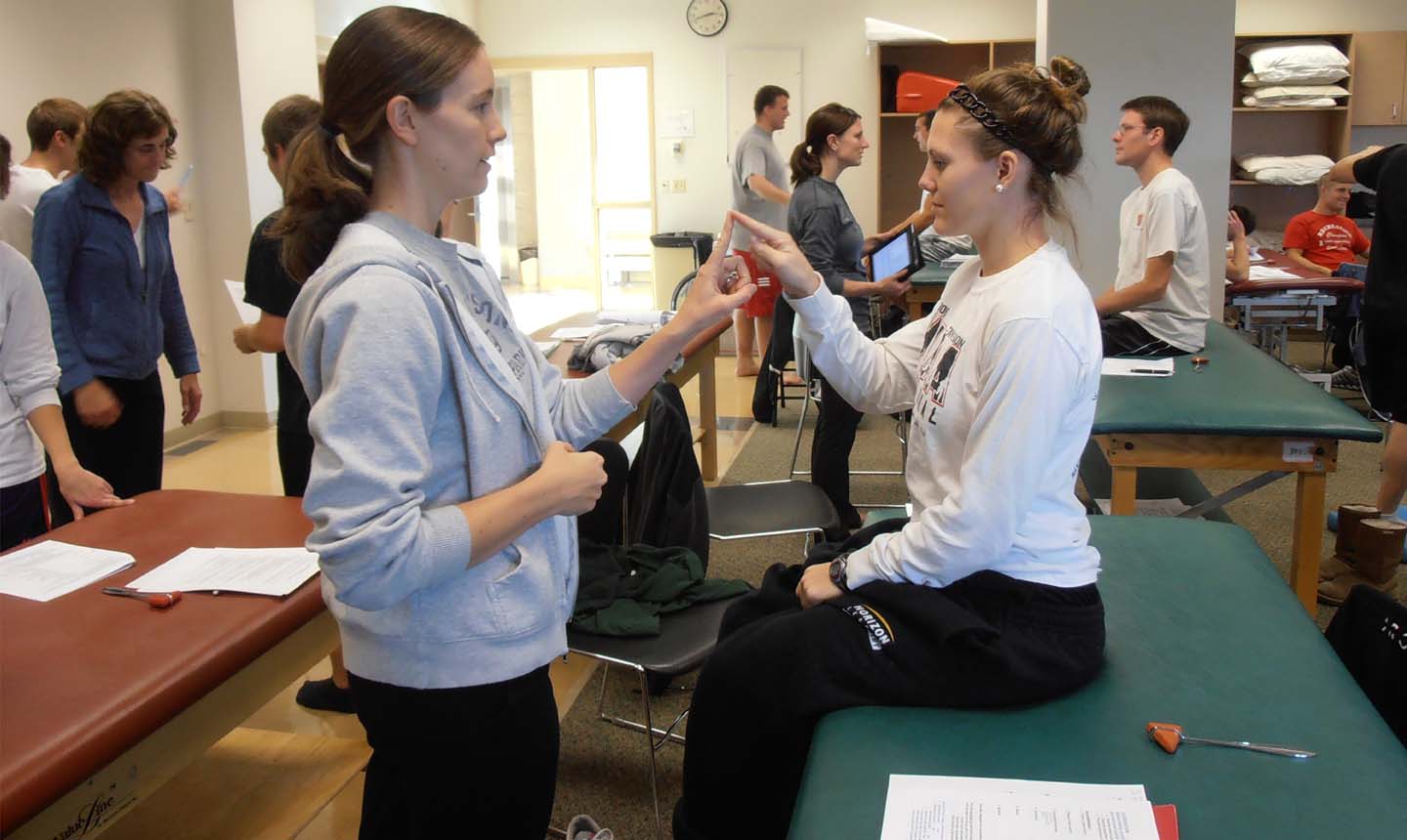 2019 UW-La Crosse Physical Therapy - Occupational Therapy Career Fair
Thursday, April 11, 2019
1:00 pm - 4:00 pm
Student Union (Bluffs Room - 2130)

Registration deadline: Friday, March 29, 2019
Registration will be limited to the first 40 registrants.
2019 Career Fair Registration
2019 Career Fair Registration Form - Available for download now
Where:
UW-La Crosse
Student Union
Bluffs Room - 2130
1725 State St.
La Crosse, WI 54601
608.785.8877

Programs represented:
Physical Therapy (DPT): approx. 40 students graduating Spring 2019 and another 45 graduating Spring 2020
Occupational Therapy (MSOT): approx. 24 students graduating December 2019
Registration Fee:
The fee is $275 and includes one 2' x 6' table with tablecloth, internet access, one parking pass, and one lunch voucher

Registration Submission:
Fax completed forms to 608.785.8460, Attention: Pete Amann
Email completed forms as an attachment to Pete Amann at pamann@uwlax.edu
Payment Options:
Checks or money orders:
Payable to: UWL PT Student Professional Development Fund
Mail to: UWL Health Professions
1725 State St
4033 HSC
La Crosse, WI 54601
Credit card:
Please visit UWL Foundation.
Under "Area of Interest" please select "Other", type "UWL PT Student Professional Student Development Fund" in the "Note (Optional) field, and $275 in the "Amount" field.
UWL PT Student Professional Student Development Fund
The fund is used to support students to attend professional conferences, present research at meetings, offset costs for special educational experiences, and provide other resources for their professional development. Your participation in this event makes these opportunities possible!
Occupational Therapy Student Scholarship Fund
This fund supports several scholarships that are awarded to students prior to internships to help defray the extra costs associated with travel and moving for internships.

Schedule of events:
11:30 Display set-up and lunch (students available to assist in unloading and setting up)
1:00 Career fair begins
1:15 Resume consultations and mock interviews begin
4:00 Career fair concludes (students available to assist in tearing down and loading)
Resume consultation:
Employers are invited to consult with students to critique students' resumes from your unique perspective. Designated times will be assigned to students and employers for this purpose. This activity will be conducted in the exhibit area. Please indicate your desire to participate by checking the box on the registration form.

Practice interviews:
Students are invited to practice their interviewing skills and seek advice from employers during practice interviews. Designated times will be assigned to students and employers for this purpose. This activity will be conducted in the exhibit area. Please indicate your desire to participate in this activity by checking the box on the registration form.

Door Prizes:
A special table will be available for prizes. Thank you!

Directions:
The new Student Union is located on East Ave. between Farwell St. and Badger St.
UWL Campus Map

Parking:
A parking pass will be sent via email approx. one week prior to the event. Passes are good for the C-2 commuter parking lot. To avoid a parking ticket please properly display your parking pass per the instructions included on the pass.

Lodging:
Accommodations may be found at the La Crosse Area Convention and Visitor's Bureau

Package handling and advanced mailing:
Please allow ample time for mailing. Exhibit materials may be sent in advance to:

UWL Health Professions
1725 State Street
4033 HSC
La Crosse, WI 54601

Questions may be directed to Pete Amann at pamann@uwlax.edu