Due to COVID-19, our physical office is closed. However, all classes will be held online and instructors and staff are working remotely. We recommend email or Canvas to reach instructors and email or phone for departmental business.
For START students: Welcome to UWL! Please click on the link above if you are planning to enroll in ensembles for Fall 2020. This is where you will submit your voice type and/or instruments for ensembles.
Ensemble Audition information will be posted by August 1, 2020.
Please read more about our choirs and ensembles (select "Ensembles") and you can contact Directors too (select "Our People").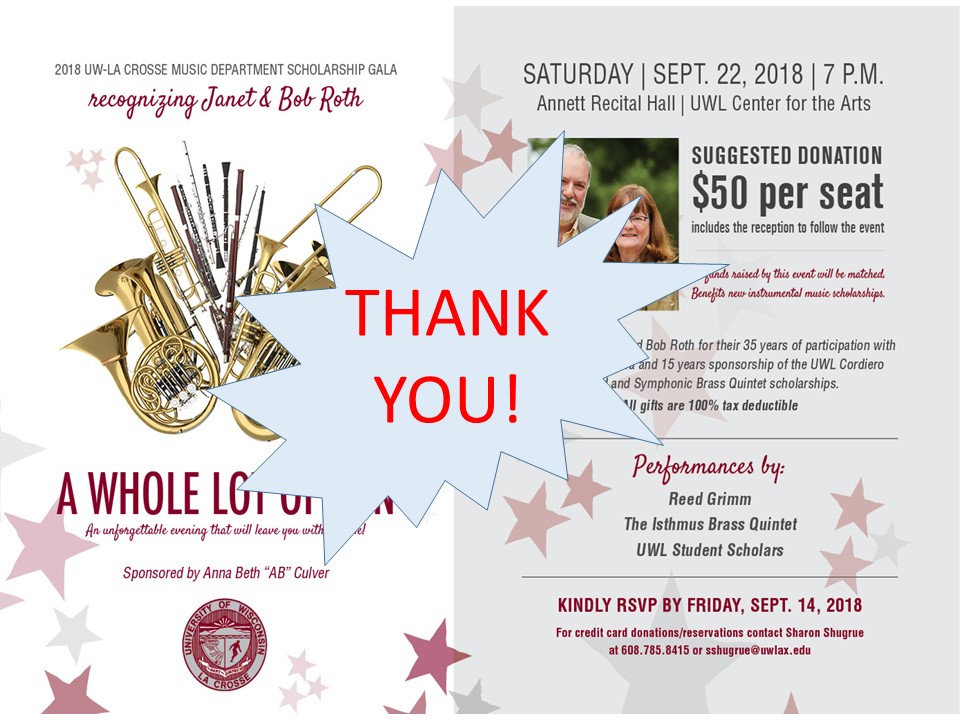 ALUMNI
The Alumni of the Department of Music at UW-La Crosse have proven themselves to be magnificently successful educators, performers and scholars. Former music students such as American Idol finalist Reed Grimm demonstrate the depth and quality of our instruction. Numerous alumni have pursued careers in higher education including Jerod Sommerfeldt, (2006) now serves as Assistant Professor of Electronic Music Composition and Theory at SUNY-Potsdam and Jennifer Iverson (Piano Pedagogy, 2004) currently teaching theory at the University of Chicago. Our students study abroad in areas such as Ghana, England, Australia and Spain and our placement rate for Music Education graduates is close to 100%. Many of our music education students are currently successfully teaching in prestigious districts around the state as well as in South America and Saudi Arabia.
Our Alumni have created a newsletter. Click this link for a PDF version of the latest issue: Alumni Newsletter 2014-2015
GIVING
To give right now, click on this link: The UWL Foundation
Our music program relies on the support of scholarships to help support our hard working students. Today, more than ever, success in our society requires training and education in one's chosen field so students need all the financial help they can get. Please consider making a donation to our music scholarship fund to help support our student artists/educators in their journey toward making the world a more beautiful place with music. Your contributions are tax deductible. If you would like to mail your contribution, checks can be sent to
UWL Foundation - Music
1725 State Street
La Crosse, WI 54601
For more information on how you can support the UW-La Crosse Department of Music please contact the Music Office at 608.758.8409