TEDxUWLaCrosse presents Chain Reaction
---
Inspiration. Discussion. Ideas worth spreading. Be part of the next live TEDxUWLaCrosse event from 4-6:30 p.m. Thursday, Feb. 8, at The Bluffs, UWL Student Union. Local presenters share ideas surrounding the idea "chain reaction" with curious minds like yours. You'll hear about civil discourse, literacy, racism, health obstacles and the best life advice from an "old lady activist."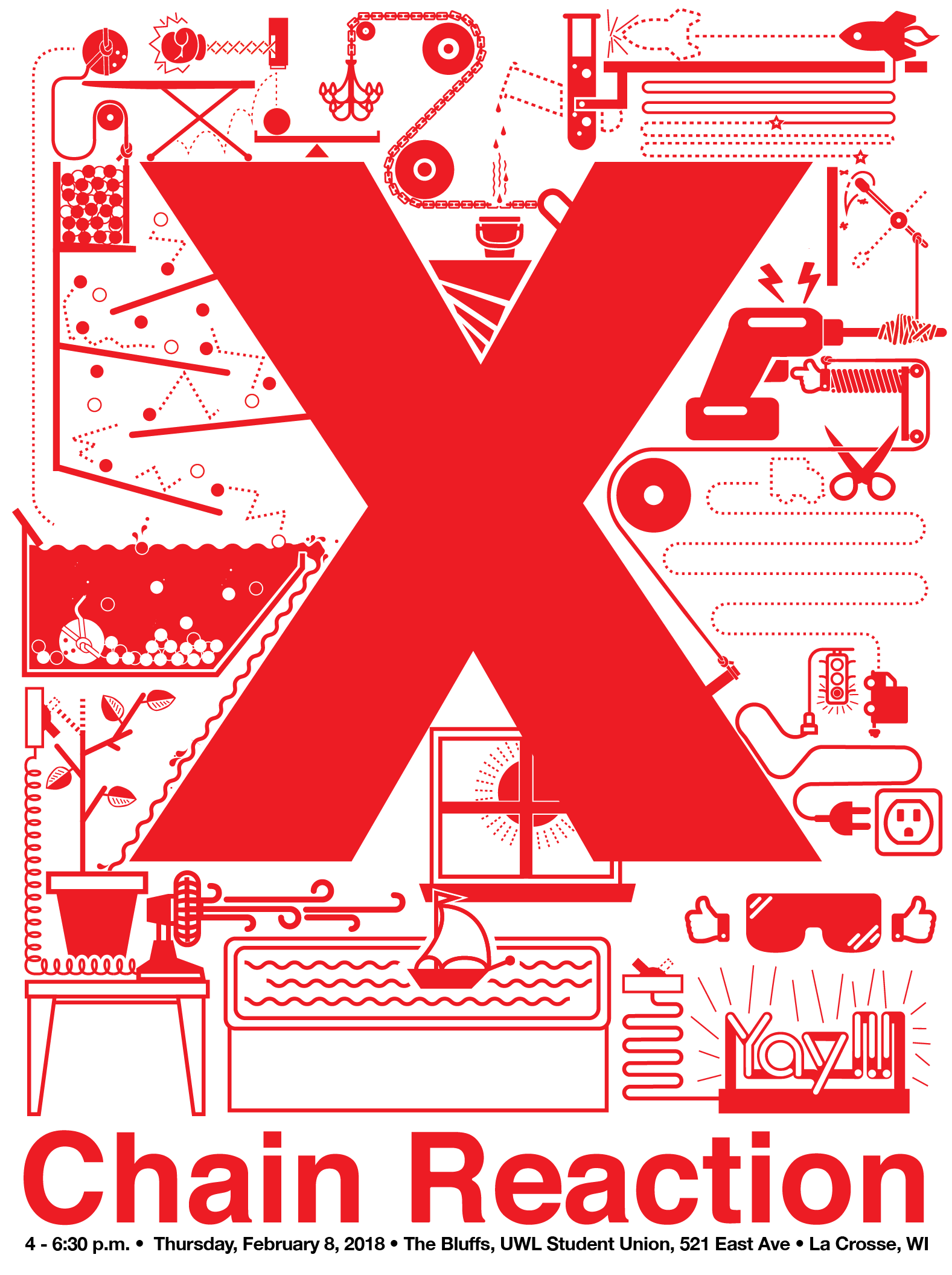 With Host:
Michael Scott
Featuring Presentations by:
Dany Bicoy Musician, Poet, and Social Justice Advocate
Dr. Timothy Dale Political Science, UWL
Dawn Wacek Public Librarian
June Kjome Life-long Activist and Advocate
Susan Hessel Writer and Personal Historian
Dr. Suthakaran Veerasamy Psychology, UWL
Dr. Tom Volk Biology, UWL
Get Your Tickets Now!!
$5 - Any student with a valid ID
$10 - General Public
Purchase Tickets or pre-order event t-shirts at the Information Center, UWL Student Union, online here, or by phone+ by calling 608.785.8877.
* Tickets are not available online the day of show
+ Tickets purchased online or by phone can be picked up at the Information Center during regular business hours. All sales are final. There will be no refunds or exchanges of individual ticket sales.
For more information on this and other TEDxUWLaCrosse events visit www.uwlax.edu/TEDxUWLaCrosse.
To request disability accommodations, please contact the Marc Manke, TEDxUWLaCrosse co-chair, via email at mmanke@uwlax.edu or by calling 608.386.9948.
---
What is TEDx?
In the spirit of ideas worth spreading, TED has created a program called TEDx. TEDx is a program of local, self-organized events that bring people together to share a TED-like experience. Our event is called TEDxUWLaCrosse, where x = independently organized TED event. At our TEDxUWLaCrosse event, TED Talks video and live speakers will combine to spark deep discussion and connection in a small group. The TED Conference provides general guidance for the TEDx program, but individual TEDx events, including ours, are self-organized.
This independent TEDx event is operated under license from TED.
---
Check out the video performances and images from our past TEDxUWLaCrosse events to see what we have been up to!