Computer Science & Computer Engineering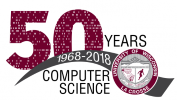 Computer Engineering | Computer Science | Software Engineering
Our stellar programs attract outstanding students from around the world who work closely with our faculty to advance state-of-the-art research in computing technologies. We attribute our success to a strong tradition of collaborative research, close working relationships with local industries, state-of-the-art facilities and a dedicated commitment to student achievement.
We offer bachelor of science degrees in computer science and computer engineering as well as a master's degree in software engineering (MSE). Our MSE program is unique within the UW system and offers graduates very desirable employment opportunities. We also offer a very popular dual-degree program that awards students a BS in Computer Science (or computer science: cybersecurity emphasis) and a Master's in Software Engineering within a condensed time frame of only five years.
The Computer Science Department has a strong emphasis on undergraduate research and collaboration. We encourage students to work with a faculty member on a research project in their specialty area. Students and faculty often present the results of these research activities at academic conferences and also publish their results in academic journals.
For further information or to schedule a visit, please contact Becky Yoshizumi, our program assistant. You may also visit the department website. We very much look forward to meeting you!

New Computer Engineering Program!
The UWL Computer Science Department will offer a new undergraduate degree in Computer Engineering beginning in Fall 2020. Computer engineering graduates can expect to receive very good starting salaries; placing among the highest in engineering (refer to the Bureau of Labor Statistics for details). Computer engineers work at the hardware-software boundary and are able to move into either hardware or software positions.
Graduates can expect to fill a wide variety of in-demand jobs including roles in low-level software development (device drivers, firmware, operating systems and virtual machines) in addition to roles in hardware design (digital circuit design and verification, computer architecture, control systems and signal processing).