"For every language you speak, you're worth another person ... each language gives you a new set of tools with which to solve life's problems."
-Rosario Ferre
The House on the Lagoon
Register for Russian!
We offer a certificate program in Russian, including four semesters of Russian language, Russian literature, and political science or history. The program provides students with the basics of Russian grammar and conversation, and an introduction to composition and civilization.
Russian two-year course of study fulfilling the College of Arts, Social Sciences, and Humanities requirements for a BA degree

RUS 101 (Fall)

RUS 102 (Spring)

RUS 201 (Fall)

RUS 202 (Spring)

RUS 320: The Russian Mindset (Spring)

RUS 351: Russian Identity through Film (Fall)
Opportunities to study abroad
Instruction by a native speaker of Russian
Meet UWL's Russian Program Professor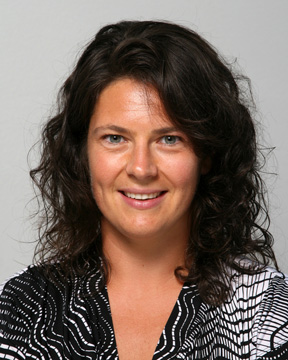 Russian Program News
New Chess Club Connects Students, Sister Cities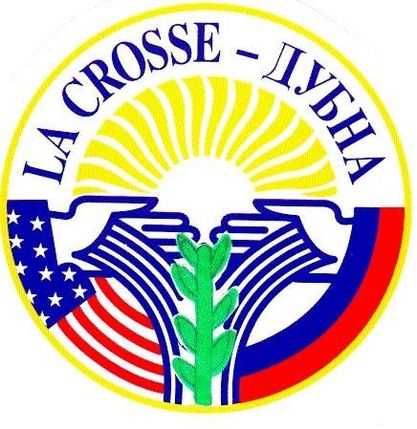 La Crosse-Dubna Friendship Association (LDFA) LogoThe La Crosse-Dubna Druzhba Chess Club launched its initial friendly, non-competitive chess match on Saturday, April 3. An opening ceremony marked the official opening of the project, featuring remarks from La Crosse Mayor Kabat and Mayor Kulikov of Dubna, Russia.
Learn more about the club in the local news (WXOW and WKBT), or practice your Russian listening comprehension by watching this video from DubnaTV, or Телеканал «Дубна».
To get involved, please contact Natalia Roberts.
---
Student embarks on career in international relations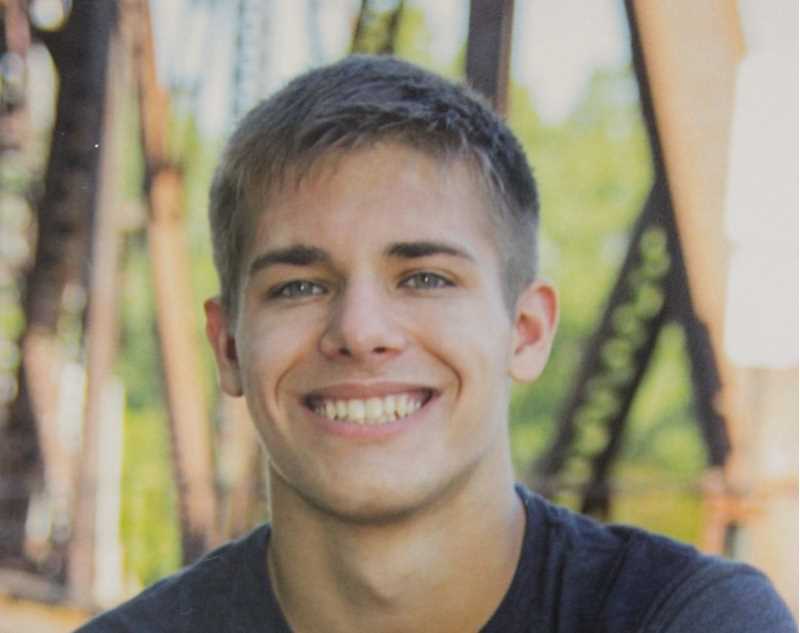 Josh Grunske
Josh Grunske was accepted to graduate school at the University of Rhode Island, where he is working toward a master's in international relations with specializations in peace studies and diplomacy. The UW-Oshkosh alum took five semesters of Russian with UWL Professor Natalia Roberts through the Collaborative Language Program.
You can read more about Josh's experience in the Fall 2020 CASSH Capstone Newsletter.
---
Student hired in Dnipropetrovsk, Ukraine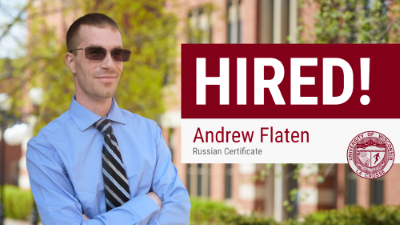 Andrew Flaten
Andrew Flaten completed his Russian Certificate May 2019. He is from Bangor, Wisconsin, and was hired as an English teacher at American English Center in Dnipropetrovsk, Ukraine.
You can read more about Andrew's experience in the Russian program under Our Students.
---
Student Uses Russian in ROTC Project Go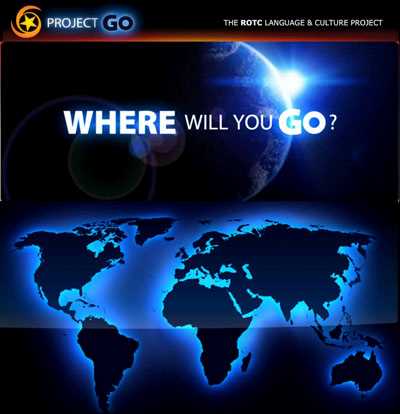 ROTC Project Go
David Teclaw was awarded a scholarship through the ROTC Project GO (Global Officers) to study in St. Petersburg, Russia for the summer of 2013. Project GO is a Department of Defense initiative that promotes critical language education, study abroad, and intercultural dialogue opportunities for ROTC students. David's goal is to utilize his Russian language skills "to better the world, whether it is sitting behind the U.S. Ambassador to Russia, training and advising other states' personnel, or interpreting in a combat zone."
---
UWL Student Conducting Research in Russia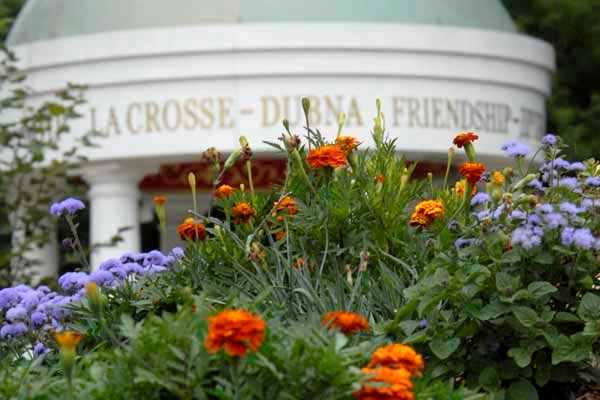 Dubna
Brett Rosiejka, an undergraduate student studying applied math and physics at UWL has been accepted by International Student Practice program to conduct research on signal processing of nuclear experiments at the Joint Institute for Nuclear Research(JINR) in Dubna, Russia (a sister-city of La Crosse). He was also presented with an opportunity to attend seminars at the JINR Education Programme and the University Centre, together with students from other countries. During his two-month internship in Dubna, Brett Rosiejka will improve the Russian communication skills that he gained during his four semesters of Russian Language Studies at UWL. See the full story here
What our students say:
"Deciding to learn Russian my freshman year has been one of the most rewarding decisions I've made. Not only have I learned immensely about the Russian culture and language, I've been able to develop connections and friendships." - Sabrina
"I originally was not going to take a language, but I thought about my future in the military and decided to try something new. The assignments are set up so you can learn in multiple ways. The professor is very helpful and is willing to work with all students." - Avery
"A year ago, I never would have seen myself in Russian. Out of extreme interest, I decided to give it a shot and now it is my favorite class. Russian not only makes for an outstanding resume, but it enlightens you on cultural perspectives you never would have considered before. I encourage you, if you are ever on the fence about taking Russian, do it! The skills, knowledge, and cultural influence you obtain is something you will never regret learning." - Morgan
"As an archaeologist and potential Peace Corps member, this is a wonderful language to learn. In Russian you make friends from all over, learn about the culture different from yours, and achieve a better understanding of the world. And don't worry about the alphabet, it's easy." - Michaela
"Learning Russian has allowed me to appreciate life beyond my own. It is the language of literature and beauty. In a time when American and Russian relations are more important than ever, it is important to focus on how culture and art bind us." - Cedric
"I took Russian mainly because it will benefit me greatly in my future career, which I hope to be in law or the government. I was also anxious to take Russian because I have always been interested in the language and culture, and college was my first opportunity to take Russian classes...once you start learning the basics, everything starts to fall into place. Taking Russian shows that you "went the extra mile" in learning a foreign language. Russia is also very prevalent in our society and having it on your resume will put you at an advantage above other searching for a job." - Annie
"I have learned so much in just two semesters of Russian. I never thought I would be able to learn a foreign language before I started learning Russian." - Emma
Student hired to teach English in Ukraine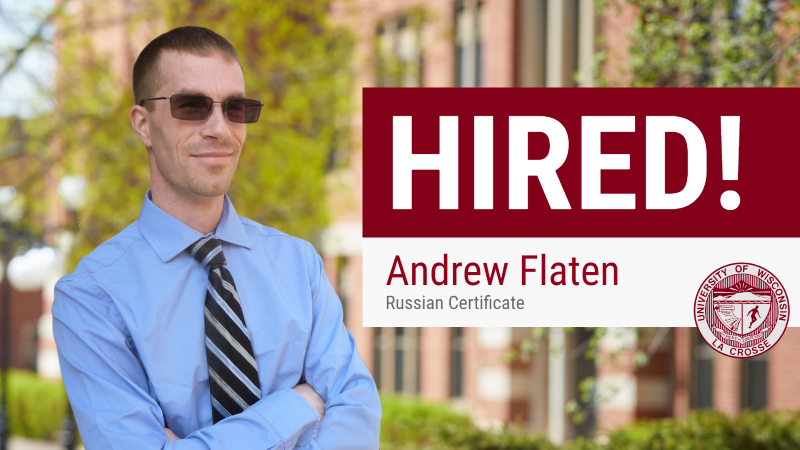 Andrew Flaten
Andrew Flaten completed his Russian Certificate this May. He is from Bangor, Wisconsin, and was hired as an English teacher at American English Center in Dnipropetrovsk, Ukraine.
When asked what his favorite course was, Andrew responded with "Russian Identity through Film". He continued, "It was a good course for me because I learned new words from hearing them in the movies. It gave me a good base for watching Russian movies on my own, while also introducing Russian culture at the same time. Of course, language skills are very important, but the culture is equally important and our professor really tried to teach us a lot of Russian culture."
Andrew's most memorable event during his time in the program was meeting the Russian TA from UW-Stevens Point before the Russian Folk Orchestra concert. "Students had a great time talking to her about many things less formally while showing her around La Crosse. Such experience honestly come in useful for me here in Ukraine."
Congratulations, Andrew!
Russian in...
Government: Learn a language vital to American national interests! The FBI, CIA, and NSA are seeking your expertise in Russian.
Science & Technology: Unlock knowledge of over 25% of world's scientific publications, which are published in Russian.
Business: Connect to the markets with a tremendous potential for U.S. goods and services.
Graduate Study: Stand out and increase your chance of acceptance into graduate programs.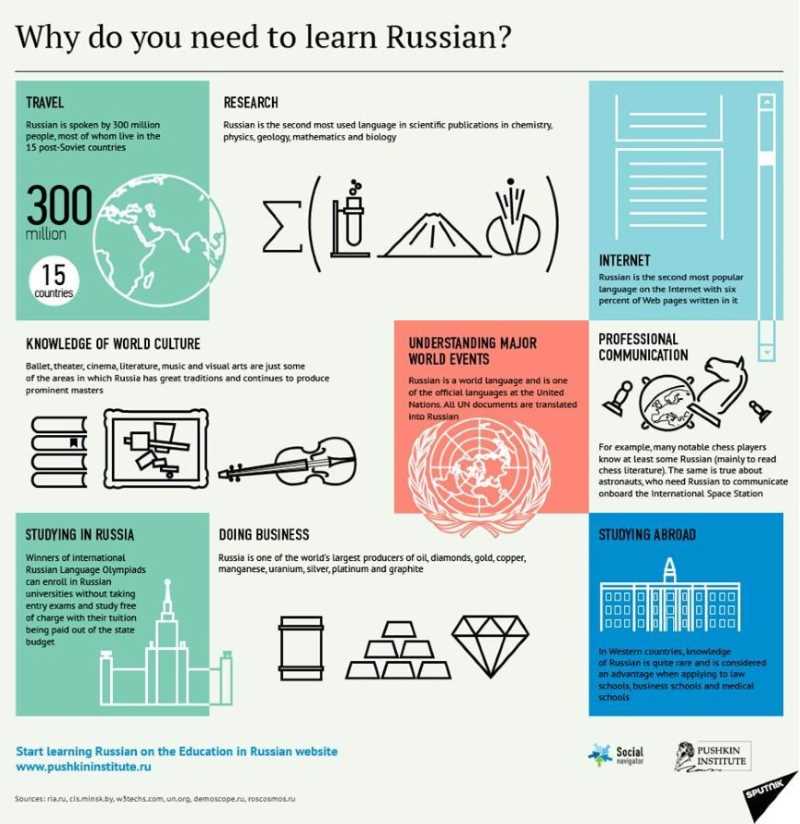 Infographic about the benefits of learning Russian
Russian at UWL:
Grow your language skills and cultural understanding with a native speaker, using the latest technology on the go, at home, and in the classroom!
Ten things you probably didn't know about Russia (from Russian Life)
St. Cyril did not create the Cyrillic Alphabet
Every Russian Tsar named Peter died a hard and painful death
The first Russian gold medalist was in skating and the first Soviet gold medalist was in discus
A Russian invented the helicopter
The Russian language is spoken by 278 million Earthlings (fifth most of all languages)
A fox is the most famous trickster in Russian folk tales
22% of the world's forests are in Russia
Never step over small children, you might stunt their growth
Tchaikovsky (yes, Pyotr Ilyich, of 1812 Overture fame), was actually trained as a lawyer
Russia has more Muslims than any European country