Welcome to the Explore Experiences in Management homepage, where we explore the diverse and exciting paths available to management majors. From leading multinational corporations to launching sustainable startups, prepare to be inspired as we navigate through the exciting possibilities that a management degree can unlock for you.
Sustainability in Management
The Sustainable Business minor offers management majors a valuable opportunity to understand and integrate sustainable practices within organizational contexts. By exploring the incorporation of environmental, social, and financial concepts, students can enhance their understanding of sustainable business strategies and supply chain management.
This minor equips management majors with the knowledge and skills to promote environmental, economic, and social sustainability in their future careers. Enabling students to be effective leaders who prioritize responsible business practices and contribute to a more sustainable world.
Build a Better Future: A sustainable business minor equips you with the skills to create environmentally and socially responsible solutions, ensuring a sustainable future for future generations.
Stand out to Employers: Employers increasingly value implementing sustainability into their business practices. A sustainable business minor gives you a competitive edge by demonstrating your commitment to responsible practices.
Be Part of the Solution: Choosing a sustainable business minor means actively participating in creating a more sustainable world. You can make a difference by using the sustainable practices learned in your education to help businesses take a responsible approach.

Sustainable Business in Ireland Banner
The purpose of the program is to offer a global learning opportunity centered around sustainable business- specifically Sustainable Marketing (MKT 351) and Social Entrepreneurship (MGT 422). The 6-credit opportunity will allow students to see first-hand how sustainability impacts and informs business in Ireland.
The program is designed to provide students the opportunity to connect theory to practice through site visits, guest lectures, panels, and presentations from for-profit, non-profit, government, and community groups in Ireland. The focus of this experience will be centered around the agriculture, food, and beverage industries.
Healthcare Analytics Management
A Healthcare Analytics Management minor prepares students for the business aspects of the healthcare industry. This program equips students with skills in data analysis, effective communication of research findings, and application of business management practices within healthcare organizations. The minor enhances one's understanding of the U.S. healthcare system, offering valuable insights for making informed decisions in the dynamic field.
Choosing the Healthcare Analytics Management (HAM) minor is ideal for management students aiming for careers in the healthcare industry. This program equips students with essential skills to comprehend the significance of healthcare analytics, enabling them to leverage data effectively.
By taking this minor, students can identify innovative data applications for solving healthcare management issues, interpret crucial industry metrics, and contribute to informed decision-making in the professional healthcare landscape.
Global Consulting in Slovakia
Experience the power of global collaboration and real-life problem-solving with the Global Consulting Program in Bratislava, Slovakia. Designed for aspiring business leaders, this award-winning program offers a transformative journey where students from diverse backgrounds work together to provide innovative solutions to local companies. Expand your skills, broaden your perspectives, and make a meaningful impact in the world of business.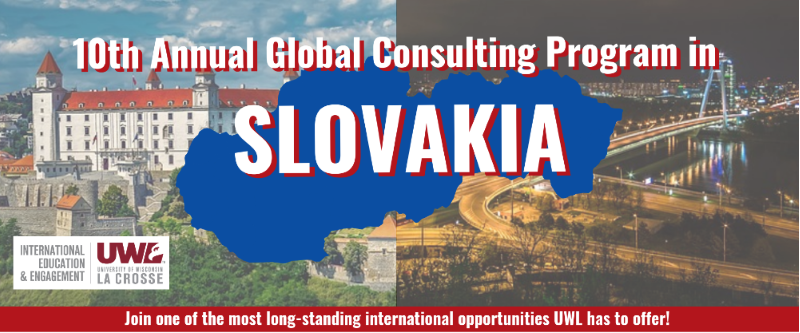 Ignite your global business potential: Join the Global Consulting Program and solve real-world challenges while gaining cross-cultural expertise.