Field schools
A page within Archaeology & Anthropology
Archaeological Field Schools
At UW-L, we firmly believe that it is important for students to gain hands-on experience in the methods and techniques of archaeological field research. Therefore, the Archaeological Studies Program currently offers two opportunities for students to acquire basic field experience in archaeological excavation; one locally based in the La Crosse area, and an international field school based in Bolivia. Information about our local and international field schools can be found below.
We are also in the process of developing an opportunity for students with prior archaeological training and experience to gain additional archaeological field experience through participation in a research project in Egypt being conducted by one of our Archaeology faculty. Information on this project be forthcoming as the program develops.
In addition to those field schools offered by UW-L, our students have participated in archaeological field schools around the globe. We work closely with students to help them find a field school in a region appropriate to their research interests, as well as to help ensure that the field school they choose provides them with a high quality learning experience. In the past, students have attended field schools in England, Ireland, Italy, Greece, Israel, Turkey, Syria, Peru, and Belize, as well as many other national and international locations.
Local Field School

expanding section
Traditionally, each summer, the Archaeological Studies Program offers an archaeological field school based in the greater La Crosse area. The local field school is a 6 credit course typically running four days a week for a period of 5-6 weeks and is offered from late May through June. This course involves the practical application of the basic skills used in the excavation of archaeological sites including survey techniques, methods of surface collection and excavation, compilation of field data, and laboratory processing and analysis. It includes hiking, digging with shovels and trowels, screening dirt, carrying equipment and artifact bags, and the careful completion of field notes.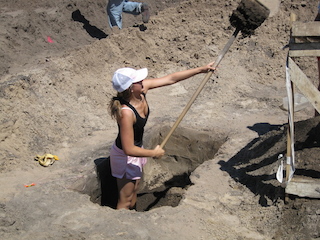 Shoveling at Field School
In the summer of 2009, our local field school conducted excavations approximately nine miles north of campus at two prehistoric period Oneota Culture Native American sites in Onalaska, Wisconsin. Our excavations revealed extensive remains of former habitation dating to ca. 1400 A.D. In addition to a large assemblage of lithic and ceramic artifacts, and faunal remains, our excavations uncovered over 300 features, primarily storage pits which had been reused as refuge pits.
Students who participated in the field school received training in a variety of field methods. At the beginning of the field school a controlled surface collection of one of the site areas was conducted. Students learned how to establish a large collection grid of individual 5 x 5 meter collection units, as well as the use of computerized survey equipment for the recording of horizontal and vertical provenience information. Following the surface collection, a variety of techniques were employed to investigate the subsurface remains. These included the hand excavation of test units, mechanical removal of the plowzone, as well as the hand excavation of individual features. Students learned to record information about the excavations using traditional note taking on paper forms, graph paper and in notebooks, as well as by using hand held computers, a methodology increasingly being used in archaeology.
Besides learning the methods employed to recover archaeological data in the field, all the students received training in the basic steps involved in processing and analyzing the materials in the laboratory. In addition to rain days when the entire crew worked in the lab, each student spent at least one other day in the archaeology lab on campus processing and analyzing the artifacts they had just helped to excavate in the field.
At UW-L we believe that one way in which students learn the most is through teaching other students. Therefore, in addition to our faculty instructor on the field school, student field supervisory positions are available on our field schools. These field supervisors are advanced students in the Archaeological Studies Program who have previously attended field school and have demonstrated a good working knowledge of skills involved in archaeological fieldwork.
To see additional photographs from this past summer's local field school, click here.
During our local summer field school, we feel it is important for students to be exposed to archaeological remains other than those they are excavating through field trips to archaeological sites in the greater Upper Mississippi Valley region. In 2009, we visited Effigy Mounds National Monument, the excavation of an historic period archaeological site being conducted by MVAC in Prairie du Chien, Wisconsin, as well as Larson Cave, a prehistoric period cave art site on private property in southwestern Wisconsin.
International Field Schools

expanding section
There are many excellent foreign field school opportunities. A good place to start looking is the Institute for Field Research. They also have some scholarships available. Another source for field schools around the world is the Center for Field Sciences.
Before committing to a program, please check with either Dr. McAndrews or Dr. Anderson to ensure that it will meet UWL's requirements for a field school (usually a 6-credit equivalent).
As we get notices of field schools, we'll post some of them here.
Blackfriar Archaeology Field Schools for 2023 in Ireland include fieldwork and post-excavation methods examining a friary, as well as a bioarchaeology fieldwork and post-excavation project.
Anthropological Field Opportunities
For our Anthropology students, we provide hands-on experiences in ethnographic methods and participant observations in a variety of ways. Most of our courses include short assignments and projects that give students practice in observing and taking notes of people's behaviors.
Students gain more formal training through our methods course, ANT 401 Ethnographic Methods, as well as through ethnographic field schools taught by our faculty, or through another university.
International Opportunities

expanding section
Study Abroad in Central/Eastern Europe
Budapest, Hungary (June 2019)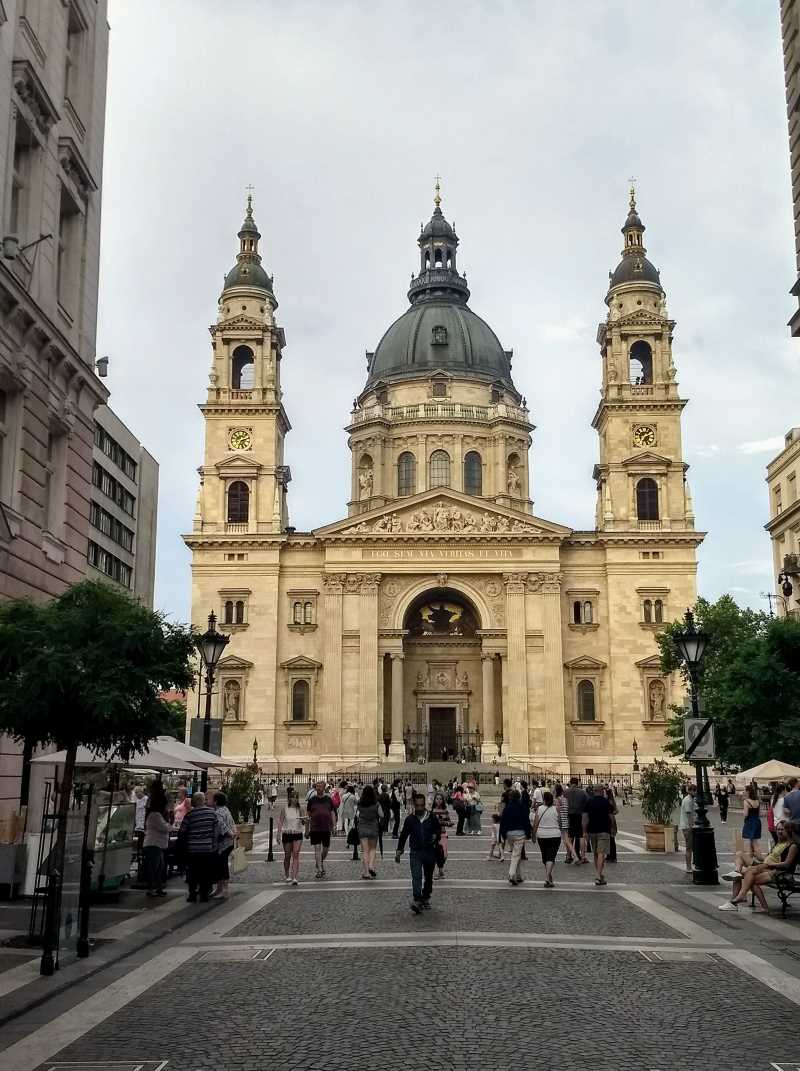 Palace in Budapest, Hungary
"Culture and Politics in Central/Eastern Europe" is a 3-week summer study abroad program led by our own Dr. Elizabeth Peacock and Dr. Regina Goodnow (UWL political science faculty). This interdisciplinary program is a great way for anthropology students to learn more about the effects of the socialist period on the contemporary lives of people living in Eastern Europe. The program integrates course topics and activities to provide students with multiple perspectives on modern political, social, economic, and cultural concerns, all while experiencing daily life in a major city in Central or Eastern Europe.
In June 2018, the program will be held in Budapest, Hungary. In addition to class meetings, we will have excursions to a variety of museums and sites that are significant to the socialist period in Budapest, including the Museum of Terror and the local parliament. We'll experience Hungarian culture first-hand through city excursions, a visit to a locally-run NGO, a trip to the famous Budapest spas, and day trip to Visegrad, a rural town with its own castle! The final project in the course is creating a group short film of students' choosing, with the help of local university students.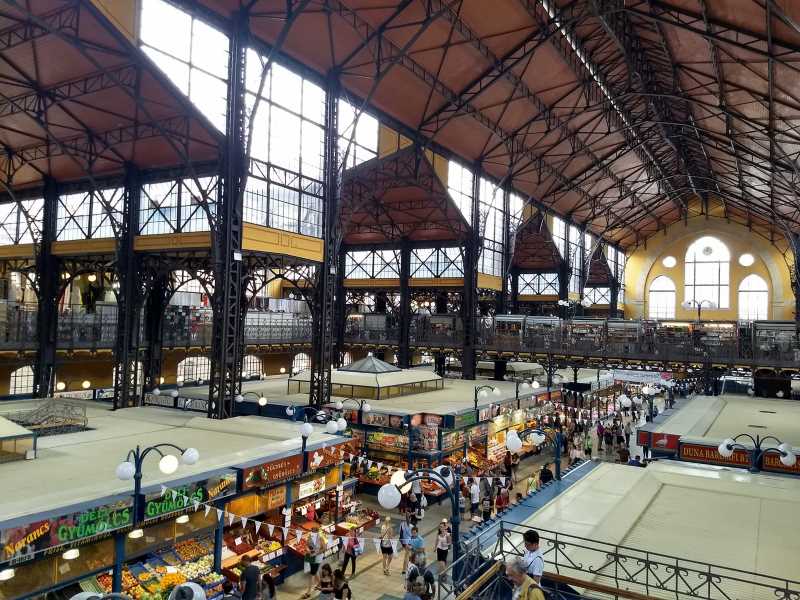 Budapest Market
The program includes a general education course (POL 234: Comparative Politics), as well as upper-division courses (ANT/HIS 312: Peoples & Cultures of Eastern Europe and the former Soviet Union; POL 334: Post-Communist Politics) that count as electives at UWL in anthropology, political science, international studies, and the Russian certificate.
If you have any questions and want to learn about the Culture & Politics in Central/Eastern Europe Study Abroad Program at UWL, please contact Dr. Peacock (epeacock@uwlax.edu).
Bolivia Ethnographic Field School
Cochabamba, Bolivia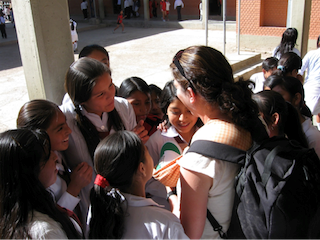 Hippert
Are you looking for an international experience that will give you an opportunity to be completely immersed in a different culture and conduct your own research project on a topic of your choice? Then the Ethnographic Field School in Cochabamba, Bolivia may be just what you are looking for to round out your studies here at UWL. This is a 6 credit, 4 week field school that takes place at the same time as the UWL Archaeological Field School in Cochabamba. Students who elect to do ethnography in the field engage in a variety of activities that are scheduled every day while they are in Bolivia, including completing 4 weeks of intensive one-one-one Spanish and/or Quechua language instruction. Quechua, the language of the Incas, is spoken by 10 million residents in the Andes today, and the field school is a rare opportunity for UWL students to learn this language and to speak it with indigenous agriculturalists in rural Bolivia. Weekend activities include group excursions to the Amazonian jungles of Bolivia, to regional archaeological ruins, and to local cultural events. Students' research projects are supervised by Dr. Hippert, who works on her own research examining rural community development and ethnic identity. Ethnography students from UWL engage in some activities related to Dr. Hippert's research in order to become acquainted with rural Andean life, but the bulk of their time in Bolivia will be spent doing their own research. In order to apply to the Ethnographic Field School, students should have an idea about what aspects of Bolivian culture they might be interested in researching. Dr. Hippert teaches a course called Andean Anthropology (ANT 290), and taking this course is essential for ethnography students in order to design a culturally relevant research project.
The joint Ethnographic/Archaeological Field School is designed in part to give students a better understanding of the importance of the 4-field approach in anthropology. They are very few field schools providing this kind of experience, so we're pleased to offer this exciting opportunity at UWL. Our first field school returned from Cochabamba in June 2009, and it was a great success. If you have any questions and want to learn about the Ethnographic Field School at UWL, please contact Dr. Hippert (hippert.chri@uwlax.edu).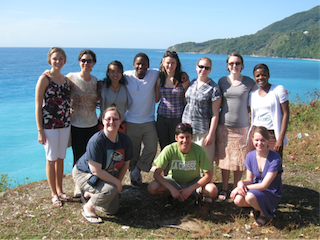 Ethnographic Field School
Dominican Republic Service-Learning Program