Due to COVID-19, our physical office is closed. However, all classes will be held online and instructors and staff are working remotely. We recommend email or Canvas to reach instructors and email or phone for departmental business.

After earning your degree in Information Systems, you'll enter the workforce as a skilled information technology professional: ready to apply technology-based solutions to solve strategic business problems.
IS professionals are in demand across all industries. As technology continues to evolve and expand opportunities for career growth make this an ideal professional path.
Businesses are becoming increasingly dependent on IS for managing information and business operations.
Career Opportunities

Job Titles of Recent Graduates:
| | | |
| --- | --- | --- |
| Data Analyst | Data Specialist | Database Administrator |
| Information Specialist | IT System Analyst | Network Analyst |
| Operations Manager | Project Manager | Programmer/Analyst |
| SAP Developer | Software Administrator | Software Engineer |
| Systems Analyst | Technology Specialist | Web Developer |

Career Paths of Recent Graduates:
Many IS graduates initially assume positions as programmer/analysts and eventually systems analysts and information systems managers in organizations of all sizes. Others pursue careers in web design or network administration. Employers nationally need new employees with skills in all aspects of information technology. Projections indicate that the demand for these skills will persist into the future. Placement has been near 100 percent over the years, with higher than average starting salaries.

Sample Data from the U.S. Bureau of Labor Statistics:
| | | |
| --- | --- | --- |
| Job Title | Annual Median Pay | Job Growth through 2026 |
| Database Administrator | $90,070 | 11% |
| Information Security Analyst | $98,350 | 28% |
| Information Systems Manager | $142,530 | 12% |
| Network Administrator | $82,050 | 6% |

Career Prospects for the IS Major:
Recent IS Graduates Work at These Companies:
Network Opportunities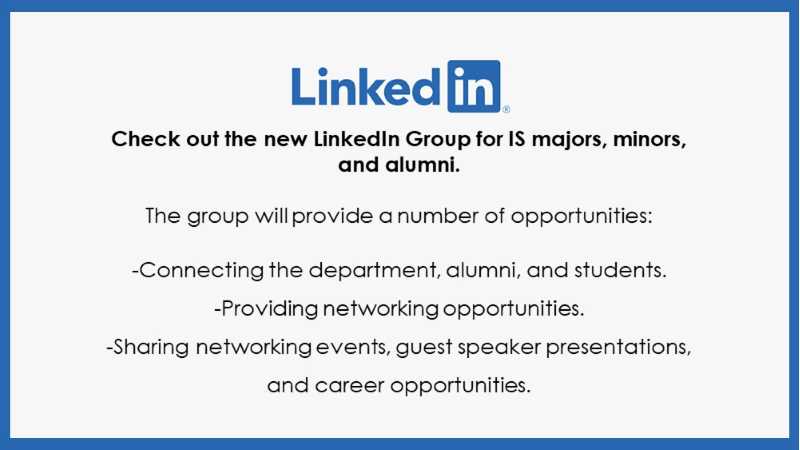 It would be great for you to connect with us. LinkedIn can be a great tool to develop your professional network and career search tool.
Please note that a LinkedIn account is needed to join.


Additional Resources
To help you obtain an internship, career, and/or admission to graduate school, Career Services provides a number of resources.