Information Systems Association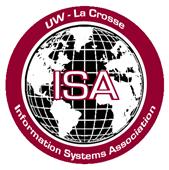 The purpose of the Information Systems Association (ISA) is to provide University of Wisconsin-La Crosse (UWL) students the opportunity to expand their knowledge of the Information Systems field. Members will enhance their learning through guest speakers, member presentations, field trips, and group activities designed around Information Systems. ISA will also provide UWL students the opportunity to interact socially with members outside of the traditional classroom setting to foster relationships that will last for a lifetime. ISA will provide a key medium to network with prospective employers about careers and internship opportunities relevant to Information Systems. ISA will provide members the opportunity to build leadership skills by serving as an executive board member.
Please see additional information about ISA on our UWL MyOrgs page and our Facebook page.
ISA MyOrgs Page
ISA Facebook Page
Faculty Advisor: Dr. Peter Haried