Why Major in Information Systems?
Businesses worldwide depend heavily on advanced information systems (IS) for managing information and business operations competitively. Graduates of the IS program explore how to improve the processes that involve people and technology working together. With the rate technology changes, your degree will quickly open up many opportunities to land a job you love. Graduates have a variety of career prospects with advancement opportunities. Your knowledge of how technology works to improve business processes will make you a desirable candidate for many employers.
For further information feel free to stop by the IS department or look through the IS department website.

Why Minor in Information Systems?
Do you already have a major you love? Why not complement your major with an IS minor? Can you think of a future career that will not use information systems in some way? Then why not enhance your major with in-demand technology skills and knowledge. An IS minor is a great way for you to enhance your major with technology skills and knowledge that makes you much more valuable in your chosen major field. Apply today.

Want Health Information Management Programs? The IS Department Has That!
With the rise in popularity and information needs in healthcare; the UWL IS Department is excited to offer both a Major and Minor in Healthcare Information.

Why Major in Health Information Management and Technology?
We are proud to announce that UWL is now a degree granting institution for the collaborative online Health Information Management and Technology (HIMT) program. UWL students are now able to select HIMT as a major and graduate with a UWL degree. The online HIMT program continues to grow remarkably. As of the beginning of this semester, the overall program had more than 200 students, surpassing enrollment targets. Articulation agreements have also been signed with area community colleges to facilitate the transferring of credits. We are ready to serve the needs of students and healthcare organizations in the important area of healthcare information management and technology.

Why Minor in Health Information Systems Management?
Do you want to work in the healthcare field? If you have an interest in the healthcare industry and would like to join the ongoing effort to improve healthcare through technology, then the Health Information Systems Management (HISM) minor is right for you. The HISM minor provides health information systems knowledge to manage medical practices or make decisions to improve the quality and efficiency of healthcare delivery. The HISM minor is a two-year program that can be fast-tracked to one year with careful planning. Apply today.

IS Curriculum Updates
The IS department has some exciting news in regards to curriculum. The IS department is now a proud member of the SAP University Alliance. SAP is the worldwide leader in enterprise systems. Students starting in Fall 2018 were able to start coursework using SAP. Be sure to sign-up early to take advantage of this unique and valuable opportunity for UWL students. Additionally, in an effort to keep the IS curriculum up to date and to respond to industry changes, the IS program has implemented a number of changes. IS-300 (offered Spring) is now focused on data analytics, which is a skill in demand with today's workforce. In addition, IS-320 (offered Fall) will now focus on SAP and IS-360 (offered Spring) will include additional experience with SAP. If you have any advising questions, we encourage all IS majors and minors to meet with their advisor.

IS Minor Requirement Change
The IS department recently revised the course requirements needed for the IS minor. Moving forward students will be required to take IS-320 in place of CS-120. IS-320 redesigned to focus on enterprise systems with SAP. SAP is a leading enterprise business software solution, and the IS department is proud to start offering experiences with SAP to better position our minor graduates for the technology dependent business environment. These changes will be included in the upcoming academic catalog.

Summer 2019 Course Offerings
Two online sections of IS-220 will be offered in Summer 2019.

Fall 2019 Course Offerings
Nine sections of IS 220 including two night sections will be offered in Fall 2019. IS majors and minors can plan on having a variety of courses available. Dr. Haried will offer IS-320 and IS-401 (WE designation). Dr. Han will offer IS-310 and IS-370. Dr. Huang will offer IS-340 and Dr. Yang will offer IS-321.

Business and Community Engagement
In efforts to engage and connect students with business organizations a variety of guest speakers were invited to share their professional experiences with Fall 2018 classes. Guest speakers from SAP, Fastenal, Michel's Corp, and Kaplan discussed class topics ranging from information system implementation experiences to enterprise systems management. In Spring 2019, guest speakers from Mayo Clinic, Gundersen Health, and SSM Health will discuss project management related topics. Additionally, students in IS-401 worked with a variety of organizations on information systems analysis and design projects. Students will implement their proposed project solutions in Spring 2019.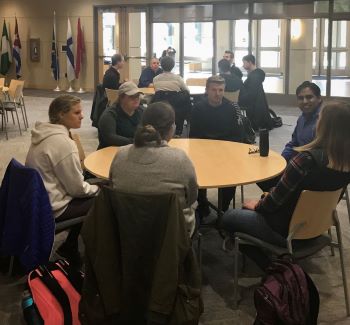 Faculty and Staff Kudos
Dr. Yang attended annual meeting for The Institute for Operations Research and the Management Sciences (INFORMS) in November 2018.
Dr. Huang attended the distinguished International Conference on Information Systems (ICIS) in December 2018.
Dr. Haried will attend SAP University Alliances workshop in Milwaukee, WI, July 2019.
Dr. Haried will present "Exploring the Motivation, Attitude and Loyalty of Daily Fantasy Sports Participants," at the American Society of Business and Behavioral Studies in Las Vegas, NV, March 2019.
Dr. Haried will present "Skill and the Art of Tax Filing Excellence: Comparison of Two Cultures," at the Human Computer Interactions International conference in Orlando, FL, July 2019.

Faculty Research Output
Referred Conference Proceedings & Presentations
Haried, P., Claybaugh, C., Chen, Y., and Chen L. (2019) "ERP Vendor Satisfaction: From Communication and IT Capability Perspectives", Journal of Computer Information Systems, *A Ranked Journal, Accepted and Forthcoming.
Haried, P. Claybaugh, C. (2019). "Skill and the Art of Tax Filing Excellence: Comparison of Two Cultures", Human Computer Interaction, Orlando, FL.
Haried, P. and Claybaugh, C. (2019). "Exploring the Motivation, Attitude and Loyalty of Daily Fantasy Sports Participants", American Society of Business and Behavioral Studies, Las Vegas, NV.