Recreational Therapy
A page within Rec Management and Therapeutic Recreation
Recreation Management Socials
Recreational Therapy Socials
Find Your WHY in Recreational Therapy at UWL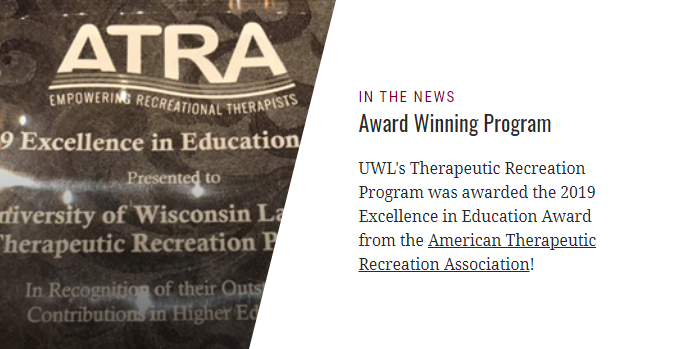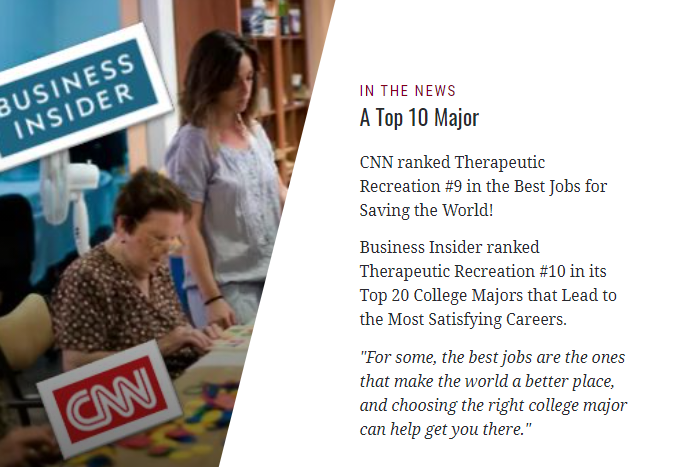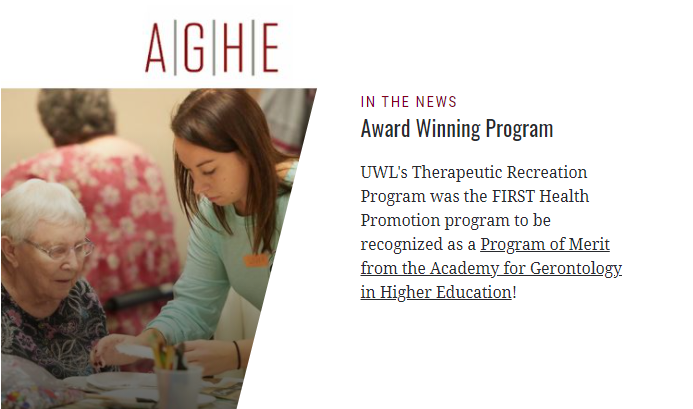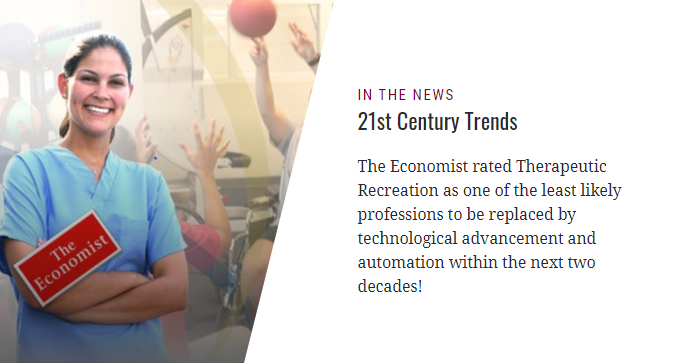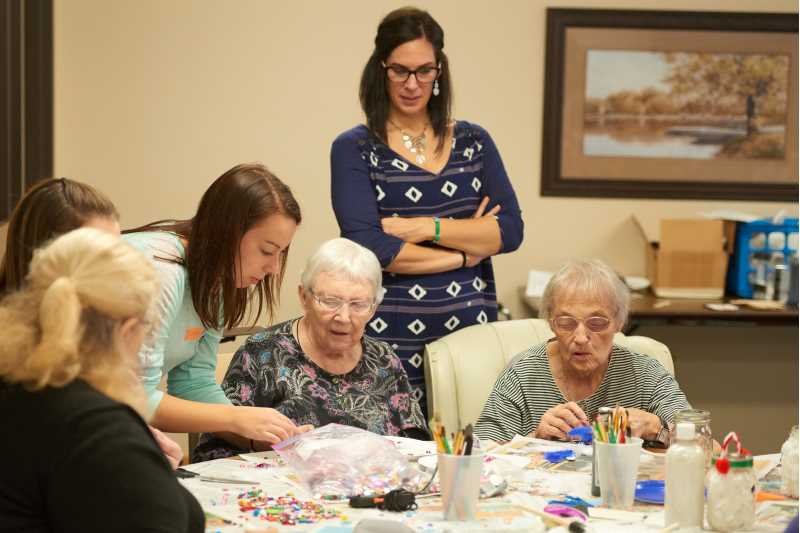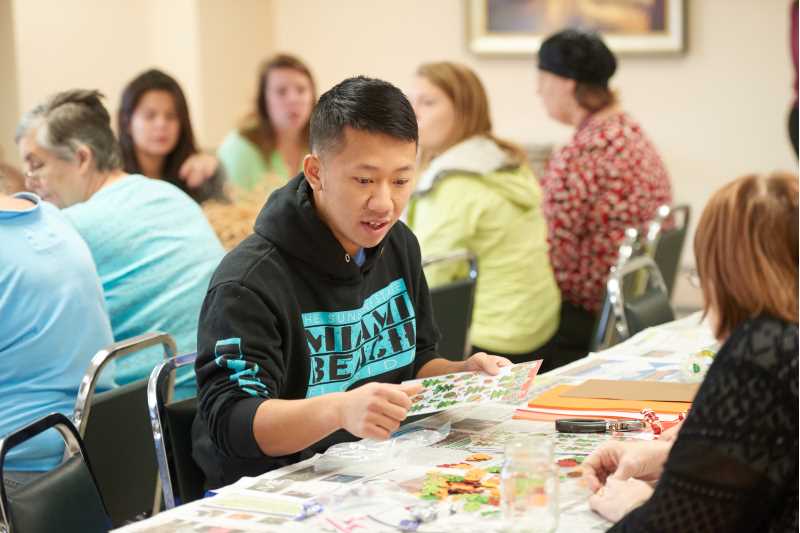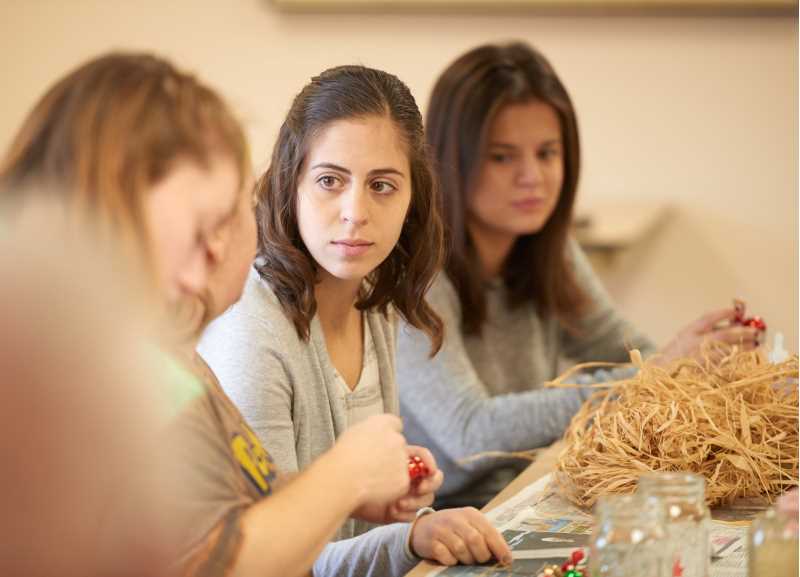 Evidence-Based Curriculum
The UW-La Crosse Program is committed to contributing to the field through an Open-Access resource center with evidence-based curriculums developed by our graduate students under the supervision of graduate faculty.
The resource center will provide open-access to evidence-based curriculum manuals, training videos, and supplemental documents. We aim to grow this resource center to be a place where practitioners can come to find the resources necessary to implement evidence-based curriculum within their facility. We also hope for this to be a place where practitioners and researchers can collaborate to validate these curriculums in an effort to demonstrate the efficacy of TR interventions within a variety of programs with a variety of clients.
For more information contact Dr. Means
The dual degree program provides students with a more efficient path towards completion of their master's degree. This dual degree program will allow students to complete a bachelors and a master's degree (+1) in less time in the therapeutic recreation program and to be eligible to become a Certified Therapeutic Recreation Specialist™.
Learn more about the requirements and see a sample degree plan HERE.
To view the UWL TR Graduate Program Guide (aka The Compass) click HERE.
Certified Therapeutic Recreation Specialists (CTRS) assist persons with disabilities or illnesses to improve their functioning and quality of life. This is achieved through the development of a meaningful leisure lifestyle. Comprehensive therapeutic recreation services include an approach based on the needs, interests, abilities, and strengths of clients.
All undergraduates from our COAPRT Accredited Program are eligible to sit for the National Council for Therapeutic Recreation Certification Exam to become a Certified Therapeutic Recreation Specialist.

Pool.JPG
All students students graduating from UWL's Therapeutic Recreation programs (Undergraduate, Dual-Degree Graduates, and Traditional Masters) will be eligible to sit for the NCTRC exam to become a Certified Therapeutic Recreation Specialist. To learn more about becoming certified, click HERE to check out NCTRC's website on "How to Become a CTRS."
If you plan to apply for licensure in a state other than Wisconsin after completion of this program, you should refer to the Professional Licensure Disclosure website and contact the other state's appropriate licensing board to determine whether the UWL program meets licensure requirements in the state.
Click HERE to learn more about Certification and Lincensure from ATRA.
Follow this LINK to learn more about, and schedule, any of the following:
Admissions information session & walking tour of campus
Senior Snapshot& walking tour of campus
One-on-one appointment with and admissions counselor
Curbside campus visit
Virtual admissions individual appointment
Virtual tour of campus
Therapeutic Recreation Internship
All Therapeutic Recreation majors complete a 15-week or 600 hour internship under the direct supervision of an actively Certified Therapeutic Recreation Specialist (CTRS) as the agency supervisor and an actively certified university supervisor who is a CTRS. This capstone field placement occurs after all major coursework is completed and is a sitting requirement for the national certification examination to become a recreational therapist.
Click the Button below to learn more!