Tourism Research Institute
Institute director, Dr. Dan Plunkett, talks about the impacts of COVID-19 on tourism, and what we might expect for the summer 2020 travel season.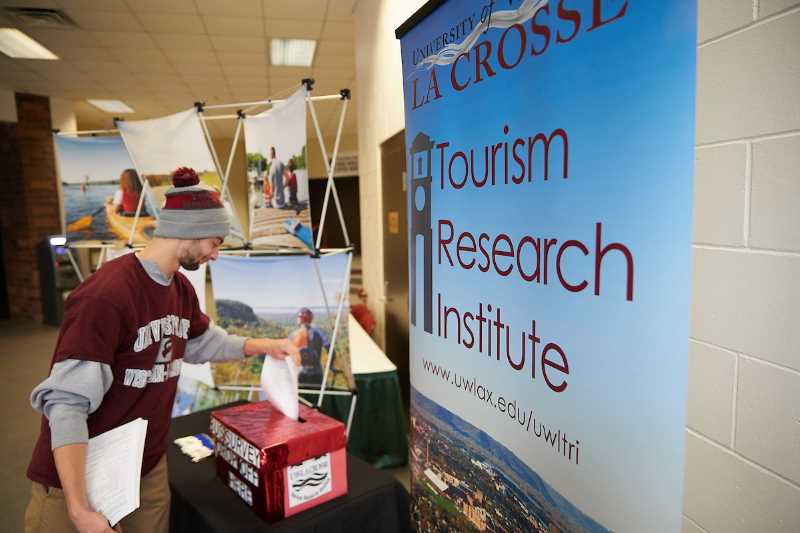 student collecting data for research project
Read it here in UWL's Tourism Talk
In collaboration with the La Crosse County Convention & Visitor's Bureau a study examining visitor travel sentiment for the remainder of 2020 was conducted. View the full report here. If you are having trouble accessing the report externally please contact dplunkett@uwlax.edu to request a copy.
Vision
Operate as a resource for organizations looking to conducted travel, tourism and recreation related research.
Provide faculty a resource hub for collaboration and partnership building through conducting tourism-related research.
Provide opportunities for undergraduate and graduate students to engage in tourism-related research activities.
Develop and run a webpage hosted on the Recreation Management & Therapeutic Recreation (RMTR) website offering organizations a means to contact the Institute, list potential research topics, and access to a database of past Institute research reports.
In the News
Pierce County Tourism Brand Perception Study
La Crosse Museum Feasibility Study
Recreation Management students help open meetings in La Crosse County for the public to weigh in on a possible new historic and cultural museum.
TRI & the UWL Recreation Management Program's Tourism Emphasis
Institute Director Dr. Dan Plunkett talked about the state of tourism in Wisconsin and where the Institute is at after it's first year of existence. His comments were made in A lifelong vacation, featuring two Tourism Emphasis students attending their first Wisconsin Governors Conference on Tourism.
Tourism Emphasis student, Ross Ramsey, outside the La Crosse County Convention & Visitors bureau.
Pictured: Tourism Emphasis student, Ross Ramsey, outside the La Crosse County Convention & Visitors bureau.