Our goal
The Department of Art provides an educational environment that encourages:
intellectual development
visual literacy
artistic production
We foster the development of graduates who are active citizens and advocates for the arts.
SPRING 2018 UWL SENIOR ART STUDENT EXHBITION
UWL Printmaking Atelier Summer 2018
https://www.uwlax.edu/conted/printmaking/
June 18–29, 2018
Monday–Friday, 9 a.m.–12 p.m. Instruction
Monday–Sunday, 12–10 p.m. Open Studio
334 Center for Fine Arts, Printmaking Studio, UW-La Crosse
This summer printmaking course is designed for beginning through advanced printmakers, interested in intaglio, relief, lithography, seriography, mono print and letter press. Participants will receive daily instruction from Joel Elgin, UW-La Crosse Art Department faculty and printmaker. Morning lessons will be followed by the opportunity to work throughout the afternoon and evening. The course is particularly designed for teachers who wish to immerse themselves in a fully equipped studio with a highly motivated group of artists.
Come and experience the STEAMROLLER with your printmaking!
Undergraduate Course Number:
ART 218, section 701: Introduction to Printmaking: Atelier (3 credits)
ART 418, section 701: Advanced Printmaking: Atelier (3 credits)
ART 419, section 701: Individual Problems in Printmaking: Atelier (3 credits)
ART 425, section 701: Perspectives in Art—Printmaking: Atelier (1 credit)
ART 425, section 702: Perspectives in Art—Printmaking: Atelier (2 credits)
ART 425, section 703: Perspectives in Art—Printmaking: Atelier (3 credits)
Current students register through WINGS.
If you are not a current student at UWL, you must first complete the online application for admission to UWL: UWL academic credit online admission application directions
Registration deadline: June 18, 2018
Tuition, 1-3 undergraduate credits, a $25 registration fee and a $2/credit D2L (Desire2Learn) fee is assessed to all students each semester.
Last date to withdraw from course is June 22, 2018.
You must contact bmeuer@uwlax.edu AND the instructor, Joel Elgin, Ph.D., to initiate the withdrawal. Failure to do so may result in the inability to withdraw, resulting in a 'F' grade. Only withdrawals initiated before the deadline date of June 22nd will be eligible for a 100% refund.
To register for credit course contact: Briana Meuer, Credit Coordinator, 608.785.6513 orbmeuer@uwlax.edu
Check out the Art Department's contributions to Creative Imperatives
https://news.uwlax.edu/photos-creative-imperatives/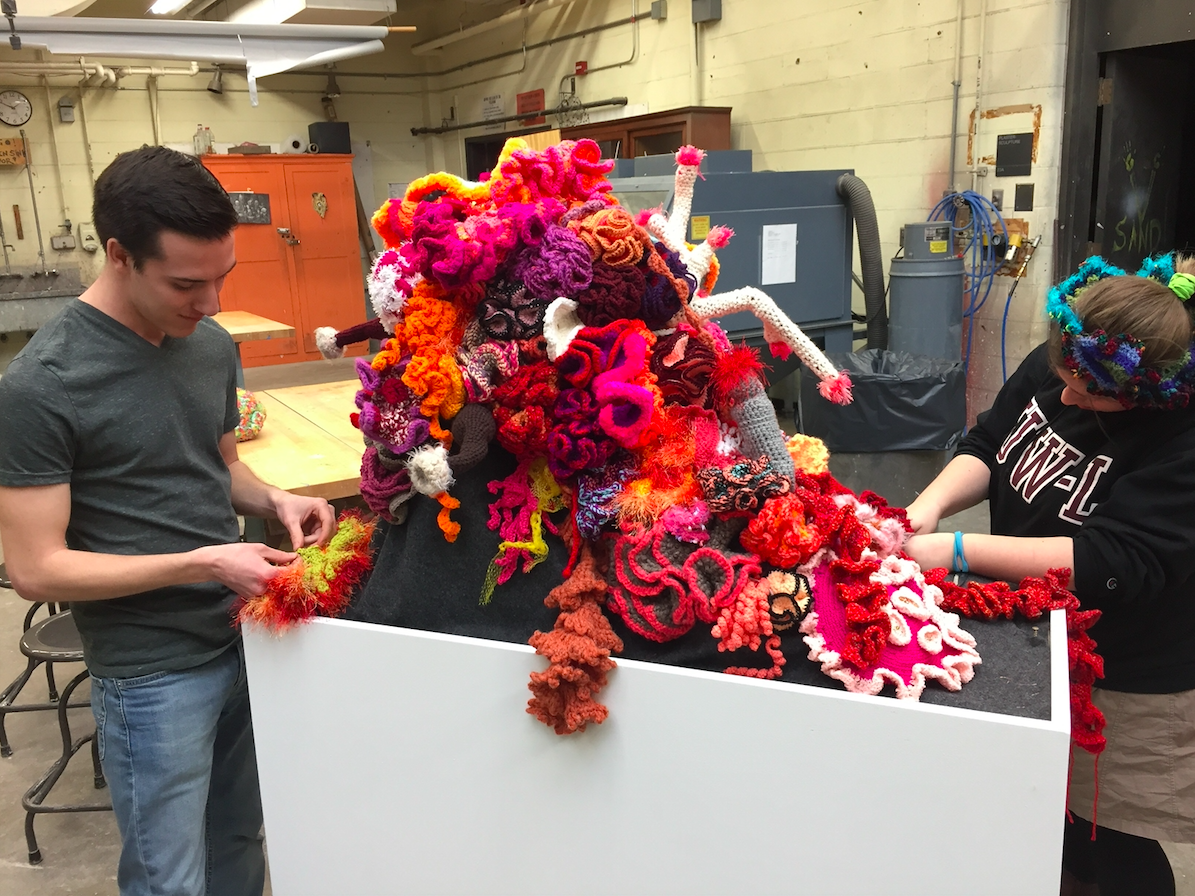 Look for the Coral Reef Community Art Project in the new UWL Student Union.