Welcome
Our goal
The Department of Art provides an educational environment that encourages:
intellectual development
visual literacy
artistic production
We foster the development of graduates who are active citizens and advocates for the arts.
All-Student Juried Art Exhibition Reception 5-7 p.m. Friday, February 24
The exhibition includes: sculpture, painting, prints, photographs, metals/jewelry, ceramics, drawing, illustration, textile and mixed media work. A total of 128 works were submitted by 57 student artists, with all majors allowed to participate. The judges selected 60 works of art to include, representing 41 student artists. Special recognition was given to 14 works.
Judges for this year's juried exhibition were Heather Delisle, a professor at UW-River Falls, and Jon Swanson, curator at the Minnesota Marine Art Museum in Winona.
The exhibition, which runs through Friday, March 10, is supported by the UWL Department of Art, the College of Liberal Studies, School of Arts and Communications, Student Association, along with donors through the UWL Foundation.
What: All-Student Juried Exhibition
Who: UWL students
When: opens with a reception from 5-7 p.m., Friday. Feb. 24. Awards announced at 5:30 p.m. Regular gallery hours are noon-8 p.m. Mondays-Thursdays, noon-5 p.m. Fridays and Saturdays and during events in Toland Theater. Runs through March 10.
Where: University Art Gallery, UWL Center for the Arts, 333 N. 16th St.
Admission: All exhibitions and receptions are free
2017 Awards:
• Dale and Betty Kendrick All-Student Art Exhibition Award — Grant Broeckel
• Carol Hutchins Winther Art Award — Sarah Heyer
• Ray Sherin Art Award — Kara VanKirk
• Catherine Crail Art Award — Pa M. Yang
• Milton and Margaret Kosbab Art Award — Ellie DeMuth and Jeffery DeMuth
• James Quillin Art Award — Sofia Kozidis
• Richard Koehler Art Award — Liz Alexander
• Bill Kader Art Award — Mathew Sigrist
• Dan & Ruth Devitt Award in Painting — Sylvia Neumann
• Dan & Ruth Devitt Award in Drawing — Theresa Kasper
• Bil Fiorini Award — Tom Sheely
• Ruth Ann Knapp Award — Stewart Stehly
• Betty L. Kendrick Award — Gemma Zahradka
• Louise Drumm Award — Jacqueline Obst
Other students with art selected for this exhbition:
Rachel Ajack, Connor Claus, Alydia Downs, Lauren Follansbee, Rachel Geniesse, Tristen Hayes, Alexa Henson, Hunter Hulley, Brianna Julian, Chynna King, Libbie-Sienna Miller, Lexi Mitchell, Ivy Molls, Hayley Mosson, Baley Murphy, Ryan Naughton, Kasey Pesch, Carolyn Peterson, Chloe Pittelko, Grant Sachs, Emily Sander, Sarah Schultz, Ryan Send, Briannae Theodore, Elizabeth West, Hannah Wise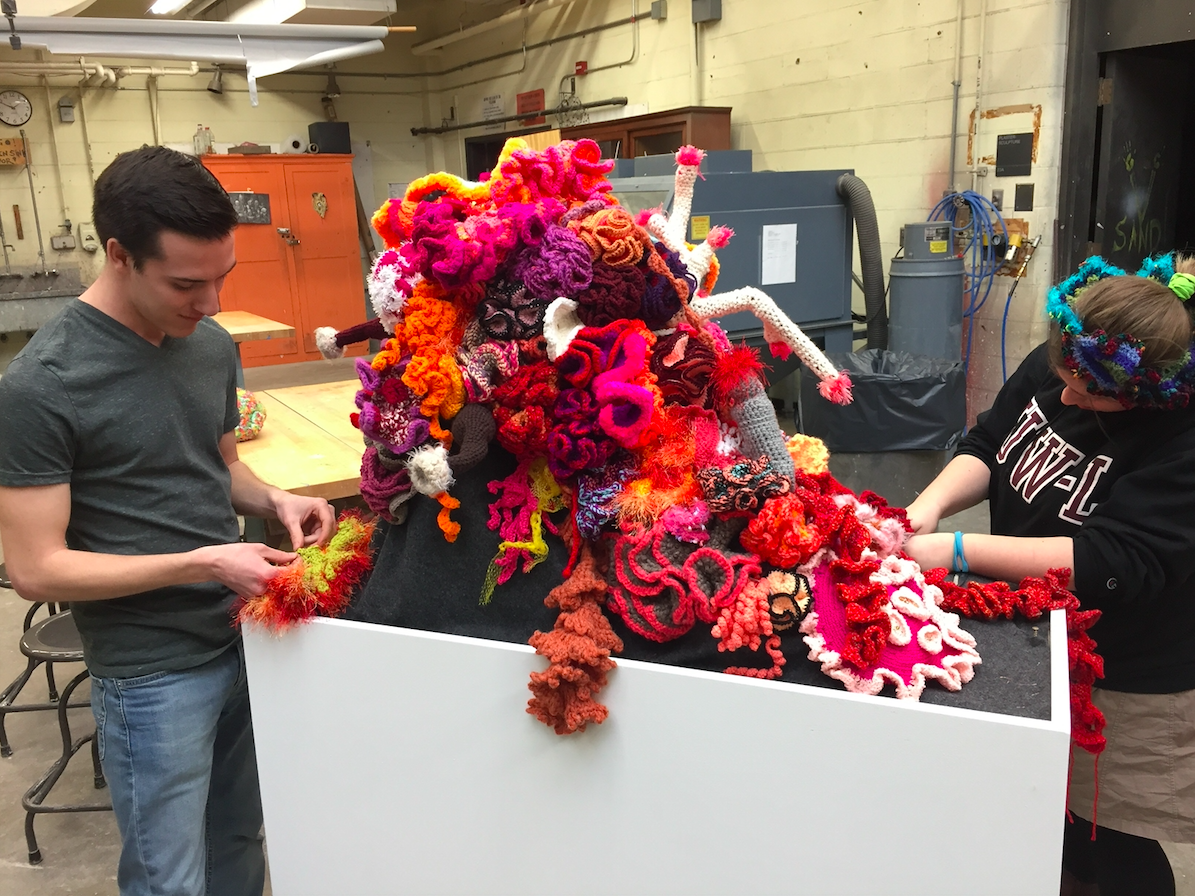 We are making a coral reef made out of crocheted yarn and other found fibers.
Why? Because it is a fun community art project that everyone can be involved in.
We are planning to finish the "UW-LaCrosse School Reef," by February 2017.