OUR GOAL
The UWL Department of Art provides an educational environment that encourages:
intellectual development
visual literacy
artistic production
Our students learn to think creatively, critically, and across disciplines to develop their own individual artwork. Our goal is to equip all students with creative problem solving and technical skills to practice art and be successful in whatever career path they choose. We foster the development of graduates who are active citizens and advocates for the arts.
Our curriculum blends liberal studies with studio practice. Our students are exposed to a range of art media and processes, including:
2D and 3D design
Drawing
Digital imaging
Sculpture
Ceramics
Graphic design
Painting
Printmaking
Photography
Metalsmithing and blacksmithing
Jewelry making
We are a small department that fosters a sense of community, and a safe and supportive environment for students to feel comfortable taking risks. Our studio art classes are hands-on and small so that we can offer individualized support and mentoring.
Art students are exposed to global art by taking field trips to Madison, Milwaukee, Minneapolis and Chicago, viewing exhibitions in the UWL Art Gallery, engaging with visiting artists, and studying abroad. We prepare our students for careers by incorporating professional practices coursework into our curriculum. Students pursue internships with regional arts organizations, participate in student organizations and committees, and work as studio and gallery assistants within the department.
Art Fair on the Green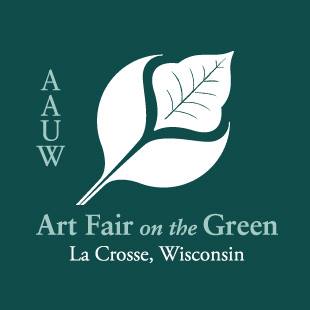 Saturday, July 27th, 10:00AM - 5:00PM
Sunday, July 28th, 10:00AM - 4:00PM
4 Reasons to Attend:
Original Work Only: There will only be original art for sale such as ceramics, drawing/pastels, basketry, glass, jewelry, metal works, mixed media, painting, photography, printmaking, sculpture, and wood pieces.
La Crosse Tradition: This annual event is held on the grassy, tree-lined campus of UWL. Officials expect to showcase more than 90 artists this year, and they will compete for $3000 in awards. They also expect to draw 3500 shoppers during the two days it's held. Come be part of this enduring La Crosse tradition.
Help Artists Earn a Living: These artists receive 100% of their sales at the show. Consider an original gift for someone, save it for Christmas or a birthday, or some other special occasion. This is your chance to truly impress.
Feel Good About Helping This Group Do Good: AAUW La Crosse provides local scholarships for higher education, it also provides grants to nonprofit agencies with the purpose of improving the lives of women and girls.
If you would like to to learn more about the juried art process or AAUW Art Fair on the Green, visit their website at https://lacrosse-wi.aauw.net/art-fair/ or visit their Facebook page at AAUW Art Fair on the Green.
SUMMER 2019 COURSE OFFERINGS
ART 102 - Art Appreciation (Cr.2 - Internet)
Section 3 - 2nd Session (6/24-7/12/19) J. Elgin
Section 4 - 3rd Session (7/22-8/9/19) B. Nichols
Discovering the visual world. An introduction to the visual arts of applied arts, architecture, craft arts, film/video arts, painting/drawing, printing/ graphic arts, and sculpture. The student will learn to use analysis and evaluation to explore the meaning of art.
ART 172 - Photography Survey (Cr.3 - Internet)
Sections 1 & 2 - 2nd Session (6/24-7/19/19) K. Hawkes
Section 3 - 3rd Session (7/22 8/9/19) L. Levinson
This course is a thematic examination of photography as a contemporary art form. Through lectures, films, hands on assignments and discussions, students will learn important conceptual and visual trends employed in art photography. Topics covered will include: 19th and 20th century influences, multi-cultural interpretation of genres, issues of identity and the influence of digital technology on photography. Students will also learn about individual and collective cultural models utilized to form the complex visual language of photographs.
ART 301 - World Art (Cr.3 - Internet)
Section 1 - 2nd Session (6/24-7/19/19) J. Elgin
This course will be an in-depth examination of art forms in various historical, social, and religious contexts of Africa, South and South East Asia, the Pacific, and the Americas. Students will explore issues, approaches and controversies in cross cultural civilizations through art as a primary source of understanding. They will experience how, through art, the values and ideas of many cultures have evolved and new patterns of globalization have shaped the modern world. Prerequisite: junior standing.
Check out the Art Department's contributions to Creative Imperatives
https://news.uwlax.edu/photos-creative-imperatives/