Our goal
The Department of Art provides an educational environment that encourages:
intellectual development
visual literacy
artistic production
We foster the development of graduates who are active citizens and advocates for the arts.
2 new exhibitions Opening Reception November 3
Karen Terpstra: A Cheval Retrospective
Art Professor Karen Terpstra's retrospective in the University Art Gallery includes a diverse body of her artwork — pieces date back 20 years to recently completed ones. The exhibition includes sketches, drawings reworked with watercolors or oil crayons, reworked giclee prints, and ceramics.
Terpstra's lifelong passion has been horses. "The 'horse' has always been and always will be a major influence and the subject matter of my utilitarian and conceptual works," she explains.
Adrienne Loh: Suis ton coeur (Follow your heart)
Chemistry Professor Adrienne Loh's artwork in the exhibition includes photographs taken on an iPhone 6S and a Fuji X100S that feature elements of equestrian life. Loh hopes viewers of her photography feel a sense of the space — physical and emotional — that those who live with and love horses occupy.
"Maybe they will be inspired to look a little more closely at those things that make up the essence of the places we inhabit and the experiences we have," she explains.
What a Relief: Traditional to Experimental Printmaking at Tandem Press
Exhibition Location: UW-La Crosse Center for the Arts: Room 100
Exhibition Dates: Thursday, October 5, 2017 - Sunday, October 22, 2017
Thursday, October 5, 2017 at 4:00pm--Opening Reception: Will include a gallery talk by J. Myszka Lewis, Curator, Tandem Press
Gallery Hours: Regular gallery hours are: noon-8 p.m. Mondays through Thursdays, noon-5 p.m. Fridays and Saturdays, and by appointment and during events in nearby Toland Theatre.
For more information, contact the UWL Department of Art at 608.785.8230
UWL Art Gallery announces, What a Relief: Traditional to Experimental Printmaking at Tandem Press. Tandem Press studio stands at the forefront of experimentation and new developments in the field of printmaking. Since 1987, Tandem and artists have pushed the boundaries of printmaking, exploring new materials and techniques, and producing highly ambitious projects. This exhibition of prints made since 2001 showcases the collaborations between master printers and established artists including Suzanne Caporael, Robert Cottingham, Lesley Dill, Jim Dine, Sam Gilliam, José Lerma, David Lynch, Judy Pfaff, and Alison Saar.
(left) The Black and Red Heart, by Jim Dine, 2013. Woodcut with hand drawing.
(right) LIGHT THRILL SWOON TRUTH FLAME, by Lesley Dill, 2016. Relief on muslin, synthetic stuffing, hand dyed and stitched horse hair.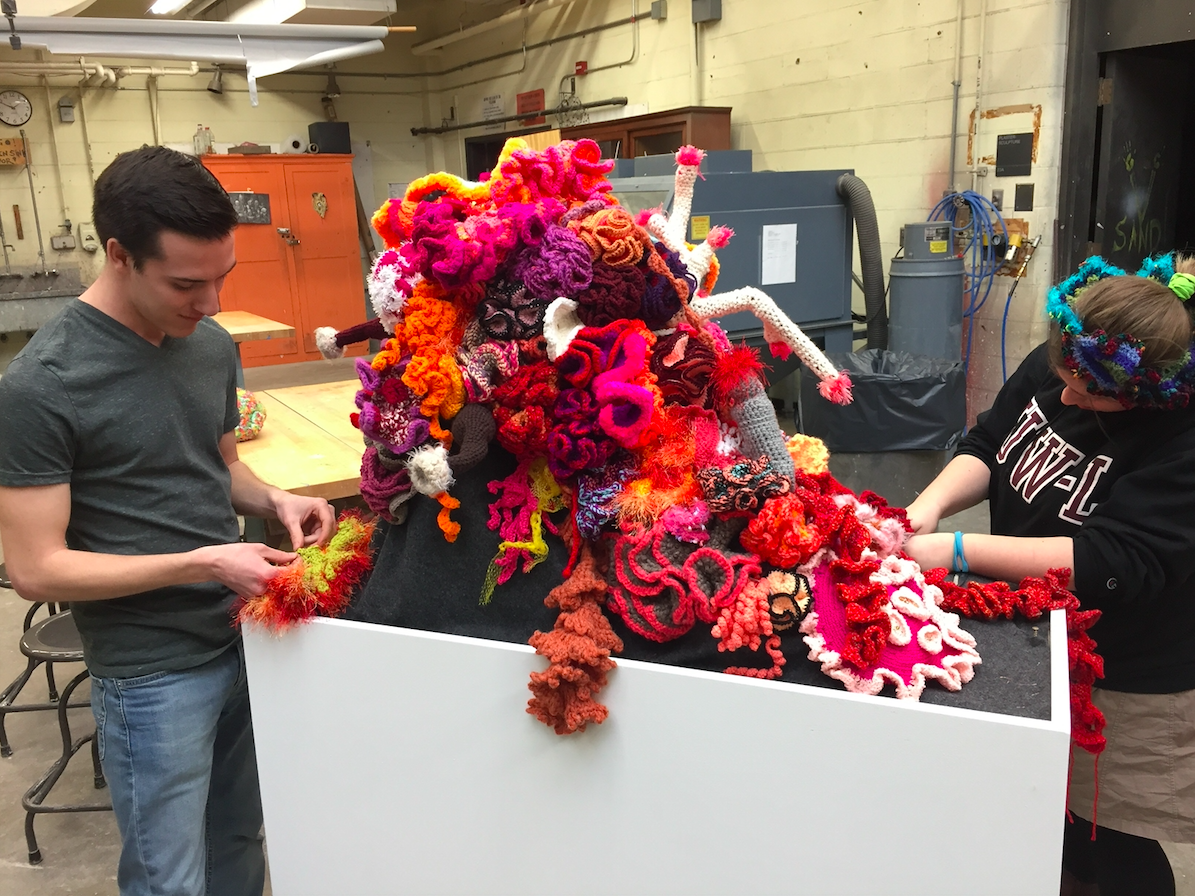 Look for the Coral Reef Community Art Project in the new UWL Student Union.
Check out the Art Department's contribution to Creative Imperatives