Welcome to the Department of Art!
Thank you for visiting the Department of Art at UW-La Crosse! We hope you find our website helpful in answering any questions about our department, but please don't hesitate to reach out to us and schedule a tour of all we have to offer.
The Department of Art at UWL provides the traditional and non-traditional art studio and art history courses. We offer an Art Major (Bachelor of Arts or Bachelor of Science), and an Art Education Major (Bachelor of Science), as well as offering the following minors:
Our large studio areas are furnished with a mix of new and traditional equipment for ceramics, metals, blacksmithing, painting, photography, printmaking and sculpture. The photography studio was just recently remodeled and updated with the latest equipment. A drawing studio, design studio, and Macintosh computer lab (for our Graphic Design courses) complete the studio/laboratory areas. We also have a large, amazing Art Gallery space on the main floor of the Center for the Arts building, and a newly renovated Student Gallery on the 3rd floor.
The majority of our art students come principally from Wisconsin and other surrounding states in the upper Midwest, but we do have students from different parts of the United States as well as other countries from around the world. We offer small studio class sizes so that we can offer individualized support and mentoring. However, if you are anxious to really expand your horizons, there are several study abroad options to choose from and UWL participates in the National Student Exchange program if you would rather stay in the U.S. More information about these programs can be found on the International Education & Engagement (IEE) website.
UWL Department of Art faculty members have all earned the terminal degree in their discipline and have amazing experiences through their travels and research to share with their students. All of our faculty strive to be excellent teachers and provide our students with the skills they need to succeed in the world post-graduation. Creative and scholarly research by faculty are presented through international, national and regional exhibits and publications.
---
UWL SPRING 2023 ALL STUDENT JURIED ART EXHIBITION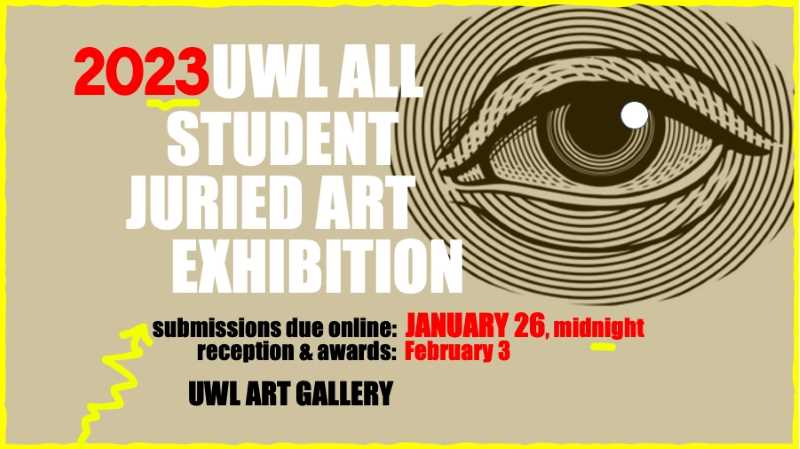 2023 ASJAE poster
LIST OF ACCEPTED ART FOR THE 2023 ASJAExhibition.
Gracie Acklam: Peace
Madison Atkinson: Tea, with that French Revolution?
Kayleigh Baasch: Ink Cloud Collage
Lydia Bergerson: It's okay & Traveler
Nicholas Bilyeu, Lindsey Kugler, Trista Milner: Flowers
Mattie Blanck: Puffer Coat Fashion Portrait & Medusa in Color
Maiya Brandt: Potter's Hands, Class Dismissed & Woo Blue Vessel
Brooke Branscome, Olivia Otto, Amy West: S.S. BOA
Ellie L. Burbach: What Are You Looking At?
Arlo Ceman: Señor Bear Bear
Ellen Cervantes: Icky Boy & No-Poke!
Leo Chavolla: Copper Vessel #1 & Knot your regular cufflinks and studs
Elisa Engman: Recover Your Life
Catherine Ann Gamble: The RIP
Andrea Grunwald: Mask of the Sea & Crown of the Fores
Sara Hafften: In the Zone & Food for Thought
August Jennings: Cleopatra, Arachnys & Etched
Ella Kluck: i'm always watching
Veronica Kolb: Welcome to the Jungle & High Tea
Molly Kalous: Following Stars & To Perform Plaster
Carlson Kreger: Forgiveness
Chloe Kuester: oh hey
Jonathan LeGault: Untitled 4
Coral Neubauer: Full Circle
Rusty Norgord: Meatball
Kayla Rippe: Living Room Art
Ryan Rateike: Intermittent Timing
Reece Rumpza: bubbled vase
Elizabeth Schams: Teeth
Emma Sebranek: Chicken People & Eggshells
Sidney Scherwinski: NoB******?
Kylie Stockton: Still Life
Nora Elizabeth Waltz: Accepting
Josh Wolfe: Elevator Music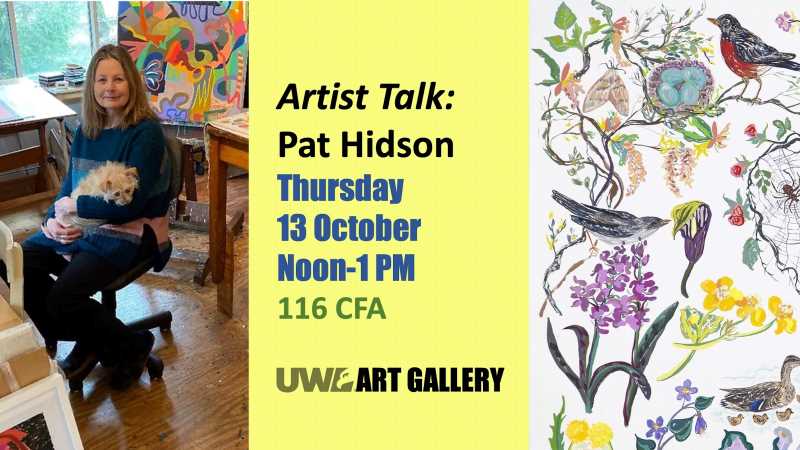 Artist Talk with Pat Hidson
In conjunction with the exhibition, Close Observation: Art & Science in the Anthropocene, Pat Hidson discusses her art and practice. Hidson has always found it natural to commune with the spiritual power of our earth garden whether living in Wisconsin or Canada where she was born. In fact, Hidson has worked with the theme of gardens for decades and nurtured her understanding of how nature is an essential partner in balancing human mental, physical and spiritual health.
As a wildlife rehabilitation volunteer, Hidson shares her love and care for our natural environment. As an artist, she surrounds her home with a teeming natural garden, a certified Wildlife Habitat that provides refuge for local flora and fauna. Hidson's close observations and deep connections to our natural world result in art found in numerous public and private collections.

UWL grad's photo project shows city through the decades
A photo might say a thousand words, but rarely does it capture how a community has changed over 100 years.
UW-La Crosse graduate Brianna Graw, '21, set out to do exactly that with her project "La Crosse, Wisconsin: Then & Now" — a collection of new and historic photographs taken in the same locations throughout the city.
"I thought it would be interesting to see how these locations have changed, or haven't changed, from 'then' to 'now,'" says Graw, who majored in marketing and minored in art, with an emphasis in photography and graphic design. "I grew up in the La Crosse area, but I had never really paid much attention to the city's many historic buildings and landmarks."
Graw's collection includes photos of 30 sites, including Grandad Bluff, Riverside Park, UWL's Graff Main Hall and several locations downtown. More of the story...

Professor's images of pandemic despair, hope on display
The artwork of a UWL professor that depicts local faces of COVID-19 will be displayed during an upcoming exhibition at the Pump House.
Jennifer Williams' "Painting us Forward" series began at the start of the pandemic as an artistic and empathic approach to connect with family, friends and community.
"As we emerge from the pandemic, we all have a story to tell that reveals our experiences and vulnerabilities, and it's this understanding that reinforces our human connections," Williams explains.
Debuting at the Pump House, the project is comprised of paintings of the people closest to Williams and people she reached out to along the way, including local business owners, some of whom Williams had never met. More of the story...