Student Gallery
A page within Art
In 2013, the Department of Art received funding to create a separate gallery space for Art students to learn the professional practices in exhibiting their work. The Student Gallery is located in 340 Center for the Arts, and features student art exhibitions, as well as outside artists' exhibitions throughout the academic year.
What's Happening?
OUR HOUSE IS ON FIRE! - Virtual Exhibition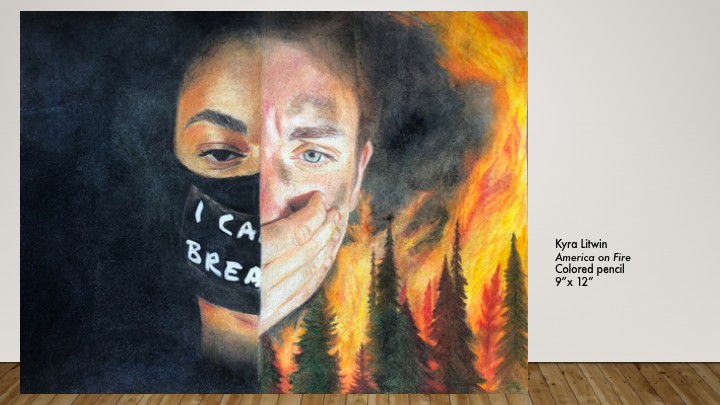 Kyra Litwin, America on Fire, colored pencil
UW-Eau Claire's Foster Gallery is showcasing sustainability and resiliency themed student artwork in a virtual exhibition, Our House is on Fire! Artwork was submitted by University of Wisconsin System students, and it addresses social, environmental, or economic issues related to the climate crisis.
Our House is On Fire! coincides with the Foster Gallery's current exhibition, The Nature of Our Disposition. Through both exhibits, student curator, Caleb Carr, is working to address the active threat of climate change. The virtual exhibition will be on view through December 4, 2020. - Amanda Bulger, UW-Eau Claire
Six of our UW-La Crosse art students have work in this virtual exhibition: Kyra Litwin, Bailey Burgard, Abby Johnson, Maria Landgraf, Chelsea Markland, and Maggie Armbrust.