Lunch ideas
A page within Campus Child Center
Campus Child Center prepares and serves breakfast and afternoon snack. For the noon meal, we serve milk and our children bring the remainder of their noon lunch from home. Listed below are some ideas for foods to send for your child's lunch.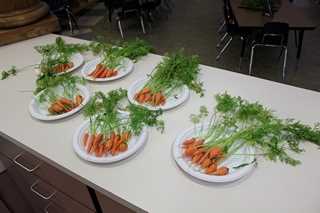 carrots from the garden
Lunch Ideas
mini-bagels with cream cheese and/or avocado
hard boiled eggs
pita pockets (pita bread) stuffed with meat, cheese, tuna, cream cheese, or avocado
English muffins with peanut butter
thermos of soup, stew, Ramen noodles
thermos of spaghetti, noodles with sauce, meatballs, chicken nuggets, fish sticks
chunks of cold meats and cheeses (with crackers or flatbread on the side)
flour tortillas spread with cream cheese or peanut butter and rolled up
rolled flour tortillas filled with meat and/or cheese slices
shredded carrots in the tortillas mentioned above
hummus, grated apple, grated cheese, cream cheese, or thinly sliced cucumbers in sandwiches
apple and cheese slices (with crackers or flatbread on the side)
crackers or flatbread with hummus
cottage cheese with cherry tomatoes (please cut in half lengthwise)
cottage cheese with peaches
fresh string beans
sliced yellow and/or zucchini squash
V-8 juice
carrot, green pepper, cucumber slices with hummus, guacamole, or Ranch dressing for dip
fresh broccoli and/or cauliflower
salads of all sorts: lettuce, pasta, bulgur, chicken, tuna, bean...
couscous or bulgur wheat with chopped tomato or cucumber and a bit of olive oil and lemon juice
a mix of sunflower and hulless pumpkin seeds
yogurt
corn muffins
For USDA serving size requirements see the "keeping children safe" healthy snacks and meals section of the Parent Handbook.