Joint Committee on Free Speech Promotion (JCFSP)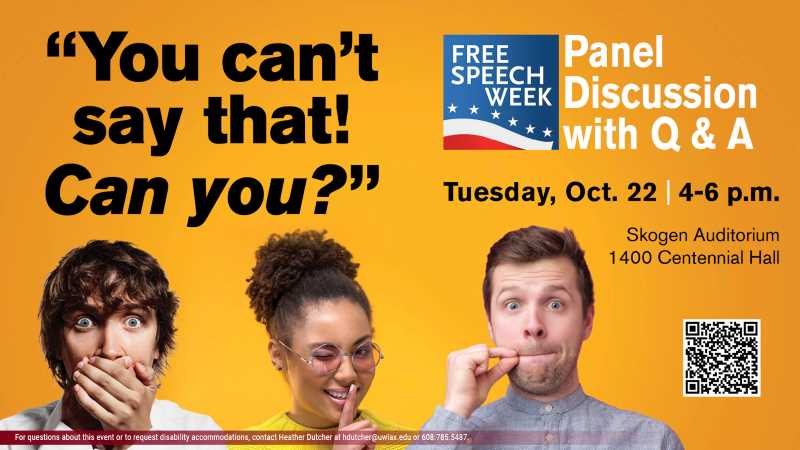 Freedom of speech digital with disability accomodations.jpg
Free Speech Week panel discussion set at UW-La Crosse
Click here to view recording of the event.
What are my rights when it comes to free speech? What can I say? What's the difference between free speech and hate speech?
An event at UW-La Crosse will attempt to answer these questions at 4 p.m. Tuesday, Oct. 22, in 1400 Centennial Hall. Panelists will discuss all these questions incorporating UWL's past with pushing boundaries on free speech.
"You can't say that! Can you?" will open with facts and myths about free speech presented by Nizam Arain, director of Equity and Affirmative Action, and James Szymalak, assistant professor of Political Science and Public Administration.
Next, the event will include an interactive panel discussion on free speech at UWL with panelists Joseph Heim, emeritus professor of Political Science and Public Administration, and James Parker, emeritus professor of History. The discussion will be moderated by Beth Boser, assistant professor of Communication Studies and will shine a light on the ways that students, faculty, and staff have used their free speech rights to push boundaries and advocate for change at UWL over the years. The event concludes with a question-and-answer session among those attending and the presenters.
The event was planned by the university's newly formed Joint Committee on Free Speech Promotion, a committee charged by the chancellor to create programming that promotes the value of free speech at UWL. The committee's goal is to provide the UWL community, as well as La Crosse area residents, a live experience of how to have challenging conversations about contentious issues in a respectful manner.
If you go:
What: "You can't say that! Can you?"
When: 4-6 p.m. Tuesday, Oct. 22
Where: Skogen Auditorium, 1400 Centennial Hall, UW-La Crosse
Admission: Free
---
Let us know what you think!
Feedback on the "You Can't Say That! Can you?" event
---
The UWL Joint Committee on Free Speech Promotion (JCFSP) was created by Chancellor Joe Gow in 2019. The JCFSP will be charged with creating an event (or events) to help our campus celebrate national Free Speech Week, which takes place each year during the third full week of October: https://www.freespeechweek.org/about-fsw/
Bylaws(Approved & Adopted 9/13/2019)
---
For full information about UWL's policies and values on free speech, freedom of expression, and academic freedom, including expectations for students and employees, please click here: www.uwlax.edu/free-speech.