Participating in an education abroad experience is very exciting and provides the opportunity to explore and learn from other cultures. In order to maximize this experiential learning opportunity and make the most out of this experience, students need to plan and research in advance before choosing a program. If you identify yourself as women, part of this research will need to be focused on the role of gender in a new cultural context.
Expectations about how women should dress, act, or even talk will be influenced differently by gender roles in each country, and you may be frustrated by feeling that you cannot be yourself. One of the most common stereotypes that women from the U.S. face abroad is the preconception that they are "easy" or "loose." Or an unpleasant situation that women might experience in some countries is catcalling, or a friendly smile and eye contact that would be appropriate in the U.S., may draw unwanted attention from men. Understanding the cultural differences related to gender roles before you go abroad, will help you learn how to behave, and how to react to unexpected situations or unwanted attention triggered by your gender. It is important to always be aware that what might be perceived as common behavior for women in the U.S., may be misunderstood in other cultures, frowned upon, or even prohibited by law.
Before you start doing your search, take some time to think about how you feel about gender norms different than those in the U.S. Once you are ready, use these questions and suggestions to guide your research:
What are the typical gender roles in that country?
Will I be comfortable in a location where gender roles are very different from what I am used to in the U.S.?
What are the cultural expectations for both men and women?
Are there any stereotypes about women from the U.S.? What are they?
How do my personal values compare to that country's attitudes towards women?
If gender inequality is the norm, how will I feel?
What are the dating customs and norms? Is it acceptable for women to express their feelings openly?
If you are very particular about your feminine hygiene products, will you be able to find them in that country?
If you are using any kind of birth control find out if you will be able to get it in that country, or plan on bringing enough to last through your entire stay.
Think about your safety, is it safe for me to go out alone? Are there cities I should avoid? How are the drinking norms there?
Review emergency procedures and learn about safety practices such as traveling in pairs or groups, and dressing in a culturally appropriate way.
What is considered sexual harassment in that country? Educating yourself about sexual harassment is integral to maintaining your sense of safety. While harassment may be more difficult to understand abroad because of different cultural norms, cultural sensitivity does not mean you should accept behaviors that make you feel uncomfortable or unsafe.
Talking with other women who have studied abroad in that location can also be a good place to start your research and learn about what to expect. It is important to remember that your words and actions have a chance to be perceived differently than intended due to cultural differences.
If you are unsure about how to interpret some of the gender norms in a country, you can contact your education abroad advisor. They will be more than happy to help you with your research. Once you are abroad, talking with local women and students can help you bridge the gap, if any, between the information you found in your research and how the local gender roles really are in that country.
Start by doing some research based on the information above. To learn more about the education abroad process and programs offered at UWL, we encourage you to attend an Education Abroad 101 session, attend our Education Abroad Fair, and/or schedule an appointment to meet with an education abroad advisor. We are here for you!
Resources
Diversity Abroad - Students can create a free account.
Study Abroad Safety Tips for Female Students
Student's Testimonials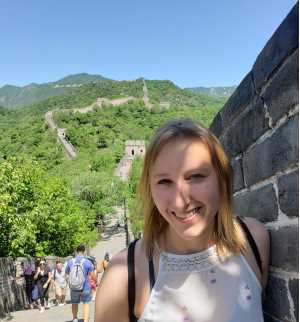 Gabbie
a female student in education

I am a female studying education. During the summer after my freshman year, I studied abroad in China! As an education major the opportunity to study abroad is highly valuable. When I saw the chance to study abroad for a month in China along with two UWL professors and eight other UWL students I knew I had to seize this opportunity. During my time abroad I got to study and teach at Luoyang Number 2 Foreign Language School. I learned so much about the education structure in China compared to education in America while I spent most of my days at the school. As a future educator, I found this new knowledge valuable and fascinating. I learned to be a more flexible thinker, understand diverse perspectives, and even found a new confidence within myself during my time abroad. I fell in love with the rich culture in China and the seemingly endless amount of history. Seeing an Eastern culture that was so very different than our Western culture in America was life-changing. I truly believe any student who has the opportunity to go to an Asian country or anywhere abroad should take it, because it is a chance to see a culture extremely different from America's.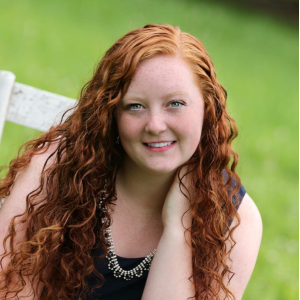 Grace
a white female student

I decided to study abroad during the spring semester of my sophomore year at UWL. I wanted to go abroad to step out of my normal lifestyle. I grew up in the small town of Waupaca, Wisconsin and had limited experience in a culture outside of my own. A few years ago I discovered family ties in Ireland and Scotland and after researching Scotland I fell in love. As a biology major, I was easily able to find courses at the University of Stirling, Scotland. On arrival to Stirling, my intuition was instantly tested. I quickly learned how to travel and live in Scotland. My experience in Stirling was so much more amazing than I could have ever imagined. I absolutely fell in love with the culture and scenery of Scotland! I literally lived down the street from a castle! I was also very lucky to have made friends from all over the world. It was a really eye opening to live with students from places like Spain, Chile, Sweden, Canada, and Peru. I can honestly say the invaluable experiences I was able to have abroad helped me grow as a person. I would 100% recommend studying abroad to students no matter what you identify as. UWL has so many options for study abroad opportunities. I encourage anyone to explore the study abroad opportunities the University of Wisconsin La Crosse offers.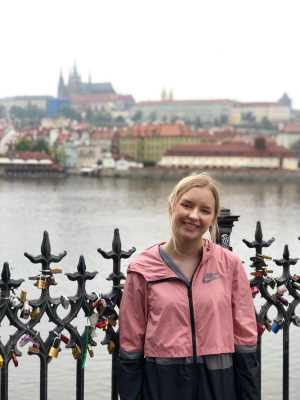 Isabel
a white introverted female

As an introvert, the thought of going to a foreign country and not knowing anybody definitely scared me. I was worried it would be hard to make friends with people I probably would not have anything in common with. Even though I had some hesitation about studying abroad, I knew I wanted to challenge myself to be more adventurous. Once I got to Prague, Czech Republic and met some of the people in my CIEE program I realized I did not need to worry so much. It is sort of like freshman year where everyone is hoping to make friends right away. The people in my program came from all over the U.S. Although we did not have much in common, we made conversation by talking about the differences between different areas in the U.S. and our colleges. I ended up making lots of good friends who I was able to explore Prague with and travel to other countries with as well. I was in a four-week program and I was wishing I had more time by the end! I would recommend studying abroad to everyone, it was an experience I will never forget.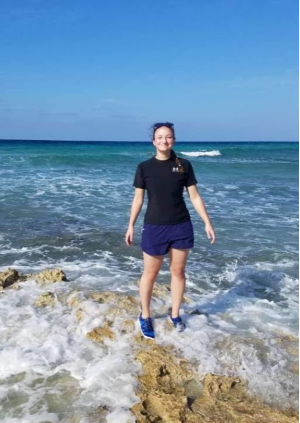 Lindsay
a female, STEM student

As a STEM major, I wasn't optimistic about my ability to study abroad during my time at UWL. Many of my chemistry courses involve specific lab components or are split into classes that should be taken back-to-back, so trying to go abroad for an entire semester may have compromised my ability to graduate on time. Thus, I was really excited when I heard that UWL was offering a two-week program to the Cayman Islands to study chemistry and biochemistry during winter break. The other students and I were accompanied by a UWL professor, and hosted by the Central Caribbean Marine Institute, a center dedicated to marine research and education. In addition to learning about the environment around us, we were able to apply our new knowledge while conducting field work and lab experiments. The majority of the students who went on the trip were STEM majors like me, so the timing of the trip allowed us to have this experience without interfering with our normal class schedules. I would encourage any UWL student who is skeptical about their ability to travel abroad to visit International Education and Engagement in order to discover what opportunities are available.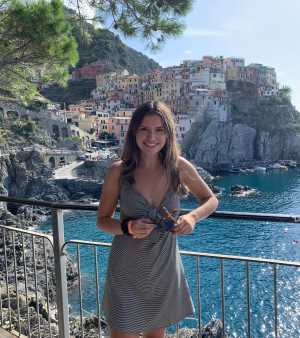 Joy
a female student

Before leaving for my study abroad program in Italy, I was concerned with being a female traveler in a new place. I worried about traveling around the city and country if I was by myself, or walking at night, as well as what the general attitudes would be towards women. I had also heard that Italian men could be aggressive towards women, especially with catcalling; however, I quickly learned upon landing in Italy that Italians are extremely kind people. The locals I encountered showed me nothing but respect and appreciation. There were always lots of people around, and it really is a generally safe destination. Studying abroad taught me beyond what I could have ever learned in a classroom, I learned what Italy is really like past the presumptions and stereotypes, and it taught me about the amazing aspects of Italian culture. Not to mention I ate the best food I've ever had. If UWL students have even the slightest interest in studying abroad: Go to meetings, look at the IEE website, and reach out to the office to learn more about it. The education abroad programs and opportunities UWL offers are incredible and the experience will change your life.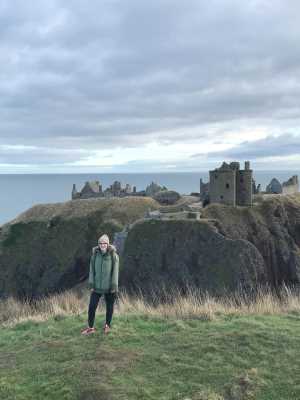 Alyssa
a female, science student

I am a female UWL science student. As a science major/minor, it can often be difficult to try and fit studying abroad into the strict course schedule. However, I took the leap of faith and went abroad! Taking mostly science courses each semester can sometimes make you think only with a scientific mind. By going to Scotland, taking humanities courses, and being a part of a great international student community, I was able to expand and learn in different ways that were not necessarily the "science way" to think. I was nervous at first by not taking courses I was generally comfortable with - but I am very glad that I got out of my comfort zone! I would highly encourage any UWL student, including students in any STEM program, to take the leap of faith and study abroad.