Regents' Teaching Excellence Awards
Renee Redman: 2021 Regents' Teaching Excellence Winner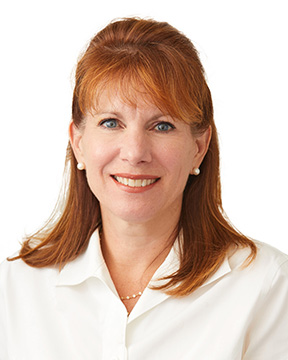 Nomination Letter for Renee Redman

expanding section
Dear Selection Committee:
It is my pleasure to nominate Dr. Renee Redman for the 2021 Regents' Teaching Excellence Award. Dr. Redman is a gifted educator known for going above and beyond, particularly in courses that are seen as challenging. She is renowned, both in the Biology department and across the UWL College of Science and Health (CSH), for creating unique and clever activities to assist students in retaining information. Her care and dedication to refining her teaching techniques is not lost on her students and is often remarked upon when the opportunity presents itself.
Frequently, in course evaluations and award nominations, we hear about Dr. Redman's admirable patience and willingness to explain or demonstrate a concept as many ways as necessary for it to "click" with her audience. Just as important as her efficacy as an instructor, Dr. Redman is known as personable and approachable. She is an excellent communicator and sets clear expectations for students while always expressing her confidence that students will succeed. Renee is an exceptional mentor for all students. Consequently, the director of the CSH First Year Research Exposure (FYRE) Program, which is an academic diversity initiative for students of color, consistently enrolls students into Dr. Redman's introductory biology class because of her skill in guiding and supporting their academic progress.
There are many metrics that support Dr. Redman's excellence – a number of which are included in her reflective statement for this award. To those, I would like to add another significant figure. Dr. Redman has been nominated for the Eagle Teaching Excellence Award, a student driven recognition of teaching excellence at UWL, six out of the seven years of the award's existence. Additionally, Dr. Redman was a semi-finalist for this award multiple years running (no small feat given that we receive 600 to 900 nominations a year), and in 2018, she was named one of only six winners. As one who sits on the committee involved with making the selection, I can tell you that one of the chief reasons Dr. Redman was selected was for her curricular innovations.
Students seek out her classes with full knowledge that the subject matter is "hard", but that Dr. Redman will present it in a way that will stick with them throughout their academic career and into their professional one. To quote a student currently in one of her courses:
"She is always trying to find ways to make it "our class." She is always asking students for input and sees our success and growth as her top priority. Dr. Redman has made every effort to help us really learn the content in her lectures and pays attention to where the class is struggling so we can focus on those concepts. She is an excellent teacher, and I really appreciate how much time and work she dedicates to her students." - Kelsey Fisk
In addition to the Eagle Teaching Excellence Award, Renee was also presented with the 2020 Eagle Sport, School, and Life Faculty of the Year Award, an honor given to faculty recognized by UWL student athletes as being exceptional in the classroom. Dr. Redman's nomination, which secured her the award, included the following student testimonial that further speaks to her talent and skill connecting with her students:
Dr. Redman is hands down my favorite professor at UWL. I have looked forward to taking every class that I have had with her. I have recommended her to many of my teammates and will continue to do so. Dr. Redman's passion for science, passion for the wellbeing of her students and her support for UWL student athletes are all reasons why she deserves this award. - Lily Brock
With her dedication to students, it is no surprise that Dr. Redman is viewed as a curricular leader within her department. She was awarded (with colleagues) three curricular design grants this past summer to modify courses in biology for online instruction due to the COVID-19 pandemic. In one case, Dr. Redman led the Cell Biology group into modifying lectures and labs. She created the initial modules on immunofluorescence and bioinformatics and worked with the remaining cell biology instructors to divide up the tasks associated with the cell division module. All of these modules are being utilized this fall, and they are clearly of excellent quality, given that Dr. Redman has received, in under two months, three new nominations for the 2021 UWL Eagle Teaching Excellence Award – a feat, I would argue, that is particularly noteworthy during a pandemic year.
While Dr. Redman's work with the cell biology curriculum is impressive, it is by no means the first curricular enhancement she has spearheaded. Recently, Dr. Redman took the lead in generating a BIO 105 Master Canvas course of particularly high quality. Working with seven different instructors, the purpose of this initiative was both to enhance the division of labor as well as ensure that core materials would be covered regardless of instructor or format. By dividing the course up and generating modules, planning courses around a complicated and expansive topic has become a good deal easier. Instructors simply copy individual modules into their course and/or modify as they choose. Each module has a list of learning objectives, PowerPoint slides, a narrated lecture, and a variety of learning activities (from brief problem sets to activities to critical thinking applications of lecture material). A "knowledge check" activity (quiz or problems) for the students to complete after the module confirms that the module was effective, and additional resources (videos, websites, etc.) are available if needed.
When not engaged in curricular innovation and/or working with 20-30 different advisees per year, Dr. Redman somehow finds time to engage in impressive philanthropic endeavors. She worked closely with UWL's Dr. David Howard to set up an endowed scholarship in line with his wishes. The result was a truly unique annual award that is less focused on popular scholarship metrics, such as GPA and existing achievements, in favor of more humane measures. The Dr.
David R. Howard Endowed Scholarship Fund in Biology is designed for "a student who may have had a difficult semester and is working hard to succeed in his/her academic career." It's hard not to notice the parallels between this award – where the focus is on effort being shown towards achievement, and Dr. Redman's own teaching style that similarly rewards student effort with her varied methods of presenting material.
Dr. Redman's positivity extends outside the classroom. To offer an example particularly appropriate to the season, Dr. Redman has been (since 2006) the official "accessorizing elf" of a toy drive begun by two UWL woodworkers, who construct wooden toys for over 50 families each year. Dr. Redman comes up with the final touches for the gifts, whether it be sails for ships or animals for wooden barns. The toys are then distributed to families in need through local non- profits. Colleagues from across the Biology Department, as well as some other departments on campus, contribute either money for her to purchase the accessories or buy additional toys to supplement the handmade component. It goes without saying her work has generated a great deal of positive press for UWL, but more importantly, it is a simply a wonderful thing done for the benefit of others, and I believe it illustrates the sort of person Dr. Redman is inside and outside the classroom.
In conclusion, Dr. Redman is an effective and thoughtful instructor. Her dedication to the craft of teaching and service to the university community is not only an example to her fellow IAS but to tenure track faculty in her own department and beyond. I hope you agree that she would make a particularly worthy recipient of the Regents' Teaching Excellence Award. Thank you in advance for your consideration of this application.
Sincerely,
Betsy Morgan Provost
The purpose of the Regents Teaching Excellence Awards is to recognize outstanding teaching in the UW System.
Each nomination must provide evidence of outcomes and impacts such as:

• Excel at teaching and deeply value learning. This commitment to excellence might be demonstrated through activities that advance the quality and practice of teaching, learning, and advising in the individual classroom, in the department, across the curriculum or discipline, or college- and university-wide.

• Use effective pedagogy to enhance student learning, including (but by no means limited to) active learning, learning communities, student portfolios, assessment of student learning, and innovative uses of technology in the classroom.

• Have a significant impact on students' intellectual development, helping students to develop, for example, critical and creative thinking skills, effective communication skills, intercultural knowledge and understanding, and individual, social, and environmental responsibility.
Some of UWL's past nominees in the Instructor category include:
2022: Lindsay Steiner, Associate Professor of English
2020 & 2021 (Winner): Renee Redman, Senior Lecturer of Biology
2018 & 2019: Betty DeBoer, Professor of Psychology
2015 & 2016: Stephen Brokaw, Professor of Marketing
2013: Víctor Macías-González, Professor of History
2012: (Winner): Jennifer Kosiak, Professor of Mathematics and Statistics
2011: Greg Wegner, Professor of History
2010: Lise Graham, Professor of Finance
---Past Winners---
2001: Gary Gilmore, Professor of Health Education & Health Promotion
1995: Alan Bigel, Professor of Political Science & Public Administration
The purpose of the Regents Teaching Excellence Awards is to recognize outstanding teaching in the UW System.
Eligibility for this award involves displaying evidence that a department recognizes and fosters excellence in teaching, such as:

• Active support for innovative instruction, for a diversity of teaching models and approaches, and for continuous improvement in teaching, learning, and advising.

• Department- or program-based awards; consideration of teaching excellence in merit pay, promotion and tenure decisions; or other incentives or rewards for outstanding teaching.

• Professional development for graduate students, instructional academic staff and/or part-time and adjunct instructors as effective teachers and advisors.

• Evidence of, and recognition for, the scholarship of teaching and learning, related publications, software, and other work that advances the practice of teaching and learning.
Some of UWL's past nominees in the Department category include:
2022: MBA Consortium (Eau Claire, La Crosse, & Oshkosh)
2021: Exercise and Sports Science
2018 & 2019: Chemistry
2014 & 2015 (Winner): Mathematics and Statistics
2012 & 2013 (Winner): Biology
2010: Sociology & Archaeology