Academic unit annual summaries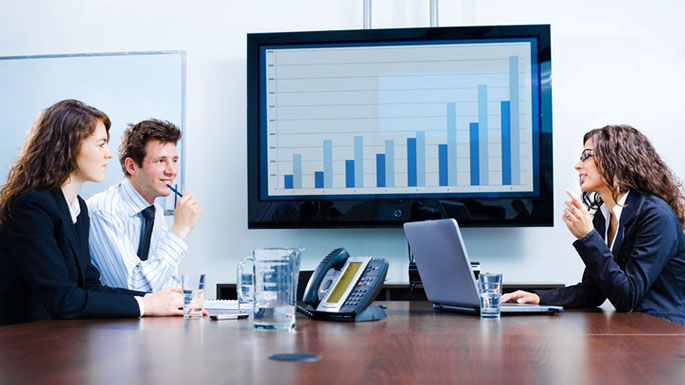 College of Business Administration
College Summary
2020-2021
Despite the pandemic the College of Business Administration exceeded last years enrollment by 68 students reaching 2,242 students. This level of enrollment is approaching the levels of the mid 1980s. This level is also 700 students - or 50% - above the early days of the Growth, Quality, and Access initiative.
While it was certainly not "business as usual", the CBA was still able to carry out its mission to "Foster academic excellence, career success and community engagement through enriching, interactive experiences." For example instead of the traditional in person First Friday lectures we were able to have two virtual distinguished lectures that brought us topical information. The first lecture in the fall was titled "The Reskilling Revolution" and delivered by CBA alum - Dr. Andrew Temte, CFA President and Global Head of Corporate Learning at Kaplan North America. The Spring lecture helped students gain perspective on their current and future work. It was titled "Remote Work: Pain or Gain?" and was delivered by UWL alum Phyllis J Creek, Retired Managing Director, Deloitte and a lecturer in the Management department.
Additionally, 15 students, 10 industry professionals, and 4 supporting businesses help the 8th annual UWL Eagle Sales Competition virtually. The sales team included students who also competed in sales competitions hosted by UW-Eau Claire; University of Minnesota; and Florida State University.
Several curricular initiatives were approved through the college and university process. This included adopting a new math requirement for the CBA core which includes more appropriate content and skills, reducing the number of credits in the CBA minor, and additional departmental initiatives such as the IS department's revisions to stay current with technological changes and industry demands. Fall 2020 was also the inaugural year for the Business Analytics minor. Enrollment in the program was strong, with 40 students enrolled in the program in the first year.
Finally the CBA continued to grow its engagement with the MBA consortium which had a robust year, adding a cohort and again being ranked #10 in the nation for "Best Online MBA Programs" by U.S. News & World Report.
Accountancy
2020-2021
Department of Accountancy Activities Report (2020-2021) The UW-L Department of Accountancy had a highly successful year  The Department is serving approximately 365 accounting majors and enrollment is increasing. The Accountancy Career Fair, held virtually in September 2020, had over 31 companies attending and virtually interviewed accounting majors to fill internship and full-time employment opportunities. A total of 23 firms supported 59 students as interns during the 2020-2021 academic year. UWL Accounting Majors are still highly sought after and doing well on the CPA exam. Pass rates have modestly and steadily increased the past year. Scholarships Awarded The Department continues to have strong connections with accounting firms and businesses that employ accountancy graduates from across the region. Nineteen companies and individuals offered scholarships to students amounting to over $90,000 during the academic year. Personnel: Department faculty turnover is down at the moment. We have hired three faculty who hold Ph.D.'s. They all started in the Fall 2020. Overloads and the need for adjunct faculty to cover classes have slowed down. Teaching: In The department, six faculty received Eagle Teaching Excellence Award nominations in Spring 2021. None won the award; however, it is exciting that many of our faculty members are being recognized for excellence in teaching in the department. Research: Department faculty continue to publish refereed journal articles and have made virtual presentations at refereed professional meetings during the academic year. Curriculum: The Department is working on the new accountancy curriculum to respond to changes coming to the CPA exam in 2024 and industry changes taking place in the accounting profession. Transition to this process will be ongoing. Experiential Opportunities: UW-La Crosse's Beta Alpha Psi (BAP) had an active academic year. The BAP student organization invited a diverse array of 10 employers from across the region to virtually present during their biweekly meetings. In August 2020, BAP members made a presentation at the virtual annual meeting.In March 2020, a team of Beta Alpha Psi members virtually presented the chapter's best practices at the Midwest Regional Meeting. They will also be virtually presenting in August 2021 at the Beta Alpha Psi Annual Meeting. Also, UWL BAP members are continuing to be involved in volunteering and helping not-for–profit organizations such as the Salvation Army in La Crosse, WI.
Economics
2020-2021
The Department of Economics taught 92 separate courses during the 2020-2021 academic year. Around three-fourths of these courses serve students completing generation credit (ECO 110/ECO 120/ECO 336) as well as CBA students (ECO 110/ECO 120/ECO 230). Class enrollments were strong and managed reasonably well, as the vast majority of courses had enrollments near the caps. The pandemic had clear effects on intra-department interactions, but the department was in a particularly good position to transition to online teaching given the history of delivering courses this way during the summer and winter terms. Even though several department members had taught online before, not all had prior to the pandemic. Thus, the pandemic affected some department members more than it did others. In either case, the department was able to manage the academic year reasonably well. Despite the almost-complete move to online teaching, department members maintained considerable research productivity, publishing over 20 articles in journals or book chapters and presenting their scholarship in virtual conferences and seminars on at least 15 occasions. Several members of the department pursued internal and/or external funding for their research, and many of these proposals were funded. Department members were also active in providing service to the profession in the form of manuscript reviews and serving in editorial roles. The shift to online teaching also prompted revisions to teaching strategies and the creation of new tools to help students learn the content and develop the needed skills. The pedagogical changes ranged from adding some additional video examples to help students practice more, finding ways to incorporate student-to-student interactions (e.g., Zoom breakout sessions), and developing lab-like assignments that help students apply what they are learning to different problems. Kudos: Lisa Giddings won one of the 2021 Eagle Teaching Excellence Awards. Mary Hamman was promoted from Associate Professor to Professor. Nabamita Dutta was named a co-editor of the peer-reviewed journal Economic Modeling. Nabamita Dutta was awarded the inaugural Menard faculty fellowship. John Nunley was awarded a research grant from the Social Security Administration.
Finance
2020-2021
The department of Finance like all departments was impacted by COVID-19. However, the department was able to adapt to the challenges faced with online-course delivery and continued to support the many Finance majors. Finance continues to be the largest major in the College of Business. While this is a strength of the department and can be viewed to represent the quality of the Finance program, faculty are becoming stretched given the current limited staffing resources. The department continues to be supported by the Academic Advising Center which advises all incoming first-year students, which the department appreciates. On the personnel front, Dr. Nilakshi Borah received tenure. Dr. Borah is currently the only tenured faculty member in the Department of Finance. The department also successfully completed 7 reviews of untenured faculty members. The department continued to review its curricular offerings, deleting some courses that it felt would no longer be taught given limited faculty and resource challenges. The Spellman fund continues to perform well and closed the year with a value over $423,000. Due to Covid, the department was unable to hold the Spellman dinners during the academic year. The hope is that the dinner will be able to be held during the upcoming academic year. The department continued to support the Integrated Core Program offered by the College of Business. During Academic Year 2020-21 the department had 6 refereed articles published or accepted by high-quality academic journals and made 7 refereed conference presentations.
Information Systems
2020-2021
The department of Information Systems (IS) like all departments was impacted by COVID-19. However, the department was still able to deliver a variety of curriculum improvements and participate in faculty development activities. Enrollment in IS programs continues to grow. The number of majors in the Fall of 2020 was the highest it has been in the 2013-2020 time period. In addition, the IS minor enrollment increased 142% since the Fall of 2018. Actions taken to promote the IS minor as a valuable complement to majors have been successful. We have seen an influx of students interested in IS from the accounting program. The IS department continues to innovate and revise curriculum to stay current with technology changes and industry demands. Fall 2020 was the inaugural year for the Business Analytics minor. Enrollment in the program was strong, with 40 students enrolled in the program in the first year. A revision to the IS-300 course was completed to support the strategic shift into data management and analytics topics that are included throughout the IS curriculum. The department is confident that the shift to data and analytics will better match the interests of students and industry. The department continued its participation in the UW consortium Health Information Management and Technology (HIMT) program. The program continues to generate strong enrollments. The department has begun the accreditation process and plans to submit the initial accreditation materials in 2021-2022. Dr. Haried Dr. Han and Mr. Annino virtually presented at the American Society of Business and Behavioral Sciences conference in February 2021. During Academic Year 2020-21 the department had 7 refereed articles published or accepted by high-quality academic journals and made 5 refereed conference presentations.
Management
2020-2021
The management department's main efforts were, as always, serving our 394 majors, as well as the 48 Sustainable Business minors and 44 Healthcare Analytics Management minors, which are housed in the department. Additionally, the department served more than 2000 CBA students across the 4 core CBA courses it provides.

Additionally, faculty in the department had 12 peer-review journal articles accepted for publication or published this academic year, as well as 15 virtual or in-person scholarly presentations.

The department's main efforts and successes involved re-designing all of our courses to be delivered in online and hybrid formats and working to support the health and safety of our students, colleagues, the community, as well as attending to our own personal and familial needs. We successfully navigated another year as a team with the upheaval brought on by the COVID-19 pandemic.

The department made several curricular changes to advance the major and to update the course offerings in CIM. The department plans to begin the 2021-2022 year continuing those efforts and to strengthen the assessment strategy as well.

Faculty continue to support the CBA mission by providing enriching learning experiences in this mainly online environment. Multiple faculty engaged students with client-based projects, professional speakers, and other innovative pedagogical techniques such as having students work in international virtual teams using COIL pedagogy (Collaborative Online International Learning).

Lastly, the department increased its efforts to support our students and faculty this academic year. We began sending out a quarterly newsletter to students and a separate one to faculty to highlight key information, events and successes. We also gathered feedback from students on ways in which the department could support them during the year and implemented their suggestions to the best we could. Several students noted their appreciation of this support.
Marketing
2020-2021
Two things highlight the 2020-2021 academic year. The first is the move into beautiful office space in Wittich Hall for those occasionally on campus. The other, is the incredible amount of time and diligence faculty put into teaching remotely in a 100% online environment. Marketing has over 530 majors and is the largest CBA primary major, making up over 25% of declared CBA majors, and resulting in a 66:1 student to full-time faculty ratio. In personnel news, Stephen Brokaw, after a 30 year career, and Joe Chilsen, after a 25 year career at UWL, retired in summer 2020. While challenged by the Covid-19 hiring freeze, four adjuncts, with three being retired full professors from outside the area, were able to assist with curriculum delivery. On a positive note, Dr. Ken Graham was awarded tenure and promoted to Associate Professor. Additionally, all 6 ranked faculty were successful in publishing, or submitting, research. Five journal articles and a book were published and 5 articles are still under review. Four papers were presented at virtual conferences and ten students presented research at NCUR. Faculty invested heavily, and did an impressive job, in converting classes to fully online. They delivered lectures live via Zoom or WebEx; created lecture videos; incorporated breakout group activities to keep class engaging; and incorporated simulations such as Markstrat B2B; industry technology like HubSpot's Inside Sales Track and WordPress; and competitions like RNMKRS Virtual AI sales competition to facilitate learning. While all but one were online certified before the pandemic, most sought additional online and flex training certification. The department Eagle Teaching Excellence Award nominations include Ken Graham, Nese Nasif, Linda Sherony and Dan Wallace. Marketing students continue to engage with the business community across the marketing curriculum via Zoom meetings during class, applied projects or role play assignments. The 8th annual UWL Eagle Sales Competition, held virtually, included 15 students, 10 industry professionals, and was supported by 4 businesses. Students also competed in sales competitions hosted by UW-Eau Claire; University of Minnesota; and Florida State University. The AMA chapter earned honorable mention in the International AMA PODS Case Competition.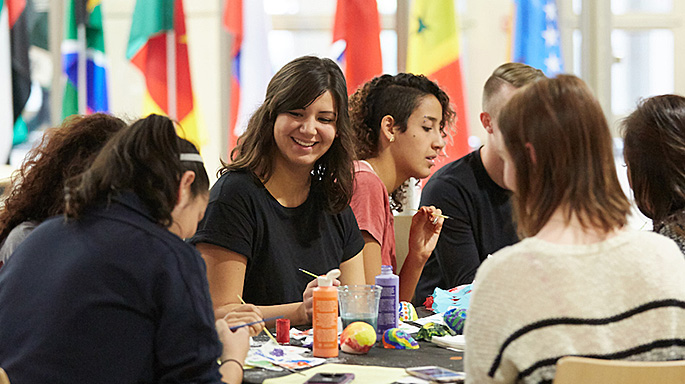 College of Arts, Social Sciences, & Humanities
College Summary
2020-2021
College faculty published four books, nearly 50 articles, 45 book chapters, provided more than 70 creative performances and exhibits, along with delivering 183 presentations in scholarly and professional contexts. CASSH faculty received four external grants totaling more than $1,257,000. One of these awards is a federal grant for $1,249,910 from the Department of Education to fund a collaborative project between School Psychology and Adaptive Physical Education (CSH). In addition, we supported six faculty sabbaticals during AY21 – two full-year and four one-semester leaves. While our annual Evening of Excellence could not be held during the last week of April, we published and promoted a webpage at https://www.uwlax.edu/cassh/recognition-of-excellence/ recognizing five faculty, two IAS, one University Staff, and one department for college-level awards along with 28 undergraduate and two graduate students for Department Student Excellence Awards. Laura Zinnel, a Psychology major, received the Magerus Award as the outstanding CASSH undergraduate student and Nic DeKeyser, from School Psychology, was recognized with the Graduate Student Award for Academic Achievement. CASSH faculty/IAS also were presented with four of the six Eagle Excellence in Teaching Awards this year – Anthony Chergosky (POL/PUB), Merideth Garcia (ENG), Kathryn Skemp Moran (THA), and Amy Nicodemus (ARC/ANT). The College gained approval for four new undergraduate certificate programs providing micro-credentials and offered 56 FYS100 sections constituting 67% of the total during the inaugural year this course became a requirement for UWL students. During August 2020, the Dean's Office relocated to Wimberly Hall. To increase awareness of diversity and inclusion, Associate Dean Marie Moeller coordinated a college-wide book study of Ibram Kendi's, How to Be an Anti-Racist. In Spring 2021, CASSH facilitated a virtual visit from an external consultant supplementing work by the VPA Visioning Task Force as we continue moving forward on the development of the School of Visual and Performing Arts. As significant structural changes, the departments of Ethnic and Racial Studies (ERS) and Women's, Gender and Sexuality Studies (WGSS) will become the Department of Race, Gender, and Sexuality Studies effective July 1, 2021, and the previously in-person master's degree in Student Affairs Administration will convert to a hybrid and self-sustaining program effective Fall 2021. With strong financial planning, CASSH was able to make significant equipment investments for the coming Media Lab (~$50K), the School of Visual and Performing Arts (~$80K), and fourteen new printer/copiers across various departments (~$60K). The College also received a $1.3 million estate gift from Gary Isakson, a 1981 UWL History graduate, to create college-wide student scholarships.
Archaeology & Anthropology
2020-2021
The Department of Archaeology/Anthropology faculty remain leaders on campus in teaching, scholarship, and service. Despite challenges conducting scholarship during the pandemic, faculty had a strong year with a published book, 7 peer-reviewed publications, several international presentations, and we received multiple grants to support research in the amount of nearly $110,000. In addition, a number of teaching development grants were awarded to department faculty, amounting to nearly $8000. Our faculty were recognized with awards for both teaching and scholarship. Notably, Amy Nicodemus was a recipient of the university-wide Eagle Teaching Award, and Christine Hippert received the Isis Duarte Book Prize by the Latin American Studies Association for her book Grain of Rice: Buying Food on Credit in the Dominican Republic. Several of our students received Undergraduate Research Grants this year, and our students were extremely active in UWL's Celebration of Undergraduate Research and Creativity, representing a substantial portion of all presentations by students from CASSH. All faculty members advised undergraduate research presented at the Annual Research and Creativity Day. Our program enrollments are strong with 97 majors and 56 minors (Spring 2021 10th day enrollments), and our overall contribution to the General Education program was strong with 29 sections of 8 different GE courses (including multiple sections of First Year Seminar). Our faculty collectively serve in a number of prominent roles on campus and in our profession. As a smaller department, we are all directly engaged in a significant amount of department service, and we serve prominently in a number of college and university-level committees. Notable leadership roles include Institutional Review Board Director, Director of the Mississippi Valley Archaeology Center, Faculty Assistant to the Provost, UWL Internationalization Advisory Committee, American Research Center in Egypt Board President, Wisconsin Archaeological Survey Board Secretary, Center for Hmong Studies, and SOYUZ Post-Communist Cultural Studies Secretary.
Art
2020-2021
AY 2020-21 was a challenging year in which every single member of our department showed an extraordinary amount of dedication to their work and commitment to their students due to the COVID disruption. Art faculty developed inventive solutions to translate F2F studio courses to an online/hybrid format. The Department of Art this year saw a great number of both rewards and challenges. In terms of personnel the department welcomed two new TT faculty members in 2020-2021 (Zach Stensen – Printmaking; Sangjun Yoo – Graphic Design). Allison Schneider was also hired for an IAS position and her contract has been renewed for fall 2021. The department also elected Brad Nichols as Chair, who began his 3-year term in June 2020. Major steps were taken in revisions to the Art curriculum. Spearheaded by the Curriculum Committee (Hawkes, Rooney, Williams, and Nichols) and fully supported by the department, we developed a common core curriculum that will be integrated into the 200-level studio courses in the Art program. This has been accomplished by eliminating the current two foundations courses to allow for a standard student progression through the program; developing content resources to ensure a common intellectual experience among students; and developing a programmatic assessment. These curricular changes have been approved by CASSH and UCC, and are in the catalog for Fall 2021. It should also be noted the department received a Curriculum Redesign Grant (Rooney Co-Principal; Hawkes - Co-Principal) for $14,800 to support the curricular revisions. The Art Department also began revising their bylaws by developing and implementing an Executive Committee to advise the Department Chair on issues pertaining to personnel matters, strategic priorities, scheduling, departmental policies, merit, etc. Revisions to the annual merit process were completed this year, and will go into effect in the fall. The department will continue working on revising their bylaws, continuing to advocate for the Arts at the college and university-levels, and seeking opportunities to illustrate the value of the arts locally, nationally, and internationally.
In upcoming years, the department will be working on revising their bylaws, continuing to advocate for the Arts at the college and university-levels, and seeking opportunities to illustrate the value of the arts locally, nationally, and internationally.
Communication Studies
2020-2021
The CST Department welcomed new faculty member Dr. Brandon Anderson, who earned a PhD in Communication Studies/Rhetoric and Language from the University of Texas at Austin. He teaches courses in Public Discourse, Deliberation, Effective Communication, Leadership, and Rhetoric. He will also contribute to the Leadership Development minor. In addition, we hired three individuals to help teach CST 110 online and hybrid throughout the academic year: Dr. Scott Boras, Dr. Stellina Chpman, and Chelsie Gaspar. They will continue to teach CST 110 in the upcoming fall. We were pleased to receive permission to hire a a new faculty member. The department argued for and received approval to launch a search for a Media Studies position and we are excited to welcome Dr. Taylor Cole Miller in the fall. The CST Department successfully managed the ongoing effects of COVID-19. Ninety percent of our faculty and staff participated in OIT or Flex Training, ensuring changes to content and modality were successful. The experience made us more aware then ever of the ongoing personal and professional needs of both faculty and students, and we are proud of our accomplishments, rigor, and care during the pandemic. Despite challenges that came with virtual teaching and meetings, we managed to complete several important tasks. We hosted a professional to continue to work with us on departmental culture and strategic planning. We developed a five-year strategic plan with four main pillars: 1) Recruitment and Retention of Faculty, Staff, and Students; 2) Curriculum Structure and Development, 3) Social Justice, and 4) Departmental Decision-Making and Communication. We also invited an external reviewer (virtual) for completion of our APR. The CST APR report was approved by Senate in May
English
2020-2021
In 2020-2021 the English department weathered COVID, moving our department's approximately 250 courses annually online. Collectively, faculty in our department published 25 articles/book chapters, attended over 80 virtual conferences and professional development activities, and served on 182 department, college, and/or university-wide committees—despite the myriad personal and professional challenges presented by COVID. Dr. Tom Jesse and Dr. Chris McCracken were tenured; Dr. Jesse was promoted to associate professor and Dr. Kelly Sultzbach to full professor. 65% of our faculty were nominated for the Eagle Teaching Excellence Award, and Dr. Merideth Garcia was one of six awardees for this university-wide distinction. Dr. Rebekah Fowler received the CASSH Faculty Recognition of Excellence, Teaching, Dr. Jen Mohlenhoff-Baggett won the CASSH Academic Staff Recognition of Excellence, Service, and Dr. Darci Thoune won the CASSH Faculty Recognition of Excellence, Service. Dr. Kelly Sultzbach won the inaugural Prairie Springs Environmental Leadership Award, and Dr. Marie Moeller won the Susan Wells Award for Excellence in Reviewing, Rhetorics in Health and Medicine.The English Department's Jail Literacy Program was the 2020 Recipient of the Eisenberg Award from the Wisconsin State Public Defender's Office. The program has been renamed the Bernatovich Jail Literacy Program in honor of English department emeritus faculty Bernard Bernatovich and his wife, Rita, who died in 2019. The department welcomed several distinguished speakers, including Jaki Green, the Poet Laureate of North Carolina, award-winning poet Meg Shevenock, and Dr. Paula Huston, Chief Equity Officer at the University of Washington. Volume 24 of our student-edited literary and arts journal, Steam Ticket, was published this spring, and boasts a new website; English students continued to produce the university-wide creative works journal, The Catalyst. All members of the English department continue to rise to the challenge of supporting and retaining our students in a post-pandemic world
Ethnic & Racial Studies
2020-2021
The 2020-2021 academic year was challenging and eventful for the Ethnic and Racial Studies department, partly due to the Covid-19 pandemic but also due to the upcoming merger with the department of Women's, Gender, and Sexuality Studies (WGSS), which will be effective July 1, 2021. Still, department members maintained their commitment to UWL students, engaged research, and their community. The department continued its recruitment strategies via university faculty and staff allies, diversity advocates, and through active recruiting in ERS 100 and 220. The number of ERS minors as of late April 2021, was 45. Dr. Sarah Shillinger announced her retirement in early September 2020. She received Emeritus status also in Fall 2020. Her retirement is set for June 30, 2021, after teaching ERS 100 during the first summer session. A faculty search to fill Dr. Shillinger's line was conducted in Fall 2020. This resulted in a successful hire of Dr. Taylor Johnson, who has expertise in Indian American rhetoric. She will start in Fall 2020. Dr. Richard Breaux chaired the search, which was conducted with WGSS faculty members Dr. Terry Lilley, Dr. Jodi Vandenberg-Daves, and Amanda Goodenough, Director of Campus Climate. Dr. Shuma Iwai received the CASSH Recognition of Excellence for Teaching by Instructional Staff. He also served as the departmental Equity Liaison and had two publications on race and religion accepted for publication. He also presented at the Upper Midwest Regional Annual Conference for the American Academy of Religion. Dr. Richard Breaux co-authored a UWL Curriculum Redesign Grant proposal for the RGSS Core and Gen Ed Curriculum Re-Design. This grant was awarded in the amount of $10,000. Dr. Richard Breaux was heavily involved in the writing of the new bylaws for the RGSS department. Dr. Richard Breaux also had weekly publications in the online journal Arab America. These publications drew upon his expertise in music and the Syrian diaspora. He also presented this research, as well as information on racial justice (another area of his expertise) at the Library of Congress Radio Task Force, UW-Eau Claire, the University of Iowa, and at UWL, to name a few. Dr. Breaux also served on community committees related to public education and history.
Environmental Studies
2020-2021
The Environmental Studies Program continues to be a productive and strong program. The minors decreased from 127 to 116 but are still strong and ahead of the 94 established in Fall 2018. Further, while the program was unable to engage in the full range of experiential learning activities for which they are known, we hosted 84 guest speaker events (sometimes same speaker), mostly through Zoom and video, and sometimes face to face outside of the classroom. The program consists of two full time IAS, and three part-time IAS. The two full-time instructors produced three academic presentations and submitted one article for publication (under review). Margot Higgins received a CATL grant to support a community-based learning project. During this project she will work with a local historian, the Driftless Writing Center, UW-Madison, and the Oral History Program ($1500). As well, Dr. Higgins received a UWL faculty research grant ($5000.00). Alysa Remsburg participated in a lesson study grant focusing on FYS and the value of general education ($1500). Notable service positions include University Joint Committee on Environmental Sustainability (Remsburg and Higgins), CASSH Community Engagement Committee (Remsburg), and the CASSH Retention and Recruitment Committee (Higgins). Dr. Higgins also serves as the faculty advisor for the quite productive Students for Sustainability. Notable professional service includes sustained partnerships with the Driftless Writing Center (Higgins), and Solar on La Crosse Public Schools (Remsburg). Four of five program instructors committed to Online Flex training (summer 2020). The entire faculty accommodated pandemic conditions by transforming the majority of their course to some version of online or hybrid. We continue to make progress on our yearly program equity projects that are reflected in the end of the year equity report, focusing this year on an array of scholarly articles on the theme of environmental justice. Grace Koch and Isabel Bauer received the 2021 CASSH student excellence award for Env Studies. Of greatest significance is the promotion of Dr. Margot Higgins from Associate Lecturer to Lecturer.
Global Cultures and Languages
2020-2021
As the rest of CASSH departments, GCL focused on maintaining the quality of instruction during the COVID pandemic. Faculty adapted quickly and effectively to online and hybrid instruction facing the added challenges of teaching languages online and with social distancing. We are immensely proud and grateful for the effort put forward by our faculty and staff, their flexibility and communication. GCL faculty continued to advance their research and teaching goals with online conferences, publications and other professional development. GCL also worked on modifying bylaws and while most service activities were put on hold for COVID, faculty continues working on retention and recruitment efforts, as well as promotional materials. It was agreed to prioritize faculty wellbeing and quality instruction for students and GCL members voted to make classroom observations, as well as the merit review optional during the pandemic. It was a particularly hard and stressful year for GCL as we lost two long-standing members of our faculty (one retirement and one resignation). The department continues to strive for collaboration and collegiality and we look forward to welcome new members of the team in Fall 2021 and continue to serve our students.
History
2020-2021
During the 2020-2021 Academic Year the Department of History conducted several activities. During the year, the department completed its Academic Program Review, updated its Students Teacher Education Program curriculum to satisfy new Wisconsin Department of Public Instruction requirements, approved a sabbatical leave, hired a one and a half year contracted IAS to cover the gap in its curriculum regarding the Africa Regional requirement for History majors, and elected a new chair after the current chair announced he was not running for reelection. The majority of the year was dominated by the COVID-19 pandemic and the department dedicated a considerable amount of time adjusting its course offerings to online and hybrid formats. Most other activities (guest speakers, conference attendance, panels, student organization activities, etc.) that the department conducts were severely curtailed by COVID-19. Through the its Development Committee, the department has also begun to update its website and has begun a considerable effort to attract more students to the major and minor.
Music
2020-2021
The Department of Music's 2020-2021 year provided different opportunities, including the Department of Music's new YouTube Channel and its Facebook page livestreaming events. Ensembles, faculty, and students released over 35 concerts on the Facebook page during the 2020-2021 year including 11 senior student capstone recitals. A Department highlight was the 2021 Virtual Honors Student Recital. Recital and concert programming reflected a range of diversity (Jazz Ensemble, Jazz Orchestra, Jazz Combos), social justice (Concert Choir, Treble Chorus and Choral Union), women composers (a world premiere with the Wind Ensemble and the Flute Studio), Hispanic composers (Heritage Month Faculty Recital with Drs. Borja and Tollefson) and Korean Thunderous Drumming in an FYS 100 section. Music faculty were active virtually, presenting topics to several universities across the country as well as to high schools throughout Wisconsin. Faculty development included 100% of the Department's faculty/IAS plus one adjunct faculty member completing Online Flex Training in Summer 2020 and grants were awarded to Drs. Davis (Curriculum Redesign for Wind Ensemble) and Ritterling (Developing a Hybrid/Online Weekly Voice Studio Course and Applied Voice Lessons using virtual applications). UWL Faculty also invited several guests to interact with students virtually (through ensembles and courses). Major curriculum goals accomplished this year included a revision of the music education degree to a single licensure (rather than three separate tracks) and approval of several 100-level ensembles to count toward the General Education Aesthetic Experience category (GE08), along with a new ensemble MUS 103, Concert Band, offered for the first time in Fall 2021, as a companion to MUS 144, Symphonic Band, which will continue to be offered in the Spring. The Department looks forward to resuming in-person events and classes for the Fall 2021 semester.
Philosophy
2020-2021
The Department of Philosophy continues to remain productive and committed to our program outcomes. Our majors (n=23) and minors (n=21) remain consistent, even if down from 28 and 23. We published one peer reviewed journal article, one peer reviewed book chapter, and one book review. One book chapter was accepted for publication, three articles were sent to journals for review, and we provided four academic presentations. As editors, we reviewed four journal articles. Notable accomplishments include receiving a competitive curriculum redesign grant involving 3 members of the department – "Logic across the curriculum: Redesigning informal reasoning for the social media age." The grant will result in an updated course that better reflects current student needs and best practices and will serve as the focal point of next year's equity report. During summer 2019, three members of our program participated in covid online flex training. The entire faculty accommodated pandemic conditions by transforming the majority of their course to some version of online or hybrid. Our enrollments remained strong through a challenging academic year. We remain committed to varying kinds of outreach so as to promote the major. Notable university and college service positions include UPAC (Krizan), Ethics Committee (Ross), Interdisciplinary Neuroscience Minor advisory group (Cocks, co-coordinator Spring 2020), UCC (Schneider), Prairie Springs Endowment Advisory Committee (Cocks), and CASSH Recognition of Excellence Committee (Cocks). Our esteemed colleague, Dr. Mary Krizan, accepted a job offer at Bilkent University in Turkey. As a result, Dr. Schneider was able to occupy Dr. Krizan's tenure line. He transitions from an Associate Lecturer Redbook IAS position to a tenure-track line as Assistant Professor in August 2021. The Provost approved a search to replace the now vacant IAS position. We initiated a successful search during May and June 2021. Stewart Eskew will fill the position, starting in August 2021.
Political Science & Public Administration
2020-2021
This has been an especially challenging year, but our faculty made it through with grace, empathy, and dedication. The two newest members of our department – Drs. Agatha Hultquist and Kristina LaPlant – deserve special mention for exceptional performance during their first year at UWL, all while under the pressures and difficulties of the pandemic. Additionally, Dr. Anthony Chergosky, in only his third year at UWL, was recognized with an Eagle Teaching Award. In addition to the pandemic, the year started on a difficult note, with the resignation of a very valued new colleague, Dr. Shilpa Viswanath. Her tenure-track line was subsequently cut, which left us just three faculty members to support our programs (a major and a minor) in public administration. One of our public administration faculty members also directs (and teaches heavily in) our legal studies program, and so we are effectively down to 2.5 faculty members to support the major and minor in public administration. Fortunately, with two new political science professors on our faculty, we are well-staffed on the political science "side of the house." This year, the department also underwent an academic program review. We are currently in the process of responding to the external consultant's recommendations, and are looking for creative ways to continue to support all of our programs. We are also currently in the process of recruiting a replacement for our ADA, who resigned from UWL at the end of the spring semester.
Psychology
2020-2021
The Psychology Department continued strong enrollment in the number of students this year, ending Spring 2021 with over 700 majors and over 300 minors. Additionally, the At-Risk Child and Youth Care Minor had 131 declared minors, and the Neuroscience Minor and the Gerontology Emphasis continue to grow. The department supported the Honors Program in Psychology, and heavy service obligations to General Education, School of Education, and the Health Professions. Two faculty members, Dan Hyson and Berna Gercek-Swing, were granted tenure in the department. Dan Hyson was also promoted to Associate Professor. Five faculty completed successful Post-tenure reviews (Basten, Cary, Dixon, Kortenkamp, Blumentritt). The Psychology Department also completed a successful hire in School Psychology (Ruth Schumacher-Martinez). We also saw the retirement of Bart VanVoorhis and the departure of colleague Yanchen Zhang. The department adopted one-on-one advising two years ago after several years of mass-advising. Advising remains strong in the department, although we are awaiting a review of student feedback from the NSSE results and from the advising sub-committee. The department also voted in favor of a major curricular re-design with flexibility in scheduling our top priority. Required courses have been reduced dramatically and students will choose how to complete remaining credits for the major. In terms of scholarship, the department had a strong year resulting in the publication of a book, 11 peer-reviewed journal articles, and 46 presentations, as well as multiple editorial and review activities and strong attendance and participation in faculty development activities. Additionally, Psychology had another active year with undergraduate and graduate research projects (many funded by research grants). As usual, department faculty were heavily involved in service to the college, university, professional organizations and the community. As a final note, in preparation for online instruction for fall 2020, every single member of the department completed either the Flex training or online instructional training offered by CATL.
Sociology
2020-2021
Sociology and Criminal Justice faculty used the many restrictions and changes of this past year as opportunities to create and strengthen program structures to best serve students. Through training programs and working with each other, faculty were able to provide a mixture of hybrid and online classes to meet the wide variety of new student needs. Most exciting, we welcomed a new faculty member, Dr. Felix, who gracefully transitioned into the program, quickly began working with students, and immediately made substantial contributions including three new courses: Victimology, Restorative Justice, and Race, Gender, & Crime. Looking to the needs of students interested in health related careers, Dr. Egner developed a Society, Health, & Medicine Certificate program, and for students with criminal justice interests Dr. Marina developed a Human Rights & Criminal Justice Certificate. Both certificates were approved and added to our program. The Department revised elements of our Sociology Honors Program, and created a new structure to allow online course offerings during regular terms. Dr. Bakken developed an internship guide we will use to help generate student interest in internships. Additionally, the Department revised our bylaws to contextualize faculty promotion and retention expectations, and eliminated the use of SEI scores from our merit review consideration. Despite disruptions to most professional activities, Department faculty published four peer reviewed journal articles, one book chapter, one instructor's manual, and gave ten research and eight service presentations. Additionally, faculty submitted seven research articles and four book chapters for publication, developed eight grants, and secured $18,600 in funding. The Department supported Dr. Adam Driscoll's successful Fall 2021 sabbatical proposal, "The Social and Environmental Consequences of Industrial Swine Production in North Carolina." Finally, CASSH supported the Department's request to promote Dr. Hart to Lecturer, and awarded the 2021 CASSH Recognition of Excellence in Scholarship to Dr. Bakken.
Student Affairs Administration
2020-2021
The Department of Student Affairs Administration (SAA) enrolled 106 students across 8 cohorts (5 master's, 3 doctoral). This 16% decline from our peak in 2019 represents pandemic-related attrition, as some students were laid off or lost employee-sponsored tuition assistance, and others stopped out to care for their campuses and/or families. SAA still had the third highest number of graduates in our college in Spring 2021. Our four ranked faculty advised 38 master's capstone projects and supported 25 doctoral students (20 at UWL in varying stages of completion, plus serving on committees for 5 scholars at other campuses). SAA collaborated with Graduate Studies to improve the UW-L Thesis/Dissertation Guidelines and editing process this year, and a doctoral alumna was recognized with the 2021 Rosandich Dissertation Award. To respond to changing markets and budget constraints, the department modified MSED program delivery options for the future, engaging campus administrators, alumni, students, supervisors, and faculty in the process. Incoming master's students will be in online or campus-based blended programs, as the last blended at UWRF cohort graduated this year and the last fully on-campus cohort graduates next year. One faculty member (Dr. Lozano) was tenured and promoted, and a full-time non-instructional staff member (Hanna Dovalina) was hired. We eliminated 1.0 FTE IAS and .75 NIAS to accommodate the new hire and absorb the 1 FTE faculty line that moved from state- to self-funded. Our faculty served the campus through chairing (JPB) or serving on high-level search committees (UC Director; Dean of GEL). In terms of scholarship, faculty published 7 peer reviewed articles, 3 monograph chapters, 1 full monograph. We provided 7 invited or selected regional + national presentations, and conducted significant editorial review activities for 5 academic journals and 1 book series. Some had additional presentations cancelled or delayed due to the pandemic.
Theatre Art
2020-2021
The year began in the full throws of a worldwide pandemic. We all thought last spring that we might be back to normal by the fall…how naive we were. We would normally be coming off our Summerstage show and readying for the remount in the fall but the Summerstage show had to be canceled for the first time since its inception in the early 1970s. That, among so many others, was a very difficult decision to make. During the summer students in the department expressed concerns sparked by the death of George Floyd and the protests that followed. After meeting with the students we implemented some changes within the department. First, we established a Diversity, Equity and Inclusion Advisory Committee made up of up to four faculty and four students. The initial charge for the committee was to look for ways to advocate for access, equity, and inclusion for historically marginalized and systematically underserved populations and to look at areas of the program where the department can identify and address these issues. We also encourage our faculty to indicate on their email if they were a "Friendly Face" and to list preferred pronouns on their email and profile pages in an effort to be welcoming and safe. We also posted more prominently on our webpage our non-traditional casting policy. Non-traditional casting is the use of ethnic minority actors, female actors and physically challenged actors in roles where race-ethnicity, gender, and/or physical capabilities are not absolutely essential to the character's development. This policy has been in place for over 10 years and is in our dept. student handbook but we wanted potential and current students to be made aware in an additional venue. Our academic year began with work on our first production, War of the Worlds, a radio play. This play was rehearsed partly, via zoom. Actors wore masks and were distanced for the rehearsal and were staged in a way to maintain the distancing. Only when the filming was happening were masks removed and then replaced as soon as the filming was off them. This was the format for both of the Toland shows this semester, War of the Worlds and It's a Wonderful Life. Once the shows were filmed, they were edited and then streamed for 7 days. It was a dramatically different experience for everyone involved, not the least of which was they were never able to perform before a live audience. The Cabaret class was able to fill in the middle slot and produced a series of musical numbers that were filmed, edited, and streamed. This culminated in a very successful, if not completely fulfilling experience for our students and directors. Our second semester opened with an original work written by our faculty member Greg Parmeter entitled Influence. It was written for and performed on Zoom live. This too was very successful and even though it was video, we were able to produce it in real-time for a "live" virtual audience. Our second show of the semester was a devised children's show entitled Squiggles. Devised theatre, frequently called collective creation – is a method of theatre-making in which the script originates from collaborative, often improvisatory work by the entire performing ensemble. The show focused on identity and being happy with yourself however you see yourself. The show focused on pre-school to third-graders and made available to schools in the region free of charge. Additionally, later in the semester, the cast was able to perform outside for the University Child Care Center. The last show of our season was the musical, Songs for A New World. This was probably our biggest challenge of the production season. All of the voices were rehearsed safely and often remote work was done on specific songs and numbers. Then the actors each had their songs "tracks" recorded" so that when we filmed the actual show, they didn't sing but rather lip-synced their songs so they could film unmasked, in a safe manner. We teamed up with Jeff Kerkman from IT and coordinated the filming, once again, however for this production we incorporated the use of 6 different cameras shooting at the same time from different angles. When the filming was finished, Jeff edited them into a wonderful final product that streamed from May 1-7. So, it was an exhausting, yet productive and ultimately very successful season. We are anticipating the "Rigging Project" for both the Toland and the Frederick Theatres, however, the bidding process was delayed. It seems now that the actual work will happen in June – Aug. 2022. This project has been a long time coming and will greatly improve the integrity and safety of the stage areas of both the Toland and Frederick Theatres. Additionally, our advocacy for a Dance Minor within the program began to get some traction and we've been preparing to submit a proposal for a Dance Minor within the coming year. The component of dance is imperative to the success of our musical theatre emphasis and we've been suffering enrollments for lack of one, particularly since the one dance faculty who taught dance technique classes retired at the end of this year. This year, in an effort to supplement the offerings to our students in an unusual performance year, we incorporated a couple of additional offerings. One was Theatre Arts in Conversation Speaker's Series where we invited 5 professionals from various disciplines within theatre, to a free Zoom webinar where one or two of our faculty served as host(s) and had hour-long conversations about the state of the art for each of their various disciplines. These proved to be very successful and enormously interesting. We also hosted 3 Zoom live, staged readings of plays. Two of the plays were suggested by the students and the third was written by one of our students. These were also very successful and gave students additional opportunities to perform live, albeit, via Zoom. We continue to discuss and work on curricular changes in an effort to remove any barriers to current and potential students. We also continue to look at ways to streamline the process through the major and minor. Other Pertinent Information War of the Worlds: The Panic BroadcastBased on the novel by H.G. Wells Adapted by Joe Landry Inspired and including the Mercury Theatre on the Air's Infamous 1938 Radio Play.
Women's, Gender, and Sexuality Studies
2020 - 2021
Note: Report written by Sara Docan-Morgan, Interim Chair, Spring 2021 Women's, Gender, and Sexuality Studies (WGSS) Department Annual Report 2020-2021 The 2020-2021 academic year was challenging and eventful for WGSS, partly due to the Covid-19 pandemic but also due to the upcoming merger with the department of Ethnic and Racial Studies (ERS), which will be effective July 1, 2021. Still, department members maintained their commitment to UWL students, engaged research, and their community. Dr. Carol McCann served as the External Reviewer for the APR process in October. The APR process was completed in May 2021 and approved by the Provost. Related to the merger, Drs. Khan and Lilley contributed substantial work to the revision and writing of bylaws for the new, merged department, Race, Gender, and Sexuality Studies (RGSS). Drs. Vandenberg-Daves and Lilley served on the search committee for a tenure-track hire for RGSS in the area of Indian American Studies, with resulted in the hire of Dr. Taylor Johnson, who will start in Fall 2021. With Dr. Richard Breaux of ERS, Dr. Lilley applied for and received a UWL Curriculum Redesign Grant in the amount of $10,000 for the work they will do in creating a unified curriculum for RGSS. WGSS department members taught courses in a variety of delivery modes: online synchronous, online asynchronous, and hybrid, sometimes needing to pivot mid-semester. Student evaluations and feedback indicate effective teaching despite pandemic-related challenges. Department members participated in various professional development activities related to effective teaching in addition to prepping classes online for the first time and creating assignments that were suited to student needs and the online format. Department members engaged in active research activities, including editorial/review work, securing grants for ongoing research, conference planning, and attending conferences. WGSS faculty continued service at the department, college, university, and community levels. All participants gave various service presentations based on their areas of expertise, and provided service to local organizations, including but not limited to, the La Crosse Area Diversity Council, the National Women's Studies Association, and La Crosse County Domestic Abuse/Sexual Assault Coordinated Community Response Task Force. The department was awarded the CASSH Excellence Award for Inclusive Excellence. Andrea Hansen continued directing the Self-Sufficiency Program, writing and securing three major grants for the program, recruiting students, and increasing fundraising amounts, but the Locally Grown Scholarship breakfast (canceled due to Covid) was sorely missed. Dr. Jodi Vandenberg-Daves was awarded a sabbatical for Spring 2021 to work on her project, "Work that Matters: A Guide to Careering for Women Idealists". Dr. Sara Docan-Morgan served as interim chair.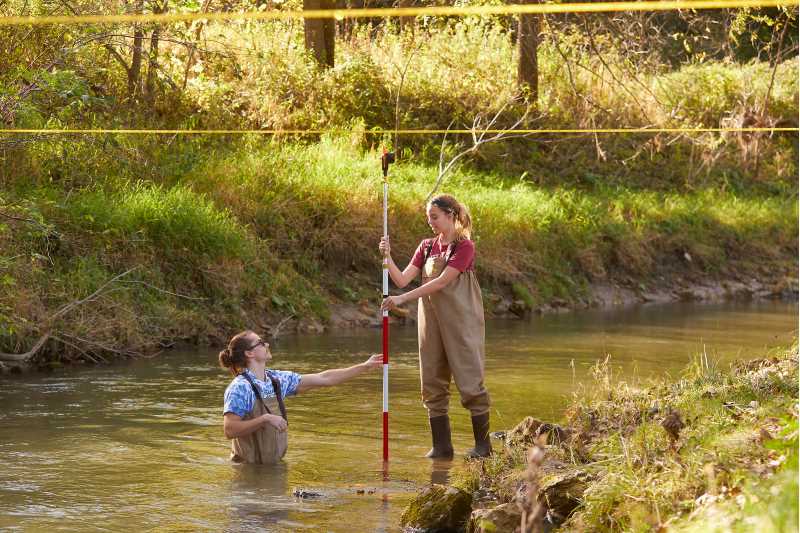 College Summary
College of Science and Health overview
2002-2021
At the end of spring semester 2020 the College leapt forward into a summer of research activities and preparations for continued remote teaching during the 2020-2021 academic year as a result of COVID-19. Recognizing the challenges of teaching in a remote format, 84 faculty received CSH grants to revise 41 laboratory and field courses for online activities. Research productivity remained at high levels with the award of $921,401 in new external grants from 19 proposals. Eighteen students were awarded Dean's Distinguished Fellowships for summer 2020 and a large number of students continued with faculty mentored independent projects during the academic year. The new Mayo-UWL Research Collaborative awarded seed grants to two teams of investigators for health-related projects. The College led UWL's participation in the Freshwater Collaborative of Wisconsin, a UW System initiative to increase funding for aquatic programs and research. Faculty and staff spent an extensive amount of time and energy in collaborative design of Phase 2 of the Prairie Springs Science Center, which will provide critical facilities for collaborative learning and laboratories not currently provided in Phase 1. Capitalizing on existing strengths within CSH, several new programs were initiated including: Computer Science Major: Cybersecurity; Radiologic Science Major: Diagnostic Medical Sonography; Radiologic Science Major: Radiologic Technology; Exercise & Sports Science Major: Physical, Adapted and School Health Education (K-12); and collaborative graduate certificates in Senior Living and Services Leadership, and Data Science. The College celebrated the presentation of the UW Regents Teaching Excellence Award to Renee Redman in Biology whose commitment to student success is emblematic of all instructors within the College. Despite the challenges of remote instruction, the First Year Research Exposure (FYRE) program continue to excel at improving academic achievement of undergraduate students; program participants' grades in introductory biology, chemistry, and mathematics exceeded the institutional average for students of color. The academic year was completed with near-unanimous approval by faculty and staff of the new CSH Strategic Plan.
Biology
2020-2021
Teaching online labs and conducting online assessments was challenging, but the department is proud of what we were able to bring to students while planning on returning to in-person education. The instructional excellence of the department was highlighted once again with Dr. Renee Redman being honored as a recipient of the UW System Teaching Excellence Award in the fall of 2020. Despite the COVID disruption, faculty and staff maintained their scholarly productivity and active engagement in undergraduate and graduate research education. They submitted more than 25 educational, research, and service grants during AY 2020-2021; new funding from external grants exceeded $500,000. Biology faculty authored 23 peer-reviewed publications or book chapters, including SOTL publications. In addition, faculty and staff, along with undergraduate or graduate co-authors, made more than 40 presentations at regional, national, and international science conferences. Service to the university, professional societies and the La Crosse community continued as a strong component of department activities.
Chemistry & Biochemistry
2020-2021
The Department of Chemistry and Biochemistry faculty and staff continued their excellence in teaching, scholarship, and service. In total the department received 77 UWL Eagle Teaching Excellence Award nominations, which included 18 of 28 instructional staff. Our department had 4 staff recognized for Excellence in Advising. Programmatically, the department added new electives offerings in materials and anti-microbial chemistry. These new offerings were developed and approved to increase our breadth of offerings, while targeting areas of growth. Our faculty and students published two peer reviewed manuscripts and earned the following awards: (1) ive of 22 CSH Dean's Distinguished Fellowships, two UWL Faculty Research Grants, four WiSys Grants, one Faculty Development Grant, and two Teaching & Learning Grants. Additionally, faculty assisted in students in preparing 25 successful URC Awards. Faculty and staff attended 6 CATL Workshops, beyond those related to virtual instruction. To expand our student-centered mission the department developed web-content focused upon future, current and former students. The department continued to refine promotional materials in the form of (1) "bookmarks" focused upon alumni career paths, (2) flyers for both scholarship and summer undergraduate research fellowships awardees, and (3) major and minor course requirements. The major and minor flyers were shared with the Academic Advising Center and the CSH Advisors. The Seminar Series Committee invited alumni to present on their career progression and the Safety Committee developed and approved an incident reporting document/process for the department.
Computer Science
2020-2021
The Department continues to see strong demand for its programs both from the new first year students and existing UWL students switching majors. The UWL Computer Science program has a reputation of excellence within the state and the upper midwest for its strong curriculum, broad array of upper level electives and all tenure track staff. Demand for our graduates is exceptionally strong and students command some of the highest average starting salaries from across the campus. The department offered a new Computer Engineering Major (CPE) starting in the fall 2020 semester. The program has already attracted the attention of incoming students as well as several current students who have elected to change over to a CPE major. Moving into the fall of 2021 we expect to have approximately 16 declared majors. The department successfully filled a tenure track position to support the CPE program, bringing us to 3 FTE faculty credentialed in that discipline.
Exercise and Sports Science
2020-2021
The Department of Exercise and Sport Science offers three undergraduate (Exercise Science, Physical Education Teaching, and Sport Management) and three graduate degree programs (Athletic Training, Clinical Exercise Physiology, and Physical Education Teaching) as well as a concentration area (Coaching Competitive Athletics concentration) that can be added to a degree. The Faculty Senate approved the ESS Physical, Adapted and School Health Education (K-12) program. This curriculum redesign proposal combines the Physical Education Teacher Education (PETE) Major, the School Health Education Major and the Adapted Physical Education (APE) Minor. This new Health and Physical Education program requires 131 credits. At the conclusion of this proposed new curriculum, PETE students will complete in four and half years and will be licensed to teach PE, APE, and Health. The Adapted Physical Education program received a grant award from the U.S. Department of Education in the amount of $1.25 million over five years, for the proposal entitled "Interdisciplinary Preparation of Adapted Physical Education Teachers and School Psychologists." Brock McMullen, Principal grant Investigator and director of UWL's Adapted Physical Education Teacher Preparation Program and the principal grant, says the grant will prepare students to work in an interdisciplinary special education environment — something necessary when they graduate and begin working in K-12 public schools.The scientific output from the Human Performance Laboratory has an amazing record of accomplishment! As of December 2020, 563 research articles have been published from this laboratory since 1969: an average of 11 papers per year and 468 published papers in the last 21 years (22.2/year). With a good mixture of various professorial ranks and IAS as contributors, we are well-positioned for continuing excellence in the future. We are particularly proud of the degree to which student involved papers have contributed to our academic productivity (68% of papers).
Geography & Earth Science
2020-2021
The Department of Geography and Earth Science provides a strong set of opportunities for majors and minors in our program. Dr. Joan Bunbury was promoted to Professor. Dr. Ryan Good and Dr. Rafiqul Islam completed 1-year Associate Lecturer appointments and accepted faculty positions elsewhere. The Department hired Dr. Brian Pompeii as a Lecturer to replace Dr. Good and Dr. Islam's position was not filled. Faculty received 5 UWL grants to enhance teaching, including 2 Laboratory and Field Course Redesign grants and 1 Curricular Redesign grants. Of the Department's 9 faculty, 8 completed the COVID-19 Flex Training during summer 2020. Faculty applied for 1 UWL research grant (funded), 2 UW System grants (1 in review, 1 not funded), and 7 external research grants (2 funded, 2 in review, 3 not funded). Faculty published 3 peer-reviewed articles and 1 book chapter, and submitted two manuscripts that are currently in review. They gave 6 conference presentations and served as reviewers for 8 manuscripts. Dr. Cynthia Berlin was on sabbatical during the fall semester and worked with the USGS to develop techniques for mapping vegetation using structure from motion software. No faculty travel or faculty-led study abroad experiences took place during 2020-2021due to COVID-19. Dr. Sambu's summer 2020 study abroad trip in Tanzania was cancelled as was Dr. Bunbury's scoping trip for the Yukon Territories study abroad program she is developing. Faculty advised 13 undergraduate research projects outside of their normal teaching load. Three students applied in the spring 2021 semester for a CSH Dean's Distinguished Fellowship and two were funded. Three students presented at the 2021 UWL Celebration of Undergraduate Research and Creativity. Four students presented at the 2020 West Lakes Regional Meeting of the American Association of Geographers, and one of the students was awarded best student poster.
Health Education and Health Promotion
The Department completed a preliminary self-study for reaccreditation, through the Council on Education for Public Health (CEPH), of our B.S. in Public Health and Community Health Education. The final self-study is due in August 2021, with an accreditation site visit in September 2021. During the spring 2021 semester the department initiated strategic planning with a completion date of late summer 2021. Members of the department completed a college student mask wearing study with the CDC and Covid-19 vaccination intention study with Viterbo and Gundersen Health System, and a literature review with recommendations regarding the opening of schools for the La Crosse County Health Department. The department continues to work with the other members of the WI Center for Public Health Education and Training (WiCPHET) to assess and address the needs of the public health work force in WI. Members of the faculty conducted a number of virtual workshops and gave numerous presentations throughout the year. Students completed 75 Preceptorships over the fall 2020, spring 2021, and summer 2021 semesters. The local chapter (Beta Phi) of our National Honor Society (Eta Sigma Gamma) received the Research Activity Award and the Chapter Excellence Award. In addition, Lorinda Volzer was selected has one of the Eta Sigma Gamma-National Commission for Health Education Credentialing, Inc. Outstanding Undergraduate Majors of the Year Award.
Health Professions
2020-2021
Health Professions (HP) Department consists of four graduate programs: Medical Dosimetry (Med Dos), Occupational Therapy (OT), Physical Therapy (PT) and Physician Assistant (PA), and two undergraduate programs: Nuclear Medicine Technology (NMT) and Radiation Therapy (RT). Recently, a new undergraduate program in Diagnostic Medical Sonography has been approved that will add a 3<sup>rd</sup> undergraduate program to HP. The department offers three undergraduate service courses, including one general education course. Student demand for the HP Programs is very strong based on applications received and high student credentials. Pass rates for all the HP programs remain excellent, and board exam scores are consistently well above the national average. Based on students surveyed, all have obtained jobs within 6 months of graduation despite COVID-19. The HP department had three searches for open positions (Occupational Therapy and Physician Assistant). Two were filled in the Occupational Therapy program and one in Physician Assistant program. Despite the challenge posed by the COVID pandemic, faculty and instructional academic staff responded admirably to the challenges posed by hybrid or remote teaching that enabled our program to effectively continue. Classroom pandemic procedures developed with HP faculty input were highly effective and allowed face to face opportunities for many of our graduate programs. Faculty scholarship has been productive and incorporated student researchers (29 faculty/student publications and approximately 46 faculty/student peer reviewed oral or poster presentations at national/state/regional conferences). La Crosse Institute of Movement Science (LIMS) researchers (Physical Therapy program) published their 125th manuscript with active research partnerships with Gundersen Health System and developing with Mayo Clinic Health System. HP prides itself on faculty/student service and outreach activities. This year, despite the COVID pandemic, our clinical education coordinators enabled 773 student clinical placements to occur at over 244 clinical sites across the US in 2020-2021 in a challenging and uncertain health care environment. All faculty worked extremely hard to sustain our HP service learning activities that involved over 1441 HP students in health and wellness, health screenings, course related clinical experiences, interprofessional education or research. Some of these outreach activities were conducted virtually, like used in Telemedicine. Faculty mentored OT and PT students have served over 150 clients through the OT adult and pediatric clinics, health and wellness activities and the PT program's Exercise Program for Program for People with Neurological Disorders (EXPAND). Faculty were involved and received recognition based on their service to the college, university, and their respective professional organizations.
Mathematics & Statistics
2020-2021
The Department of Mathematics and Statistics has been very productive in the 2019-2020 academic year, despite the impact of the global pandemic. The department taught over 239 sections of courses spanning our mathematics, statistics, and data science programs, with 14 sections of independent study and 6 sections of undergraduate research courses. The department finished the third year of participation in the UW System Math Initiative. This participation led to removing prerequisites to two of our gateway classes, thus reducing the need for developmental math for many students. Also, a new math course, MTH 160, was developed in collaboration with CBA to better serve their students. In addition, the department is making progress in revamping the Applied Math emphasis to better serve the needs of students. The department hosted the NSF Research for Undergraduates (REU) program for the fifth year, bringing students from across the country to work with faculty and researchers from the USGS. In addition, faculty have secured grants with Mayo Clinic as well as the USGS to support activities that include both undergraduate and graduate students. The department published 15 articles in peer-reviewed journals. Not only is this a significant number of publications during a global pandemic, but the locations of these journals is also quite impressive. In addition, department members presented 52 talks at virtual conferences and meetings. In addition, the department faculty are associated to funded grants for over $600,000. Lastly, the department is very active in the university, having representation on many important committees including Faculty Senate, Joint Planning & Budget, Graduate Curriculum, General Education and General Education Assessment, Academic Planning, Academic Program Review, Promotion, Tenure, and Salary, International Education, and Faculty Development.
Microbiology
2020-2021
The main focus (and accomplishment) of the Microbiology Department was delivering our laboratory courses as effectively as possible. In the fall, two instructors expanded class times or added a section to ensure our students got most of the typical lab content. All instructors (with the help of our Prep room staff) modified/developed/created lab exercises to best educate our students. Numerous new, innovative, content delivery methods and tools were developed. Syllabi were changed multiple times in the fall alone, and then adjusted again in the spring. Despite having more than 40 students (of ~120) having to quarantine at various times in Mic 230 in the fall, instructors held constant make-up sections to help bring those students through the course. The Department also tried to deliver our classes face-to-face as much as possible. In the spring, we had only three lectures that were online-only. Despite the pandemic, our research labs were fairly active, beginning with faculty, several graduate students and two DDF students returning to the labs last summer. A total of 20 undergraduate and graduate students presented at local, regional and national meetings, while faculty gave an additional 10 presentations. Faculty had two papers published, and submitted five external grants, four of which were funded. Funded grants included two USDA and Wisys grants for Xinhui Li (about $50K each). The WiSys grant is a collaboration between Xinhui Li and Seth King in Physics and looks at the antimicrobial properties of ZnO/Graphene nanocomposite thin-films. Bill Schwan and Paul Schweiger also received WiSys grants. Paul's was to develop a vitamin C production system (related to a patent that's been applied for) while Bill's is a collaboration with John May to understand the mechanism of action of antimicrobial. Remarkably, faculty (mainly Xinhui Li, Paul Schweiger and Bill Schwan) reviewed 56 manuscripts.
Physics
2020-2021
The UWL Physics Department continues to lead the nation in conferring the most degrees at an undergraduate institution. In the latest tabulated data from AIP (2016-2018), UWL placed #2 in producing the largest number of Physics degrees (averaging 34). This is far greater than the average number of physics degrees awarded at bachelors only institutions (7 average annually) and even more than Doctorate intuitions (25 average annually)he past 2020-2021 academic year, we produced 27 physics graduates.

Our faculty worked to adapt to the COVID-19 pandemic by offering small classes face-to-face, laboratory classes as hybrid, and large introductory classes online. Half of our teaching staff attended a CATL flex training and four faculty receive grants to prepare for transitioning classes to the varied teaching approaches. This resulted in interactive online laboratory systems, teamwork assignments, independent research projects with individual faculty meetings, and collaborative learning experiences.

Even with the limitations in equipment access, the Physics Department continued its focus on undergraduate research. Eighteen students worked with 8 faculty members on various research projects during the semester as Eagle Apprentices, as paid interns, or for course credit. During the summer our students were funded by faculty grants or competitive College or external grants. These students delivered 2 talks and presented 10 posters.

6 faculty works were submitted for publication in journals, books, and as book chapters; 2 of which had physics student coauthors.

6/27 students continued on to graduate schools in physics or related disciplines. UWL physics majors went on to Colorado University Boulder, Cleveland State University, George Mason University, and Michigan State University.
Recreation Management & Therapeutic Recreation
2020-2021
Despite pandemic-related challenges, our RM & TR programs continued a trend of excellence and program growth in 2020/21. First and foremost, we completed our RMTR Strategic Plan as a collaborative unit which will guide our actions for the next five years. Our TR program won the American Therapeutic Recreation Association Excellence Award. This is awarded to only one academic program annually. The first full year of the new Dual Degree program in TR was completed with students moving into their final year research projects with faculty mentorship. The RM program had its Dual Degree program approved with the first cohort to enter in Fall 2021. The department completed its first year of REC 150 as a General Education (cat 09) course and implemented Career Fairs in fall and spring. Navigating COVID-19 limitations successfully, students delivered community programs to youth at WisCorps (Environmental Education), UWL first & second year students (Recreation Programming), and virtual programming in therapeutic recreation for older adults. As part of our commitment to diversity, new elective courses approved and taught included "TR for individuals with intellectual and developmental disabilities" and "TR for individuals with physical disabilities". Our Inclusive Recreation Minor was redesigned for implementation in fall 2021. Our new Tourism & Events Management Minor was also approved for implementation in fall 2021. Finally, and most honorably, we are incredibly proud to share that Dr. Brian Kumm-Schaley was selected for the Eagle Excellence in Teaching award based on several nominations from students and with full support of our department.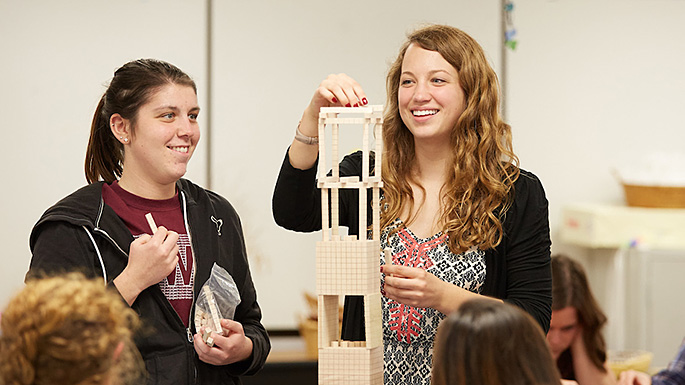 School of Education
Yearly Overview
2020-2021
The School of Education (SOE) had a very productive year despite the ongoing disruptions due to COVID-19. One of the largest initiatives was the campus-wide revision of teacher education (TE) programs, resulting in UWL-level approval of 23 new/revised majors leading to 13 teaching licenses, and identification of a set of "SOE Core Requirements" that are common to all TE programs. In addition, the ESL Institute was moved to SOE and a complete revision of ESL programming was approved. The IPSE Team generated revenue totals of over $300K and streamlined the number of emphases for the MSED Learning Community program to include Culturally Responsive and Experiential Education and Adventure Based Experiential Education. Eleven faculty and staff in DES and IPSE were nominated for the Provost's Eagle Teaching Excellence Award, and Dr. Val Krage was recognized with an Excellence in Academic Advising Award. Dr. Lema Kabashi was awarded a sabbatical leave for FY22, and Dr. Rita Chen completed her sabbatical during FY21. DES faculty published ten works and made 45 presentations. Promotions and tenure activities in DES included one promotion to Associate Professor, one to Full Professor, and one tenure. One faculty member retired with Emeritus status, and the department granted Posthumous Emeritus status to Dr. Gary Willhite. Dr. Rogers completed her first year as DES Chair. IPSE added 3 new Associate Lecturers to their team.
DES faculty supported 468 teacher candidates in their field and student teaching placements and served as liaisons for 14 PDS sites. SOE persisted in responding to the COVID-19 pandemic by delivering quality instruction to undergraduate and graduate learners, and support to clinical students and cooperating teachers in PK12 classrooms as schools returned to face-to-face instruction. DES instructors are active in the community in many ways including serving on the Board of Directors for The Center: 7 Rivers LGBTQ Connection, the La Crescent Community Foundation, and the National Association for Professors of Middle-Level Education.
SOE Strategic Planning grounded in equity and social justice continued to be a priority for the unit. DES instructors engaged in over 15 professional development opportunities related to anti-racist teaching and effective online teaching strategies. The IPSE team engaged in reviewing all programming to infuse Diversity, Equity, and Social Justice into every course.
Department of Education Studies
2020-2021
During the summer, DES instructors engaged in over 15+ PD opportunities related to anti-racist teaching and effective online teaching strategies. Promotions and tenure activities included Dr. Heidi Masters' promotion to Associate Professor and tenure and Dr. Ann Epstein's promotion to Full Professor. Five additional junior faculty underwent contract or non-contract reviews, and 4 Redbooked and 16 adjunct IAS underwent contract reviews. DES's mentoring system was expanded to include sessions led by Dr. Christine Hippert. Twelve faculty attended the May 2021 training. Support was also provided by the chair during monthly or bi-monthly meetings (e.g., 2nd-year cohorts, 3rd 6th-year cohorts; and Program Directors). Awards included seven nominations for the Provost's Eagle Teaching Excellence Award and the award for the Excellence in Academic Advising Award (Dr. Val Krage; eleven others nominated for this award.) Dr. Lema Kabashi was awarded a year-long sabbatical (effective August 2021). Dr. Rogers, DES tenured professor, completed her first year as the department chair. DES continued to support UWL's SoE programs and General Education programming through the delivery of EDS 203 (13 sections; 326 students), EDS 206 (14 sections; 372 students), and TSL 200 (9 sections; 235 students). DES faculty also supported 468 teacher candidates in their field and student teaching placements and served as liaisons for 14 PDS sites. The department persisted in responding to the COVID-19 pandemic by delivering quality instruction to students in their classes and providing support to clinical students and cooperating teachers in PK12 classrooms as schools returned to face-to-face instruction. DES successfully ushered through 6 interconnected programs in response to changes in the WI state licensure law (PI 34). DES faculty procured three new grants totaling $2250 in support of teaching, scholarship or service, published ten works and made 45 presentations. DES faculty supported students in high-impact practices by facilitating an SoE-wide training related to Black Lives Matter at Schools, engaging undergraduates in various research in this area, and continuing to engage our area school partners.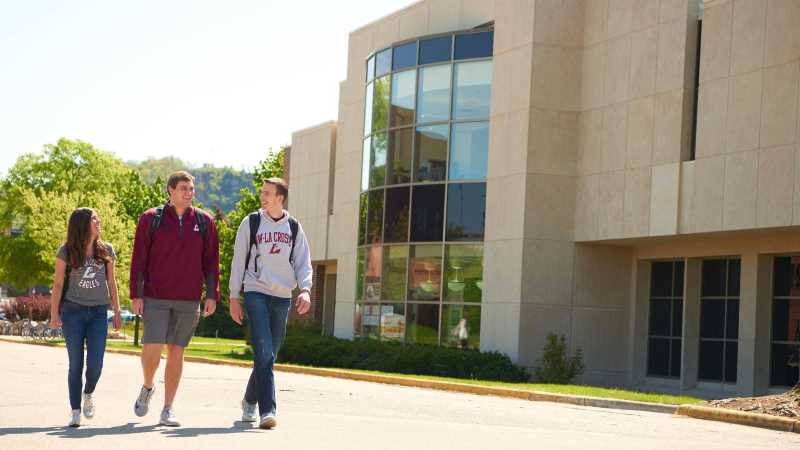 Murphy Library
Yearly Overview
2020-21
COVID-19 necessitated many changes to the ways in which academic libraries and learning centers operate. In order to remain vital to the academic enterprise, both Murphy Library (ML) and Murphy Learning Center (MLC) focused on being both user-centered as well as being user-healthy. Delivery of our services continued to function in a mostly virtual instructional environment. Resource collections were negatively impacted by a devastating budget reduction of approximately $232,000. Library space was de-densified to about 50% occupancy levels, which also resulted in a not so surprising 55% reduction in attendance by users when compared to pre-pandemic times. Physical material circulation also was down by 64%. Demand by campus users for electronic and digital resources and collections increased during this time, such as for streaming videos, e-books, databases, e-journals, and subject oriented LibGuides. Digital Collections digitized over 36,573 images (629 objects) and made them publicly accessible. Librarians met with nearly 600 students in 33 classroom instruction sessions, whether in person or virtually, and many specialized instructional videos and/or guides were created for another 21 classes (some had multiple sections), reaching hundreds of additional students. Librarians and staff assisted students, faculty, staff, and members of the community with their informational questions over 3,395 times. Several librarians and university staff members published and presented this past year. Work on developing a draft of strategic directions continued and targeted the areas of staff/organization, budget, and space. Librarian Heather Campbell joined the department only to resign in March, librarian Paul Beck retired in May, and university staff member Abby Springman departed in June. The Library will be hiring only one of the two librarian positions as reductions in GQA monies required the transition of our lone GQA position to one of the two regular vacant librarian budgeted personnel lines. Due to the loss of Beck's position, a re-alignment of other librarian and university staff positions will occur to assist with special collection/area research center demands and make this unit more sustainable into the future. A temporary staff or LTE is expected for the university staff vacancy and the librarian vacancy (supervises this staff member) search has begun, Once a librarian is hired, a search will commence for the staff member.
Library Department
2020-2021
While challenged by a pandemic along with the rest of the world, Library department faculty nevertheless engaged in another active year of contributions to teaching/learning and scholarship. Librarians met with nearly 600 students in 33 classroom instruction sessions, whether in person or live online, and specialized instructional videos and/or guides were developed for another 21 classes, some with multiple sections, reaching hundreds of additional students. We individually assisted students, faculty, staff, and members of the community with their information research efforts nearly 1,400 recorded times. Librarians again formally shared their work with peers in a wide variety of settings, including: Liz Humrickhouse's published article in the Journal of Academic Librarianship, Laura Godden's and Teri Holford's collaboration on a chapter for the book, Friendly Finding Aid: A Collaborative Way to Build Primary Source Research Foundations, and presentations by Scott Pfitzinger and Pam Cipkowski at the (virtual) Wisconsin Association of Academic Librarians annual conference. Humrickhouse served as a manuscript reviewer for the Journal of Academic Librarianship. We also actively contributed to community learning, with examples including Godden's letter published in the magazine, S&D Reflector, and Godden's series of articles published in the La Crosse Tribune. Grant-writing resulted in nearly $13,000 in awards in support of our work over the year, including initiatives to fund acquisitions of collections of graphic novels and picture books on shapes for the Curriculum Center, and a large grant to partially sustain the ongoing purchase of books for the general collection in the face of a pandemic-related sharp budget shortfall. We welcomed Heather Campbell to the department in the fall, only to see her depart in the spring for an offer she could not refuse. Finally, we marked the retirement of Paul Beck after 23 years of valued service at UWL.
Murphy Learning Center
The addition of Murphy 273 has resulted in a further decrease in the number of students signing in when they visit. Often head-counts, and sign-in data have huge discrepancies. It is usually only possible to have one MLC desk worker at a time, covering two rooms. This results in many students not signing in. Despite the apparent decrease in student singing in, it appears that the MLC is more heavily utilized than ever before. There have been many occasions this semester, that the number of students receiving help could not have found seats in the MLC prior to spring 2016.
Campus closure due to Covid-19 was a defining factor of the spring semester. A quick decision was made to transition the MLC to a completely online system by combining the MLC webpage and Webex. Tutors were provided with their own individual Webex rooms in which they could host tutoring sessions. Information was gathered by tutors taking a survey at the end of their shift. The tutors reported on the number of students they helped, the classes they need help and any technical issues. Tutors also reported any advice they had to other tutors using Webex, which was then shared will all the tutors to help bring the whole MLC up to speed faster. Feedback from students was overwhelmingly positive, with few problems actually using the service and interacting with the tutors successfully. Many students expressed gratitude that the MLC was continuing to operate.