There is currently a critical need for Clinical Laboratory Scientists nation wide. Average starting salaries in the Mid West are $50,000 which is significantly higher than starting salaries for jobs in the basic sciences of biology, microbiology and chemistry. In addition, many employers currently provide signing bonuses due to the critical demand. Shortages for Clinical Laboratory Scientists are expected to increase even more in the future, making this discipline one of the most marketable areas in modern medicine.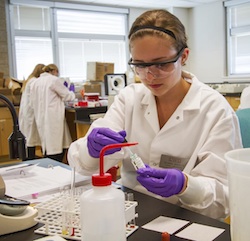 Many Clinical Laboratory Scientists work in hospitals and clinics although there are numerous other career opportunities including:
biotechnology and pharmaceutical companies
medical research laboratories
public health agencies
forensic laboratories
veterinary laboratories
In addition, a degree in Clinical Laboratory Science provides you with an excellent background for medical school, veterinary school, graduate school in areas of medical science, or any area where a knowledge of health care and laboratory medicine is useful.