The Microbiology department teaching laboratories are located on the 4th floor of Prairie Springs Science Center (PSSC). The teaching laboratories include:
Introductory Microbiology Laboratory and Food Microbiology Laboratory
Prokaryotic Molecular Genetics, Bacterial Physiology, Bacterial Diversity, and Aquatic Microbial Ecology Laboratory
Fundamentals of Microbiology Laboratory
Clinical Laboratory Science, Immunology, Virology, and Pathogenic Bacteriology Laboratory
Clinical Laboratory Science courses offered at the UWL campus are taught in 4031 PSSC. The classrooms are equipped with state-of-the-art audio-visual and distance education technology. Labs are also equipped with modern equipment to perform manual laboratory methods.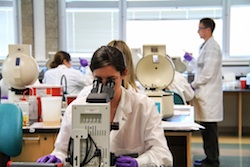 Equipment