The Microbiology department teaching laboratories are located on the 4th floor of Prairie Springs Science Center (PSSC) at the University of Wisconsin-La Crosse. We have four teaching laboratories:
Introductory Microbiology Laboratory - equipped with modern microscopes and equipment designed to grow, identify and enumerate microbes.
Food safe Microbiology Laboratory - used to teach Food and Fermentation Microbiology courses, as well as a non-major's general education microbiology course. Students can prepare and consume many of the food products produced with the aid of microorganisms.
Medical Microbiology Laboratory - used to teach Immunology, Pathogenic Bacteriology, Clinical Laboratory Science, and Virology. Equipped with Biosafety hoods to safely study pathogenic microbes and work with tissue cultures. It also has advanced microscopes for viewing fluorescence and tissue culture samples, and modern equipment used in medical diagnostics.
Microbial Genetics and Physiology - used to teach Microbial Genetics, Bacterial Physiology, Bacterial Diversity, and Aquatic Microbial Ecology. Equipment available to conduct state-of-the-art genetic, molecular, and biochemical techniques with microbes. It also contains advanced microscopes capable of phase-contrast, darkfield, and fluorescence microscopy.
Teaching and research in microbial fermentations is also possible with our Fermentation facility that houses fermentors for cultivation of large volumes of microorganisms. Growth of microbes is central to all areas of microbiology, and we are one of the few Universities in the US to offer a Fermentation Microbiology laboratory course with the facility.
The Prairie Springs Science Center also contains several research laboratories equipped with state-of-the-art equipment to study various aspects of Microbiology (medical, food, industrial and environmental).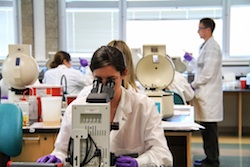 Equipment