Posted 8 a.m. Sunday, May 1, 2022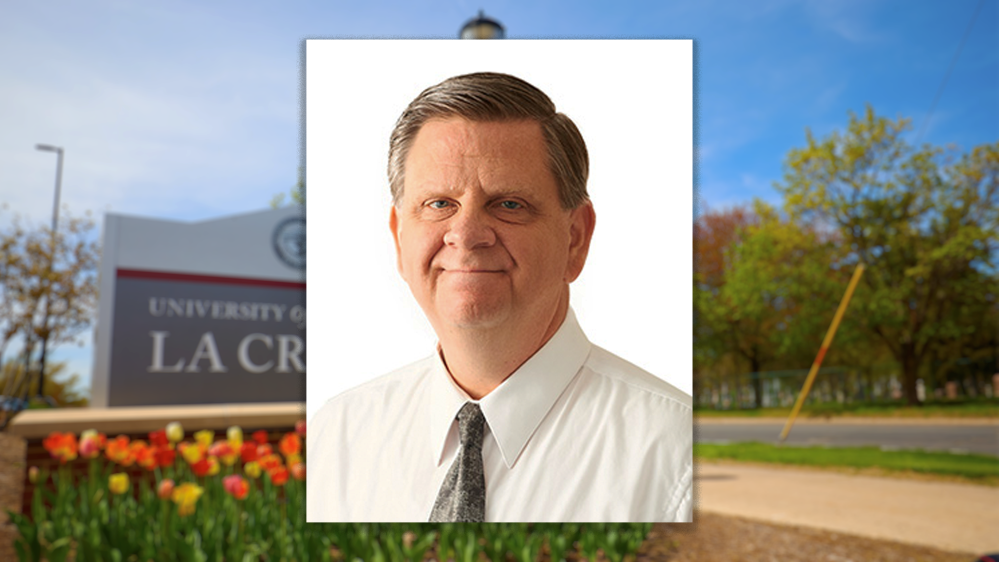 Writing in Communication Studies
The Write Here, Write Now blog invites writers from the University of Wisconsin and La Crosse communities to respond to a series of questions that shed light on their writing lives. As readers of the blog will discover, learning to write is an ongoing, life-long process and all writers, from first-year students to career professionals, benefit from reflecting on the writing process and sharing that process with others.
Name and Title: Dr. Dan Modaff, Associate Professor
Department, Speciality Area, and Classes Typically Taught: I am a faculty member in the Department of Communication Studies. My specialty area is Organizational Communication, and I teach classes such as: Communicating Effectively, Professional Communication, Organizational Communication, Contemporary Approaches to Organizational Communication, Research Methods in Communication, Senior Project in CST, and Leadership & Communication: Lessons from the Lakota
Current Writing Project: I am fortunate to have several research projects on which I am working right now. The first area of research includes three projects, all at different stages. My co-author, Dr. Jennifer Butler Modaff, and I are working on projects regarding how students communicatively manage their chronic mental/physical conditions with their peers and professors. We are writing a manuscript currently from the student perspective, and will submit that to Journal of American College Health. We have also conducted interviews with professors about the same topic, and we will begin analyzing those data after we finish the prior manuscript. Then, we are looking to conduct a qualitative questionnaire with adults in the workplace who provide care for a family member with a chronic mental/physical condition in hopes of understanding how they communicatively manage those challenges at work.
I am also engaged in a long-term research project on Lakota reservations in South Dakota. I have been traveling primarily to the Rosebud Reservation (Sicangu Lakota) to interview elders and attend ceremonies to learn about traditional Lakota culture and traditions. As an organizational communication scholar, I realized that we have only tended to look at organized life from a western perspective and from traditional organizations. I am working towards a book-length manuscript in the future about lessons that modern organizational members and leaders can learn from traditional Lakota life.
Finally, I am proud to be a co-author of an introductory textbook in organizational communication, and we have recently completed our 5th edition, which is on the market now. I am hopeful that we will have a 6th edition, and so we are already thinking about changes, updates, and reorganization for that project.
1. What are you currently reading?
I am reading a wonderful book called The John Chapman Stories, edited by Leslie Jarmon and Peter Yockel. John Chapman is the real life Johnny Appleseed who tirelessly sought to improve the lives of those people around him. Jarmon and Yockel traveled the country interviewing people who were community change leaders, and compiled a book of their stories. It is an inspiring work, and shows how the efforts of one person can make a significant difference.
2. What type(s) of writing do you regularly engage in?
I am engaged primarily in academic writing. We have many writing projects going on as you can see, so between that and raising our four children, I don't have much time for other forms of writing. I do, however, steal away some time to write songs, primarily in the Americana/Folk style, and record them with my two brothers in our band, Good Enough.
3. When/where/how do you write? What are your "writing necessities"?
We have a basement office that I use to write. I used to be able to write anywhere with anything going on, but writing is hard and I find that I need more quiet and seclusion than I used to. So that means that I tend to write later in the evening when the kids are in bed or early in morning before life gets too hectic. My writing necessities are simple: a computer and a little bit of peace and quiet.
4. What is the best writing advice you've received?
The best writing advice that I have received came from my doctoral advisor at The University of Texas at Austin, Dr. Robert Hopper, who said: "Strive to write a crisp, clear topic sentence. Then, hold up that sentence with support that is meant for that topic sentence only." Another bit of advice that I received from him came as criticism of a paper I had written. It was a 25 page paper, and he crossed out the first 22 pages and said, "Now you are getting to it--start here." That comment (along with 22 pages of red Xs) taught me to get to it; don't beat around the bush and make the reader wade through writing that does not help them.
5. How does your discipline affect your writing style?
I am honestly not sure how my discipline affects my writing style. I have been steeped in the discipline for more than 35 years and "grew up" as a writer in the discipline, so I think I find my writing and my discipline as so deeply intertwined that I'm not sure I can figure out how one informs the other.
6. What is your best tip for getting started and/or for revision? How do you avoid writer's block?
My best tip for getting started writing or working on a revision is about mindset. Far too often we say, "I can't." If you say that to yourself, then you surely won't. But, for me, I I find myself saying, "I can" and then give myself the chance to make that happen. Words don't always flow, however, and so to help the writing process I often go do something else, such as a working in the garden, building something with my hands, or mowing the lawn. I am someone who is motivated by achieving tangible goals, and if I can get something tangible accomplished I find that the less tangible processes involved in writing often get triggered.
7. For whom do you write?
I used to write with my doctoral advisor sitting on my shoulder (metaphorically) and wrote for him. A few years ago, I realized that one of the reasons writing was so hard for me was that I was writing for him and not for me. So now, I write for me---from me---and hope that it resonates with other people.
8. How have your perceptions of writing changed or grown as you entered the field of teaching?
My perceptions of writing have absolutely changed since I began teaching and continue to as I progress as a professor. I used to write out of obligation to a course assignment and saw it as a chore to be accomplished to earn a grade. As a teacher, however, I see how writing can be a way to not only teach others but to learn myself. As I try to grow an idea from a thought to a sentence, to a paragraph, to a manuscript, I feel myself opening up to the world around me even more. I take lessons from the small things, and try to incorporate those into my writing. I'll say it again, writing is hard for me and reading is too with how my brain is wired, but when I allow myself to engage deeply with the process, I feel the pathways open and the words begin to flow. Helping others learn as a teacher has helped me realize just how much I have to learn, and writing facilitates that process.