Posted 8 a.m. Monday, Oct. 3, 2022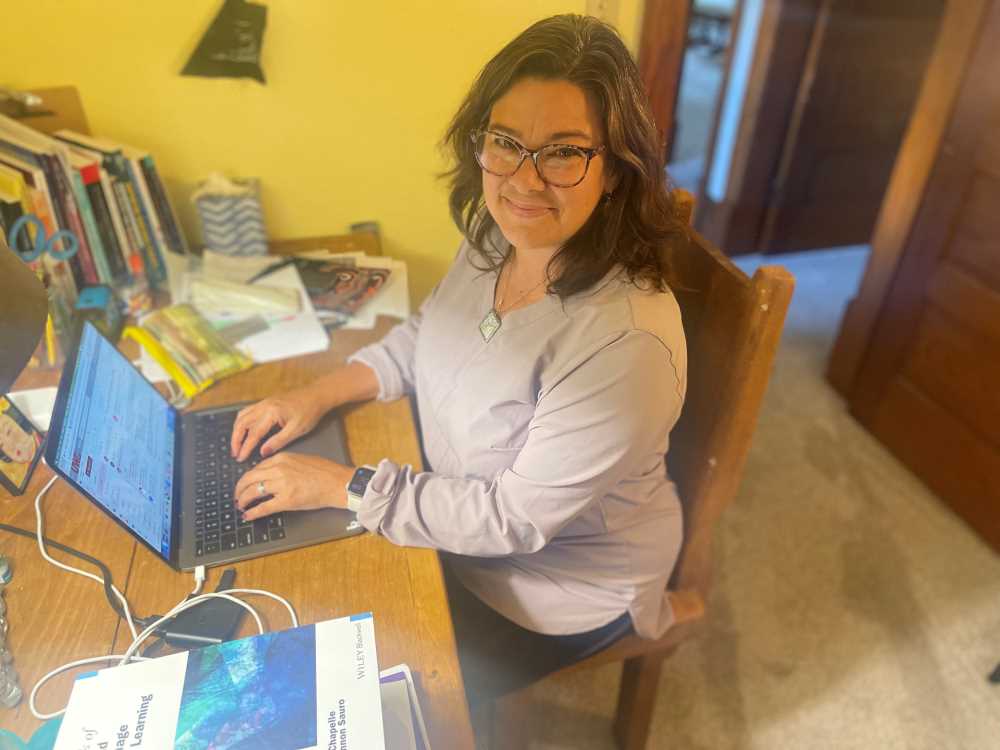 Writing in Teaching English to Speakers of Other Languages (TESOL)
The Write Here, Write Now blog invites writers from the University of Wisconsin and La Crosse communities to respond to a series of questions that shed light on their writing lives. As readers of the blog will discover, learning to write is an ongoing, life-long process and all writers, from first-year students to career professionals, benefit from reflecting on the writing process and sharing that process with others.
Name and Title: Dr. Heather Linville, Professor
Department, Speciality Area, and Classes Typically Taught: My department is Educational Studies and my area of specialty is TESOL (teaching English to speakers of other languages). I primarily teach methodology classes on how to teach English to teacher candidates at UWL who will be licensed English as a second language (ESL) teachers. I also teach an overview course about English learners and how to best support and teach them in K-12 schools to most Education majors.
Current Writing Project: I am currently working on a digital storytelling project with multilingual individuals, called We Live in La Crosse: Stories of Belonging. The project centers on the ideas that everyone has a story to tell and that all stories are needed to learn about each other and to bond as a community. Multilingual voices aren't heard as much in our community so this project aims to raise up especially stories from migrants and about cultural and linguistic diversity in our lives. I love bringing storytelling to the digital realm and I think this connects more to people today than writing stories on paper. Digital storytelling is just so accessible and has the added benefits of being shareable in really easy ways.
1. What are you currently reading?
I am in a book club that meets once a month and we read a very wide range of books, both fiction and non-fiction. Some of my recent favorites have been A Gentleman in Moscow by Amor Trowles and The Day the World Came to Town by Jim DeFede. As can be ascertained by these choices, I love reading books about other places and how folks deal with challenges. I am also reading a book related to my professional life, Envisioning TESOL through a Translanguaging Lens: Global Perspectives, edited by Zhongfeng Tian, Laili Aghai, Peter Sayer, and Jamie L. Schissel. The silver lining of the pandemic for me was a purposeful return to reading books for pleasure. I feel my best when I am reading.
2. What type(s) of writing do you regularly engage in?
Emails! Lol! Most of my writing is professional writing; emails, reports, articles, even feedback to students. I do not love writing, but I love that I can understand something more deeply and figure out what I really want to say through writing. I often think I know something, but then, as I sit down to write, I discover that I haven't thought something completely through until it is on paper. Writing is really the mental labor for me.
3. When/where/how do you write? What are your "writing necessities"?
I write best with a keyboard. I can do emails on my phone, but they tend to be shorter and more direct, which is sometimes problematic, depending on the audience. I can't do any other writing on my phone. In the planning stages for "real" writing (articles, reports, etc.), I almost always need paper. I need to be able to sketch and make connections that aren't possible with just words in a line. I tend to write in short chunks of time. Probably an hour and a half would be the very longest. (I'm now at about 30 minutes with this form... ;) ). More typical would be 45 minute writing sessions with breaks to walk around, think, eat... I have a table and chair that I bought in 2002 at a market when I lived in Saltillo, Mexico. It has served as my desk since then and I wrote my dissertation at it. It is where I am sitting right now. I don't have to use it to write, but I have to be sitting up and this desk is the best. :)
4. What's the best writing advice you've received?
"Keep your butt in the chair." In other words, to write, you have to sit down and do it. Some of the mental work and idea formation can happen as you are walking around or doing other things, but the writing only happens with butt in chair. Sometimes I know I'm really avoiding writing because I won't just sit in the chair. Then I make myself do it...
5. How does your discipline affect your writing style?
TESOL is a multlingual field and a practical field. We tend to write in a clear, less academic style that is appropriate for practitioners (teachers) and researchers. That being said, the researchers can get very theoretical and "in the weeds" at times. But for the most part, clear, direct writing is preferred.
6. What is your best tip for getting started and/or for revision? How do you avoid writer's block?
I don't suffer too much from writer's block, but if I just can't get started I go back to a piece of paper and an outline. In seeing the "big picture" of what I want to say, I can usually get started. The best advice I got for this was to just start writing anything, not worrying at all about how it sounds. You can always go back and make it better, but you have to get the words on paper first.
7. What do you think students need to know about academic writing?
Academic writing is a register of English that, like all languages, we have to practice and "get in our ear." I tell students that when I went back for my Master's degree, seven years after my BA, it took me a while to get back in the habit of reading academic language, and that it was tough. It look me longer to read when I started back. The same thing happened when I went back, after another seven years, for my PhD. It's important for students to know that they won't be "good at" academic writing right away, but that they can and will get better with practice. I also think students need to use any text they are reading for their classes as models for the writing.
8. For whom do you write?
This is such a great question, and it has changed over time. I wrote papers in schools for teachers, and I wrote my dissertation for a committee so I could get my PhD. But at this stage of my professional life, I write almost exclusively for myself. There are things I want to say and ideas I want to get out into the world, so I find the correct venue for them, and then I write. This is also how I get past writer's block. I remind myself that I am writing things that I want to say and that I want others to hear. Of course, I keep in mind my audience, and ensure that I am writing in ways that will be understandable and appropriate for that audience, as well. So I also write for the audience. But what I write is for me.