Posted 10:57 a.m. Monday, March 7, 2022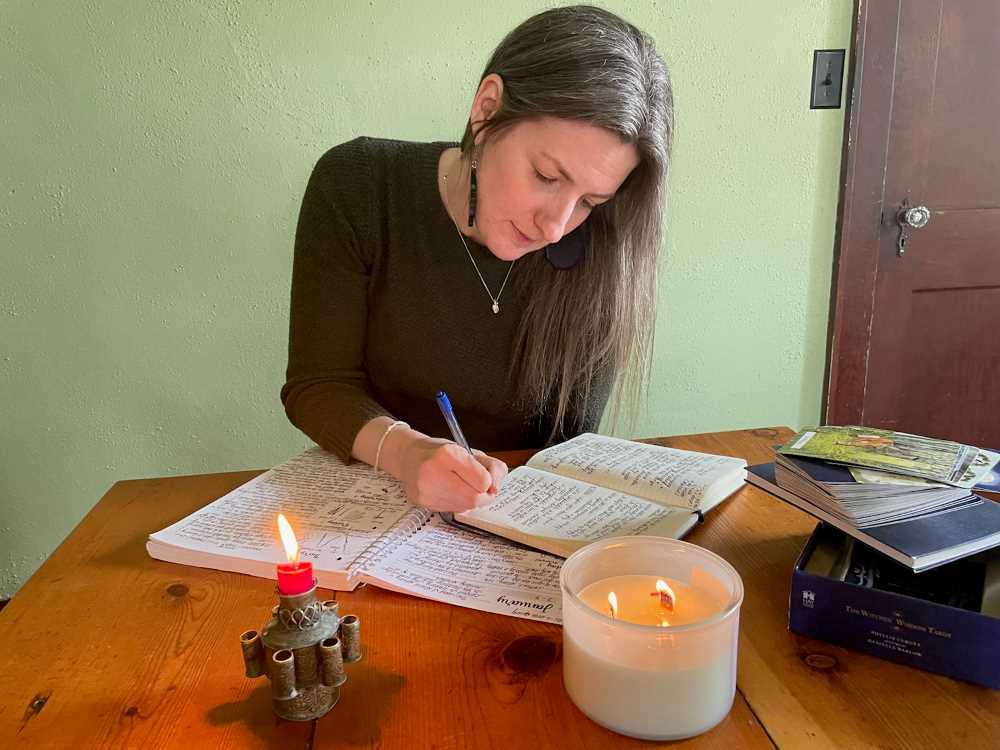 Dr. Kate Parker Launches the Write Here, Write Now Blog with Our Inaugural Blogpost!
The Write Here, Write Now blog invites writers from the University of Wisconsin and La Crosse communities to respond to a series of questions that shed light on their writing lives. As readers of the blog will discover, learning to write is an ongoing, life-long process and all writers, from first-year students to career professionals, benefit from reflecting on the writing process and sharing that process with others.
Name and Title: Dr. Kate Parker, Associate Professor and Chair of English
Department, Speciality Area, and Classes Typically Taught: I'm currently the Chair of the English Department. I study eighteenth century European literature—mainly British and French, so my research focuses on, essentially, the cheap romances of the English and French enlightenment. But I've taught classes across the board: on intersectional feminism and sexuality, literature and compassion, critical theory and poetry. I especially love teaching general education courses because I get to know students from other disciplines. My students tend to be the most interesting and funny and thoughtful humans I know.
Current Writing Project: I've been writing about teaching a lot, and in a variety of genres. I just finished a few short web guides on inclusive teaching practices for the UWL website, and I am working on a book-length project on teaching eighteenth-century literature from a contemporary social justice perspective. Most of my training has been in writing literary-critical essays, so this new focus is a bit out of my comfort zone—which is probably why I enjoy it so much and find it so fascinating.

1. What are you currently reading?
Tarot cards. Lots of them. Always poetry—no day complete without it. Outside of work I usually read one pop science or pop history book a week: I just re-read an updated edition of Nicholas Carr's The Shallows, and just prior to Carr I read about the rise of forensic science and the difficulties of legally prosecuting poisoners in Prohibition New York. Pro tip: you do not want to die of thallium poisoning, trust me.
2. What type(s) of writing do you regularly engage in?
I feel incredibly lucky to write for a living. My graduate training taught me to write scholarly essays—and I really love that genre. But the most important writing I do is not connected to my job, at least not explicitly. I "work" in my journal for at least an hour every morning—it's intimately tied to my meditation and Tarot practice. It's where I figure out what matters most to me, how I move through the world, what my needs and longings and shadows are, what I need to know about others. It's sometimes loose and unformed, other times kind of embarrassingly pedestrian, occasionally game-changing, world-shifting. It saved my life.
3. When/where/how do you write? What are your "writing necessities"?
Ugh, this is where I will annoy you with my hipster smugness. Pen and Moleskine. Almost always at my amazing office desk or my dining table, occasionally in the wild. My process is to take lots and lots of notes and then think about those notes for awhile, imagine the questions I'd ask someone about them, move them around in my notebook using Post-its or on my computer screen, talk about them with someone brilliant (I'm lucky to know many brilliant folks), think about all the brilliant things that person said for a little bit longer, and then sit down to draft. Drafting seems to come pretty quickly for me if you count the part where I am actually typing into a computer, but it's a long, long set up beforehand. I'm a really slow processor.
4. What is the best writing advice you've received?
Okay, this sounds kind of gross, and the writer who actually said this to me said it in a way that was kind of memorably gross, but I've never forgotten it and I live by it: "touch it every day." If you're working on something, you need to be in with it, every day, even if it's just for 5 minutes to move a word around or retype a sentence. Sometimes you'll start with moving a word around and write 10 pages. Sometimes you'll want to write 10 pages but only move a word. Regardless, you're in there, you're thinking about it, and you're committing to it every day, until it's off your desk. But yeah: I probably should find a way to say something other than "touch it" every day. I wish I was clever enough to come up with something less gross.
5. How does your discipline affect your writing style?
I think being in English studies has actually broadened my sense of what I can write, rather than restricted it. My graduate program had two branches: those who were getting doctorates in literature, and those who were getting MFAs in creative writing. And there were definitely overlaps, but I was pretty zoned-in to writing "traditional" sorts of academic essays—though, again, I really love writing in that genre. I'm always amazed by folks who transform academic writing into something brilliant and beautiful, and I dream of writing an essay someone would describe that way. But it wasn't until I arrived at UWL that I discovered an incredible department of folks writing in all sorts of different styles and about fascinating things: about literature, but also about theory and writing studies and composition studies and teaching, poetry and short stories and novels. After getting a job here, my ideas about what writing looks like and what it does totally exploded.
6. What is your best tip for getting started and/or for revision? How do you avoid writer's block?
Best tip for getting started: get an internet, app, and website blocker (I use Freedom). You may think you don't need one—but, my friend, you do. We all do. Block everything: your phone, the internet, your Instagram. In an hour, you'll be so damn bored that you'll be *more* than started.
7. How has your work experience influenced how you write?
I've held all the jobs, from mall jobs to bartending jobs to office work to editing to teaching. Which means I've got a strong work ethic, but I also know that there are all kinds of work, and a lot of it is harder than writing. I remind myself of that. An eight-hour shift at American Eagle where you do nothing but fold jeans and listen to yacht rock is harder than writing this sentence, at least for me. It keeps things in perspective.