Posted 8 a.m. Friday, April 1, 2022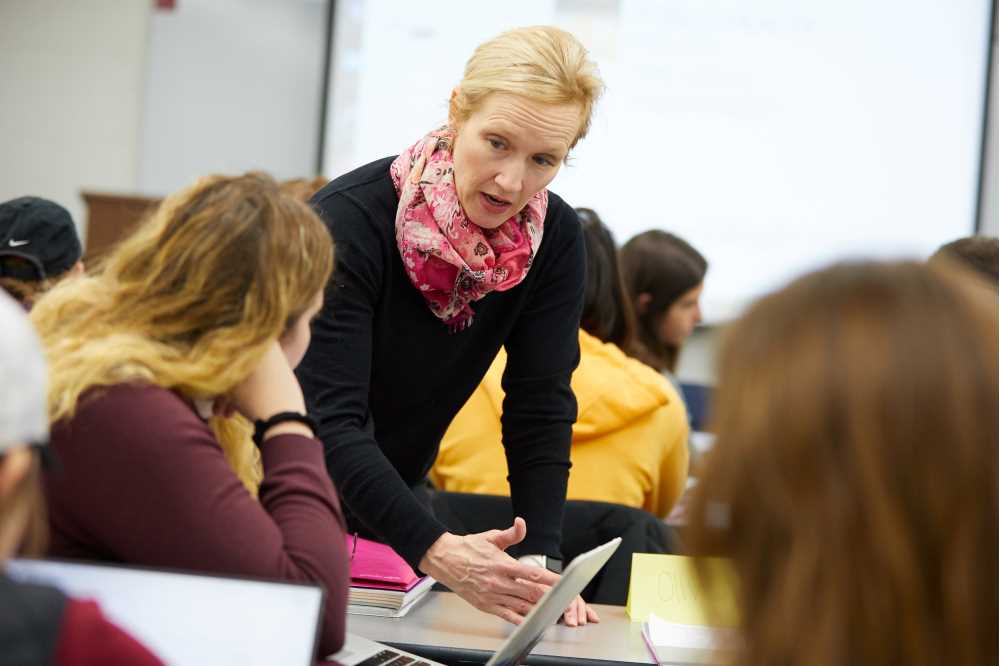 Writing for Public Health and Community Health Education
The Write Here, Write Now blog invites writers from the University of Wisconsin and La Crosse communities to respond to a series of questions that shed light on their writing lives. As readers of the blog will discover, learning to write is an ongoing, life-long process and all writers, from first-year students to career professionals, benefit from reflecting on the writing process and sharing that process with others.
Name and Title: Dr. Keely Rees, MCHES, Professor of Public Health and Community Health Education
Department, Speciality Area, and Classes Typically Taught: Department of Public Health and Community Health Education; Health Policy, Grantwriting, Sexual Health Promotion, Motivational Interviewing.
Current Writing Project: Wow! Never a dull moment here:
"Peer Talk: Community of Care Training and Focus Groups" with Beta Phi Chapter and National Eta Sigma Gamma office
Creating "Health Theory Training Modules" for a nutrition education company
Developing "Parent/Guardian Conversations" with their teens on opioids for the National Safety Council
Finalizing the last edits on my textbook with Oxford Press: Be the Change: Putting Health Advocacy, Policy and Community Organization into Practice in Public Health Education
Finishing my role as President of National Eta Sigma Gamma.

1. What are you currently reading?
Just finished Impact Players by Liz Wiseman; Atomic Habits by James Clear; and Atlas of the Heart by Brene Brown is up next.
2. What type(s) of writing do you regularly engage in?
Ohhh....technical writing for grants/reports in public health; academic writing for manuscripts and textbook, and I LOVE to write short snippets for my website or Linked In. I also love to journal....stream of conscious type writing.
3. When/where/how do you write? What are your "writing necessities"?
I have a sunny spot on my dining room table or my office at UWL. My wireless keyboard for sure, my Moleskine journal--always for random thoughts and notes and ideas; and a cup coffee and large glass of water.
4. What is the best writing advice you've received?
I had the most amazing mentor in my PhD program who taught me about always have a research/field journal with me at all times. I have 20 years of those journals--full of ideas. Another mentor taught me about mornings--the quiet of your house or office. I get the most done on a Saturday/Sunday morning before the world is even alive. Also, how to carve out time chunks--I am not a writer that can do 15 mins here and there on a project. I need 1-2 hours. There is a book that really helped me called Deep Work by Cal Newport.
5. How does your discipline affect your writing style?
Public health writing requires us to write for the intended audience....so we spend a lot time learning about the population that will digest the information--readability, cultural competency, and adjusting from technical writing to very informative short snippets for the public.
6. What is your best tip for getting started and/or for revision? How do you avoid writer's block?
Oooh, good one. You will not FEEL motivated. You need a starting ritual....create the space, make the coffee, find your necessities, and give yourself rewards...stand and stretch after a 30 min session, go for a walk, refuel your body (you need proteins and fats for good writing :), and chunk it out--meaning break your project or assignment up into smaller parts. If I thought about the WHOLE textbook, I would sink myself...but one chapter at a time saved me.
7. What do you think students need to know about academic writing?
It is a skill, and you can improve, get stronger, and end up love writing. Find a mentor, tutor and ask them for support, feedback and do not give up.