Students with mental health concerns might experience some hesitation while thinking about studying abroad. Whether you have been officially diagnosed with a mental health condition, or you think that certain aspects of studying abroad might trigger some anxiety, IEE is committed to supporting you throughout the whole process.
As any student preparing to study abroad you need to do some research. And some of that research needs to be focused on your mental health concerns. Similar to the way cultures vary in many countries, so does the degree of access to mental health services and how mental health is perceived and treated. Or just like in the U.S., there may be a stigma that exists around mental health. But the good news is that there is most certainly a variety of places and programs all over the world where you can gain a meaningful experience both personal and professional, while studying abroad and taking care of yourself.
Before Choosing a Program
Be sure to meet with your healthcare provider to discuss if studying abroad is something that you should be planning at this time. You can also visit the UWL Counseling and Testing department to use their resources and meet with mental health professionals. Their services are free to all UWL students. It is important to identify what accommodation and medication you need, and use that information when you are looking at programs and countries. If you feel comfortable, disclose your concerns with your Education Abroad Advisor. They will be able to help you with your research and what kind of support or care options are available on various programs. In the meantime, these questions and suggestions can help you get started with your research:
Research cultural practices and mental health in the country of your interest.
Think about the culture shock you may experience while abroad. What aspect of this culture/country you think will make you very uncomfortable?
Once you have narrowed down your program search, ask your healthcare provider if they are familiar with that country/culture and their approach to mental health.
Also ask them, what possible changes in your mental health might you experience while studying abroad. Do they have any suggestions to stay healthy?
Discuss with your healthcare provider and support system at home methods for staying in contact while you are abroad. If possible, set up an emergency plan with your healthcare provider in case of any crises that may occur.
Research your medication. Can you legally bring your medication to that country? Can you legally buy/refill your prescription there? If you can't refill your prescription abroad but you can legally bring medication with you, work with your healthcare provider about having enough medication to last through your education abroad experience.
Check with your healthcare provider if they are able to provide documentation to travel with medication.
Find out if there are pharmacies/hospital nearby or medical services on campus.
Check if there are services available in your native language either in that country in general, or through the host institution or provider.
Remember, if you feel comfortable disclosing your concerns with your Education Abroad Advisor, they will help you with your research and find out what kind of on-site support will be available to ensure your needs are met throughout your program. UWL works with CISI, the UW-System sponsored international health insurance provider. We can also work with them in advance to find what services are there available in your host country, and if they are available in your native language. It is also important to check in advance what will they cover, if you need treatments while abroad.
Adjusting to A New Environment Abroad
While it is hard to say how quickly each student will adjust to their new environment abroad, there are things that you can plan for before you leave that will help you adjust, or recognize when something is wrong. The more prepared you are, the easier the transition will be. For example:
Avoid feeling isolated by exploring the new city and country. Knowing before you leave what you can start exploring when you arrive in your new environment will make you feel more comfortable.
Prepare for a long trip. Remember to eat well, drink enough water, and get enough sleep. Jet lag and exhaustion can impact your wellbeing.
Think of ways you can make new friends such as joining student organizations.
Know your limits. Be sure to take time for self-care if you are feeling overwhelmed, even if it may take time away from an excursion or activity.
If you choose to drink alcohol, be mindful of your use. Alcohol may impact you differently abroad.
Feeling nervous, upset, or frustrated is OK and will happen, but it is important to recognize it and find ways to cope.
Attend UWL Education Abroad Pre-departure Orientation.
Once you are back at UWL, we highly recommend you attend the Re-Entry Workshop - Unpack Your Study Abroad Experience. In partnership with Counseling & Testing, we offer support on how to readjust to your home country and things you can do to help you with reverse culture shock.
Start by doing some research based on the information above. To learn more about the education abroad process and programs offered at UWL, we encourage you to attend an Education Abroad 101 session, attend our Education Abroad Fair, and/or schedule an appointment to meet with an education abroad advisor. We are here for you!
Resources
Mobility International USA (MIUSA)
Balancing Mental Health Abroad
It's a Mind Game: Studying Abroad with Anxiety
Student's Testimonials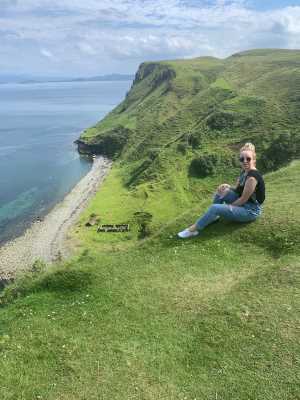 Hannah
a cis white female student

As a cis white female, I had some concerns traveling alone to another country for the first time. For someone with depression and anxiety this was a feat that I knew was going to be challenging but ultimately very rewarding, and that is exactly how I would describe my experience in Stirling. As far as safety goes, there were only a couple instances where I felt unsafe, but was always with other people so I was never alone. In general, the location of my studying abroad was very welcoming, a wonderful place to go for a first time lone traveler. The culture that I was immersed into felt close to home even though I was around 3,700 miles away. When in Scotland, I really valued the session I went to during our orientation about traveling safe as a woman. The tips and tricks that were discussed in this session were always in the back of my mind on my travels. Traveling can be scary as a woman, but with the help of those around you and the preparations that you put in place, it can be a life positively life changing experience.