Welcome to Zoo Lab - The Animal Biology Website!
Although this site was created specifically to assist our students at the University of Wisconsin-La Crosse, we feel that Zoo Lab can provide a useful resource for anyone enrolled in a one-semester, college or secondary school course in zoology, or animal biology. It can also provide a "virtual laboratory" experience for those who do not have access to these materials as well as a source of basic zoological information. In keeping with these goals, users should understand that the site may change from time to time as we seek to upgrade and improve its facilities in the hope that it will continue to promote an appreciation for the Earth's extraordinary biological diversity!
Finally, although we encourage all non-profit uses of these copyrighted materials, please ask before using any of the images since we are interested in how they are being used and by whom. Use of these images in any distributed instructional material must include some reference to their origin. You may not use these images in a distributed or copyrighted publication without written permission.
Hints for Best Viewing
The images and annotations used in Zoo Lab were originally designed to be viewed at a screen size of 800 x 600 pixels. With the advent of larger, LCD screens with better resolution, various screen sizes are now used. We suggest you experiment with your computer to find a screen size that allows you to comfortably view the images and annotations that accompany them. Note : To change screen size in Windows, go to Control Panel, select Display, then Settings and use the slider bar to adjust the Screen Area; Apply and exit to view the changes.
Hints for Printing
We have noted that if default print setting for the left and right margins of 0.5" are used, this can result in some clipping of the image annotations. To print the contents of entire page (i.e. the image, annotations and accompanying text), go to File , click on Page Setup and set the Left and Right Margins (inches) to zero. Alternatively, you can print the contents of an entire page using Landscape orientation.
Acknowledgements
We wish acknowledge the generous assistance of the University of Wisconsin System and University of Wisconsin-La Crosse for financial support in the form of various grants that have enabled us to develop the Zoo Lab website. We also thank the many students and instructors who have taken the time and trouble to point out errors and provide useful suggestions for improvement. We welcome such feedback and encourage comments from all of our users.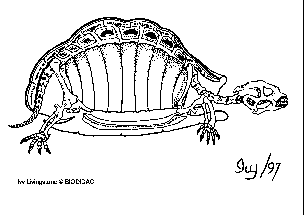 TurtleCreated by
Rick Gillis & Roger J. Haro
Department of Biology
University of Wisconsin - La Crosse

Note: You may have to adjust the screen size on your computer monitor to achieve the best results for viewing the text and images on this website; for more information, click on the Hints for Users button!

Copyright © 2014, the University of Wisconsin-La Crosse and Board of Regents of the University of Wisconsin. Please direct any comments or questions to: rgillis@uwlax.edu