Profile for Kjerstin Lang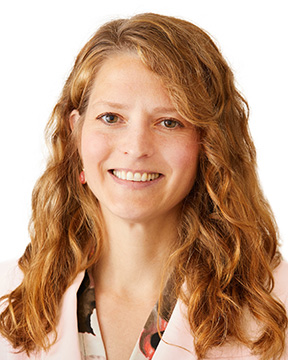 Specialty area(s)
Writing for print and web, editing, marketing, media relations and social media
Brief biography
I am a proud UW-Madison alumna who started her career as assistant director of a foreign language school in Mexico. When I returned, I started a career that embraced my long-term love for writing: journalism.
After five years as a journalist, I transitioned into a marketing career at UW-La Crosse where I continue to see the value of higher education — even beyond what my own experience proved to be true. My favorite part of my work is meeting the amazing people at UWL and helping share the importance of what they do.
If you have a UW-La Crosse-related story that the world should know about, please contact me or UWL's News and Marketing team via the University Communications submission form.
I enjoy running, being outdoors, playing mandolin and spending time with my husband and two daughters.
I am part of the News & Marketing division of University Communications, and my responsibilities include:
Write stories and marketing copy for UWL's website, campus news, publications and marketing campaigns.
Manage UWL's monthly, online alumni newsletter, Lantern.
Manage and edit the College of Business Administration online magazine, Building Bridges.
Distribute news releases and media advisories.
Coordinate interviews between UWL sources and the media.
Contribute to UWL social media efforts.
I'm also involved in the following campus groups:
Co-chair, Joint Legislative/Regents Relations Committee
Member of the Racquet Advisory Board. The Racquet is UWL's student newspaper.
Teaching history
UWL 100: First Year Student Seminar
Professional history
Assistant Director, Instituto Cultural Oaxaca
Executive assistant, CLUES: Communidades Latinas Unidas en Servicio
General assignment reporter, Hibbing Daily Tribune
Higher education reporter, La Crosse Tribune
Kudos
served
Kjerstin Lang, University Communications served as the lead of the December Board of Regents meeting planning committee, also consisting of Brad Quarberg, Sudha Sudhakaran, Hannah Skibba, James Bushman, Jeff Kerkman, Joe Heim, Keli Frigo, Mark Valenti, Michael Slevin and Tammy Netwal. Dozens of volunteers and hard work from UWL employees and students helped make the event a great success.
Submitted on: Dec. 10, 2018
awarded
Kjerstin Lang, Michael Lieurance and Jacob Speer, all University Communications, received the award for Excellence in Online Innovation: Communications/Marketing (Gold) and a platinum award, the Teresa Du Bois Exline Award for Best Practices in Communications and Marketing at
CASE V District Conference
on Dec. 11, 2017 in Chicago, Illinois. The awards were for a long-form story, "A heartwarming holiday hobby." https://www.uwlax.edu/story/a-heartwarming-holiday-hobby/. Team members in University Communications helped with proofing and distribution.
Submitted on: Jan. 22, 2018
Important links