Resources
The future of regional economic employment growth depends on a supportive small business environment. The Small Business Development Center (SBDC) shares the mission of the UW-La Crosse College of Business Administration, University of Wisconsin System Administration and the commitment to economic development.
Economic Indicators: An Update for the 7 Rivers Region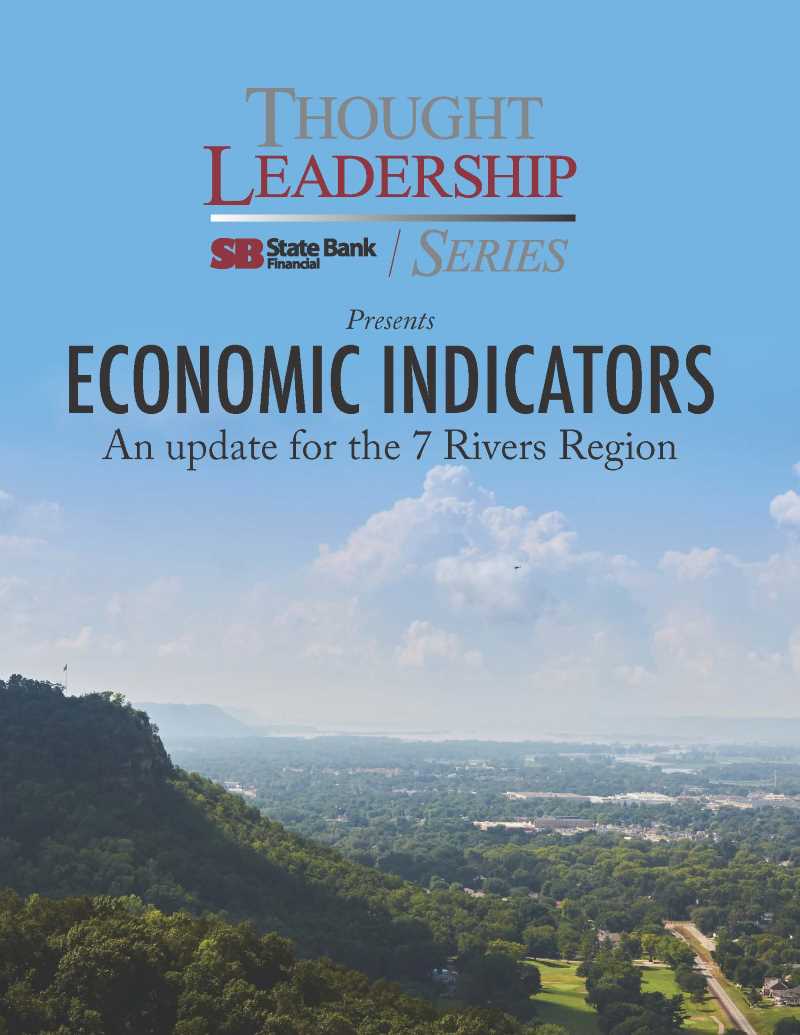 Thursday, March 5, 2020
7:00-9:00 a.m.
The Bluffs in the UW-La Crosse Student Union
521 East Avenue North
Cost: $25

Register here: https://economicindicatorsspring2020.eventbrite.com
Topic: Robotics and Artificial Intelligence: Impact on the Coulee Region Economy and Workforce
Artificial intelligence (AI) refers to the use of a computer to replicate intelligent behavior. AI has increasingly been applied to a wide range of issues that arise in robotics, agriculture, medicine, and diagnoses. Learn more about the use and impact of robotics and artificial intelligence at the Spring Economic Indicators event when Professor TJ Brooks shares his insights on this innovative topic. A panel of business and medical professionals will also explain and share how robotics and artificial intelligence is impacting the way companies make decisions.
UW-La Crosse, in cooperation with State Bank Financial and the La Crosse Tribune, initiated a long-term study in early 2002 of our region's economic indicators. The research is ongoing and focuses on trends for a nine-county region that includes counties in Wisconsin, Minnesota and Iowa. This project is expected to continuously build a base of economic information and provide decision makers with valuable tools for strategic planning. The information will also provide a basis for comparison with other regions and a measure of our progress as a region.
In addition to the open forum, findings are also summarized in a publication available on the State Bank Financial website: https://www.statebankfinancial.bank/economic-indicator-reports.html. We have also provided links to the core economic indicators. Readers can use these links as needed for individual research projects.
7 Rivers Region



The 7 Rivers Region is the economic and geographic area of western Wisconsin, southeast Minnesota, and northeast Iowa. We are developing unity as we experience the power of regionalism. The counties included in the 7 Rivers Region are Jackson, Juneau, La Crosse, Monroe, Trempealeau, and Vernon in Wisconsin, Houston and Winona in Minnesota, and Allamakee and Winneshiek in Iowa. However, the boundary of the 7 Rivers Region is fluid and changing. The intention is to include public and private organizations who define themselves as part of the region.
The 7 Rivers Alliance is the leadership group that boosts economic growth and encourages all activities that lead to collaboration and regionalism. The goals of the 7 Rivers Alliance are to provide a clearinghouse of vital information designed to enhance economic development, provide a model for collaboration that facilitates partnerships and provides regional leadership, and provide a spirit of cooperation that transcends borders for the good of our region. The 7 Rivers Alliance promotes not only the spirit of cooperation, but works on the strategies and activities that put this spirit into action. Learn more.
La Crosse Area Development Corp.
La Crosse Area Development Corporation (LADCO) can assist with expanding or relocating your business. Learn more.
Mississippi River Regional Planning Commission
The Mississippi River Regional Planning Commission's website includes economic data on communities throughout Western Wisconsin. Learn more.
Tourism
http://explorelacrosse.com - Tourism site for La Crosse County.
www.travelwisconsin.com - Tourism site for Wisconsin, including the Southwest Region of Wisconsin.