---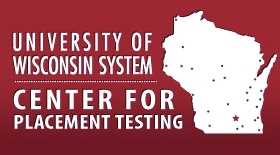 The University of Wisconsin placement tests for English and Math are required for new students attending UW La Crosse.
At UW La Crosse the World Language Test is required if you wish to enroll in Spanish, German or French language classes. For other UW System schools, check their specific policies.
Re-taking the World Language or English tests requires prior written approval from the department.
The policy for re-taking the Math Test varies by school.
At UWL the most recent test score is used for placement.
Students wishing to retake the UW Math Test:
May retake the Math test once

Must retake it on the UWL campus

Must wait 30 days between your initial exam and any retest

Must take an alternate form of the exam

The most recent scores are used for placement

Sample exams are available online as PDF files (answers are at the end)
---
For more information, visit the University of Wisconsin Center for Placement Testing site.
Placement Testing Options
---
Option 1: REGIONAL Testing (incoming first-year students or transfers)
---
REGISTRATION: All UW Placement Testing is now on-line.
Take the test from home on your computer at your convenience.
The on-line test is available 24/7 to Test From Home.

Register at this link:
https://exams.wisc.edu/placement/regionaltesting/information.php
You must have an active UWL NetID to register for the on-line exam.
For more information on activating your UWL NetID, see the Password Management page:
https://www.uwlax.edu/info/password-reset/

FEE: You will not pay a fee when you register or when you test.

A placement test development fee of $40 will be added to your account on your first U-Bill.
This fee covers the authoring, development, printing, shipping, administration, and scoring of the tests.

SCORING:

If attending UWL, designate UWL as the score recipient when registering.
Scores will be added to your WINGS record.
Scores are loaded to WINGS each Friday afternoon.
Contact the Test Center if your scores do not appear in WINGS two weeks after testing.
We will search for them.
testing@uwlax.edu

DELIVERY:

On-line & un-proctored test

Register for the UW Placement Tests here:

TEST TIPS


Browser- Any browser should work, but Explorer, Edge, or Firefox are recommended.
PC or MAC - Either should work. The test is web based and it should work from both platforms.
Calculator -There is a calculator built into the Math exam.
Scratch paper -You may use scratch paper and a pencil to do preliminary calculations.
Quiet location-Take the tests in a quiet location so that you aren't distracted or interrupted.
Test timing -The tests are un-timed and you can take up to five hours for each exam.
Tests are available 24/7 for six months after you successfully register.
Normal time length when taking the paper/pencil version of the exam is 90 minutes each for the Math & English tests, and 60 minutes for the World Language exam.
Most students find this is sufficient time to complete the exams.
Pausing the tests - Tests can be paused at any time and returned to later.
It is not necessary to take all the tests at one sitting.
Tests may be split up and taken over several days.
Remember to Submit when all exams are complete.
Scoring - Data is sent form the test provider, Scantron, to the UW Center for Placement Testing in Madison at the end of each business day.
The UWCPT processes scores each Friday and UWL Admissions loads scores to WINGS on Friday afternoons
You can check your WINGS account for your scores a week to ten days after you submit your exams.

SPECIAL ACCOMMODATIONS:

The on-line, un-proctored UW Placement test is un-timed which covers most accommodation requests for extended time. You can also adjust the text size and high contrast colors to make it easier to read. If you require an accommodation that is not covered by extended time, enlarged text or high contrast, please contact the UWL Testing Center to discuss what accommodations would help to perform at your best. We want to make the test accessible to all students. Please contact Charles Gilbert at the UWL Test Center at (608) 785-8074 or cgilbert@uwlax.edu
---
Option 2: INDIVIDUAL Private Testing (at the UWL Testing Center)
---
PRIVATE INDIVIDUAL APPOINTMENTS ARE AVAILABLE
REGISTRATION:

Register on-line at REGISTER BLAST (you must register at least 72 hours in advance of your desired test appointment). Choose Proctored Correspondence Exams (Paper/Pencil)
All on-line registrations are final and no refunds will be given. We will reschedule your exam once for free, but you must contact our center in writing at least 24 hours before your scheduled exam.
Upon successful registration, you will receive an email confirmation. IMPORTANT: If you do not receive an email confirmation, there may be a problem with your registration. Check that you entered a valid email address. Then check your spam folder. The confirmation email may be blocked by your spam blocker. If none of these conditions exist, please contact our Testing Center.

DATES: Individual appointments are available year round, Tuesday - Friday, at 9:00 am, 11:00 am, & 2:00 pm.
LOCATION: Counseling & Testing Center, 2106 Centennial Hall on the UWL campus.
FEE: A placement test development fee of $40 will be added to your first university bill during your initial enrollment at UWL.
Individual private appointments incur an additional fee of $33.50 for the convenience of flexible scheduling and immediate scoring.
Payment options for private individual appointments include VISA, Discover, MC, and AmEx.
All on-line registrations through RegisterBlast are final and no refunds will be given.
SCORING: This option includes immediate hand scoring and entry of scores into your WINGS record.
DELIVERY: Paper based.
RESCHEDULING: Please contact the UWL Testing Center in writing at least 24 hours before your scheduled exam and we will reschedule your exam once for free.

Schedule one 2 hour appointment for each exam you need.

You will receive an email reminder two days before your scheduled appointment date.

Print your confirmation receipt and bring it with you on your test date.
---
Option 3: LOCAL/RESIDUAL Testing (admitted/currently enrolled UWL students only)
---
LOCAL/RESIDUAL TESTING HAS BEEN SUSPENDED DUE TO PANDEMIC
*NO GROUP PAPER/PENCIL PLACEMENT TESTS WILL BE HELD UNTIL FURTHER NOTICE*
REGISTRATION:


Registration for the Local/Residual test has been suspended.

DATES: Local & Residual testing will resume once the pandemic has abated.
LOCATION:

1309/1400 Centennial Hall (look for signs).

FEE: There is no fee for this exam.
SCORING:

Test Scores generally take from 7 - 10 days to appear in your WINGS record.

DELIVERY: Paper based.

RETAKING MATH TEST: You must self disclose at check-in if you are repeating the exam to ensure you receive an alternate form of the test.