UWL Testing Center
A page within Counseling & Testing
The UWL Computer Based Test Center is open Monday - Friday from 7:30 am until 5:00 pm.
Phone: 608.785.8968 Fax: 608.785.8965
Location: 2106 Centennial Hall (second floor)
La Crosse, WI 54601
N43º 48' 48"
W91º 13' 56"
Parking: Lot C-10, kitty-corner from Centennial Hall, is a pay-to-park lot. It is $1 per hour. You should download the Passport Parking app in advance and pay on your smartphone. The Passport Parking app is the only way to pay for parking as the pay stations will be removed on June 30, 2023.
https://www.passportparking.com/
Visitors can download the Passport Parking app to their smartphones and can then add time remotely by selecting one of the numbered zones on campus. Visitors use their license plates to validate transactions. Lot C-10 is zone 672.
Map/Parking.
See the UWL Parking Website for details and to watch the parking video.
Visit the Directions to Testing Center page for driving directions.
---
Admissions exams
Licensure & Professional Certification exams
Employment & Talent screening exams
UW Placement Tests
ACT, ACE, ASE, BOC, CHES, CLEP, DSST, FoRT, GRE, MAT, MTLE, NTN, Praxis, SAT, TOEFL
Most testing appointments are scheduled through the exam vendor; see below for the tests offered through the UWL Testing Center.
---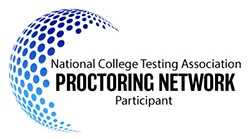 Image stating National College Testing Association Proctoring Network Participant

Logo of National College Testing Association
TESTS ADMINISTERED
**Register through Register Blast (www.registerblast.com/uwlax) for exams marked with **.
Register for other exams through their websites.
ONLINE REGISTRATION via REGISTER BLAST
Register Blast:

Fast and secure online registration for these exams - ACTFL, CLEP, DSST, MAT, and Proctored Correspondence exams.

There is a $3.50 surcharge for this service.
All online registrations are final and no refunds will be given. We will reschedule your exam once for free, but you must contact the test center in writing at least 24 hours before your scheduled exam appointment.
If registering a family member for a test, please fill in all information areas with the examinee information (name, email address, etc.) even if the credit card or checking account used for payment may not be in the examinee name.
Upon successful registration, an email confirmation receipt will be sent. Print confirmation receipt and bring it on the test date.

IMPORTANT

If an email confirmation receipt is not received, there may be a problem with the registration, registrant may have entered an invalid email address, or an email spam blocker may be preventing receipt from coming through. If you do not receive an email confirmation, first check spam blocker, and if that doesn't help, call our test center (608-785-8074).

An email reminder will be sent two days before scheduled test date.
UWL TESTING CENTER
Is a member of the National College Testing Association (NCTA) and the NCTA National Proctoring Network and is an approved testing center for most distance learning programs.
Offers computer based exams for a variety of test vendors including ETS, Meazure Learning, CLEP

,

DSST, IQT, Kryterion, MAT, National Testing Network, PSI True Talent

,

Pearson/VUE

,

ProV

, and

PSI

.

Subscribes and upholds the NCTA professional guidelines and standards for test administration and follows best practices of the Association of Test Publishers.