Welcomes, Changes, or Goodbyes
Here is our welcome to new employees (or returning), a celebration of employment changes, and our salute to colleagues pursuing new endeavors. All celebrations are for the previous month.
Welcomes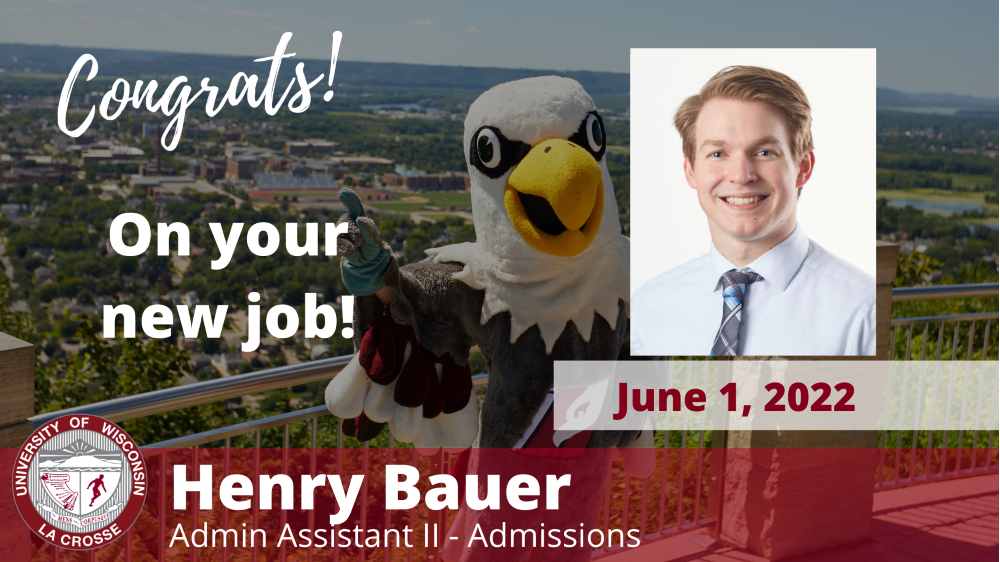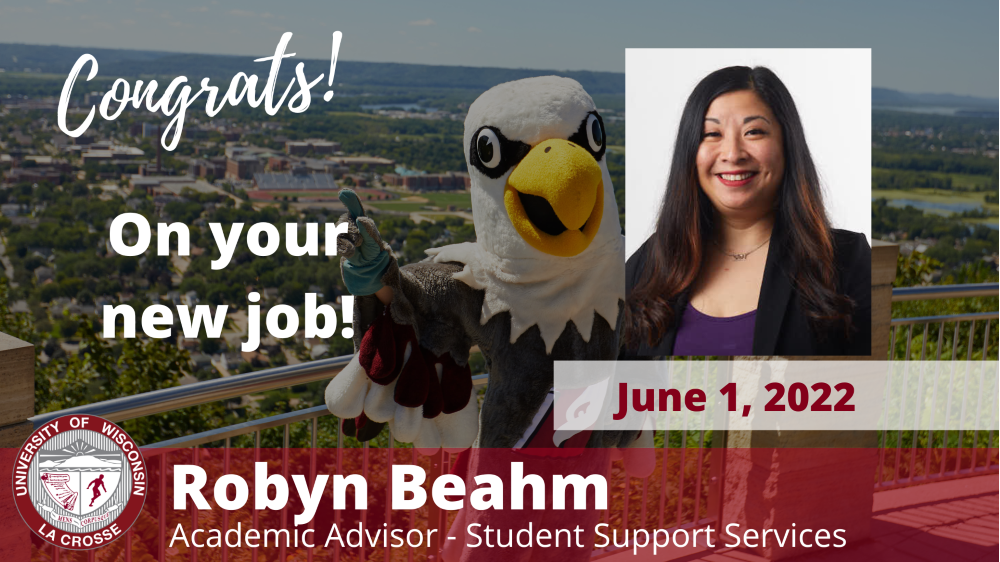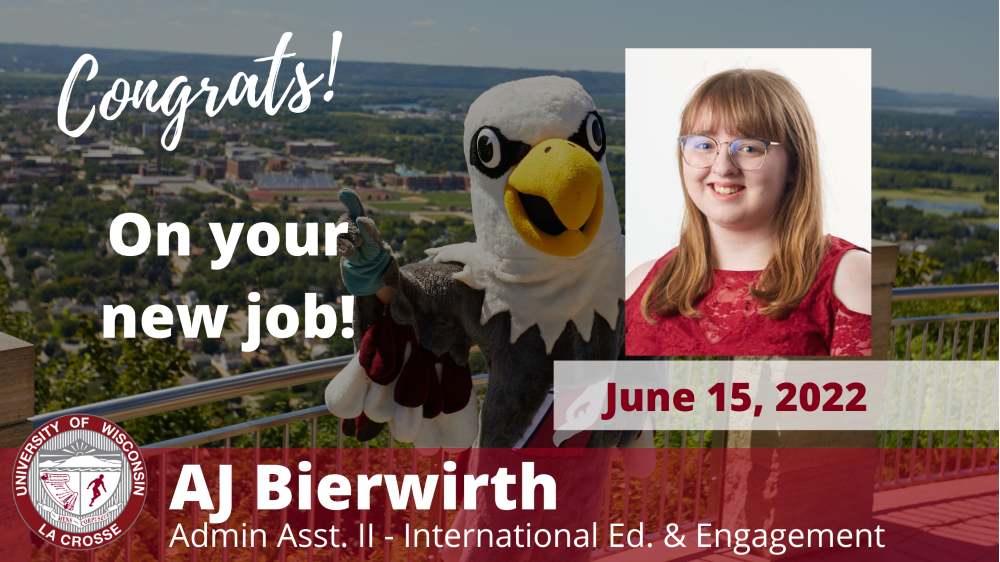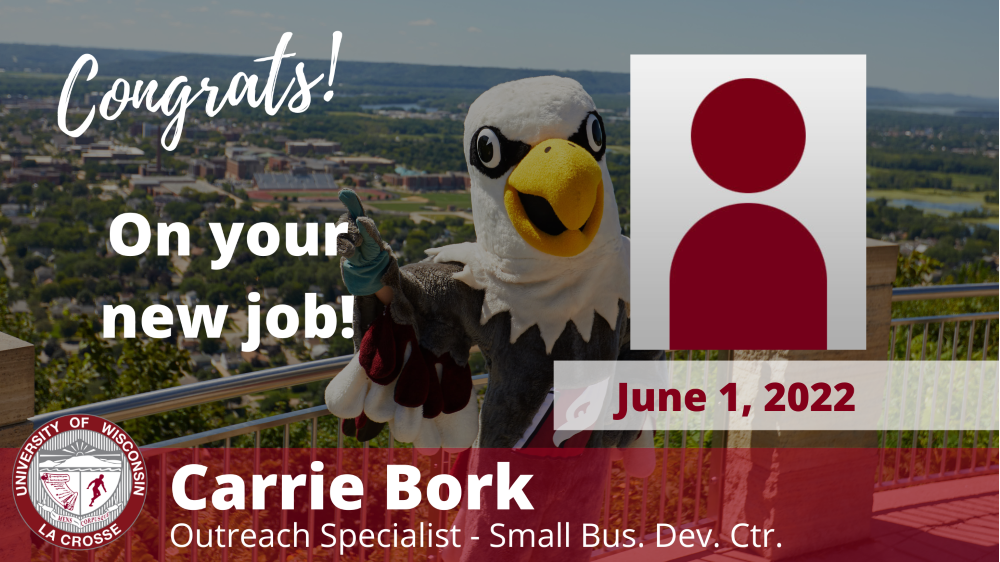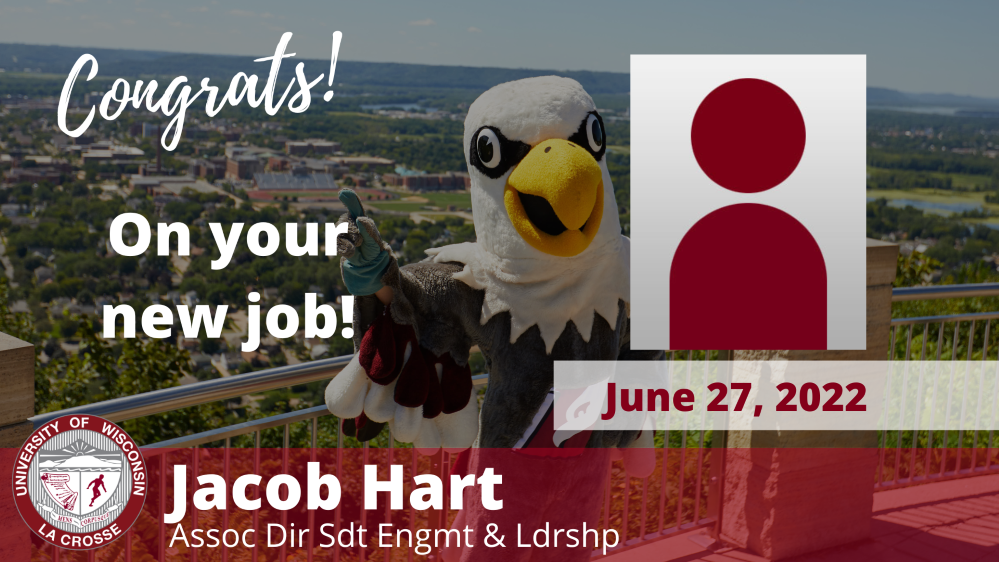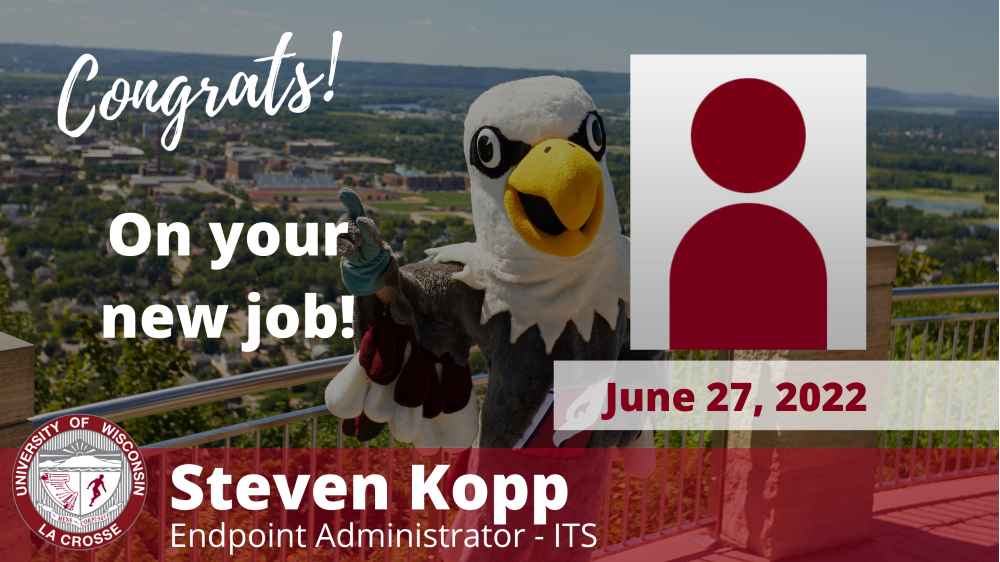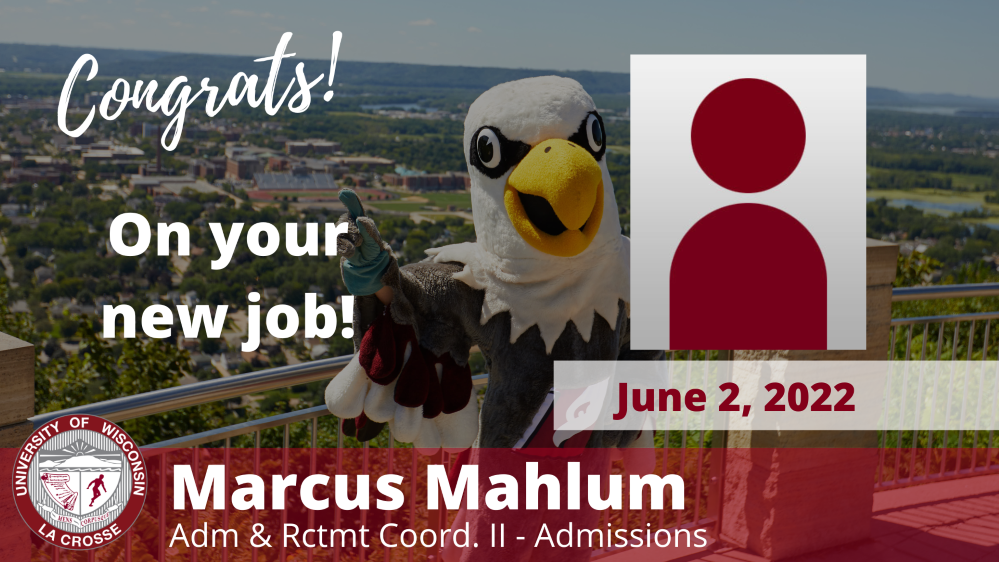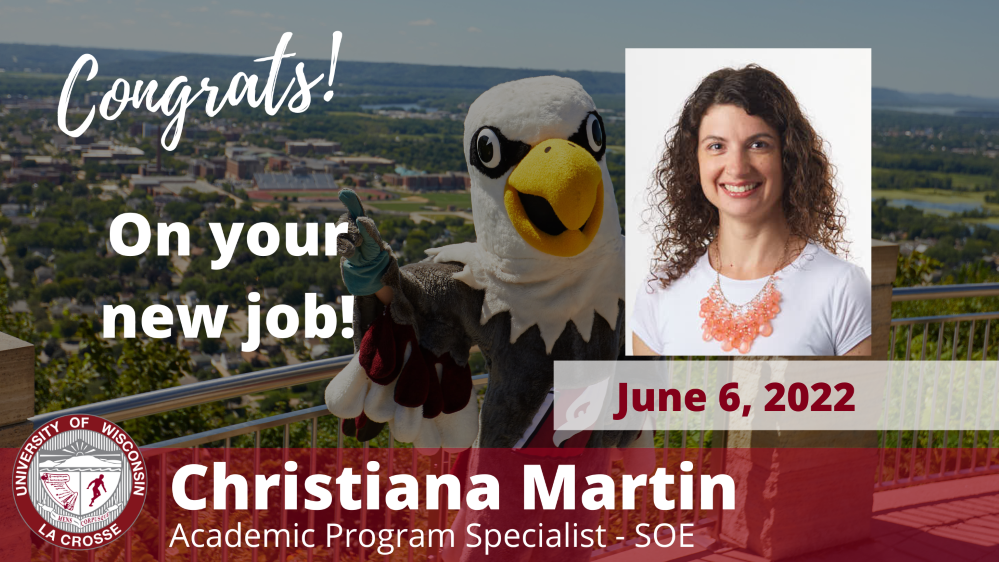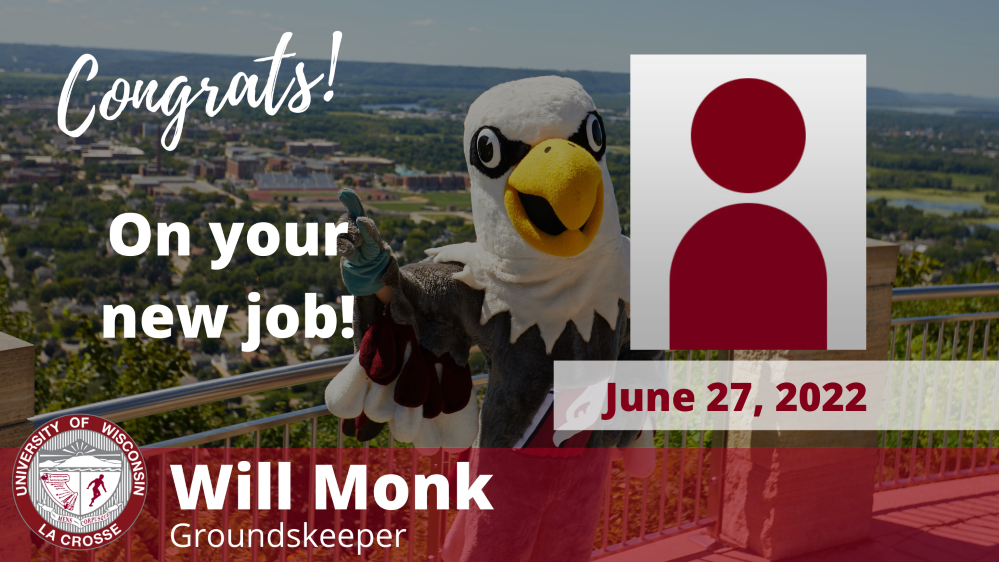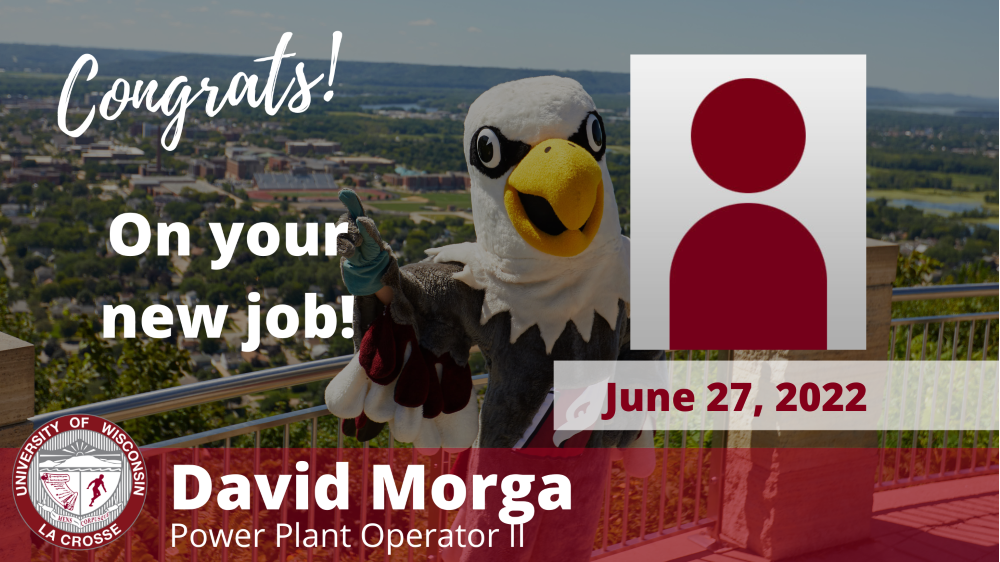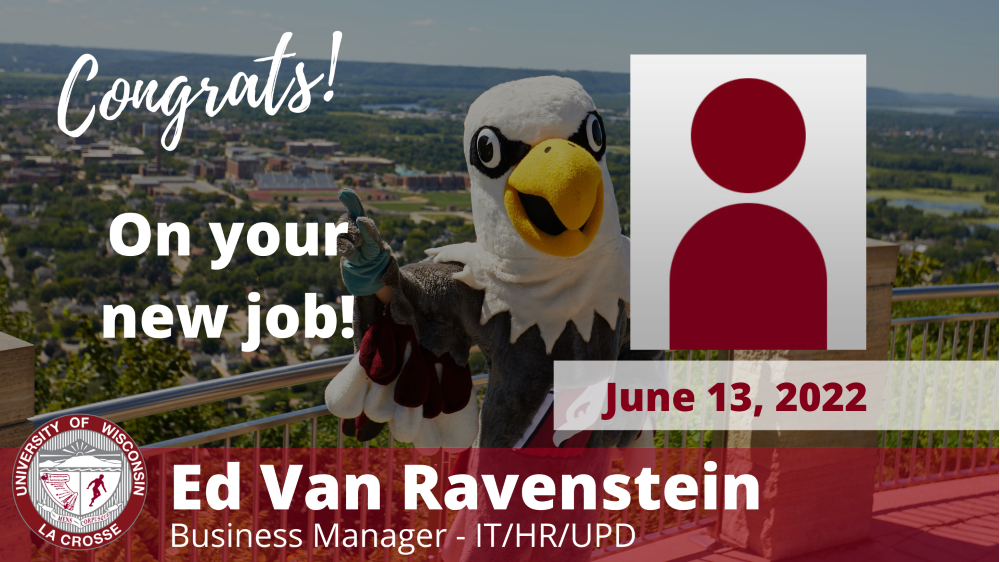 Changes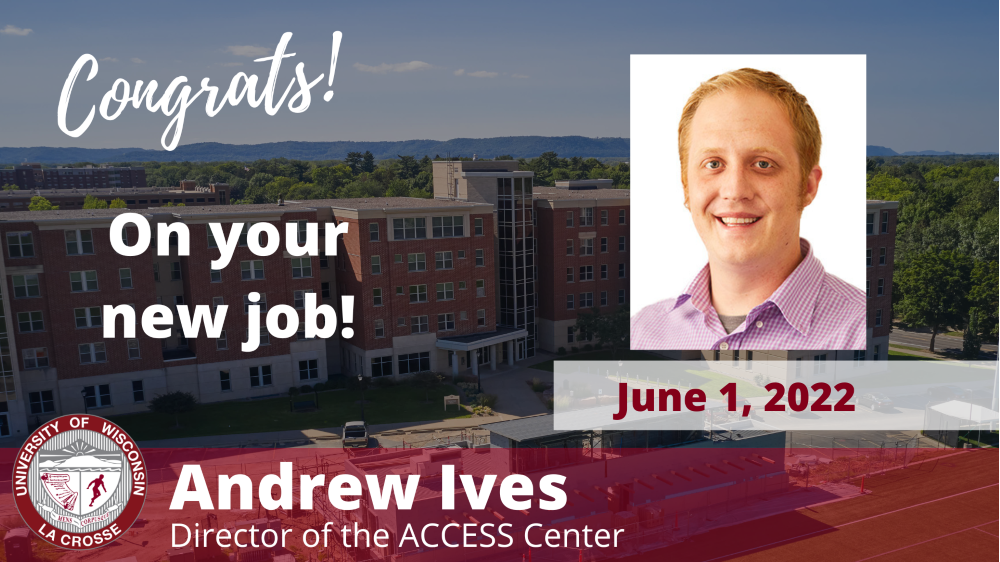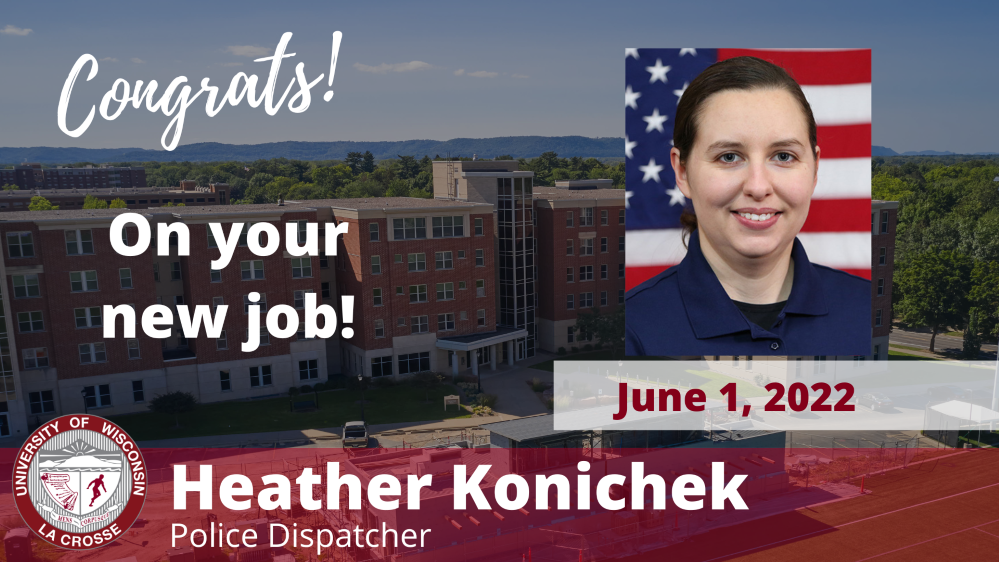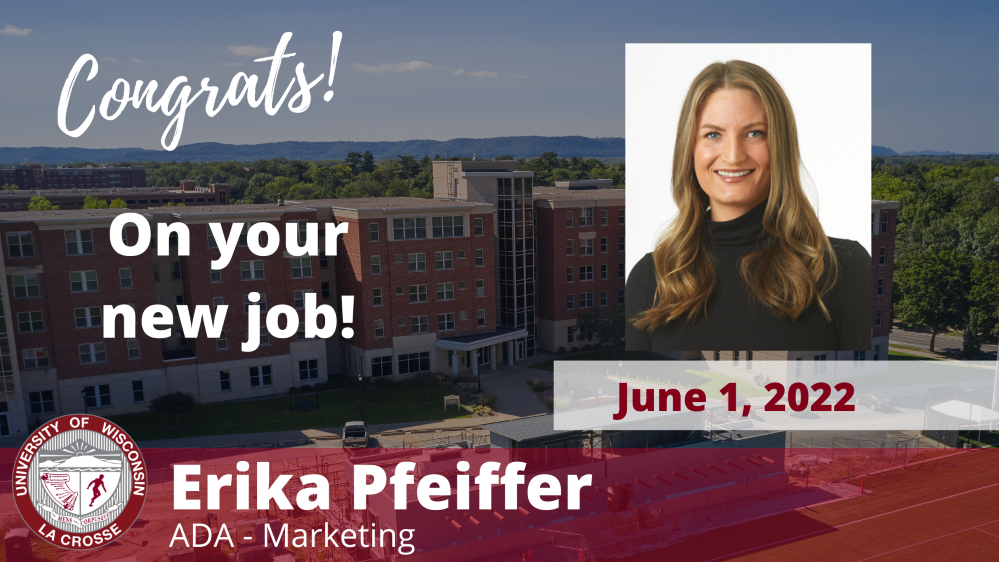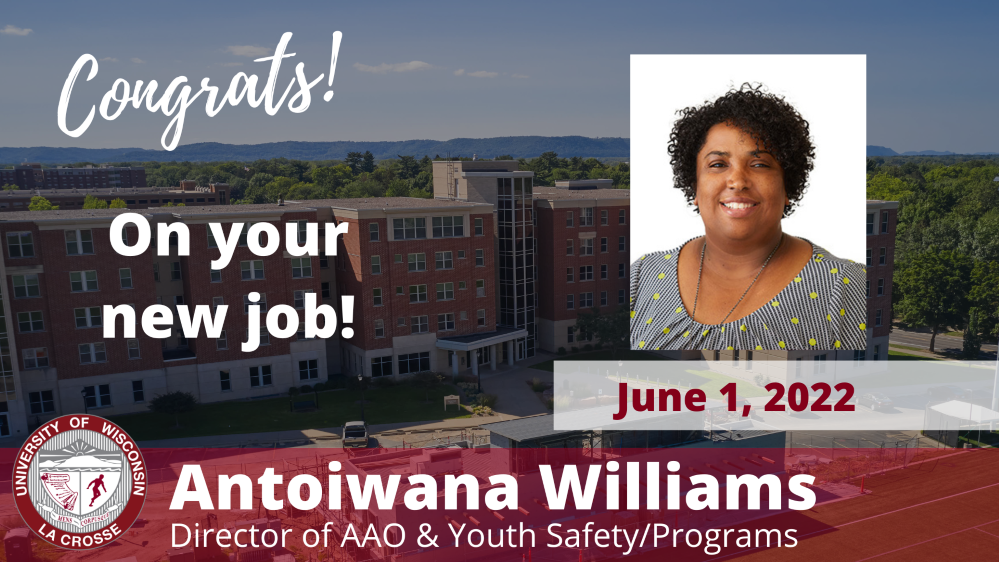 Goodbyes
Displaying separations for the previous month:
Separation Date
Name
Working Title
Department
Separation Reason
6/1/2022
ANDERSON,DAVID L
CUSTODIAL SERVICES PROG MGR
CUSTODIAL SERVICE
Retirement
COPPESS,CHRISTOPHER
DISABILITY SERVICES ADVISOR
ACCESS CENTER
Resign -To Other State Agency
GERBER,DANIEL TIMOTHY
PROFESSOR
BIOLOGY
Retirement
YANG,CHONGHUE
CUSTODIAN
CUSTODIAL SERVICE
Retirement
6/2/2022
KROMREY,NATHAN ALAN
ACCOUNTANT II
BUSINESS SERVICES
Separation
STALSBERG,DUANE GUY
POWER PLANT OPERATOR II
POWER PLANT
Retirement
6/3/2022
HENGEL,SUSAN M
ACADEMIC DEPT ASSOC
MARKETING
Retirement
RUSSELL,CHERYL LYNN
FIELD EXPERIENCE ADMIN ASST
SCHOOL OF EDUCATION
Separation
WIRKUS,TERRY T
DISTANCE LEARNING TECH COORD
INFORMATION TECHNOLOGY SVCS
Retirement
6/4/2022
WOLF,JACK
CUSTODIAN
CUSTODIAL SERVICE
Retirement
6/6/2022
FINN,TAYLOR JOHN
GARDNER
LANDSCAPE SERVICES
Separation
6/8/2022
MIKKELSON,MOLLY
CUSTODIAN
CUSTODIAL SERVICE
Separation
6/10/2022
BAIN,MEGAN MARIA
ADM INFO SYSTEMS AND OPS MGR
ADMISSIONS
Separation
WHITEHEAD,BRYAN E
ASST COACH - FOOTBALL
ATHLETICS
Separation
6/17/2022
WIDUCH,DANIEL E
TEACHING PROFESSOR
REC MGMT & THERAPEUTIC REC
Retirement
6/24/2022
WEAVER,MELISSA MARIE
ADMINISTRATIVE ASSISTANT II
RESIDENCE LIFE
Separation
6/27/2022
CREE,ASHLEY C
ACAD SERVICES & CERT OFFICER
SCHOOL OF EDUCATION
Separation
6/30/2022
DUTCHER,HEATHER M
DIGITAL MARKETING SPECIALIST
UNIVERSITY ADVANCEMENT
Separation
ERWIN,JAMES S
PHYSICIAN
STUDENT HEALTH CENTER
Separation
HEHLI,WILLIAM M
ATHL ALUMNI RELATIONS COORD
INTERCOLLEGIATE ATHLETICS
Separation
MASON,KAHRIE
ACADEMIC ADVISOR
STUDENT SUPPORT SERVICES
Separation
MOERICKE,DOUGLAS B
PHYSICIAN ASSISTANT
STUDENT HEALTH CENTER
Separation
NESJA,JOSHUA BARRY
STUDENT AFF PROGRAM SPEC
STUDENT LIFE OFFICE
Separation
ROBERTS,ANDREW D
ACADEMIC ADVISOR
MULTICULTURAL STUDENT SERVICES
Separation
SANDHEINRICH,MARK B
CSH - DEAN
DEAN'S OFFICE-CSH
Retirement
SUDHAKARAN,GUBBI R
CSH - ASSOC DEAN
DEAN'S OFFICE-CSH
Separation
ZAHM,RUTHIE LYNN
NURSE CLINICIAN
STUDENT HEALTH CENTER
Separation
Service Anniversaries
The service anniversary date is the 'adjusted continuous service date' which may encompass breaks in service. This is the legal date used by UWSA to determine seniority. We display for the current month.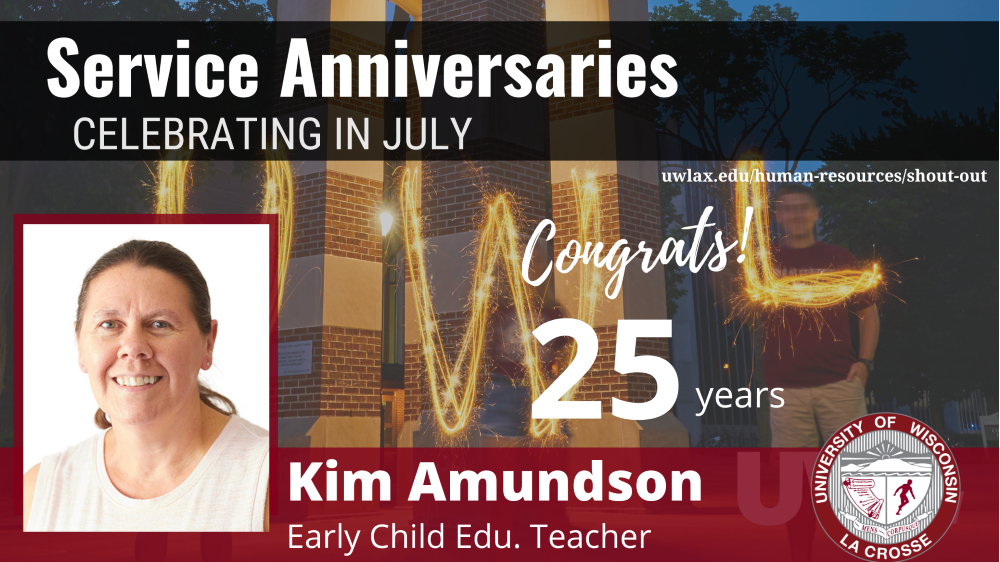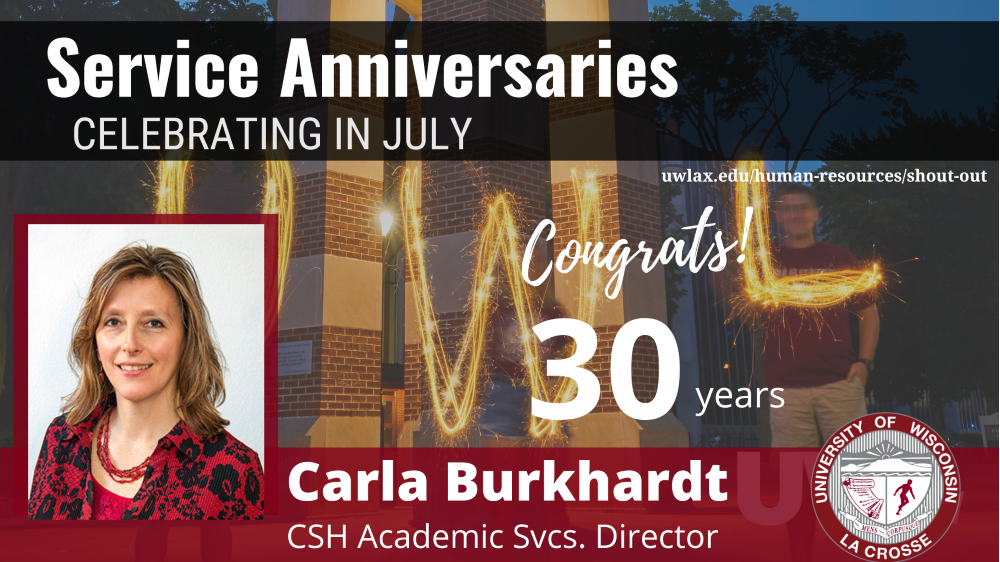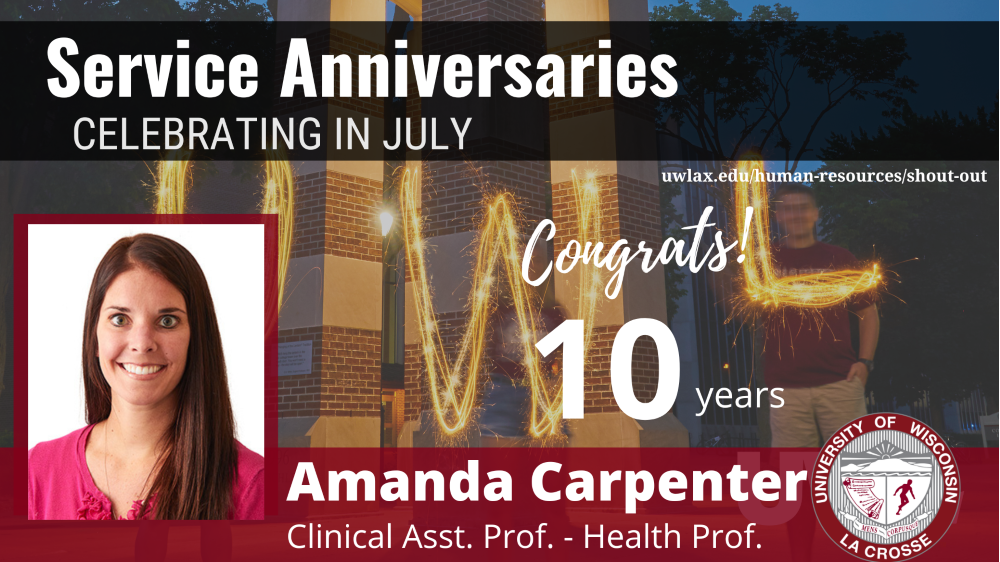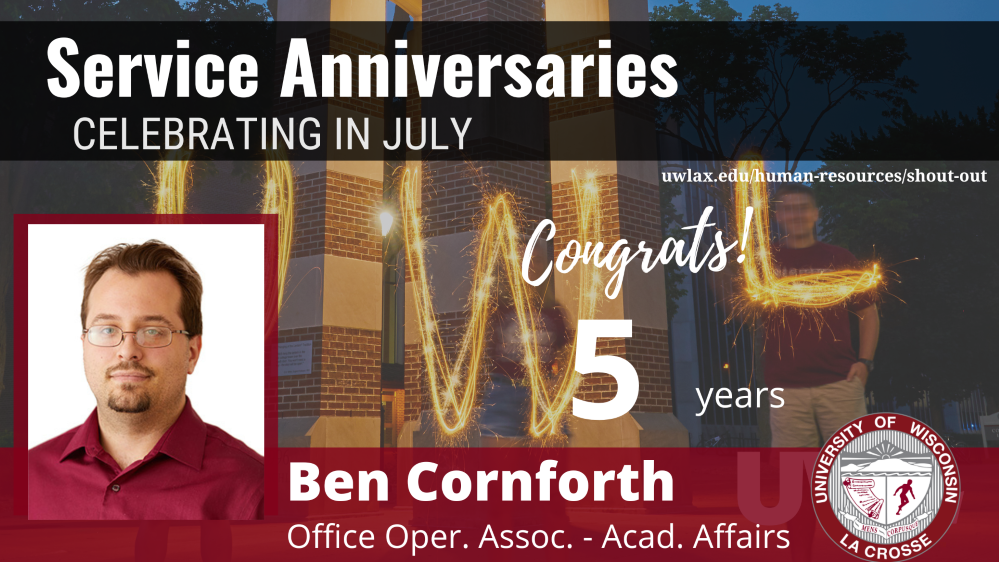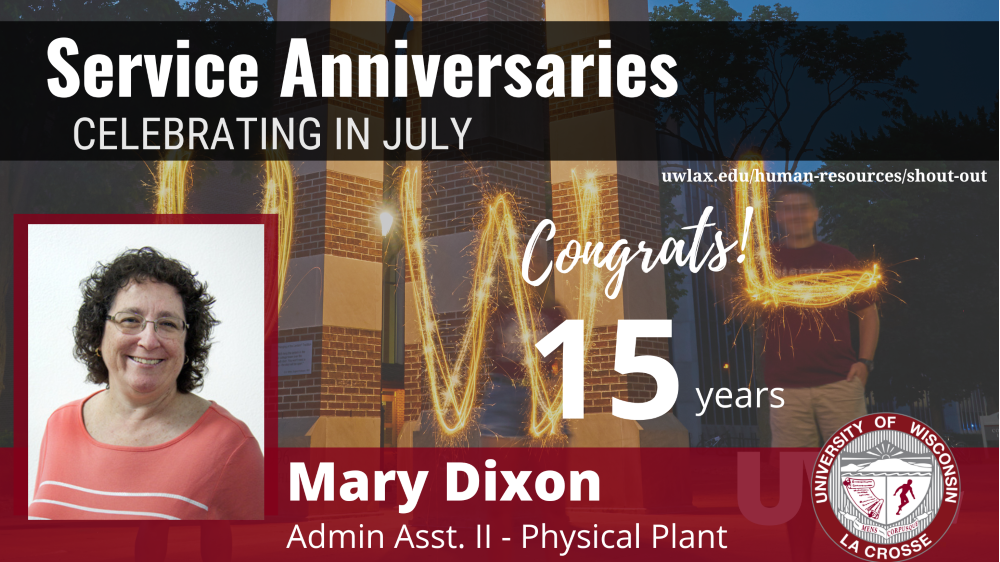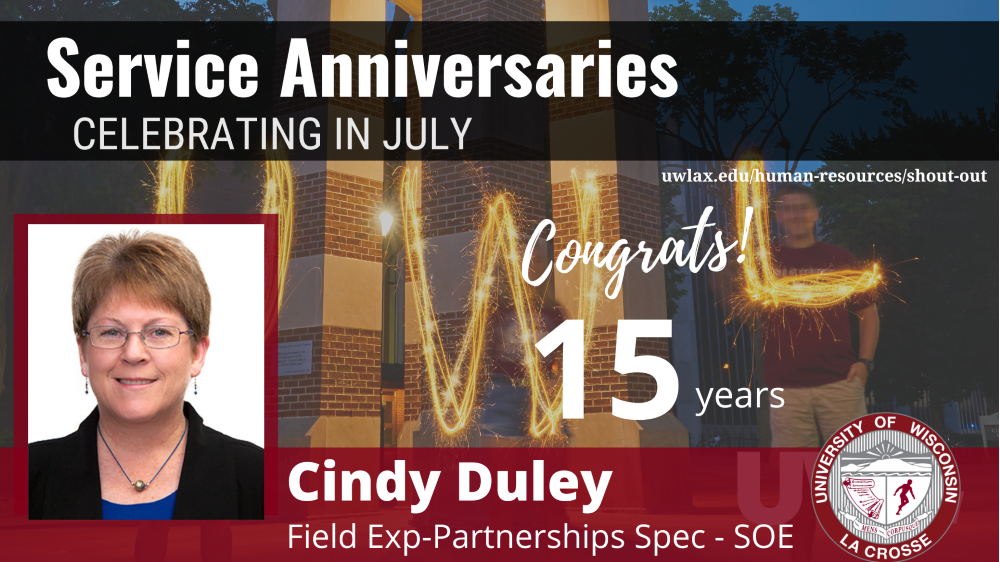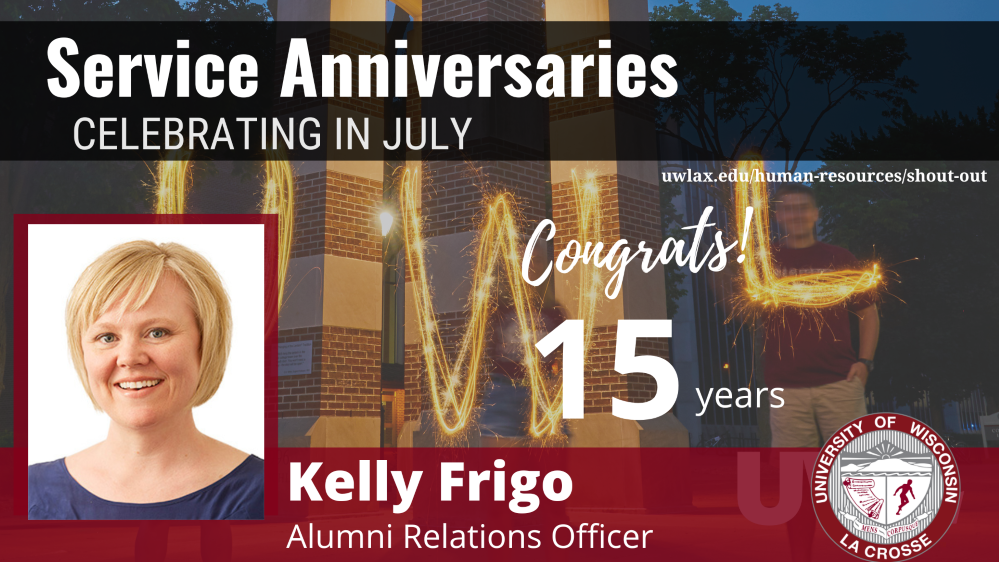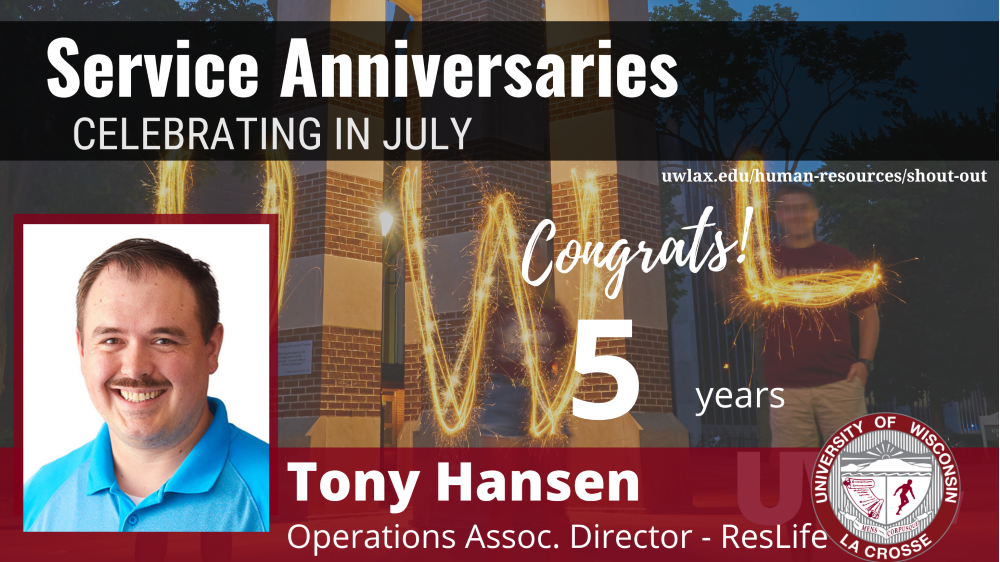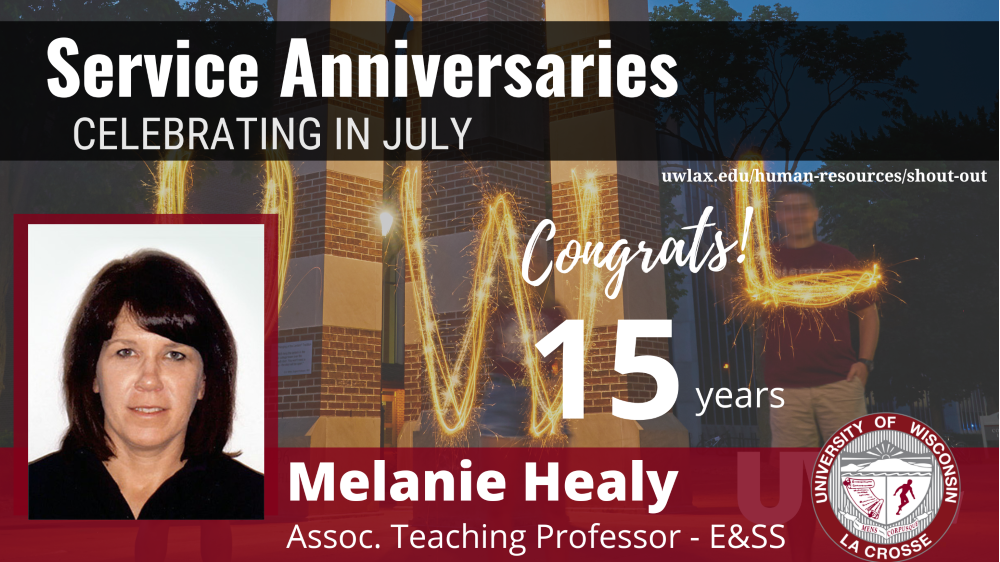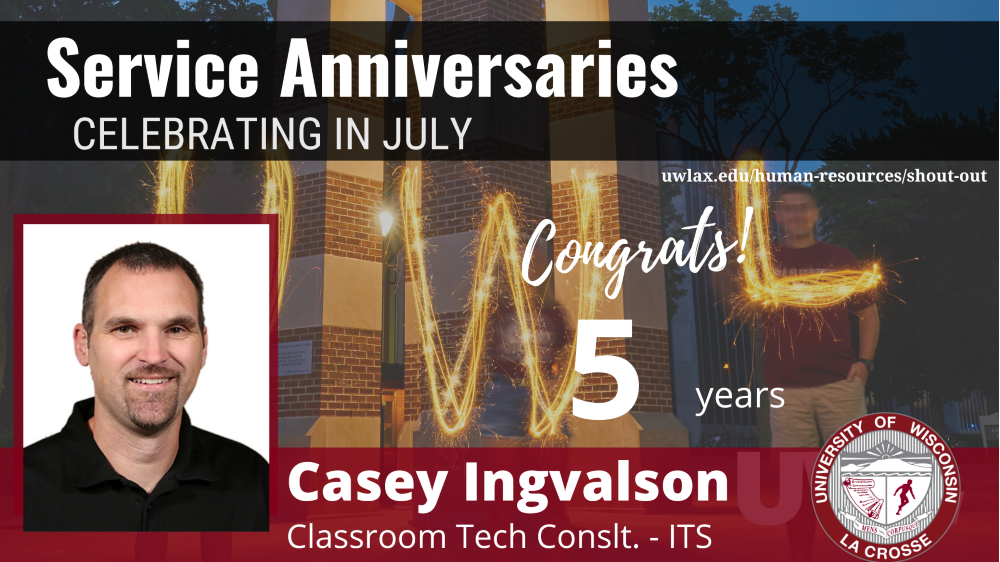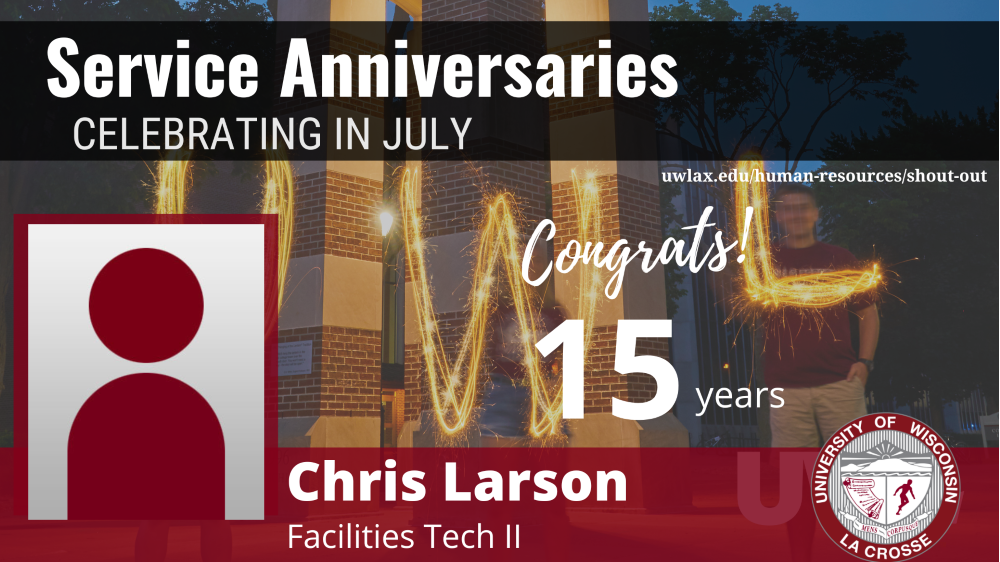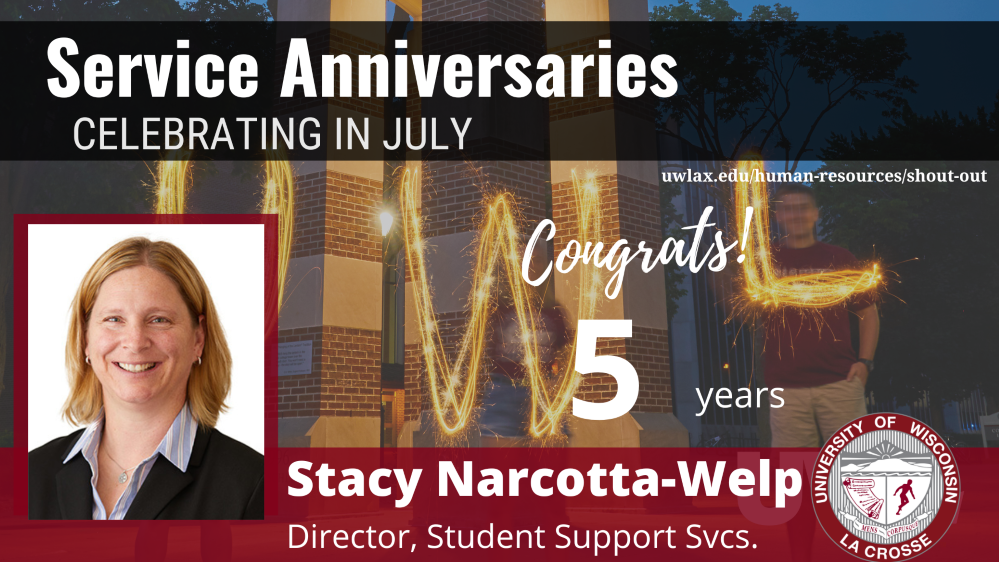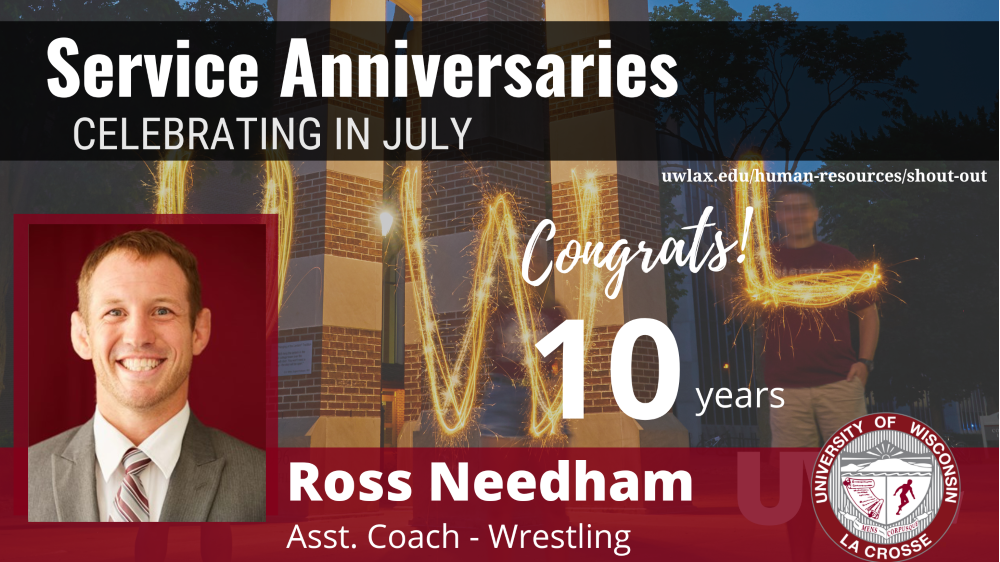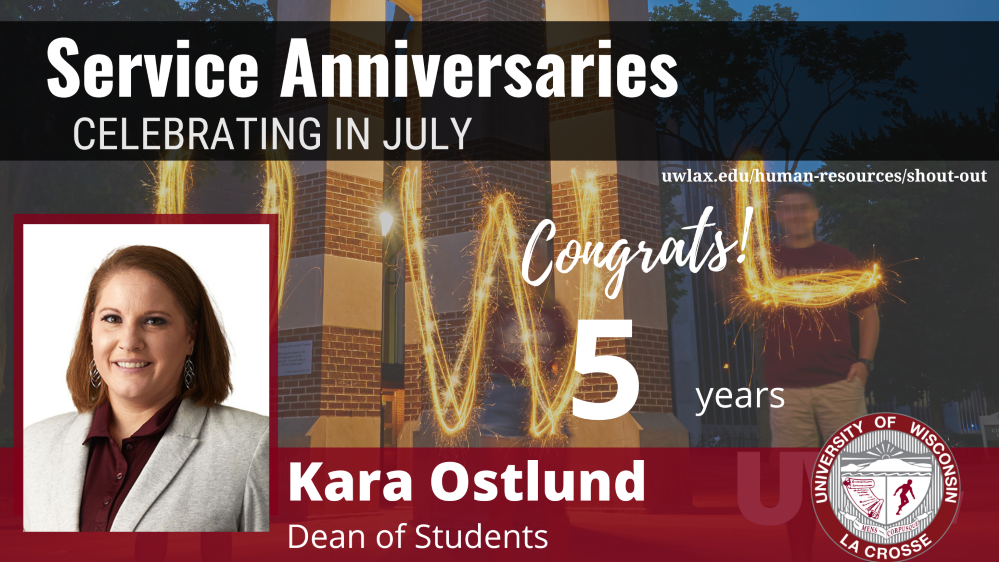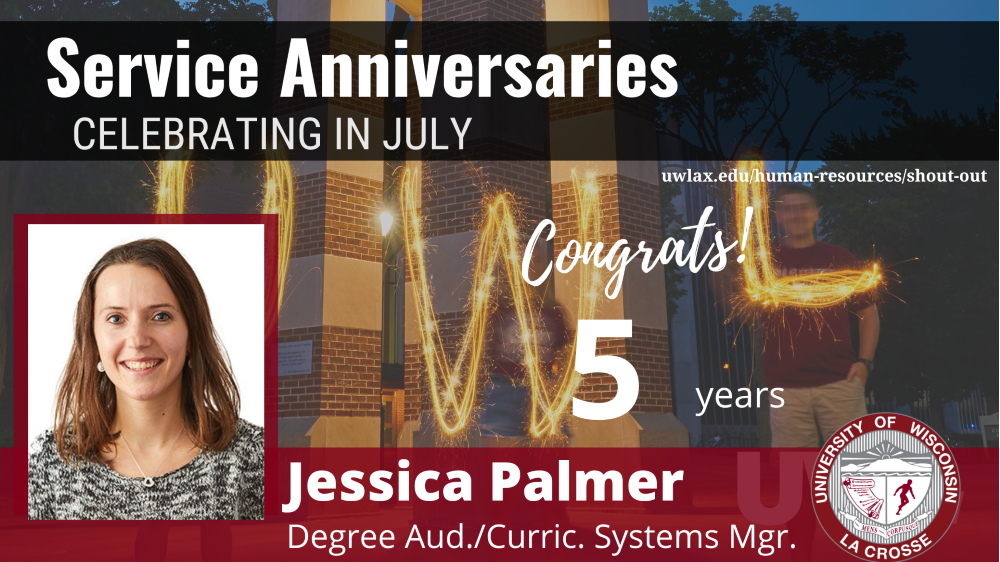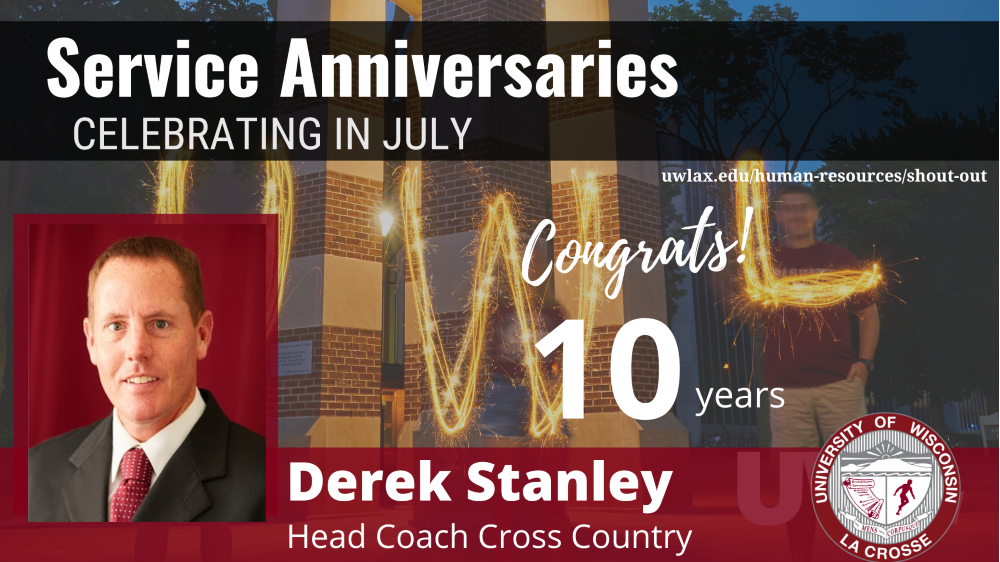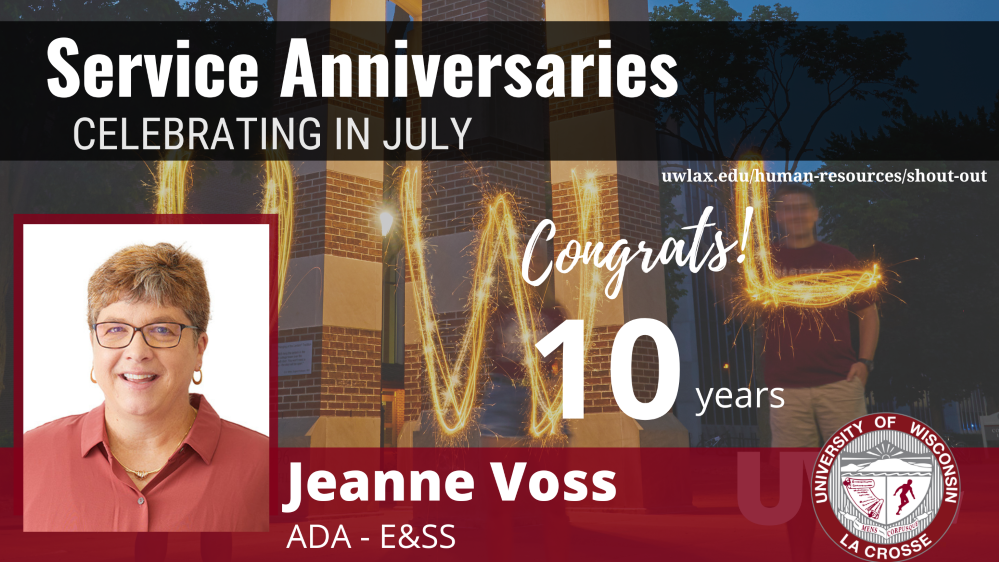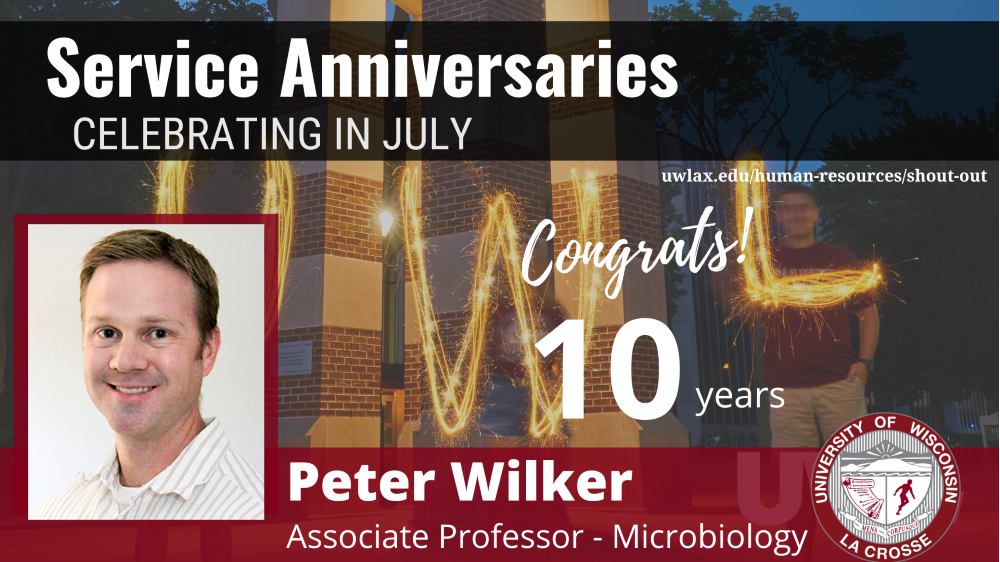 Upcoming Retirements
Congratulations on your accomplishments! We wish you well in retirement!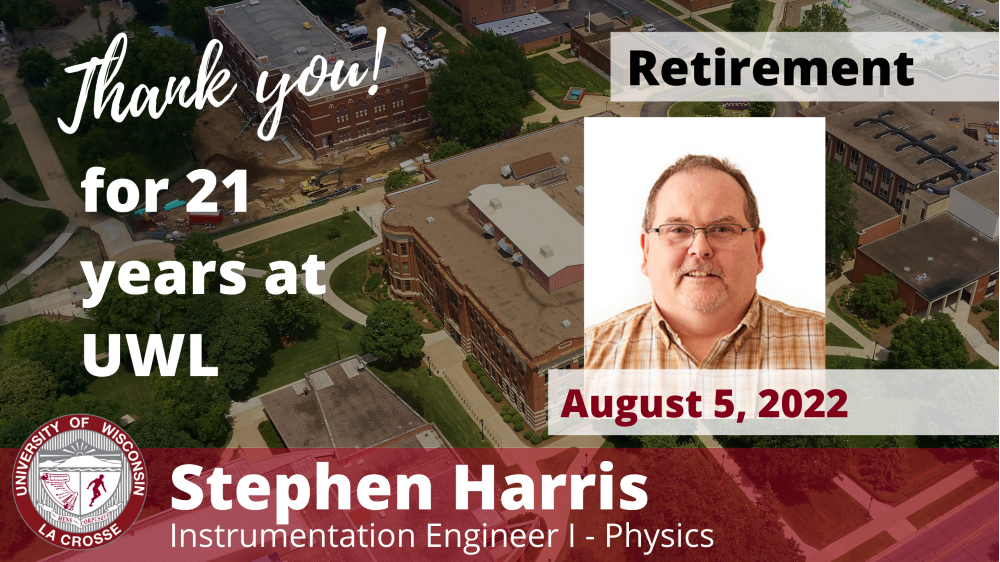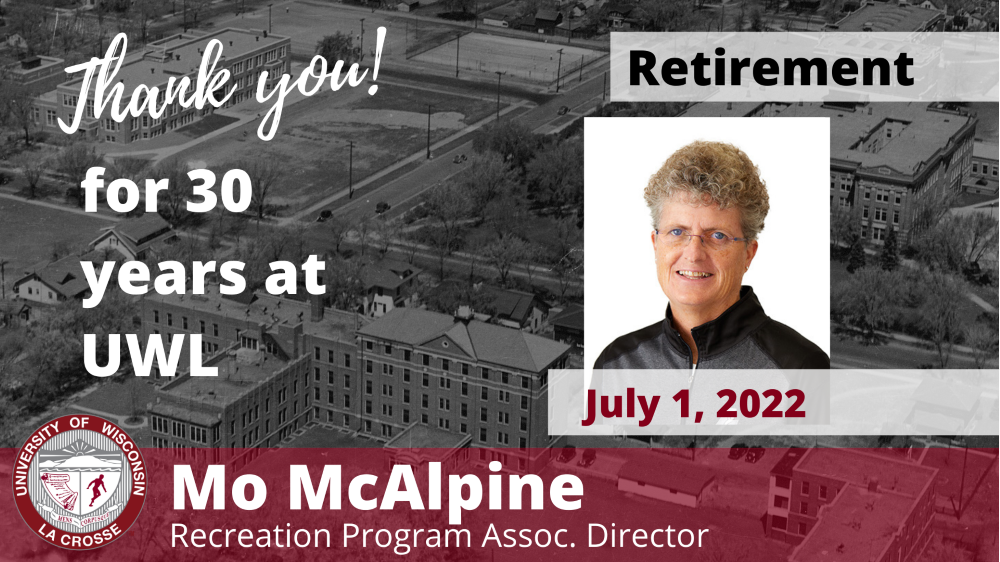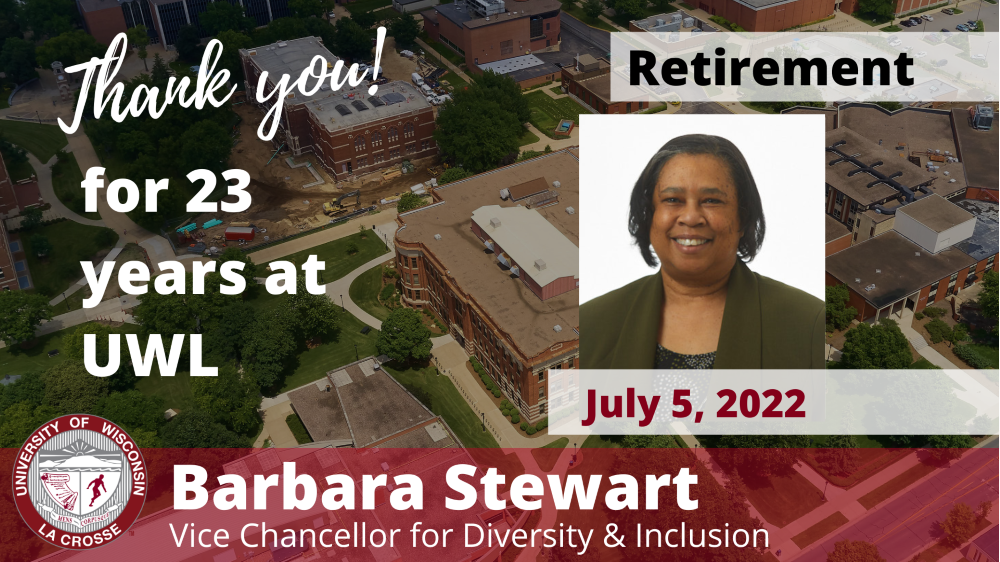 Campus Kudos!
Brad Morris
Brad Morris, Biology student, presented "Spatial and temporal variability of aquatic insect emergence in Pool 8 of the Upper Mississippi River" at the 2022 Joint Aquatic Sciences Meeting on May 20 in Grand Rapids, MI. Brad's co-authors on this presentation were Molly Van Appledorn ,USGS UMESC, and his advisor Ross Vander Vorste, Biology.
Submitted on: June 13
James Longhurst
James Longhurst, History, received the award for first-annual Research Grant from the Northwestern University Transportation Library. Northwestern University in Evanston, Illinois holds one of the largest transportation research collections in the world, covering all modes of transportation including aviation, rail, highway, water, and transit. The grant was established in 2021 to facilitate and support research projects that significantly benefit from substantial onsite use of the Transportation Library's unique technical, special, and archival collections.
Submitted on: June 16