Sales Team
A page within Marketing
UWL Eagle Sales Competition
Congratulations to the winners of the 2023 UWL Eagle Sales Competition!
On Friday, March 3, 25 UWL students participated in the annual UWL Eagle Sales Competition. Students had 20 minutes to present their sales pitch to sales professionals acting as buyers, while a panel of sales professionals from sponsoring companies evaluated the students on all elements of the sales presentation.
After careful consideration from the judges, we are pleased to announce the winners of the competition:
First Place: Kiara Lyons
Second Place: Logan Griesbach
Third Place: Abigail Johnson
Fourth Place (Tie): Jack Bleimehl
Fourth Place (Tie): Amanda Marshall
Fifth Place: Tanner Moroder
Thank you to all of the event sponsors, guest buyers and judges, and students who participated in the competition. Here is the full list of competitors:
Abigail Johnson
Amanda Marshall
Carolyn Swift
Chloe Renzelmann
Ciara Hesselman
Elle Hersperger
Erica Pronschinske
Ethan Hohol
Gabriela Nejapa Jansen
Gavin Vink
Hayley Krysinski
Ian Burdick
Jack Bleimehl
Jackson Lescamela
Jaylyn Rachel
Kathryn Krueger
Kiara Lyons
Logan Griesbach
Madison Benzine
Sam Dietrich
Sasha Obradovich
Shawn Memaighe
Tanner Moroder
Taylor Tews
Trent Nelson
2022 Great Northwoods Sales Warm-Up
Congratulations to Christian Schommer, the 2022 Great Northwoods Sales Warm-Up Overall Champion!
Christian competed against 68 other students in two rounds of competition to be in the top three, which meant he moved on to the championship round. He went on to win the championship round and the top prize, including $1,500 in cash and a custom suit (valued at $1,000), among other things.
In addition to the excitement of Christian winning the championship, the UWL Sales Team all placed in the top 20. Kate Opsahl took 9th place, and the team had a 16th place finish by Katie Mack.
The Great Northwoods Sales Warm-Up is a two-and-a-half-day national collegiate sales competition hosted by the University of Wisconsin-Eau Claire and attended by teams from across the United States. 60+ marketing and sales students compete by presenting two 20-minute sales pitches to industry professional buyers and are judged by professional salespeople on their communication skills, sales process, and overall performance.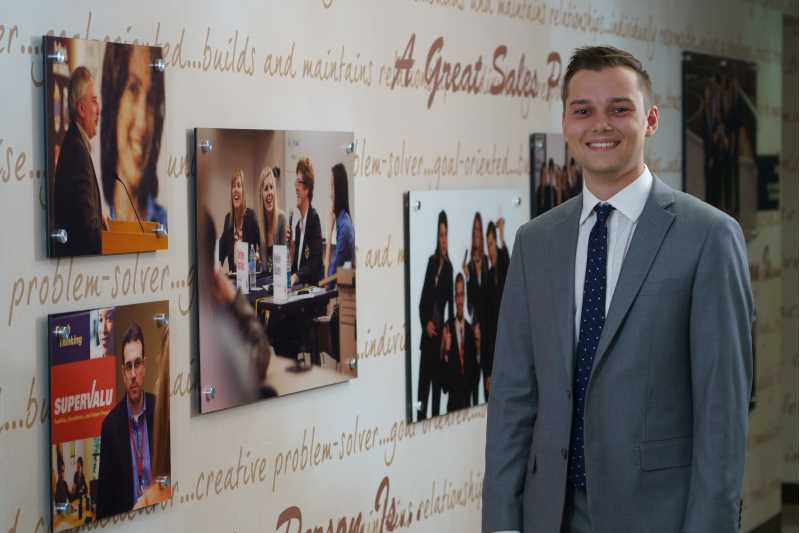 UWL.jpg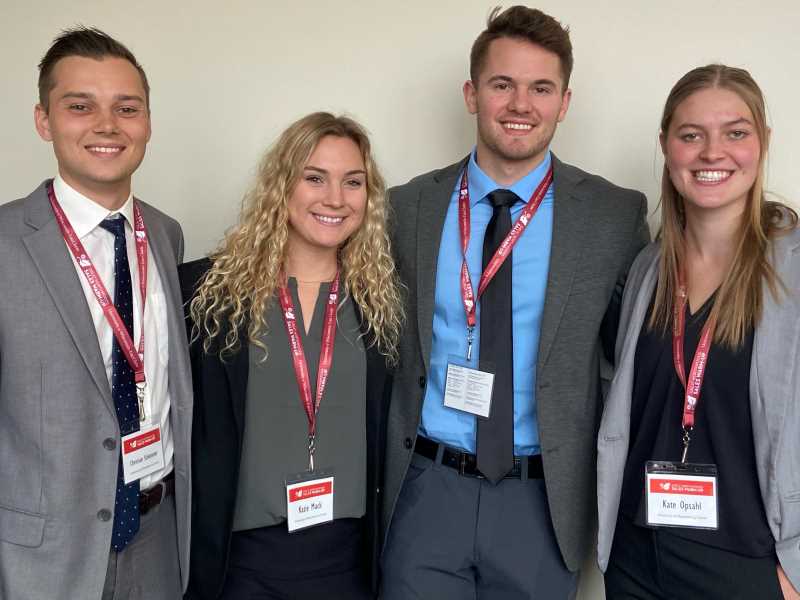 2022 Eagle Sales Competition
On Friday, March 4, 2022, some of our students participated in the annual UWL Eagles Sales Competition. We were happy to have 18 professional salespeople acting as judges and buyers for our 21 student participants. The challenge for the students was that they had 20 minutes to create rapport with the buyer, identify their needs, present a solution, answer questions/objections, and confirm commitment for the next meeting to include the CEO.
After careful and difficult consideration from our judges, they were able to decide the winners of the competition (listed below).
1st Place: Christian Schommer
2
nd
Place
(TIE): Katie Mack
2nd Place (TIE): Hank English
3rd Place: Kate Opsahl
4th Place: Kyle Glines
5
th
Place:
Ben Johnson