The Microbiology program is housed in the Cowley Hall of Science at the University of Wisconsin-La Crosse. We have four teaching laboratories and several research laboratories that have been recently remodeled and each is equipped with state-of-the-art equipment to study various aspects of Microbiology:
Introductory Microbiology Laboratory - equipped with modern microscopes and equipment designed to grow, identify and enumerate microbes.
Medical Microbiology Laboratory - used to teach Immunology, Pathogenic Bacteriology, Medical Mycology, and Virology. Equipped with Biosafety hoods to safely study pathogenic microbes and work with tissue cultures. It also has advanced microscopes for viewing fluorescence and tissue culture samples, and modern equipment used in medical diagnostics.
Clinical Laboratory Science courses offered on the UWL campus are taught in the Health Science Center. The program has access to three laboratories equipped with instrumentation that can be found in today's clinical laboratories. The classrooms are equipped with state-of-the-art audio-visual and distance education (ITV) technology. The Clinical Laboratory Science program has many CD tutorials which enhance the learning process. Student computing labs are also available in the Health Science Center.
Examples of equipment used in the pre-clinical courses on campus:
Microscopes: brightfield, phase, polarized, and fluorescent

Automated cell counters

UV and VIS spectrophotometers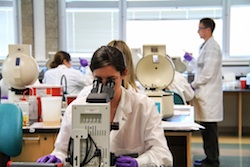 Equipment