SSS tutors can assist you in understanding your homework, reviewing for tests and quizzes, and deepening your understanding of content knowledge. Tutors are generally available between the hours of 8 a.m. - 8 p.m., Monday-Thursday, and some limited availability on Fridays. Schedule varies by semester and is subject to change, so be sure to check the most recent schedule for each subject at the tabs above, or pick up a hard copy in the SSS office.
Interested in becoming a peer tutor? Apply now!
SSS provides tutoring in the following areas:
Mathematics
Math Specialist Tracie Bateman has over 20 years of teaching experience at the high school and college levels. She and her team of peer tutors can help you in any Math or Statistics course at the 200-level or below. Be sure to check the math schedule to find the tutors who specialize in your area of need. If you have another mathematics-related course or assignment you need assistance with, check with Tracie first. All math tutoring is walk-in only--no appointment necessary.
Science
Peer tutors specializing in areas of biology, chemistry, and physics are available throughout the week. Consult the science schedule to see which tutors are available for your course. No appointment necessary. If none of our peer tutors are able to assist you in a given course, please talk to Luke Fannin, Writing Specialist, or your advisor to arrange a private tutor.
Writing
Writing Specialist Luke Fannin and the writing peer tutors are here to assist in all aspects of writing a college paper: brainstorming topics, organizing ideas, and revising drafts. Writing tutors are also available for assistance with writing and delivering speeches, developing cover letters and resumes, and crafting essays for scholarship, program, and grad school applications. All tutoring sessions are one-on-one. Appointments are preferred, but walk-ins are welcome when available.
Other Subject Areas
If your tutoring needs lie outside of the content areas listed above, please let us know! In the past, we have successfully arranged private tutors for classes in sociology, communications, modern languages, and many more. Please let your advisor know right away if you need extra help, or contact Luke Fannin directly.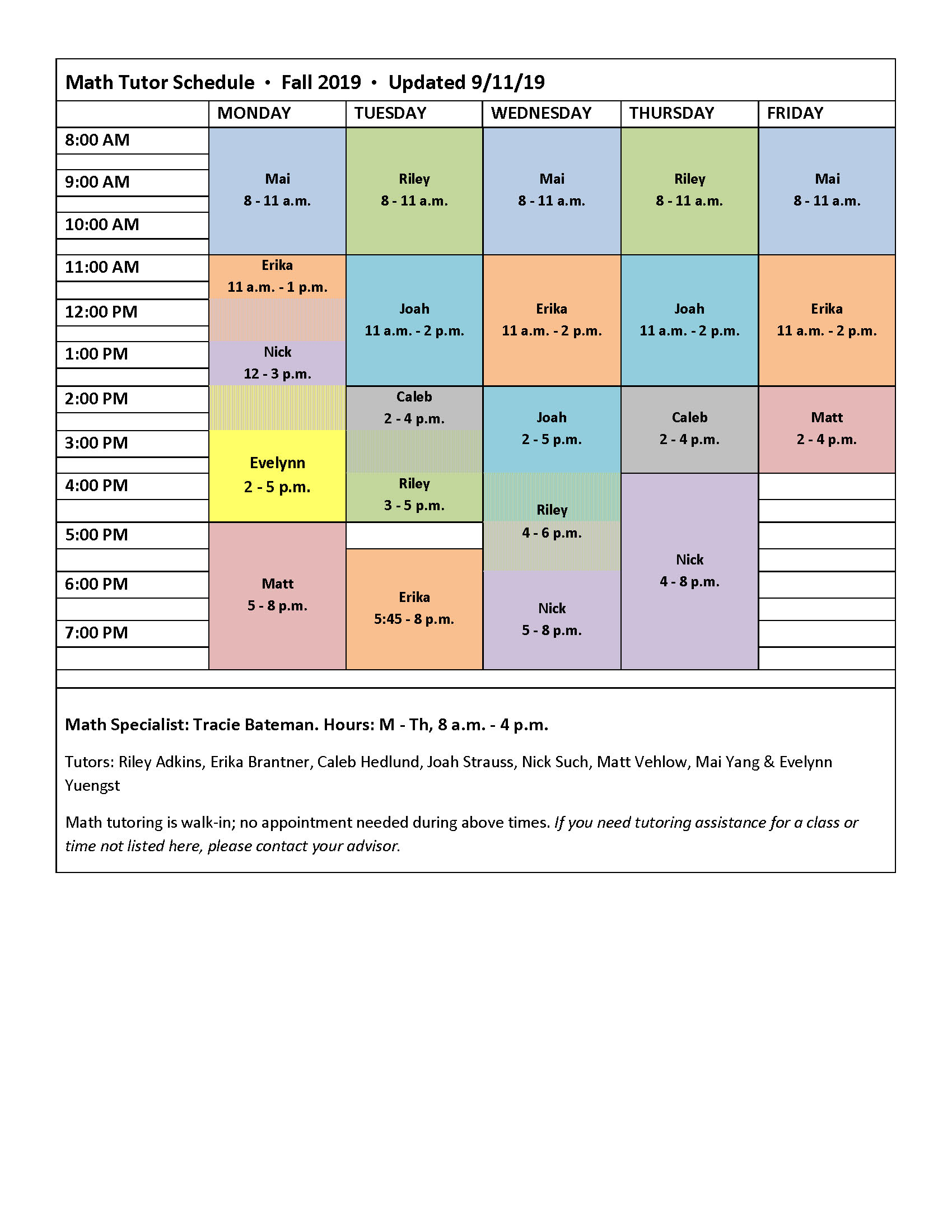 MATH

Riley Adkins

Year: Junior

Hometown: Juda, WI

Major: Secondary Education in Mathematics

A bit about me: Hello! I am really looking forward to tutoring this year. If I'm not in class or work you can most likely find me at the gym. I enjoy spending time outside, being active, hanging out with my friends, and spending time with my family. I really enjoy helping people, and I am really excited to meet so many new people!

Erika Brantner

Year: Sophomore

Hometown: Colfax, WI

Major: Management

Minor: Healthcare Analytics Management

A bit about me: In my free time, I am always spending time with friends and family and trying new things. I am also an avid reader and try to do it as much as possible during school. Other than reading, I love bike riding, binging shows, and eating lots of food. Business and healthcare have both always intrigued me, so my plan is to work in health administration someday. I am very excited to be a tutor and am eager to meet new people!

Caleb Hedlund

Year: Sophomore

Hometown: Rochester, MN

Major: Biochemistry

A bit about me: Some of my hobbies include PC gaming and building computers as well as working out and hanging with friends. Athletics/sports is also another hobby/interest that I spend a fair amount of time in. Some of my favorite classes so far in college has been Math Models in Biology and Music Appreciation, mainly for the content in the classes and how helpful the teachers were in providing assistance for deadlines and questions to homework and whatnot. As for plans, still unsure about what I want to do in the near to distant future (as this may be the mindset of many people coming into college).

Joah Strauss

Year: Junior

Hometown: Holmen, WI

Major: Biomedical Physics

Minor: Mathematics

A bit about me: Some of my hobbies/interests include swimming, drawing, Netflix, ping pong, and video games. My favorite TV show is Bojack Horseman because he is a complicated misunderstood horse who is in a constant battle with his inner demons and Todd is hilarious. I'm looking forward to being a tutor this year and seeing those light bulbs go off.


Matt Vehlow

Year: Super Senior

Hometown: Wausau, WI

Major: Microbiology

Minor: Biology

A bit about me: My hobbies include anything that involves being outside, whether it is just chilling at the beach or playing an intense game of ultimate frisbee. I am a huge Marvel fan and can go on for hours talking about the films. I will be majoring in microbiology and I am very excited for my courses this semester.


Mai Yang

Year: Junior

Hometown: Sacramento, CA

Major: Computer Science

Minor: Mathematics

A bit about me: Some of my hobbies include playing tennis, jamming on the ukulele or guitar, and fishing. I plan to learn more songs on the ukulele and guitar so hopefully, we all can sing one day! I enjoy listening to all kinds of music, but classic rock is generally my go-to. I am very excited to be a tutor and am looking forward to meeting everyone!




Evelynn Yuengst

Year: Senior

Hometown: Hudson, WI

Major: Mathematics

Minor: German

A bit about me: In my free time I go hiking, longboard, hang out with friends, hammock, or binge watch Netflix. My favorite show is Parks and Recreation, but honestly I love any sitcom and will constantly rewatch them even though I should watch something new.

SCIENCE

Seraphim Boggs

Year: Senior

Hometown: West Bend, WI

Major: Cellular & Molecular Biology

Minor: Creative Writing

A bit about me: As a cliche, full-fledged dog mom, most of the things I do revolve around my dog Ollie. I love hiking and kayaking, in addition to the occasional Netflix binge and nap. I work at the Kwik Trip right on West Ave by our campus part-time on weekends and go to school full-time. I'm looking forward to working with everyone this semester!

Vanessa Czeszynski

Year: Senior

Hometown: Oak Creek, WI

Major: Aquatic Biology

Minor: Chemistry

A bit about me: I enjoy a very active lifestyle; I love hiking, kayaking, fishing, and running. I think that my future career will fit in seamlessly with my lifestyle. I see myself one day being that huge nerd with waders and a fly fishing hat on surveying freshwater ecosystems. I also hope to explore more Wisconsin state parks and even some national parks. For now, I enjoy working in the water quality lab at the United States Geological Survey and tutoring science. Being a tutor for SSS means that not only I get to help other students work through problems by seeing things from a new perspective, but I also get to build strong relationships with my peers!

Taylor Hackel

Year: Senior

Hometown: Wausau, WI

Major: Chemistry

A bit about me: I love traveling, running, biking, cooking, reading in my hammock, and research. I would like to pursue a career in research in chemical biology focused on the molecular basis of neurodegenerative disorders and potential drugs. I am passionate about chemistry because it can be applied to solve problems in so many fields such as medicine, biology, and physics. I am excited to learn more about science through tutoring.

Taylor Martocci

Year: Senior

Hometown: Belvedere, IL

Major: Exercise Sport Science

Minor: Nutrition

A bit about me: Hello! My name is Taylor and I enjoy anything outdoorsy! Some of my favorites include hiking, hammocking, and rollerblading! My family and friends are very important to me, and I love to spend time with them! I am currently applying to Physical Therapy grad school and hoping to continue working with individuals with disabilities. I am very passionate about school and love to help others. I am excited to be a tutor and have the opportunity to meet new students!

Hannah Willingham

Year: Junior

Hometown: Watertown, WI

Major: Microbiology

Minor: Psychology

A bit about me: I love school and all of the organization and hard work that comes with it. In my free time I enjoy hanging out with my roommates and our friends. Science is my passion, but I tend to do pretty well in all subjects and am always willing to help. Cats and dogs make me happiest in life. I love traveling. Every summer I try to go to about three different states, usually to see family or explore new places. I don't think we ever stop learning about ourselves and the world we live in, which is why I want to help others continue to learn and build their futures through tutoring.

WRITING

Nicole Mischler

Year: Senior

Hometown: Appleton, WI

Major: Biology with Biomedical Concentration

Minors: Chemistry & Psychology

A bit about me: A few things I like to do in my free time include being active (hiking, swimming, kayaking, biking, skiing and snowboarding), hanging out with my friends and family, traveling and drinking coffee. When I am not in class, I research with Dr. Q and Dr. Kayson in the Psychology department, I study at coffee shops, or I watch some of my favorite shows. For the future, I would like to attend medical school and become a specialized physician. I am very excited to meet new people and start tutoring!

Maddie Nelson

Year: Senior

Hometown: Hudson, WI

Major: Public Health

Minors: Psychology

A bit about me: Hello! A few things you should know about me are that I absolutely love spending time with my family and friends, eating food, and being active. When I'm not in class or studying, you can typically find me at home watching Friends with my roommates or relieving some stress at the REC. Although I am not currently set on a career, I am very passionate about the Health Field and helping others. I am so excited to tutor this semester and I look forward to meeting new people!




Matia Zins

Year: Senior

Hometown: Hudson, WI

Majors: Biochemistry and English

Minors: Biology

A bit about me: My favorite ways to spend a day include reading, being with friends & family, drinking tea, snowboarding, skiing, and hiking! I love studying in coffee shops and going on road trips. I like tutoring because it helps me to think about concepts from different viewpoints.