Finals and Winter Break hours for Eagle Mail Center:
Sat, Dec 18: closed
Sun, Dec 19 to Wed, Dec 22: Open noon to 2 p.m.
Dec 23 to Jan 2: closed.
Jan 3 to Jan 23: Open weekdays from 6 p.m. to 8 p.m.
Jan 24: Regular Eagle Mail Center hours resume for spring semester
The Eagle Mail Center is the central location for all incoming mail and packages for students living in the residence halls at UWL. The entrance to the Mail Center is the exterior door located at the back of Eagle Hall in the courtyard and facing Whitney Center. We are open:
Monday-Friday, noon to 6 p.m.
Saturday, 2 p.m. to 6 p.m.
Sunday, 2 p.m. to 6 p.m.
USPS, FedEx Ground, FedEx Express, and UPS mail and packages are delivered to the Mail Center in Eagle Hall, Monday through Friday.
As a COVID-19 safety measure, you must wear a mask to enter the Mail Center and please be aware of physical distancing from one another.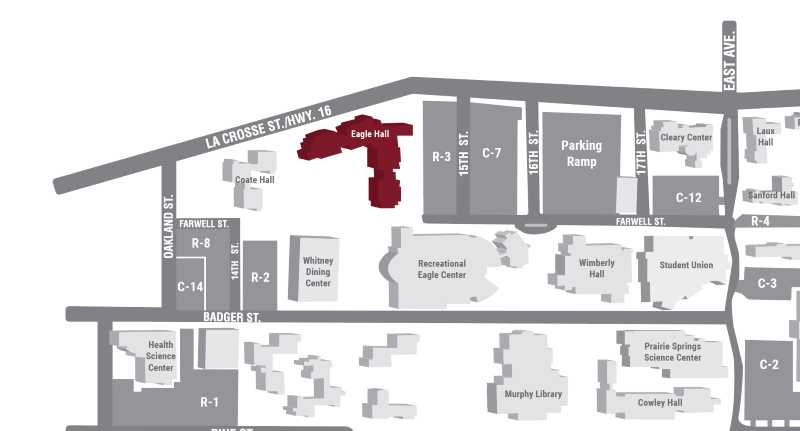 Campus map highlighting Eagle Hall.