Eagle Mail Center
A page within Residence Life
Spring semester hours:
The Eagle Mail Center is the central location for all incoming mail and packages for students living in the residence halls at UWL. The entrance to the Mail Center is the exterior door located at the back of Eagle Hall in the courtyard and facing Whitney Center. We are open:
Monday-Friday, noon to 8 p.m.
Saturday, 2 p.m. to 6 p.m.
Sunday, 2 p.m. to 6 p.m.
USPS, FedEx Ground, FedEx Express, and UPS mail and packages are delivered to the Mail Center, Monday through Saturday. Amazon is delivered Monday through Friday.
Amazon ordering:
If you are ordering from Amazon, use the following address:
Student first and last name
Room #, Letter, Name of residence hall
Building address (see below "I live on campus. What is my mailing address?")
La Crosse WI 54601
Students' responsibilities with mail
Students will be provided with a mailing address for their specific residence hall and room when they receive their room assignment. They are responsible for addressing any mail or packages correctly. Students living on campus are expected to pick up mail deliveries on an ongoing basis during the academic year. Only the individual(s) listed on the mailing address of a piece of mail can retrieve the mail, package, or delivery.
Students are responsible for updating their mailing address with online retailers and couriers. After moving off campus, students are also responsible for updating their mailing address on their UWL WINGS account. Packages or mail received once a student has left their on-campus residence will be returned to sender. The Office of Residence Life is not responsible for any mail that is lost, forwarded, or returned to sender due to incorrect address information, issues with the mail delivery company, or in circumstances where a student fails to collect their mail after being notified.
Information for Mail delivery vendors:
Attention: Amazon, FedEx, UPS, USPS, and DHL
All on-campus students' mail and packages must be brought to the Eagle Hall garage or the Office of Residence Life, 1500 La Crosse Street.
Staff in the Office of Residence Life is available to help Monday through Friday from 8 a.m. to 4:30 p.m. The Office of Residence Life entrance is located facing the large parking lot on La Crosse Street.
Frequently asked questions: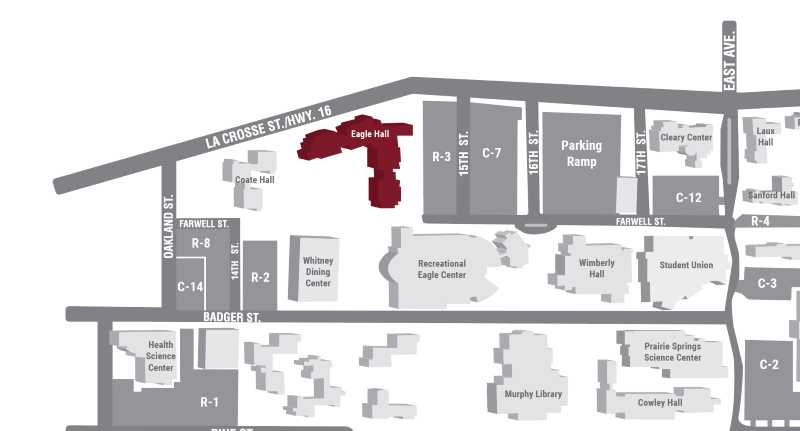 Campus map highlighting Eagle Hall.