Move in and move out
A page within Residence Life

Information about Fall Semester Move In is updated annually.
Information about move in
Move In dates are Aug 30- Sept 4, 2023.
Students will be sent a link to sign up for a specific date/time. All first year students are encouraged to participate in all New Student Orientation programs. Returning students are encouraged to move in September 3 or 4. Required New Student Orientation events begin the afternoon of Saturday, September 2.
What to bring? Start with what makes a place feel like home. That might be a 4 cup coffee pot, a picture of your closest friends or a favorite blanket. Then fill in those boxes with necessities. Don't forget to talk with your roommate to make sure you are not doubling up on items. The rooms are not large and good planning can help it feel spacious while still having everything you need. Our students tell us that necessities include:
Small microwave (1000 watts or less)
Snacks
One or two sets of plates, forks, etc.
Sandals to wear in the shower and a shower tote to carry shampoo
Pillow
Extra-long twin size bedding (can be found at most stores)
Umbrella
1 set of towels
Hangers
Laundry basket and laundry supplies
School supplies
Alarm clock
If lofting a bed - furniture for under a loft (79" or less in length)
Social Security Card and Photo ID - If you are planning on getting a job on campus you will need the original to complete I-9 forms.
Toilet paper, if you live in Eagle or Reuter
Box fan (not needed in Eagle or Reuter)
Area rug (not needed in Eagle, Laux, O. White or Reuter)
What should you leave at home? Most students tell us they brought too much stuff! Do you need 4 towels or will 1 towel do? Can you wait and bring your winter boots and coat after your next trip home? We also provide a lot of things for student use at our front desks like irons and ironing boards, trash bags, pots and pans, vacuums, games, etc. Be sure to check the Residence Life policies to know what is not allowed as this is not an exhaustive list:
Homemade lofts - We provide beds that can be lofted or set at various heights.
Trash can and recycling bin (we provide them)
Fridge (we provide one)
Pets - other than fish!
Air conditioner (we provide them for approved medical needs)
Space heater
Lamps with plastic shades, halogen lamps, or multiple light lamps
Non-UL approved electronics
Non-LED lights
Non-fused or multi-plug outlets
Hoverboard or electronic skateboard
Weapons of any kind
Items with the potential for an open flame (candles with wicks, Incense to burn, fireworks/firecrackers)
"Food board" - board which places weight on the built in bookshelves
Items that produce wireless signals (routers, printers, etc.)
Adhesives for walls, furniture, doors, desk, etc. (blue or green painter's tape is acceptable)
Items which will be posted or hung on either side of residence hall windows
Instant Pot (acceptable in Reuter apartment kitchens)
Air fryer and panini/sandwich grill (acceptable in Reuter apartment kitchens)
Toaster (acceptable in Reuter apartment kitchens)
Questions about specific items? Email housing@uwlax.edu.
For a detailed listing of furnishings provided in your room, please go to your specific hall page on the "Residence Halls" tab in the menu.
Residence Life at UWL provides bed frames and lofts in all rooms on campus at no additional cost. The side posts and rails are made of solid oak and are fully adjustable to provide our residents with flexibility to place their beds at a desired height. As a result, homemade bunking systems are not allowed in our facilities. Bed parts are included in all halls except Reuter Hall. Information about options for Reuter will be sent in August to students assigned that hall.
To aid you in your set up, please see the following image and instructional video:
lofts
Move in FAQ
Yes! This will help you have the smoothest move-in experience. Benefits of signing up for a time include being able to park in the lot closest to your residence hall, as well as having move-in assistance from university staff and volunteers.
The link for Sign-ups and more information will be sent to your UWL student email the week of July 10, 2023.
If you must come to campus prior to August 30 for a specific reason, you should work with your coach, band director, supervisor, etc. They should be communicating the need to Residence Life for their students to be on campus early.
There is a fee associated with early arrival housing.
Parking Permits for the 2023-23 academic year are not valid until August 15th. If you will arrive to campus prior to August 15th, contacting Parking Services to purchase a short term permit.
We do not limit the number of people who can assist you with moving into the residence halls, however, we do encourage you to discuss your guests with your roommate so that you can coordinate timing. We plan for each person to bring one vehicle for move in. If you must bring more than one, we ask that you only have one in the assigned parking lot at a time.
As a reminder, most of our residence halls do not have elevators.
Please leave pets at home as they are NOT allowed in the residence halls.
We will have a limited amount of wheeled carts available. However, keep in mind that Eagle and Reuter are the only residence halls that have elevators. In most cases, the carts are only helpful to the exterior doors.
We are regulating who will be parking in most parking lots on campus so that people moving in can use the parking lot closest to their residence hall. You should plan to be in the designated parking lot during the move in time for which you signed up. If you bring more than one vehicle to campus, only one vehicle can be in the parking lot at a time. Our move in sign-ups are limited in number based on parking lot capacity.
Permits for the 2023-24 school year are valid starting August 15. During move in, follow the directions for loading/unloading; permits are not required during move in. We ask that permit holders park in other lots after they have moved in for ease of those who have to yet to arrive. Specific instructions will be sent to the student's UWL email.
On Monday evening, September 4th, move your vehicle to the lot which you have a permit. Any vehicles without a permit or vehicles parked in a wrong lot will receive a citation starting on Tuesday, September 5th.
The best unloading parking lot for each Residence Hall (Review campus map):
Angell - R1
Coate - R8/R2
Drake - R2/R8
Eagle - R3
Hutchison - R1
Laux - C12
Sanford - C12/R4
Reuter - R4
O White - C3
Wentz - C10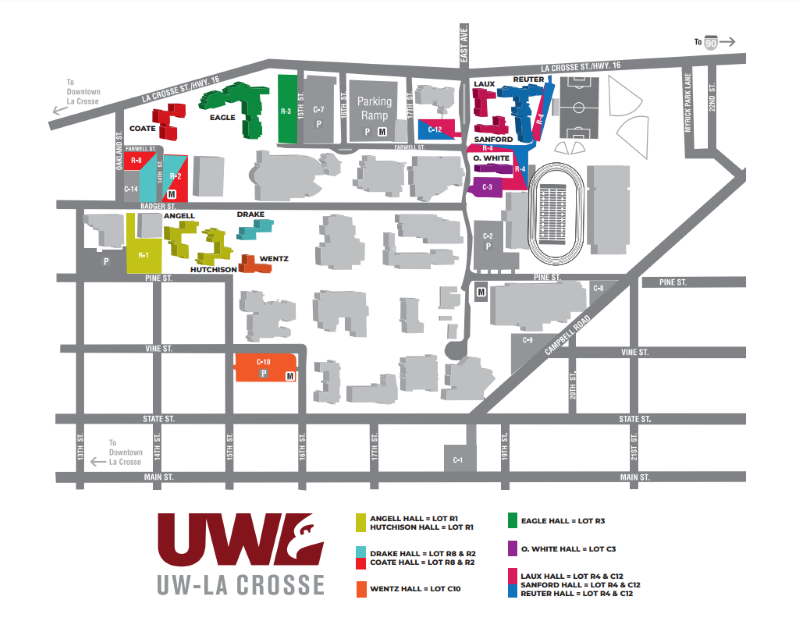 Color coded map by parking lot
We cannot predict or control construction on city or state owned roads. We encourage you to review any DOT projects as you plan your travel. It does not matter how you approach campus.
Be aware of which parking lot you are headed to and get there however your GPS takes you! You may find a street near campus shut down as we need to do so for pedestrian safety. Simply go to the next intersection to get into campus. We will provide traffic direction assistance near campus with signage and volunteers during move-in times.
No! In order to control traffic and keep pedestrians safe, you must follow all posted signs. Vehicles that are driven on sidewalks, closed roads, or other restricted areas will be ticketed by University Police.
We discourage the use of trailers or large moving trucks. Most of our parking lots do not allow for the easy navigation or parking of vehicles with trailers. If you bring a trailer or large truck, you will need to unload further away from your residence hall and move items. The parking lot that can best accommodate trailers and large vehicles is lot C7. We encourage you to view the campus map.
We have a centralized mailroom. Any items mailed to a residence hall address will be delivered to the Eagle Mail Center. Students will need to walk to the Eagle Mail Center to pick up packages. Therefore, we do not recommend shipping large items to campus as part of your move-in process. Items arriving prior to August 31 may be "returned to sender" as our Mail Center will not be open yet.
We will have a small number of volunteers available to assist those that need it. Speak with a volunteer or the staff at the front desk when you arrive to let them know of your need and we will mobilize the volunteers to assist with large items, if possible.
New Student Orientation is coordinated by New Student and Family Programs. The official schedule for New Student Orientation can be found on NSO website. This is for first-year students only. We encourage you to be moved into your hall by Saturday at 12pm to fully participate in NSO programs. There are some REQUIRED events and many optional events.
There is no parent portion of NSO. Returning students do not need to participate again.
When the sign up is available, you will be asked to create a SignUpGenius account. You will be able to log in and change it yourself to an available time. If you try and are unable to do so, please email housing@uwlax.edu.
We want you to be able to personalize your room. The best way to do so is with your bedding, throw pillows, small storage shelves, small area rugs, magnets, and stand-alone picture frames. We provide black-out curtains in each room. We also provide a small cork strip that can be used with thumb tacks or staples. The only thing permitted for hanging items in your room is "painters tape" as it does not damage the walls. Damage that is caused by any other items you bring from home will be noted upon check out and you will be billed to replace or repair the damage. The attached photo is from 3M strips that were used to hang a poster. This student was charged $60 to repair and repaint the wall.
For a full list of what is allowed or not allowed, please view our Facilities Restrictions under Policies and Procedures.
Damaged Wall
Your room has been deep cleaned and checked for repairs.
After you check-in, a link will be sent to your UWL student email. You should note any damage or room concerns via this link upon move in. The information you share will be reviewed when you move out and you may be charged for damages that were not reported. Know that this form is for use at move in ONLY. Please use the work request form to request a repair to items like burned out light bulbs or other occurrences throughout the year.
Residence Life does not provide property insurance. Residents are encouraged to secure their own renters and liability insurance.
UWL is not responsible for personal property that is lost, stolen or damaged. If your family is a home owner, we encourage you to review that policy to see if your items are covered while in away in college. Consult with your personal insurance agent to discuss renters insurance options. UWL does not endorse any specific insurance policies.
We are committed to ensuring our students have the best living facilities possible and therefore are on-schedule to renovate our traditional halls in a 2-Phase process. In order to accomplish our goals, we will be taking a hall offline each spring to complete Phase 1 (fire-life safety and electrical systems, reconfiguration of bathrooms and addition of gender-neutral bathrooms on each floor). Students assigned to this hall during the fall semester will be reassigned to a new space on campus for the spring semester. Details about which halls are impacted and overall renovation plan click here.
Move Out Date
The residence halls close on Saturday, May 13 at noon. Below is general information that can be used as a guide.
24 Hour Policy: Residents will be asked to vacate their space within 24 hours after their last final exam. If you are requesting an exception, please contact your Residence Director.
Cleaning Up and Checking Out
The details of your check out procedure will be provided by the Residence Director. Generally, all students will be required to do the following before they check out of their rooms:
Remove ALL belongings from your room
Clean room to the condition it was when you moved in
Return your key to the front desk and complete a check-out envelope.
Students may have helpers to aid them in moving out items. We are not restricting the number of helpers, but ask that you be conservative in how many people are coming into the residence halls.
Cleaning items and other tools can be checked out at the front desk. If you have questions about the cleaning process, please check with your Residence Director.

Please consult the following video for more tips on how to have a successful check-out:
Damage Details
To get a better idea of the costs associated with damaged rooms, please look over the following pricing guides:
Note: Not all areas of damage will be listed on this sheet. Uncommon damages and those not listed on this sheet will be reviewed by your Residence Director and the Coordinator for Residence Life Facilities.
Loading Zones
Beginning Monday, May 1, designated areas around each residence hall will become 1-hour parking zones for loading vehicles. Vehicles in violation will be subject to multiple citations (every 60 minutes).

UWL Parking Services is also requesting that everyone who currently parks in R-2 (Coate Lot), R-1 (Angell Lot), R-3 (Eagle Lot), or R-4 (Reuter and Sanford Lot) park their vehicle in spaces away from the residence halls to allow residents to load near the building. Beginning Monday May 8, valid permits for R-1, R-2, and R-3 may also park in Commuter Lot C7 (near the REC) and the Parking Ramp.
Drivers should plan to obey all "do not enter" signs.