Follow us on Instagram for live event updates, educational posts, and more!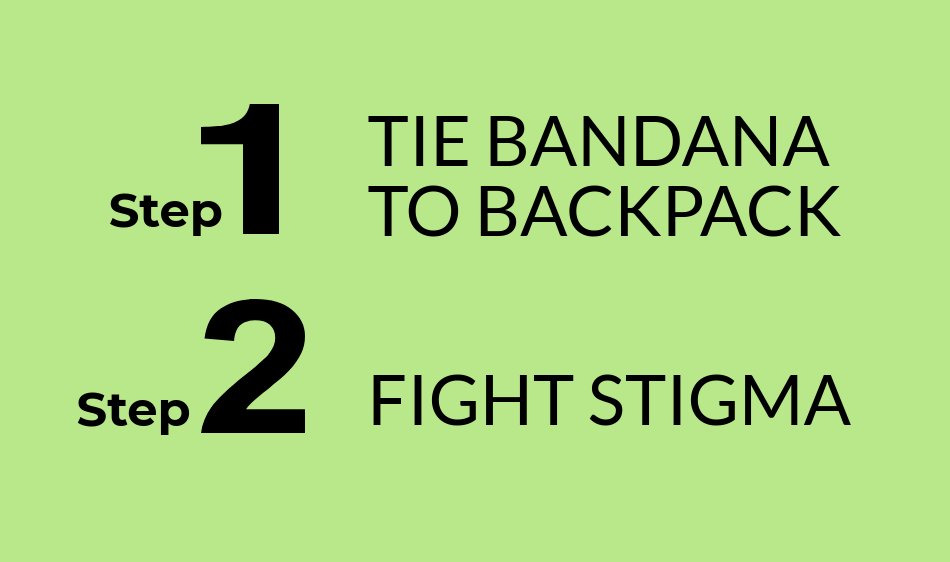 Bandana Project
Purpose
The Bandana Project is an initiative designed to spread awareness of resources for those with mental illness. The green bandanas are attached to students' backpacks.This indicates that they are a safe individual to approach with mental health-related issues, that they know where resources are. Not only does the program give tangible resourcefulness to an individual, but provides invaluable visible support.
If you see a green bandana on the backpack of a stranger, it is a sign of quiet solidarity. You are not alone.
The Bandana Project exists in many forms all over the nation. It was introduced to UW- La Crosse Wellness and Health Advocacy by a student (Emily Wood) who transferred from UW-River Falls to UW-La Crosse for the Fall 2015 semester. Our project was inspired by Emily and Dr. Betsy Gerbec who lost her son to suicide and created Dan's Bandana Project at UW-RF. Click here for more information on the original program at UW-RF UW-RF Dan's Bandana Project.
Supported by Student Life: Wellness and Health Advocacy and the Counseling and Testing Center, the Bandana Project was first introduced to students at #De-Stress Fest on 12/16/2015 by Peer Health Educators, graduate students from Public Health and Student Affairs Administration, and volunteers including students from the Active Minds student organization on campus, led by Haley Ingersoll. For more information, and to sign the pledge and get your green bandana please stop into Student Life (149 Graff Main Hall).
---
THE BANDANA PROJECT PLEDGE
In taking this bandana and tying it to my backpack, I pledge:
I will listen if you need to talk to someone.
I will talk to someone if I need to be listened to.
I will help you find someone to talk to when you need more support.
I will find someone to talk to when I need more support.
I will be accepting.
I will be honest.
I will see a person in need of support and not just their challenges.
With this pledge, I am declaring support for those dealing with depression and/or anxiety.
You can talk with me. I want to help.
You are way too important to feel alone today.