Business cards
A page within Business Services
UWL business cards display the University of Wisconsin-La Crosse spirit mark. There can be no substitutions of logos or changes in colors. Athletics and ROTC have unique card designs based on their branding standards. Backside printing is optional, and back side printing requests must be pre-approved by University Communications.
Business Card Costs:
250
500
1,000
Single sided
Double sided
Single sided
Double sided
Single sided
Double sided
$15.50
$29.50
$17.50
$32.50
$28.00
$37.50
DigiCOPY is the exclusive provider of business cards to the university. To place an order, follow the instructions below.
Existing DigiCOPY Account Holders
Use DigiCOPY's online ordering system for quick and easy ordering 24 hours a day!
New to DigiCOPY? Set up an Account!
You need to set up a DigiCOPY account in advance of placing any orders.
Please view the UWL Business Card Standards for additional information.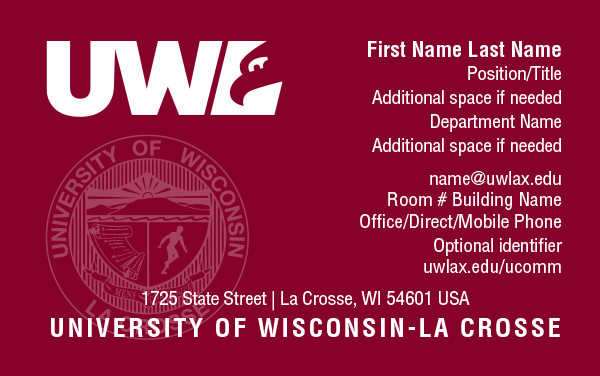 Sample Business Card
Contact Purchasing at purchasing@uwlax.edu.